This month we've gotten quite a helping of awesome showings from Acer in the mobile category, but more important than that, so their CEO says, is Ultrabooks, and how many of them they'll be shipping inside 2012. Because of how well the manufacturer did with their first Ultrabook, the Acer Aspire S3, they plan on really rolling out the shipments and the subsequent sales of their newest and most fabulous tiny monster, the Aspire S5. This is that tiny sliver of an Ultrabook you saw the day before CES 2012 this year, the one we got hands-on time with (also shown in this post.)
There are three Ultrabooks that are rather important to Acer's success this year, that being the Aspire S5 and the Acer Timeline Ultra in both of its iterations, the 14-inch and the 15-inch. These three models plus the fact that the Acer Aspire S3 will have its price slashed by "as much as $200," should make for quite a killing in the seasons ahead for Ultrabook sales by Acer. As Acer chairman and CEO J.T. Wang says, as quoted by Digitimes in Taiwan:
"Sales of Acer's first Ultrabook, the Aspire S3, totaled about 250,000-300,000 units in the first quarter after launch, and the company expects sales for its new Aspire S5 tablet PC will be even better. … Acer's notebook shipments are expected to drop 10-15% sequentially in the first quarter of 2012, but total shipments for all of the year will still post an on-year growth of 10%, said the company." – Wang
These notebooks are all really nice machines, as you're about to see. First have a look at the Acer Aspire Timeline 14 and 15 in hands-on photos from that faithful day over a week ago, then check this video out:
What you're seeing is the Acer Aspire S5's most magical feature, that being a bit of a mechanism working with a motor that pushes the back out and down, this revealing a set of ports that otherwise would increase the size of the notebook by a significant amount. This way you've got the option to stay thin in the backpack. Will it and the rest of the full packages Acer has to offer this year be enough to clobber the competition in the Ultrabook world? We shall see!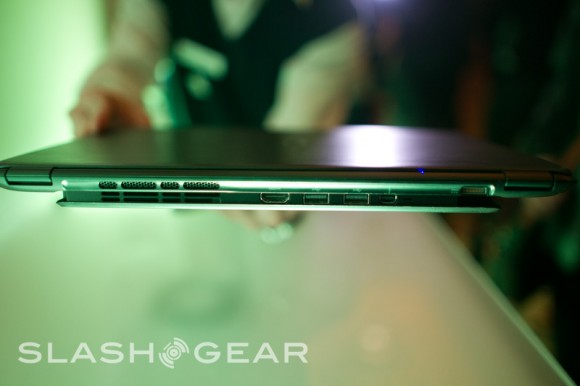 [via Digitimes]