The Most Expensive Car In Elon Musk's Collection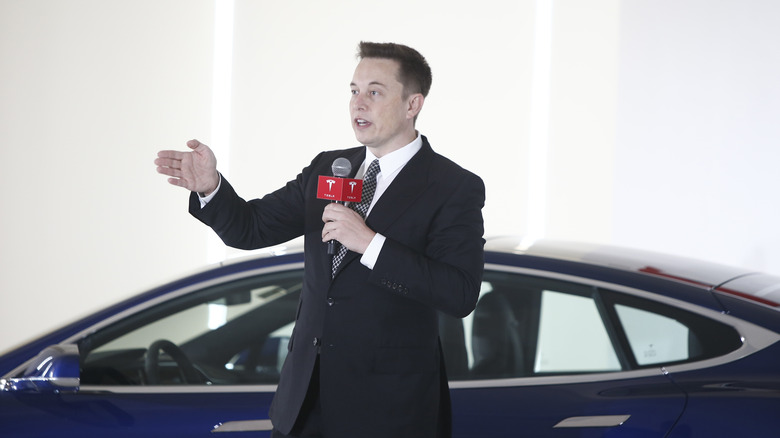 Vcg/Getty Images
Tesla and SpaceX CEO Elon Musk started his path to billionaire stardom at an early age. Born Elon Reeves Musk on June 28, 1971, in Pretoria, South Africa, the young Elon created a video game at age 12 and later sold it to a computer magazine. He founded Zip2 in 1995 and sold the company to Compaq for a whopping $307 million in 1999 (per Brittanica). Musk used his newfound capital to establish X.com, a company that later became PayPal. In 2002, online retail giant eBay acquired Paypal for $1.5 billion.
Long fascinated with humans becoming an interplanetary species, Musk founded SpaceX (Space Exploration Technologies) in 2002 to make more affordable and reusable space rockets. He joined Tesla in 2004 after providing more than $6 million in Series A funding, and the American EV maker is now the undisputed king of electric cars with a $1 trillion valuation despite making up less than 1% of global car sales (BBC). Forbes claims Elon Musk is the world's richest man with a staggering $255.1 billion net worth as of this writing, more than enough to acquire the rarest and most expensive cars known to humanity.
Elon Musk's Car Collection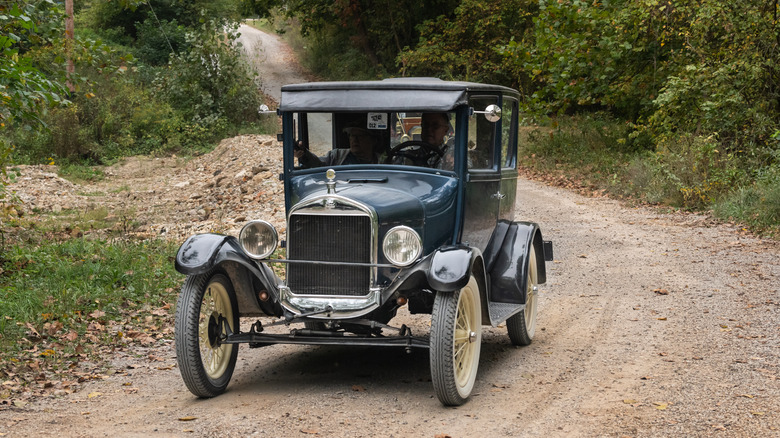 IN Dancing Light/Shutterstock
It's not unusual for a billionaire to gather a mouthwatering collection of exotic and uber-expensive cars. Despite his penchant for modern electric vehicles, Musk is also the proud owner of a 1920 Ford Model T and a 1967 Jaguar E-Type Roadster, two excellent choices to jumpstart a vintage auto collection. The Jag E-Type is regarded by many as the most beautiful car ever made, while the Ford Model T will forever go down in history as the car that put Americans on wheels. 
Musk's affinity for Ford's classic didn't win him any fans over in Detroit, however. Back in 2013, when Tesla was preparing to launch a more affordable electric car, it apparently first wanted to call it the Model E. Unfortunately for those plans, Ford already held the Model E trademark and refused to hand it over. Instead, Tesla branded its EV as the Model 3 and, while it may not have had the name Musk hoped for, it certainly hasn't been held back in the sales charts. In fact, demand for the Model 3 undoubtedly helped cement Tesla's reputation as the de-facto heavyweight in electric vehicles.
As the CEO of Tesla, Musk unsurprisingly has a first-gen Tesla Roadster, Model S, and Cybertruck in his growing fleet (per Hot Cars). However, you'll be surprised to discover that Elon's first car was a first-generation BMW E21 320i, but a Zip2 intern crashed the car and rendered it obsolete (per Motorious). He bought his next Bimmer in 2006, a Hamann BMW M5 E60 sedan, a four-door rocket ship with four wheels packing a 603-horsepower 5.0-liter V8 under the hood. Rounding up the list of German cars in Elon's collection is a 2012 Porsche 911 Turbo, a car that he claims is among his favorites.
What is the most expensive car in Elon Musk's collection?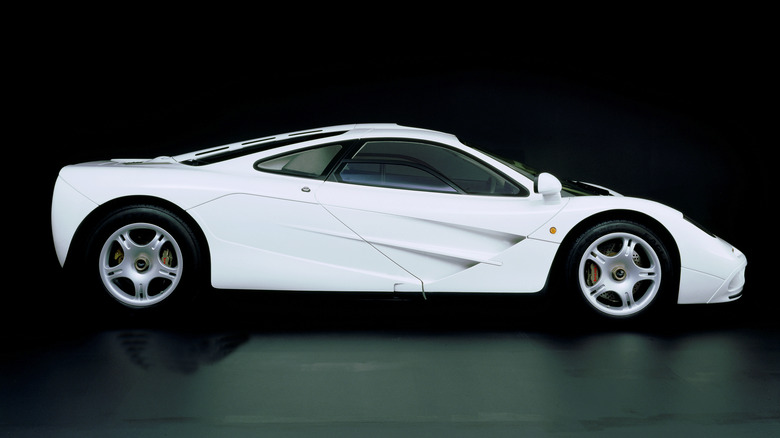 Heritage Images/Getty Images
According to Business Insider, Elon Musk bought a McLaren F1 to celebrate eBay's acquisition of PayPal. Musk became a rising star in Silicon Valley and needed a new ride to profess his growing bank account, and the McLaren F1 fit that bill perfectly. It was formerly the world's fastest road-legal car when it reached an unbelievable 231 mph in 1993 at the Nardo test track (per Autozine). Moreover, it hits 0 to 60 mph from a standstill in 3.2 seconds and 0 to 100 mph in 6.3 seconds.
It also happens that the McLaren F1 is one of the rarest vehicles on Earth, with only 106 units built from 1992 to 1998. Out of the 106, only 64 were road-legal variants. It's also among the most expensive vintage sports cars money can buy. In 2021, a particular McLaren F1 underwent the hammer at a Pebble Beach Gooding & Company auction for $20.5 million. Unfortunately, Musk hit a barrier while driving his McLaren F1, where it launched in the air and spun multiple times before landing back on the pavement (per The Drive). The car was declared a write-off and had no insurance during the accident. Musk later sold the car for a profit.
The most expensive car currently in Elon's collection, then, is a Lotus Esprit, according to Automobile Informer. He paid $920,000 for his Lotus at auction, but we're not talking about an ordinary Esprit — it's the submarine car that starred in the 1977 James Bond hit "The Spy Who Loved Me." Musk was initially disappointed to learn the submarine does not transform into a car like in the movie. Still, he has plans to upgrade it to a Tesla electric powertrain and make it amphibious in real-time.