Acura's Electric Car Vision For Performance EVs Won't Be Subtle
Acura, the luxury division of Honda, plans to go fully electric just like its parent company. It's no surprise considering Honda has invested $46.3 billion to expand in the EV market. By 2040, Honda says 100% of its vehicles will be electric, as reported by Reuters. We've already seen a preview of its first electric SUV that will be sold in North America.
The luxury and performance brand is not too far behind. Even though it's yet to sell an EV in the U.S. just like Honda, Acura has been unveiling all-electric prototypes for the past few years. In 2015, it unveiled an electric concept car at the Detroit Auto Show and we haven't heard about it since. However, Honda confirmed in 2021 that it's working on two Acura electric SUVs which will be designed on GM's Ultium platform. It also revealed two mysterious electric sports cars in April 2022, and we think one of them could be an all-electric NSX.
Now Acura has given us another glimpse of its upcoming electric vehicle in the near future. 
It borrows its design from the previous Acura Precision Concept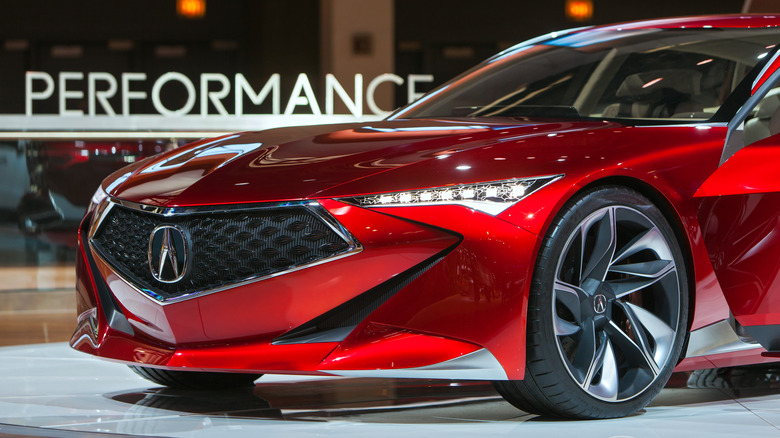 Darren Brode/Shutterstock
In its press release, Acura teased a photo and video of its electric concept car. Even though Acura disclosed very few details about its electric concept car, we can't help but notice that the front design is borrowed from the previous Acura Precision Concept it showcased in 2016. Similar to the 2016 electric concept car, its latest EV concept car comes with a "Diamond Pentagon" grille. We also don't think it's a coincidence that it's named "Acura Precision EV Concept" just like the 2016 prototype.
However, it could be an electric SUV according to Car and Driver. Acura hasn't disclosed the name of its upcoming electric vehicle, but it's possible that it could be called "ADX" after it filed a trademark of that name in 2021. This means it will probably resemble the Acura RDX or MDX — although we have to wait until the Monterey Car Week on 18th August when we have the full exterior body photos. But we can bet it will be built on GM's Ultium architecture just like the Honda Prologue.