This Is The Most Expensive Tesla In The World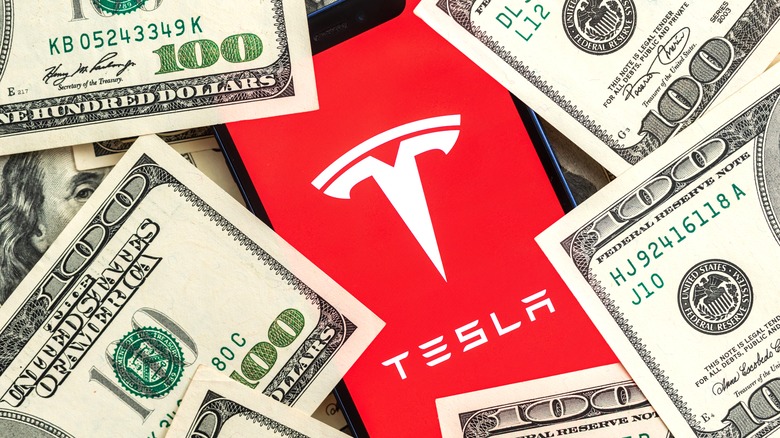 FellowNeko/Shutterstock
American EV pioneer Tesla is as enigmatic as its perpetually viral CEO Elon Musk. On the one hand, Tesla vehicles are way ahead of the curve in software, electronics, and battery technology. Conversely, Tesla vehicles have quality issues inherent to newbie automakers. But for the hardcore Tesla fan, the shoddy paint, inconsistent panel gaps, and slight mechanical flaws are worth the exorbitant price, if only for the benefit of performance and range. Tesla has yet to give us a genuine "Tesla for the masses," but there's no shortage of expensive vehicles that prove bling (or bragging rights) never goes out of style.
When talking about the most expensive Teslas, it's impossible to ignore Unplugged Performance. Tesla officially approved the Los Angeles-based EV tuner as an official Tesla service and body repair shop in May 2021 (per Inside EVs) — just a step away from making them the AMG or M division of Tesla EVs. Unplugged Performance not only tunes Tesla cars to go faster, harder, and look cooler; it also makes bespoke variants of the Tesla Model S, 3, X, and Y.
Tesla Model S-Apex by Unplugged Performance
Unplugged Performance will sell you a brand-new Tesla Model S with the S-Apex package. It's typically a $50,000 or upwards package that does not include the price of a donor Model S. Considering a base 2022 Tesla Model S dual-motor AWD variant starts at about $110,000, the S-Apex package will skyrocket the price to about $160,000. If you have a Tesla Model S Plaid, your bank account will be about $200,000 less after the upgrades — not too shabby for a five-seat electric family sedan.
The tuner has a long list of similar upgrades for other Tesla EVs like the Model 3, Model X, and Model Y, and they could also sell you a brand-new, bespoke Tesla of choice. Given that the S-Apex package is custom-built for the client, the amount of upgrades you can get depends on the depth of your pockets and imagination. But for ordinary folks, $200k is big money for an electric car. 
But if you think $200k is the most you can spend on a new Tesla, you probably haven't heard of Russian luxury brand Caviar. The company started in 2011 with the world's first jewelry smartphone and is the pioneer of jewelry art for phones, gaming consoles, sneakers, and more.
The world's most expensive Tesla
In June 2021, Caviar unveiled its exclusive iPhone 13 "Parade of the Planets," a collection of iPhone 13 and iPhone 13 Pro Max smartphones decked in blackened titanium, double gold plating, and parts of meteorites. If Caviar can do this to a humble smartphone, what if it were to unveil a car? As it turns out, Caviar has also debuted the Tesla Model S Plaid Model Excellence 24K. And if the vehicle's name rings a bell, it does mean gold — and lots of it.
The EV has double-electroplated 24-karat gold parts, including in the front grille, side skirts, front and rear bumpers, brake discs, rear-view mirror, and interior décor. The black and gold theme makes the gold decorative elements shine brighter than ever. The vehicle comes with a pair of black-and-gold iPhone 12 Pro smartphones made from hardened titanium. The phones start at $6,150 each, but the car itself costs about $300,000, making it the most expensive Tesla in the world.