2022 Mercedes-Benz EQB SUV First Drive: Entry-Level Electric Feels Reassuringly Normal
Getting onboard with Mercedes-Benz's vision of electrification in the U.S. has been a six-figure affair until now, but the arrival of the 2022 EQB SUV promises to change all that. Where the EQS Sedan — effectively an all-electric S-Class — carries a $102k sticker, the EV version of the GLB SUV starts at a far more reasonable $54,500 (plus $1,050 destination).
That's before you factor in the $7,500 U.S. federal tax incentive for electric vehicles, at which point this diminutive EV with seating for up to seven starts to look even more intriguing. While the GLB's chunky styling might not make it the obvious choice for a zero-emissions sibling — where aerodynamics is even more important to delivering decent range — the compact SUV was in fact designed with an EV drivetrain from the outset.
It's a strategy that, slipperiness through the air notwithstanding, makes a lot of sense given the U.S. market. SUVs are more popular than sedans, and though not Mercedes' best-selling model, the GLB nonetheless plays an important role in bringing new owners into the luxe clutches of the brand. Now, the 2022 EQB SUV is aiming to do the same in all-electric.
Two versions and solid but not outstanding range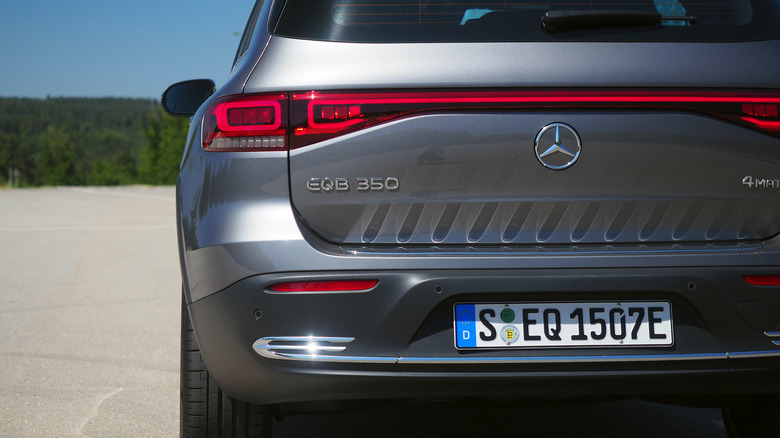 Chris Davies/SlashGear
When it lands in American dealerships in just a matter of weeks, there'll be two versions of the SUV to choose between. The 2022 EQB 300 4MATIC will start at $55,550 including destination, while the EQB 350 4MATIC kicks off at $59,100. Both use electric all-wheel drive as standard, with one motor for each of the axles.
The EQB 300 musters 225 horsepower in total, while the EQB 350 nudges that up to 288 horsepower. For the U.S., Mercedes has — wisely — skipped the smaller battery option that European drivers can choose, opting for a pack with 70.5 kWh of usable capacity. Final EPA numbers for range are still to be delivered, but the automaker estimates 230 miles from the EQB 300, and 220 miles from the slightly more powerful EQB 350.
They're solid, if not outstanding. Wander over to a Hyundai dealership, for example, and — assuming you're in the right state – an Ioniq 5 AWD will do 256 miles on a charge of its large-size battery. It also starts at around $7k less than the Mercedes, though of course, it lacks the prestige of that three-pointed star.
Chunky style means a practical cabin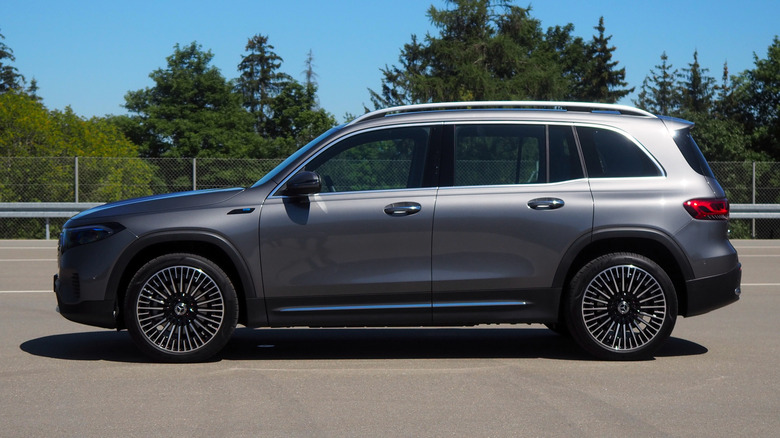 Chris Davies/SlashGear
The badge itself is positioned on a new grille for the EQB, which ditches the chrome slats of the GLB in favor of a gloss black panel. Running atop it is a full-width light bar, linking the standard LED headlamps. There's another light bar at the rear, and Mercedes sprinkles on some blue detailing — to match its other EQ cars — along with front fender model badging.
There'll be two wheels offered in the U.S., 18-inches and 19-inches, both with unique aero features. Sadly, the striking 20-inch rims you see here are the Euro-spec option, and won't be available for American drivers.
It's a handsomely sturdy little beast and looks smaller on the road than it does in pictures. Mercedes has carried over what's arguably the GLB's most striking option, too, and you can have the EQB with a three-row option to take seating from five to seven. Admittedly, the rearmost two seats — which fold flat into the floor when not required — are scaled to suit kids more than adults, and legroom back there isn't exactly plentiful. It does, though, mean that you get correct ISOFIX fittings for more than the normal amount of child seats.
A familiar cabin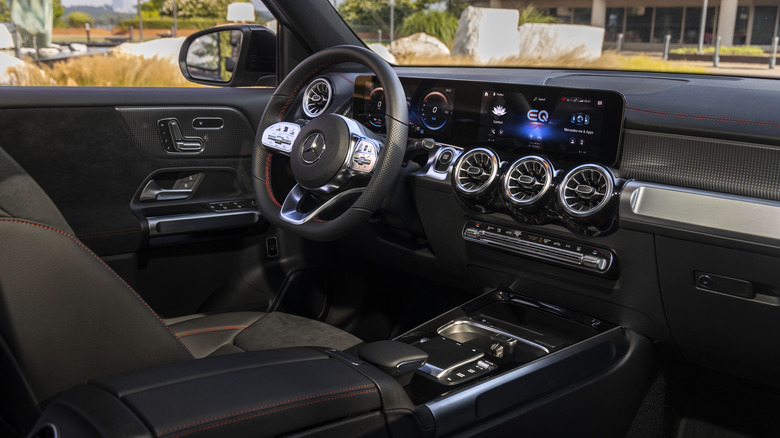 Mercedes-Benz
The rest of the cabin is a familiar affair if you've been in a recent entry-level Mercedes. Plenty of glossy plastic interspersed with various other textures approximating metal, leather, and carbon fiber, with turbine-esque vents and dedicated controls for the HVAC. It feels sturdy, but some of the plastics aren't as appealing under the fingertips as the aesthetic might suggest.
Atop the dash are twin 10.25-inch displays as standard, running Mercedes' MBUX infotainment system. It's straightforward to use and features a surprisingly-effective voice control system. You get navigation as standard, and the EQB uses that — along with your personal driving style, the drive mode you're in, the topography, and even the climate of where you're driving — to figure out where and when you should charge, how long you should be plugged in for.
Coming to that point, there's 100 kW DC fast-charging support, and Mercedes is bundling two years' worth of unlimited 30-minute sessions at Electrify America locations. Thirty minutes plugged in should be enough to take you from 10% to 80%, Mercedes says.
Some atypical EV choices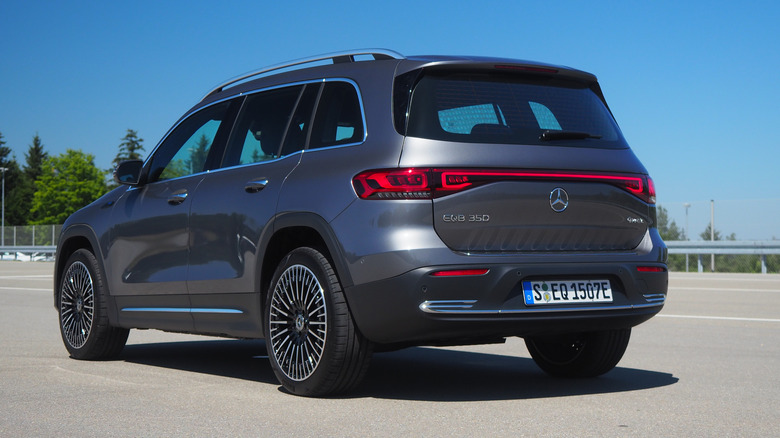 Chris Davies/SlashGear
That's not the fastest charging rate out there, and it's not the only place where the EQB strays from the recipe we've seen for other, recent EVs. Pop the hood, for instance, and there's no frunk for extra storage. Mercedes argues that the not-inconsiderable trunk — which has an underfloor compartment too — means a front trunk isn't really needed.
Mercedes' approach to one-pedal driving differs from the norm, too. Where other electric cars can be brought to a full stop, just by lifting off the accelerator, that's not the case for the EQB. Even in its strongest energy recuperation mode, it'll still creep unless you hit the brake pedal.
There are three such levels to choose between, controlled via paddles on the steering wheel. Or, you can switch to automatic, and let the SUV figure out which is best itself. At the most aggressive, there's a strong amount of deceleration when you lift your right foot. At the other extreme, lifting off will see the EQB coast. Mercedes refers to it as gliding, and it makes particular sense on the highway where the electric SUV can use minimal power when on long stretches with unchanging speed.
Enough on the road, if not excessive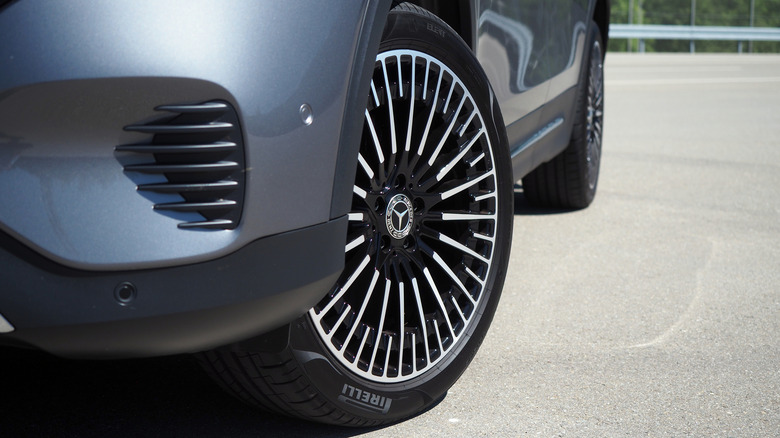 Chris Davies/SlashGear
That familiar surge of instantaneous torque — 228 lb-ft in the EQB 300, and 324 lb-ft in the EQB 360 — is present and correct, leaving both versions of the SUV feeling perky and nimble in urban settings. Still, neither is especially sporty. Mid-speed acceleration is fine, and certainly, the EQB is more agile and responsive than its GLB sibling and its 2.0-liter turbo-four, but rival EVs are definitely more punchy.
On the upside, the extra weight and the fact that the battery is mounted down low leave the EQB stable and planted. Switch to sport mode and the SUV is more eager, arguably a better match for the fairly firm suspension setup.
It all feels, frankly, like the GLB we wanted to begin with, rather than an electric SUV to take on Tesla's Model Y (which, Mercedes argues, actually belongs in the segment above). Electrification's core strengths, like cabin hush and easeful driving, are all present and correct, and it means living with the EQB is charmingly straightforward.
Trims, tech, and toys to come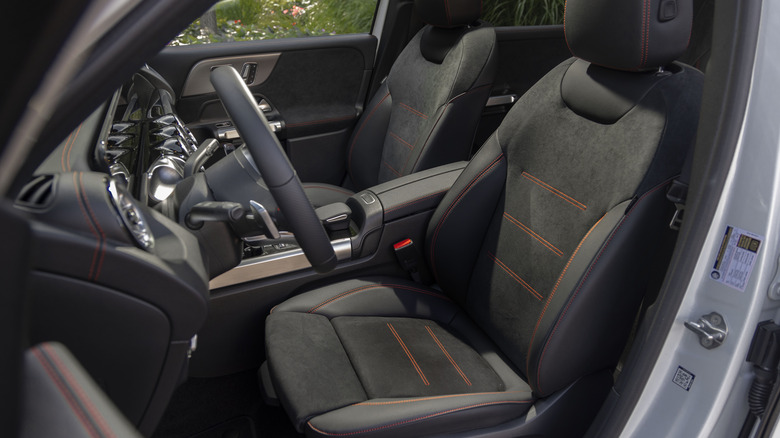 Mercedes-Benz
The base spec EQB gets Active Lane Keeping Assist, Blind Spot Assist, and Active Brake Assist. If you want more, you'll need the Driving Assistance Package. That includes Mercedes' adaptive cruise control system, along with blind spot warnings.
The Exclusive trim, a $1,250 upgrade, throws in keyless start along with a wireless phone charging pad. It also upgrades the audio system. Mercedes' flagship Pinnacle trim takes the EQB 300 to $58,300 plus destination and pushes the EQB 350 just past the $60k mark. It gets a Burmester Surround Sound audio system, a panoramic glass roof that helps keep the cabin feeling airy, and a 360-degree camera.
They're appealing features, though I think I'd be content with the EQB 300 4MATIC whichever trim I ended up with. The extra power is nice but doesn't really move the needle excessively, though I'd be curious to see what AMG could do if handed the keys (just as they were with the fun little AMG GLB 35).
2022 Mercedes-Benz EQB Verdict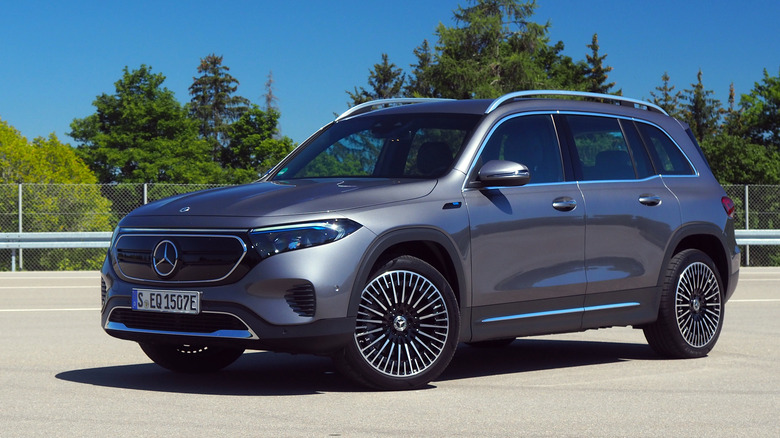 Chris Davies/SlashGear
It's hard not to see the 2022 EQB being a big potential hit for Mercedes as it grows its electric portfolio. It drives better than its GLB cousin, it feels more premium, and there's a solid balance of performance, range, and price. No, the 2022 EQB doesn't reinvent the EV experience in any particular way, but then again I don't think it really needs to.
What was required was a more affordable point of electric entry to Mercedes' line-up, after the EQS and upcoming EQE sedans took care of the automaker's well-heeled clientele. After all, if electrification is going to succeed, we need to see it spread through every segment, rather than being a plaything of the rich. The 2022 EQB does just what you'd expect from an all-electric interpretation of Mercedes' compact SUV; now Mercedes needs to work on filling in the rest of the gaps.