Marvel's Spider-Man Remastered PC Requirements Revealed With DLSS And Ultrawide Support
Marvel's Spider-Man Remastered swings by the PC ecosystem this August 12, and for fans eagerly waiting for it, there are a few surprises in tow. For ultrawide screen users, Insomniac has added support for ultrawide monitors that will play well with varied aspect ratio options such as 21:9 and 32:9. The latter is one of the widest views you can enjoy right now, but it is only served by a handful of devices like the abnormally extreme curved Samsung Oddyssey Neo G9 that costs north of $2,000.
In addition to souping things up with ultrawide display support, the team also says that multi-screen setups with up to three monitors will also run just fine. And thanks to ray-tracing support, a new ray-traced mode has arrived that adds an extra layer of sheen to visual elements like shadows and reflections. In effect, this means we can expect a true-to-life visual experience with crystal clear details. 
The hit game's PC version, which has been fine-tuned in collaboration with Nixxes Software, also brings support for NVIDIA's Deep Learning Super Sampling (DLSS). To put it simply, the tech relies on an NVIDIA GeForce RTX GPU's Tensor core to enhance image quality in real-time and boost frame rates. NVIDIA Deep Learning Anti-Aliasing tech has also been thrown into the mix, letting players make tweaks to further enhance the game's visual experience.
Prepare for your PCs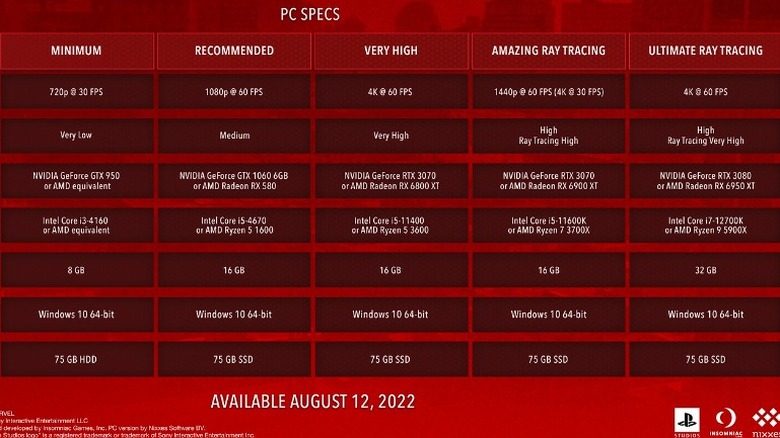 Sony
Aside from the usual mouse and keyboard input, players can whip out Sony's new PlayStation DualSense wireless controller and enjoy all its perks — like haptic response and adaptive trigger feedback. For those who seek cross-platform flexibility, the PC version of Marvel's Spider-Man Remastered allows achievement syncing and cloud saves across the Epic Games Store and Steam.
If you have an aging gaming rig and would be happy playing this new Spider-Man game at its base 720p resolution with 30fps frame rate, you'll still need to make sure you have a minimum of a GeForce GTX 950 and Intel Core i3-4160 (or their respective equivalents from AMD) alongside 8GB RAM. The standard Recommended tier pushes 1080p gaming at 60fps, and for that, you will need a GeForce 1060 GPU, Intel's Core i5-4670, and 16GB of memory.
High-end 4K gameplay at a smooth 60fps frame rate will require at least an NVIDIA GeForce RTX 3070 or AMD's Radeon 6800 XT, alongside an 11th gen Intel Core i5 or 3rd gen AMD Ryzen 5 CPU. For the peak ray-traced experience at 4K 60fs, you'll need top-tier gear such as a GeForce RTX 3080 or Radeon RX 6950 XT for graphics processing, and a 12th gen Intel Core i7 or a beastly Ryzen 9 5900X CPU. The game is now up for pre-order on the Epic Games Store and Steam with some exclusive freebies in tow.