2022 Volkswagen Taos Review: A Subcompact SUV With Space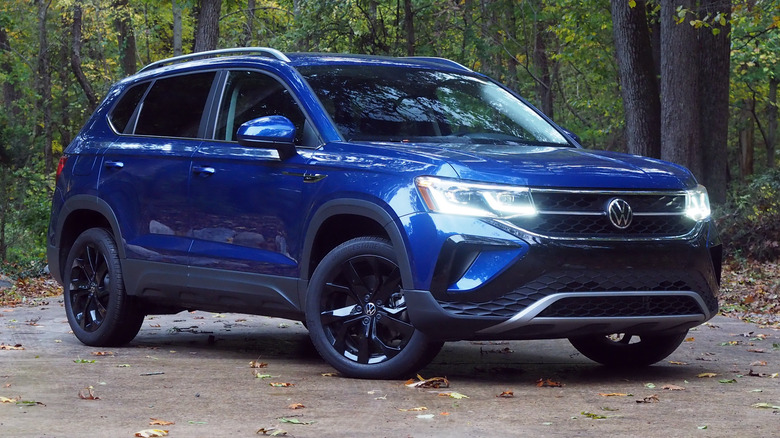 Chris Davies/SlashGear
Volkswagen's smallest SUV has a big challenge. Subcompact crossovers are still selling like hotcakes, and competition is fierce around models that not only target first-time new car buyers like young families but which hope to make lifelong brand loyalists out of them, too. When you're building to a price, though, choosing what to leave out is as important as what you put in.
It's a segment South Korean brands like Hyundai and Kia have been cleaning up in, combining perky styling with lashings of practicality and then crowning it all with attainable pricing. Over in Mazda's line-up, meanwhile, models like the CX-30 promise more enthusiasm in return for their moderate premium, while domestic brands such as Chevrolet keep their gaze resolutely on the pocketbook with slight SUVs like the super-cheap Trailblazer. 
Even with supply chain shortages and dealer markups, then, you're spoiled for choice. Aiming to make its mark is the 2022 VW Taos, freshly added to the line-up for this model year and the cheapest of the automaker's SUV range. Along with handsome styling, it promises a little Tiguan class for those drivers with some above-segment aspirations, though its biggest luxury might well be how much space it delivers.
All-wheel drive is an option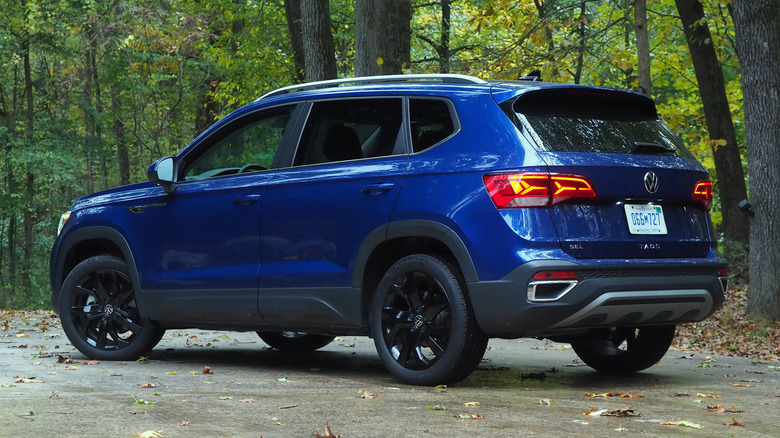 Chris Davies/SlashGear
Pricing kicks off at $23,495 (plus $1,195 destination) for the Taos S, from $27,895 (plus destination) for the Taos SE, and then the handsome Dusk Blue Metallic example you see here is the Taos SEL, from $32,090 (plus destination). A 1.5-liter turbocharged inline-four gas engine is standard regardless, with 158 horsepower and 184 lb-ft of torque. Also as standard, you get front-wheel drive and an 8-speed Tiptronic automatic transmission.
Volkswagen's 4MOTION all-wheel drive is optional, an upgrade costing between $1,450 and $2,045 depending on trim. You get the same power output but the transmission switches to a 7-speed DSG instead, while the rear suspension also gets a multi-link axle upgrade from the FWD crossover's torsion beam.
It's a smooth drivetrain, and reasonably perky if you switch into Sport mode. Left to its own devices, the 8-speed in this review car slurs nicely, though feedback on the 7-speed AWD suggests there's jerkiness to be found there. That's a shame, considering some drivers will only consider all-wheel-drive models given the weather they typically face. Neither drivetrain has an official tow rating.
Decent economy, but no hybrid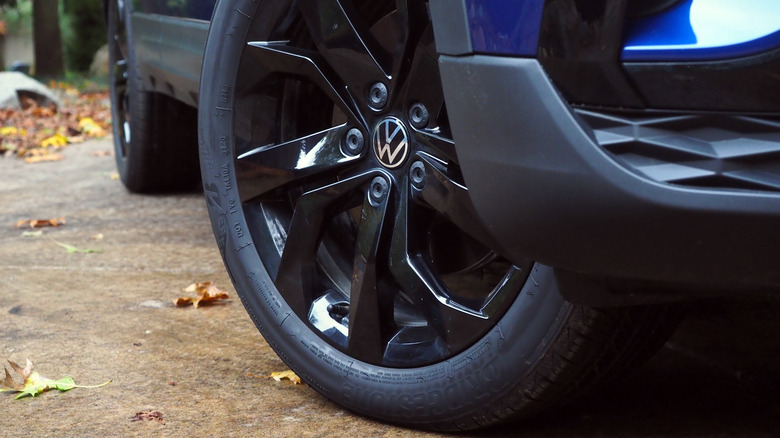 Chris Davies/SlashGear
The other upside to the front-wheel-drive Taos is economy. The EPA rates it at 28 mpg in the city, 36 mpg on the highway, and 31 mpg combined. Its all-wheel-drive sibling sees those numbers dip to 25 mpg city, 32 mpg highway, and 28 mpg combined.
It's sad not to see Volkswagen offer even a mild-hybrid version of the crossover, much less a plug-in hybrid or full EV. The reality is, though, that options there are lacking across the board, particularly if you're looking to spend under $30k.
At the $32,685 of this Taos SEL FWD, though, the cunning shopper might want to look to a Chevrolet Bolt EUV. Since Chevy slashed 2023 pricing to $33,500 (plus destination), the diminutive BEV could be a compelling alternative to the frugal-but-still-gas-burning Volkswagen.
Classically handsome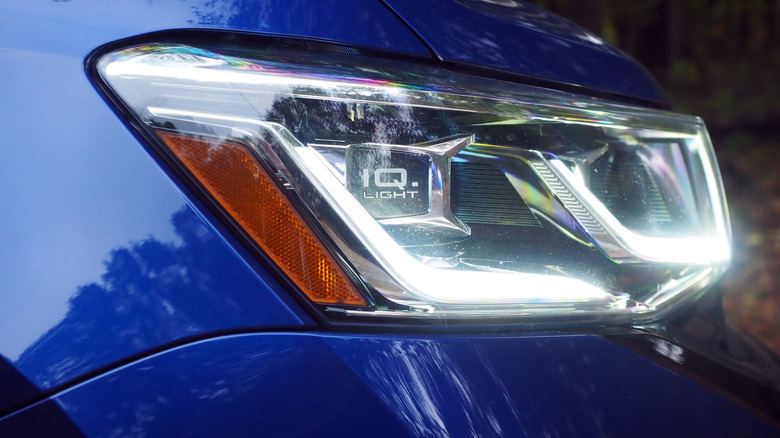 Chris Davies/SlashGear
From the outside, it's clear from where the Taos borrowed its aesthetic. The handsome — if a little staid — Tiguan is no bad place to start, while the larger Atlas donates its bolder fascia with some snout-spanning chrome. Volkswagen's standard LED headlamps and matching daytime running lights add some character, while the Taos SEL throws in an illuminated grille and low-speed cornering lamps too.
17-inch wheels are standard, with 18-inch black-finished alloys either a $395 option on lower trims or standard on the higher-spec Taos SE and above. Power-operated side mirrors are standard across the board, with heating from SE and up; if you want roof rails, you'll need to spring for the SE at least, too.
The result is sensible, if a little lacking in drama. Certainly, Kia and Hyundai are doing more imaginative things with their rival crossovers, while Mazda's CX-30 is a more elegant beast overall. The upshot to VW's restraint, however, is found inside.
A big cabin for a subcompact SUV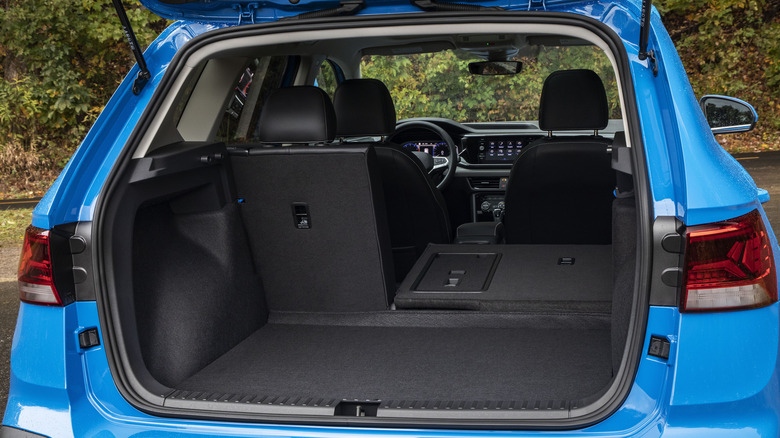 Volkswagen
There, a spacious cabin awaits, particularly for those in the rear. Honestly, second-row accommodations are usually a dreary affair for subcompact SUV passengers, with legroom generally a miserable experience. The Taos bucks that trend, in contrast, with 37.9 inches of legroom back there. That's more than an inch and a half extra compared to the CX-30, and less than an inch under what a 5-seat Tiguan offers.
The same good news goes for trunk capacity, where the Taos delivers 27.9 cu-ft with the rear bench up. Fold it down — there's a 60/40 split — and you get 65.0 cu-ft. More than the Mazda, certainly, but also more than Chevy's chunky Trailblazer.
Spacious it may be, but it's not a particularly quiet cabin. The 1.5-liter engine's fizz is noticeable, particularly at highway speeds. Under more urgent acceleration the smoothness of the gear changes and the generally mild suspension is joined by wind and road noise, not to mention the not-entirely-pleasant yowl of the engine.
Sober but not lacking in tech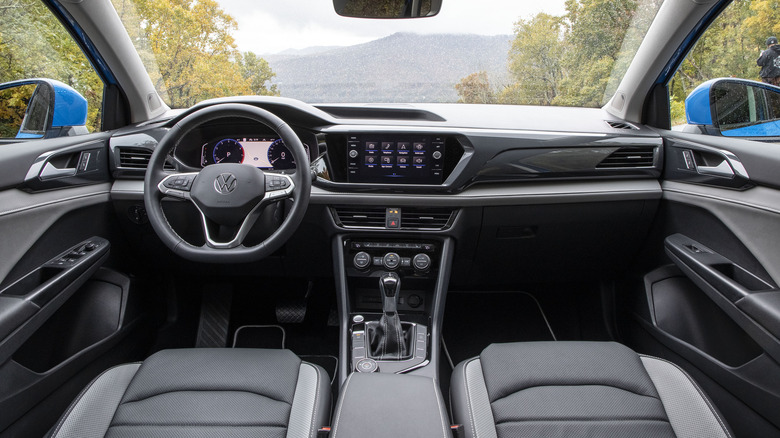 Volkswagen
As with other VW models, the dashboard is a dark and sober affair, and most trims don't do much to lift that with their fabric options. The S only comes in gray and black; the SE can be had in either black or gray and black; and the SEL offers a choice of all-black or French Roast and black, both with leather on the seats and leatherette on the steering wheel. It's all fine, it's just a shame it's so drab.
While the Taos S feels a little lacking in tech, with its 6.5-inch touchscreen, the SE at least upgrades to an 8-inch center touchscreen funning the MIB3 infotainment system. It's also pretty spartan in its aesthetic, though you get wired Apple CarPlay and Android Auto. A wireless phone charging pad is included, too.
By the time you get to the Taos SEL, there's SiriusXM, a Beats Audio 8-speaker system, and a larger 10.25-inch digital driver display. The S and SE make do with VW's 8-inch version.
Expect to pay more for active safety tech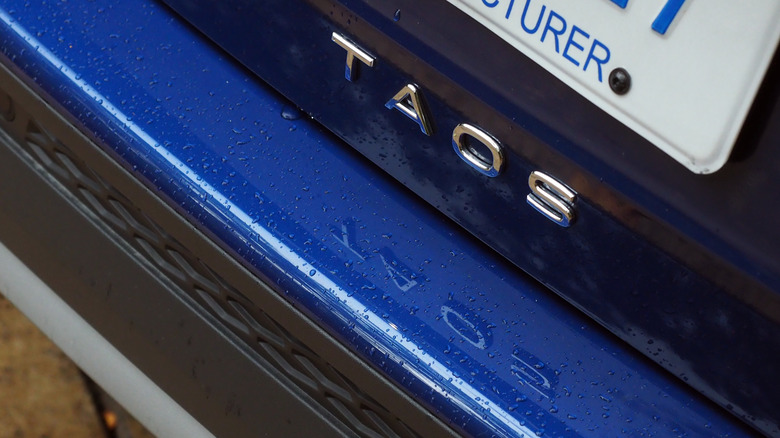 Chris Davies/SlashGear
It's not the only place where the gadgetry is lacking on those more affordable trims. When it comes to active safety, as standard the Taos S and SE are fairly barebones: you need the IQ.Drive package to address that. Either $995 or $895 respectively, that makes sure you're loaded up with adaptive cruise control, lane assist, auto high-beams, blind-spot monitoring, front pedestrian monitoring, and rain-sensing wipers, among other features.
It also adds Travel Assist, Volkswagen's combination of hands-on adaptive cruise and lane-keeping. That proved to be not quite as composed as Hyundai's comparative system, but a welcome bonus on longer highway jaunts.
The Taos SEL includes all that as standard. It also gets the same warranty as the rest of the line-up: four years or 50,000 miles for both general and powertrain, along with complimentary scheduled maintenance for two years or 20,000 miles. Were it my money, I'd probably opt for the midpoint with a judicious application of options: the Taos SE with the IQ.Drive package, for a total of $30,085 including destination.
2022 VW Taos Verdict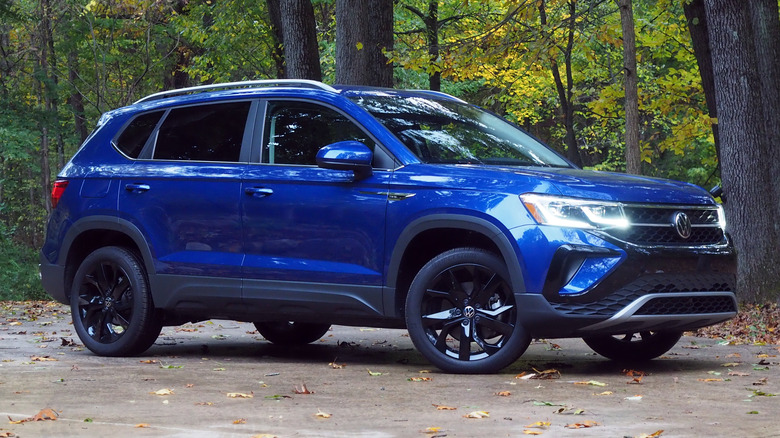 Chris Davies/SlashGear
The reality is that Volkswagen has put together a solid offering, but not a standout, in what has become a fiercely competitive segment. Pick up a 2022 Hyundai Kona, for example, and not only will you likely spend less, but you'll get an extra year of both general warranty and complimentary servicing. The downside is that the rear passenger room and cargo space are both snugger than in the Taos, but we're talking a delta of several thousand dollars.
Eager drivers, meanwhile, will find more to reward them from behind the wheel of the CX-30. Again, you'll get less space than in the Taos, but both the non-turbo and turbo versions of Mazda's crossover are more engaging to drive. Honda's latest 2023 HR-V borrows the estimable Civic's refined road manners and its platform for more usable space than before.
Where, then, does that leave the 2022 Taos? If the classic looks and spaciousness of Volkswagen's larger SUVs and crossovers has appealed, but you've been priced out of the party, the Taos is a more attainable but (slightly) tinier version of that. It feels solid and classic, with styling that doesn't resort to outlandish — and possibly fashion-fated — oddness, and there's no denying that the spacious cabin pays dividends for growing families. All the same, in a segment where rivals are so strong, you'd need to really need that space to make the Taos' numbers fully add up.