This Oculus Quest 2 Hack Lets You Use Discord And Spotify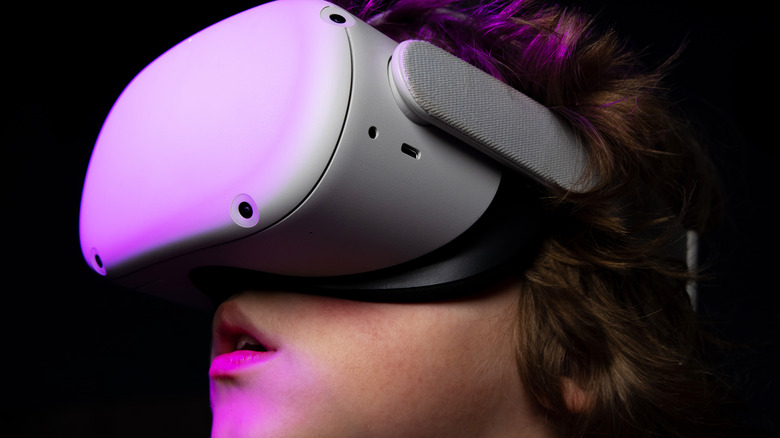 Boumen Japet/Shutterstock
One of the great features of PC VR that gets lost in the transition to Meta's fully-portable Quest VR is the ability to work with several applications at once. A user can hang out with friends in Discord at the same time as they overlay elements of streaming services like Spotify without ever leaving their VR game or software application. Apparently, the Meta Quest 2 is perfectly capable of handling these processes in the background, and you can start using Discord or Spotify on your Meta Quest 2 with a few simple steps not officially sanctioned by Meta.
According to UploadVR, the expanded Quest functionality is made available by way of a custom tool called Oculess (here on Github), which was developed by Quest hackers Basti564 and Threethan. In order to set up the tool and get it working on your Meta Quest 2, you'll need to first set up SideQuest, which can be done via a desktop PC or on an Android phone. There are two separate processes that you'll need to undergo in order to get Oculess working.
How to Set Up SideQuest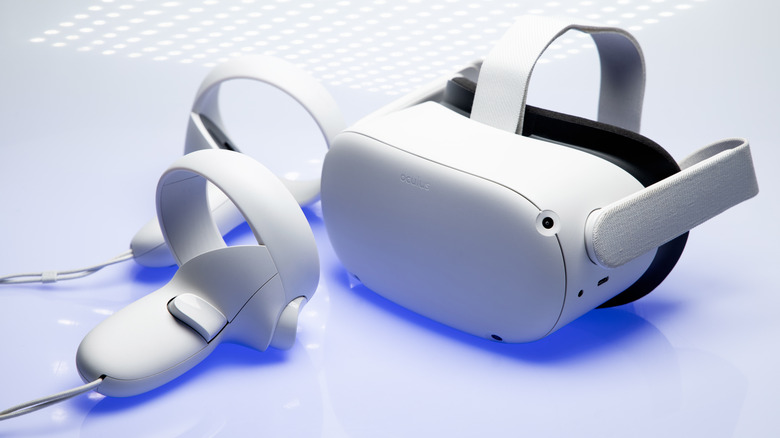 Boumen Japet/Shutterstock
The first crucial process is getting SideQuest itself working and connected to your Quest device. You'll need a USB-C cord that can connect your PC or Android phone to your Quest headset. You'll also need to register the Meta account attached to your Quest device as an Oculus Developer. Don't worry, you won't actually need to develop anything, you just need to be able to enable Developer mode and toggle on USB Connections inside of your Quest's Settings -> System -> Developer menu. We recommend following the specific instructions on the SideQuest website, which is also where you can get all the necessary drivers for your PC.
Setting up Oculess is pretty simple once you've already gotten SideQuest up and running on your PC or Android phone. First, download the latest Oculess APK from GitHub, which is Oculess v1.3.3 as of May 13, 2022. The newest release is also featured on the right side of the GitHub directory that we linked to earlier. According to Basti564 in the video above, you'll want to follow a few additional steps before you can comfortably run Discord and Spotify in the background of your Meta Quest 2 VR experience.
How to Set Up Oculess in Meta Quest 2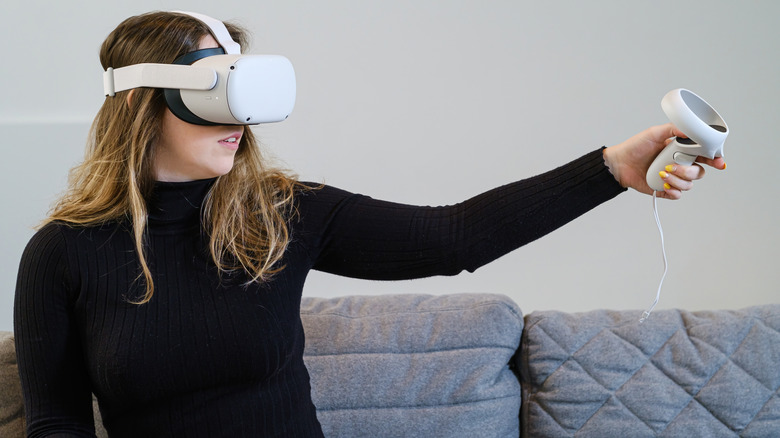 Wirestock Creators/Shutterstock
Now for the second process: getting Oculess and your other apps set up inside of the Quest 2, and enabling background access to audio. You will need to be familiar with the command-line interface process in SideQuest or the Oculus Developer Hub in order to execute step 5.
After downloading the Oculess APK, you'll need APK files for any Android app that you run in the background, which includes Discord and Spotify. Basti564 suggests using APKPure to source such files, but you can almost certainly find updated APK files hosted at other websites by querying "Discord APK" and "Spotify APK" in two separate searches via Google Search.
Once you have each APK file ready to sideload into your Meta Quest 2, load up SideQuest on your connected PC or Android phone.
In SideQuest on your PC, click the little box with an arrow pointing down (the button that'll install APK files), and load each APK file, including Oculess, Spotify, and Discord. On Android, any installable APK files should show up in your main SideQuest menu.
In the Meta Quest 2, navigate to Unknown Sources in your app list. Open Oculess, then "Remove Accounts," then remove your Oculus account.
Reconnect your Quest 2 to SideQuest, then activate the ADB command "adb shell dpm set-device-owner com.bos.oculess/.DevAdminReceiver"
Return to Oculess inside of your Quest 2, then select "Enable Background Audio for Installed Apps".
Now you can enjoy a seamless experience when loading up Spotify or Discord inside of your Quest 2 VR headset! From here on out, you only need to remember to repeat step 6 each time you restart your Quest 2.