Why You'll Hardly Find Any Hennessey Venom GTs On The Road
John Hennessey founded Texas-based auto tuning shop Hennessey Performance Engineering (HPE) in 1991 after breaking race records left and right. Earlier that year, Hennessey bought a brand-new Mitsubishi 3000GT VR4 to pursue his dream of conquering the Pikes Peak Hill Climb. Before he could get to said race, Hennessey developed bespoke turbochargers, exhausts, and tuning mods for his Mitsubishi 3000GT and proceeded to test his creation — the car which he named "VR200" — at the Nevada Open Road Challenge. He finished fourth overall by averaging 164 mph over the 90-mile course, impressive for a tuner and race car driver with no prior experience in the professional circuit.
Hennessey rolled in to Pikes Peak Hill Climb at a respectable 10th place that same year, then took his VR200 to the Bonneville Salt Flats and competed in the F-Production/Supercharged Class. The VR200 achieved an average two-way speed of 177 mph, setting a new class record. The last of Hennessey's maiden tour de force was at the 1991 Nevada Silver State Challenge, where the VR200 averaged 177 mph and was the overall winner of the race.
Hennessey never looked back. establishing Hennessey Performance Engineering in the last months of 1991 to follow his passion for speed. Before hogging today's headlines with the Venom F5 (HPE's first in-house developed supercar), HPE was best known for the Viper Venom 500, the 1,000-horsepower Venom 1000, and the Lotus-based Venom GT. The latter is what Hennessey considers "the supercar I have always dreamed of building" and was HPE's first official attempt at building a car.
Hennessey Venom GT: Lotus body, Corvette heart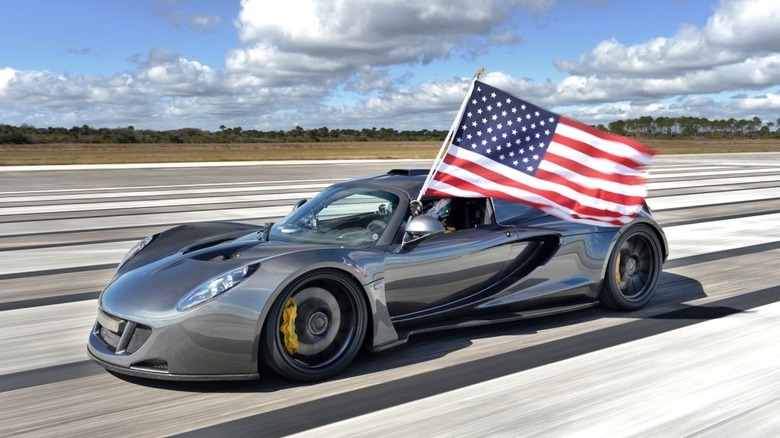 HPE
You could easily mistake the Hennessey Venom GT for a Lotus Exige. But look closer, and you'll see the Venom GT is marginally longer and has a stretched rear chassis to accommodate a new beating heart: a 7.0-liter LS7 V8 engine from the Chevy Corvette ZR-1, pumping out 1,200-horsepower to 1,451 horsepower and 1,155 pound-feet of torque in the Venom GT Final Edition. The absurd power hike is courtesy of two overblown Precision turbochargers, allowing it to scamper from 70 mph to 215 mph in 10 seconds. Those numbers were unheard of back then, especially from a little-known supercar maker from Texas.
The Venom GT caught the attention of the Guinness World Records in 2013, where the car accelerated from zero to 300 kph (186 mph) in 13.63 seconds, a new world record. It also set an unofficial production car acceleration record of zero to 200 mph in 14.51 seconds, faster than the Koenigsegg Agera R (17.68 seconds) and Bugatti Veyron Super Sport (22.2 seconds). And since the Hennessey Venom GT only weighed 2,743 pounds (1,244 kg), it had a power-to-weight ratio of one horsepower per kilo, part of the reason why it went from zero to 60 mph in 3.05 seconds and completed the quarter-mile run in an unbelievable 10.29 seconds at 158.83 mph.
In 2014, the Hennessey Venom GT achieved a 270.49 mph (435.31 kph) top speed at Cape Canaveral, making it the world's fastest production car. The Bugatti Chiron Super Sport has since broken the record in 2019 by going 304.773 mph and becoming the first series production car to go faster than 300 mph.
Powerful, exclusive, and rare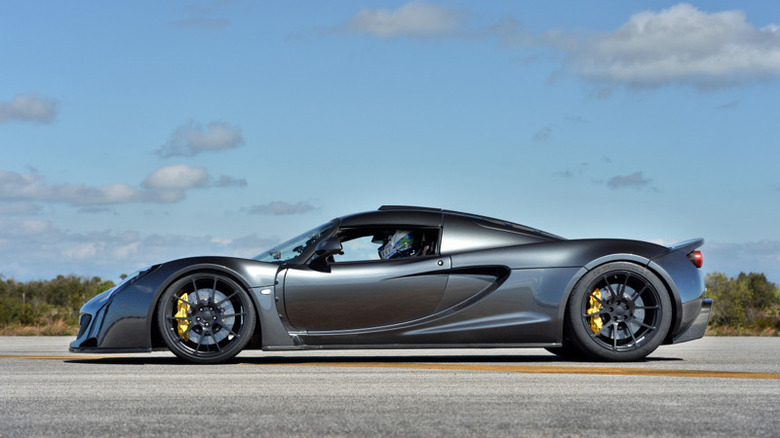 HPE
The Hennessey Venom GT had a base price of about $950,000, and the Venom GT Spyder started at around $1.2 million, perfect for oligarchs, tech billionaires, and celebrity rock stars. Each vehicle was handbuilt, and Hennessey only built five Venom GTs per year on average. It's no wonder legendary Aerosmith frontman Steven Tyler bought the first production Venom GT Spyder in 2012.
John Hennessey initially planned to build 29 units of the Venom GT. However, HPE only built six hardtops, six roadsters, and one prototype model, said Autoweek, making it one of the most exclusive supercars in the world. 2017 was Venom GT's final production year. HPE's next supercar, the fully-bespoke Venom F5, has the potential to etch the HPE name permanently in automotive folklore.
Hennessey Performance Engineering celebrated its 30th anniversary last April 2022. The company has created upwards of 12,000 customer cars and has evolved into a global contender from its humble beginnings in Sealy, Texas. "If you are not breaking something every now and then, you're not pushing hard enough," said John Hennessey via RoadTripNation.