Yes, The Original Angry Birds Game Is Back In The App Store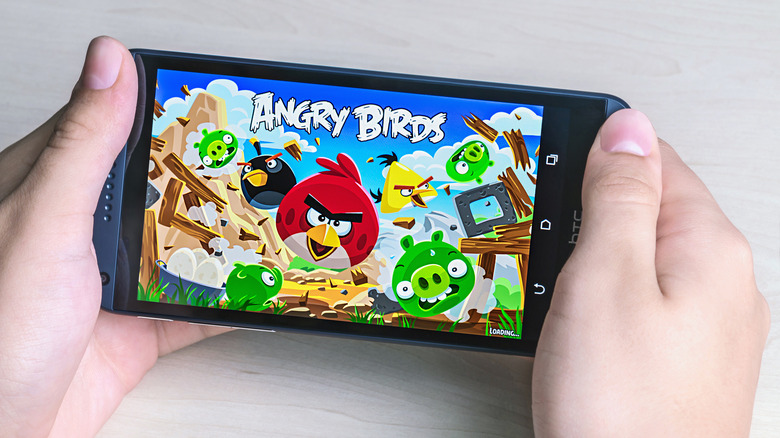 OlegDoroshin/Shutterstock
The original "Angry Birds" has flown back to the App Store and Google Play faster, better, and angrier than ever. We solemnly swear this is not an April Fools' joke. 
Rovio Entertainment confirmed the return of the uber-popular classic mobile game, now titled "Rovio Classics: Angry Birds," through its official Twitter account on Thursday, March 31, 2022. It shared a video of "The Angry Birds Movie" version of Red getting sucked into the game and meeting his classic appendage-less self and his friends as they try to get their stolen eggs back from the pigs.
Despite the fact that it originally came out in 2009 in the middle of the swine flu epidemic that inspired the creation of the green piggies as the enemies of the titular birds, Rovio said in a press release that "Rovio Classics: Angry Birds" is a recreation of the game as it appeared in 2012, with over 390 levels split into eight chapters. The game costs $1, which means there will be no annoying microtransactions or advertisements whatsoever. However, it will come with all the power-ups and other DLC that were originally in-app purchases, including the Mighty Eagle.
What happened to the original Angry Birds?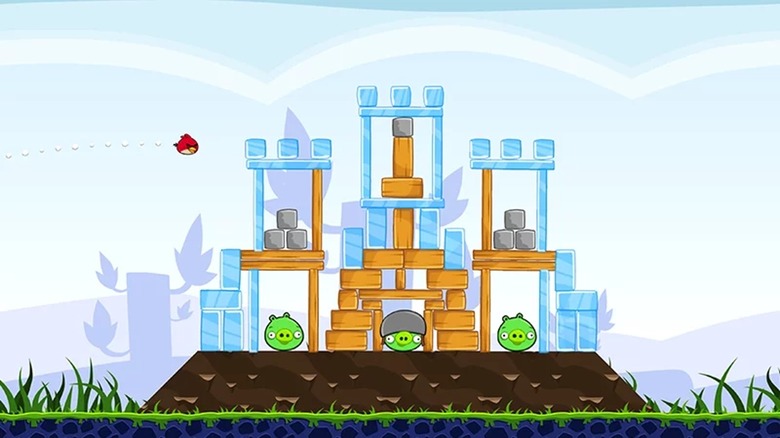 Rovio Entertainment
Following the release of "Angry Birds VR: Isle of Pigs" in early 2019, Rovio delisted every classic "Angry Birds" game that was released before 2014 from digital storefronts — except "Angry Birds Friends" for some reason — without warning. The lack of transparency for the games' disappearance, if any, resulted in an outcry from fans demanding that they be brought back. 
Two years later, on June 22, 2021, Rovio published a letter to its fans apologizing for the sudden removal of "Angry Birds Classic" and other fan-favorite titles, including "Angry Birds Seasons," "Angry Birds Legends," and "Angry Birds: Star Wars," to name a few. At the time, the company explained that it delisted them because they were built on outdated engines, making it impossible to update them in compliance with current operating system requirements. "Today's mobile technology and games landscape has evolved to a place where supporting them was untenable," Rovio said. "And we can't just leave them there and not update them, as games need to comply with all sorts of platform requirements. 10 years in game years is like 100 in human years — that's how quickly the industry advances."
To that end, Rovio rebuilt "Angry Birds Classic" on Unity, an engine used for "Pokemon GO," "Cuphead," and "Sonic Forces: Speed Battle" among others. "Rovio Classics: Angry Birds" is out on iOS and Android now for $0.99.