First Reviews Of Apple Mac Studio And Studio Display Are Out - And It's Not All Good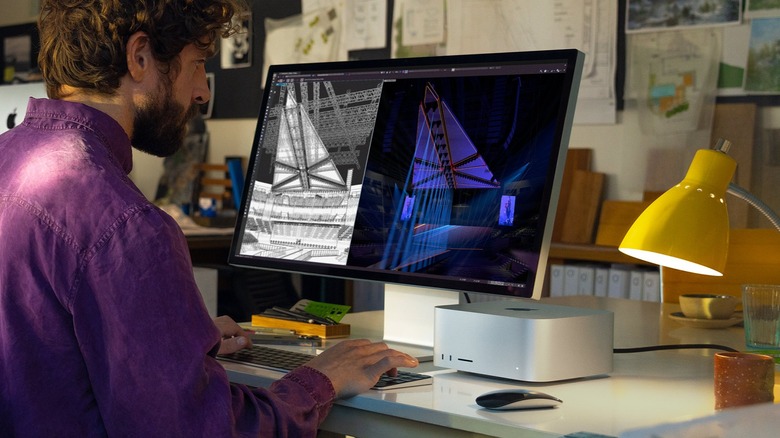 Apple
The first reviews of Apple's new Mac Studio were released this morning, and they don't all agree. Depending on the review, prospective buyers of the new Apple desktop machine and monitor will find everything from unadulterated excitement to downright nonplussed. In most cases, early reviewers seem to agree that they're glad Apple finally has an alternative to their otherwise sole option for a monitor, and a new iteration of a MacOS desktop, but opinions are split on whether either device is actually worth the cash.
Compared to the Apple Pro Display XDR with a starting price around $5,000, the Apple Studio Display might seem like a real bargain at $1,599. The Mac Studio may blow Apple's Mac Pro out of the water, meanwhile, but is it really worth Apple's starting price at $1,999 in its M1 Max configuration, or a whopping $3,999 with an M1 Ultra chipset inside? Or, should we just stick with a lesser Mac?
Mac Studio reviews are largely positive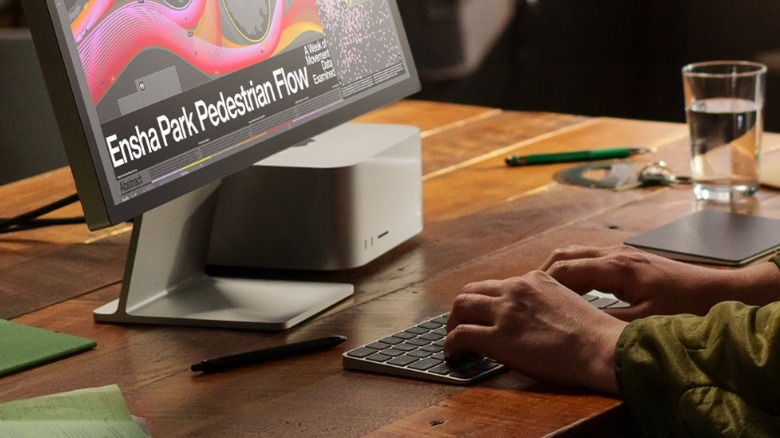 Apple
There certainly seems to be a lot to love about the Mac Studio. At Engadget, D. Hardawar said that "It's taken a while, but now Apple finally has a Mac desktop that can go toe-to-toe with PC workstations under $5,000." Brenda Stolyar at Wired said that while the entry price for the Mac Studio at $1999 wasn't "cheap," a prospective consumer "will be hard-pressed to find an equivalent this powerful and compact for a similar price." 
Matt Hanson at TechRadar listed the price, the inability to upgrade components, and the lack of mouse and keyboard as marks against the desktop, but went on to deliver a rating of 4.5 stars out of 5. We see very similar results in the Roman Loyola review at Macworld, with a 4.5 out of 5 star rating and lack of upgradeable parts as well as a "finicky Touch ID setup" as cons.
The Mac Studio review at CNET by Dan Ackerman makes another interesting point along the same lines as the lack of upgrade power: "Like other M1 Macs, no external GPU support." It would appear that if you love everything else about the Mac Studio but upgrades and external GPU boosts are deal-breakers, you might need to look elsewhere for your ideal compact Mac. Or, you might need to wait for the inevitable release of the next Mac Pro.
Studio Display reviews aren't as clear-cut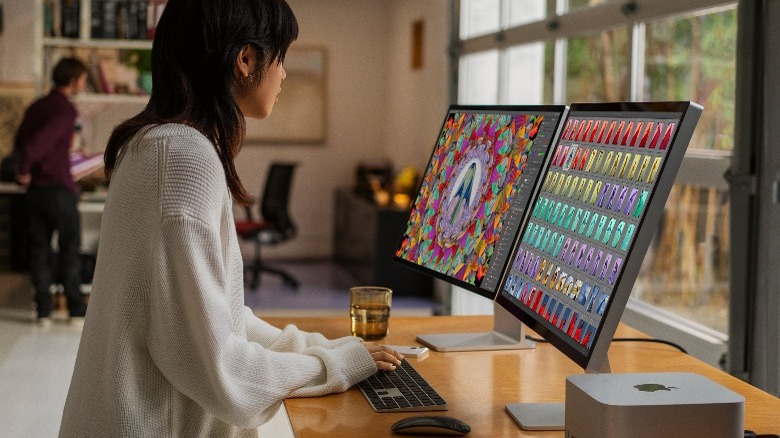 Apple
In the first batch of reviews released on March 17, 2022, the Apple Studio Display received some notably low marks. Nilay Patel at The Verge described the Studio Display as "a 5K iMac's panel, six speakers, three mics, and one terrible camera," going on to describe the monitor's webcam feature as "virtually unusable." At CNBC, reviewer Kif Leswing was left "wishing that the Studio Display had more distinguishing features." A surprising note from the Gizmodo review by Phillip Tracy suggested that "like those on the Mac Studio, the Studio Display's rubber pads failed to keep the monitor planted on my wooden desk."
On the other hand, Joanna Stern at the Wall Street Journal compared the Apple Studio Display to a variety of monitors from the Samsung M7 Smart Monitor priced at $370 all the way up to the Dell Ultrasharp 32 HDR with a price at $3,780, suggesting that the Apple Studio Display came out on top. "Are there cheaper monitors? Sure. Are there bigger monitor? Yep. But the Studio Display is a perfect fit with modern Macs," wrote Jason Snell in the SixColors Review, "If you've got a Mac and wand a good external display for it, there's finally an obvious answer."
Both the Mac Studio and the Studio Display were announced with a release date of March 18, 2022. The Studio Display has a base price of $1,599, and the Mac Studio has a base price of $1,999, with prices based on configuration.