The New Apple Display Could Be A Done Deal For Tuesday's Event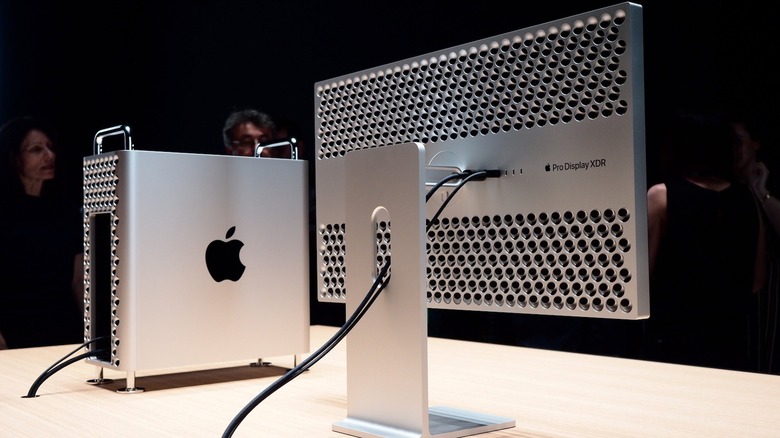 Chris Davies/SlashGear
Apple's big "Peek Performance" event on Tuesday, March 8, may be expected to reveal the Cupertino company's latest 5G smartphone, and a big iPad Air update, but it's a long-rumored accessory which could end up stealing the show. For years now, there's been a conspicuously display-shaped hole on the desktops of many Mac users, on which the current Apple Pro Display XDR hasn't been able to fill.
According to Bloomberg's Mark Gurman, who has a more than solid track record at predicting Apple announcements, the "Peek" in Apple's tagline could in fact be a sneaky glimpse at a new screen. "I also wouldn't rule out Apple previewing its next-generation external display," Gurman wrote in his weekly newsletter. "I'm told Apple actually completed work on it months ago, and the device was due to launch soon after last year's MacBook Pro."
Exactly why that original timeline didn't work out is unclear, though it's not hard to think of some potential explanations. While Apple proved initially more resilient than most companies to the supply chain crunch at the start of the pandemic, it hasn't remained immune. That could well have limited availability of things like display panels, processors, and other components needed to satisfy the high-profile launch of a new product.
New display, old rumor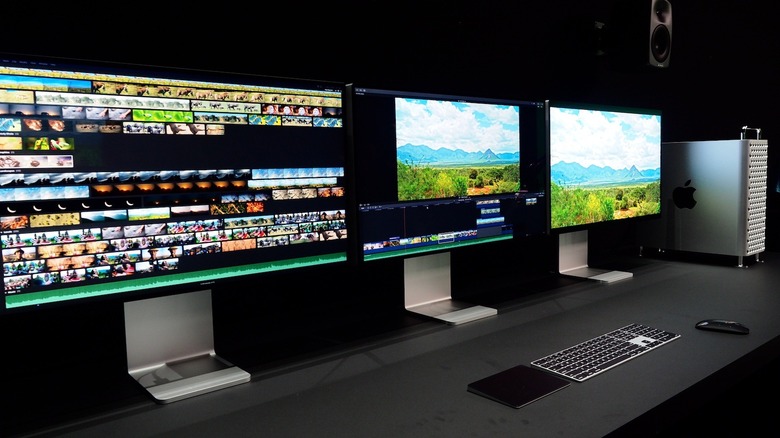 Chris Davies/SlashGear
Chatter of a new Apple display has been in circulation for some time now. The Apple Pro Display XDR that launched alongside the Mac Pro in late 2019 was a long-anticipated return of the company to the monitor segment, the Apple Thunderbolt Display having been discontinued three years prior. However hopes for a mainstream display for those wanting to plug in a Mac mini or MacBook Pro were rapidly dashed.
Instead, the Pro Display XDR was resolutely focused on Apple's high-end clientele. Intended to give Mac Pro users a suitably high-quality panel with 6K resolution, color calibration, and particularly strong brightness, it received strong reviews but is priced – from $5,000 for the screen alone, without a stand – well out of the budget of the mainstream.
The big question, then, has been whether Apple would release a version of the screen with a more affordable sticker. Something that could live alongside the Pro Display XDR rather than succeed it, with a price tag that wasn't the equivalent of several Mac mini stacked on top of each other. Somewhat confusingly, though, two parallel Apple rumors have been running in tandem.
Two very different Apple display rumors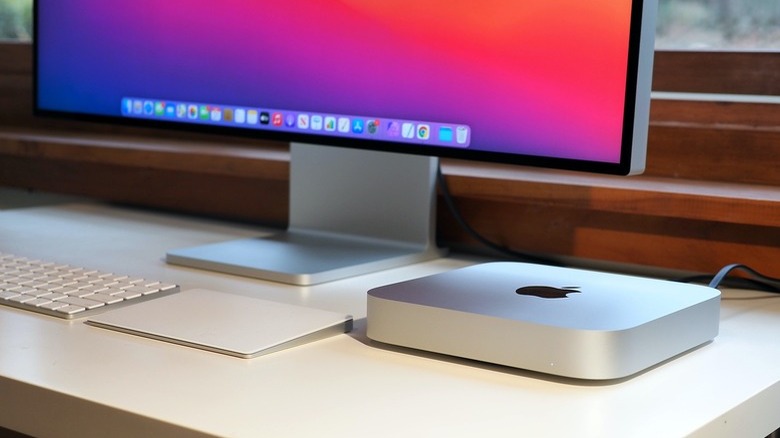 Chris Davies/SlashGear
On the one hand, there's talk of a more affordable Apple display. Targeted at those who don't need exact color calibration and videographer-friendly specs, it would cater to those who just want more screen real-estate as they work from home. Meanwhile, a second rumor pegs an even higher-resolution, 7K screen in development. Dubbed the Apple Studio Display, according to the latest rumors, it would not only tap a high-end panel but include one of Apple's homegrown A13 chipsets, like its iOS and iPadOS powered devices.
The case Apple would need to make for a consumer display would be a fairly straightforward one. After all, with the M1-powered Mac mini a hit, and an M2-powered version believed to be on track for a 2022 release, it's no surprise that there's an audience out there for an Apple-branded screen that's less of a hit on the wallet. The argument for a more high-end screen would take a little more building, though that could be why Apple opts to preview the project with a sneak peek.
To be clear, it's not guaranteed that a new Apple display will be the wildcard at Tuesday's event. Gurman also suggests it could be a preview of the new iMac Pro or Mac Pro, and we've heard reports too of a "Mac Pro mini" style desktop – fitting in-between the current Mac mini and Mac Pro lines, potentially as the "Mac Studio" – also being in the pipeline.
Gurman says that his sources don't believe either the new Mac Pro or iMac Pro are ready for release yet. However, Apple could well decide to preview them – or one of the pair – before a commercial debut later in 2022.