Apple Studio Display Rumor Is Not Quite What We Were Hoping For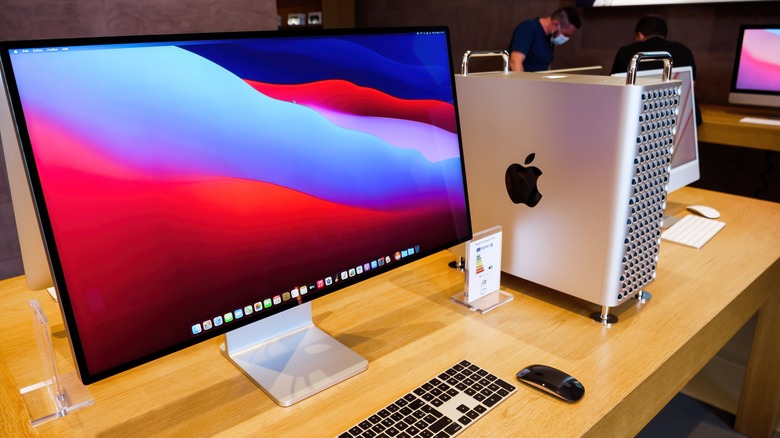 Hadrian/Shutterstock
Back in July 2021, rumors broke in the Apple world that the Cupertino firm was working on a new Apple display with a dedicated iPhone chip and a Neural engine, potentially even more expensive than the current Pro Display XDR which costs a whopping $4,000. Six months later, a second set of leaks suggested the tech giant could be developing a much cheaper second external display, that might be coming out sometime this year. Plenty of people have been hoping that Apple would make a more affordable monitor than the Pro Display XDR, a screen clearly targeted to professional users sitting further up the income ladder than most consumers. 
Today, a new report from 9to5Mac claims that the company is working on what's described as an Apple Studio Display with 7K resolution, citing sources familiar with the project. Expectations are that this model will indeed be even more expensive than the Pro Display XDR, to match its more potent specifications and uptick in resolution. 
Pro Display XDR vs. Apple Studio Display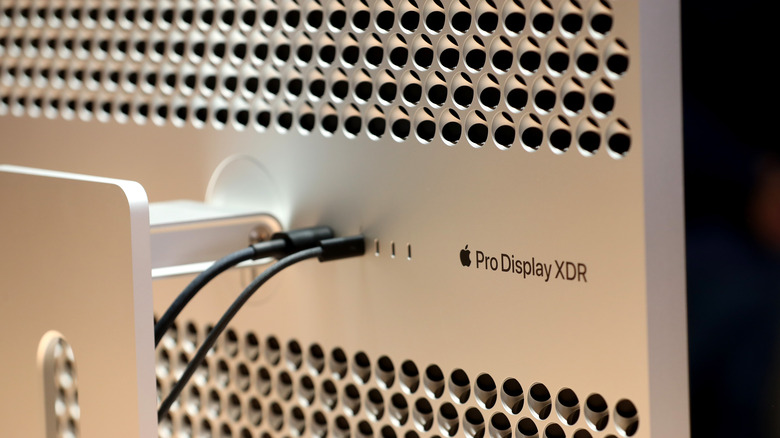 Justin Sullivan/Getty Images
As 9to5Mac's Filipe Espósito reports, it's not exactly clear whether the new Apple Studio Display will be an iteration of the Pro Display XDR, or if will introduce a whole new option in the current lineup of Apple products. If the leaks are true, there will be some clear differences between the two displays.
The current Pro Display XDR has a 32-inch panel with a 218 pixels per inch running at 6K resolution (6016 x 3384p). Since the Apple Studio Display reportedly in the works is said to run at a higher resolution, the pixel value would be kicked up 27 points higher with 245 pixels per inch contained within a 36-inch panel, thus making the images sharper and clearer for people not to squint at. However, whether it would pack that much pixel density or retain the 218 pixel-per-inch value is currently unknown.
Espósito reported around the same time last summer that Apple was testing a new external display known internally by the codename J327, complete with an A13 chip. According to sources involved with the project, this rumored Apple Studio Display is indeed the same J327 model.
Will the Apple Studio Display show up at the Apple spring event?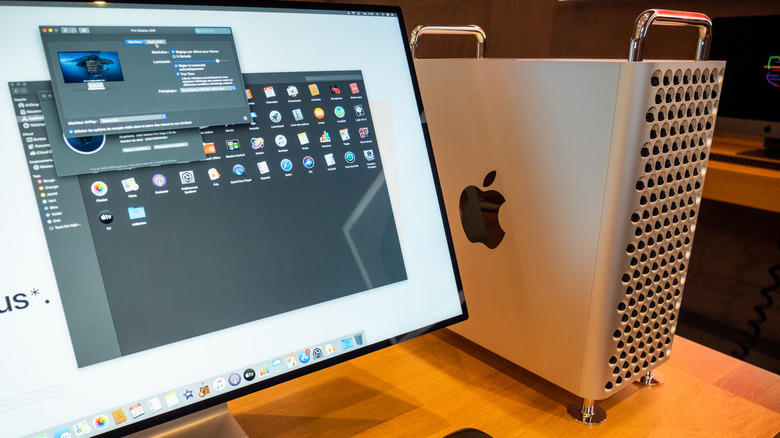 Hadrian/Shutterstock
When Apple plans to launch the new Apple Studio Display is currently unknown. The company does not, of course, comment on rumor or speculation, and hasn't confirmed that a new external display is in the pipeline at all. At this stage, it's similarly unclear whether it would be ready in time to be shown off at the upcoming Apple Spring event on Tuesday, March 8.
Last month, Mac Gurman reported in his "Power On" newsletter on Bloomberg that Apple is set to announce a slew of new Macs at the event. One of them is a new 13-inch MacBook Pro model with an M2 chip, which will replace the 2020 model and sit beneath the 14-inch and 16-inch laptops in the MacBook Pro line. A few other models potentially on the agenda for Tuesday is a "half-sized" Mac Pro, the first in the series to be powered by the Apple Silicon chip, along with a redesigned MacBook Air equipped with an updated Apple M2 chip.