Faraday Future Finally Built A Production EV - Can It Still Compete?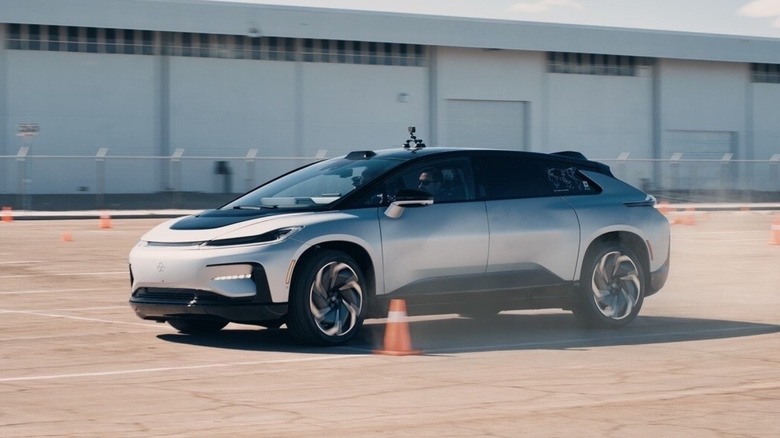 Faraday Future
You probably heard of Faraday Future (FF), the California-based EV startup that started making waves in 2016. The automaker unveiled its FFZERO01 concept that year, a futuristic rocket ship with four wheels, a single driver's seat, and an innovative drive-by-wire instrument panel. And by 2017, Faraday Future was shaking up 2017 CES with its dramatically-styled FF 91 electric crossover, a production-intent prototype that we thought would never see the light of day – until now.
Earlier last week, Faraday Future Intelligent Electric announced the completion of its first production car. Unsurprisingly, it's the FF 91 crossover, and we're not talking about a mock-up prototype, either, because this is the real thing. The pre-production model will undergo final validation and certification, just on time for the start of production by Q3 2022 at the company's Hanford plant if everything goes well.
"The FF91 is expected to be the first ultra-luxury EV to reach the market, with a unique driver and passenger experience," said Matt Tall, vice president of manufacturing, Faraday Future.
What is the FF 91?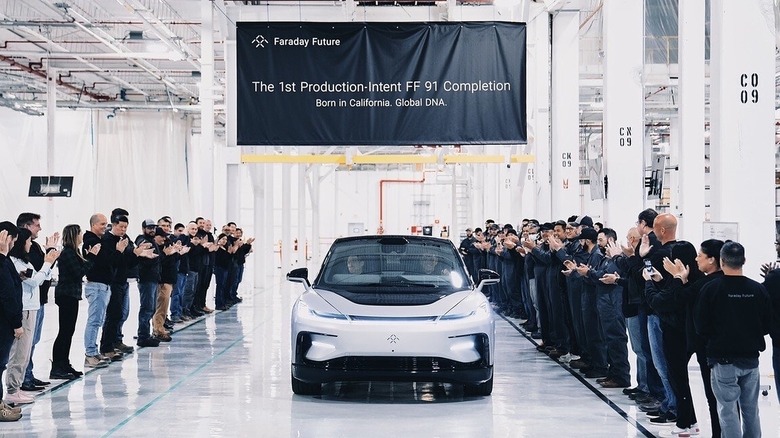 Faraday Future
The Faraday Future FF 91 is an all-electric luxury crossover, the "first ultra-luxury EV to reach the market," added Tall, and one that offers a "unique driver and passenger experience." Don't let the family-friendly styling fool you, though. The FF 91 does look like a practical family mobile, but it's hiding a ton of power underneath that wholesome countenance.
Faraday Future has yet to unveil the final engineering and performance specs of its first production-intent FF 91. But if the 2017 concept is any indication, we're anticipating the FF 91 to run beside the Tesla Model S Plaid and Lucid Air.
Oodles of Power and Longer Driving Range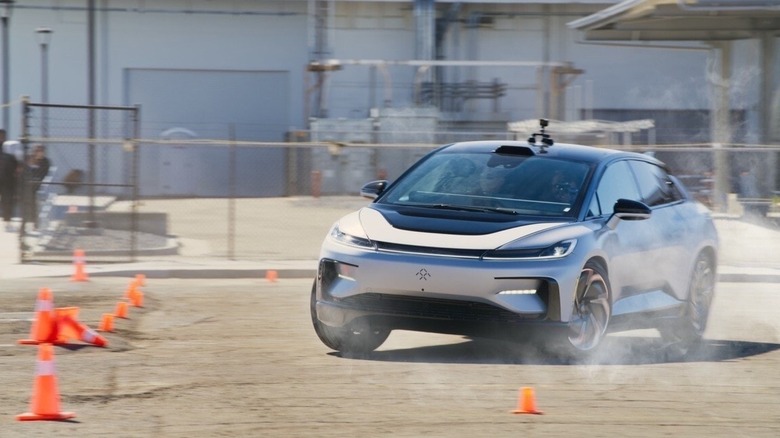 Faraday Future
The FF 91 is packing a still-undetermined amount of electric motors that, get this, collectively pump out 1,050 horsepower, enough grunt to breach 60 mph from a dead stop in 2.39-seconds. And since we're talking about an electric car, the torque arrives the moment you press the pedal.
We're still awaiting the official range and battery numbers, but the FF 91 concept unveiled five years ago could allegedly have a 130 kW battery pack. If the rumors are true, the FF 91 can deliver up to 378 miles of driving range.
FF 91 Coming Soon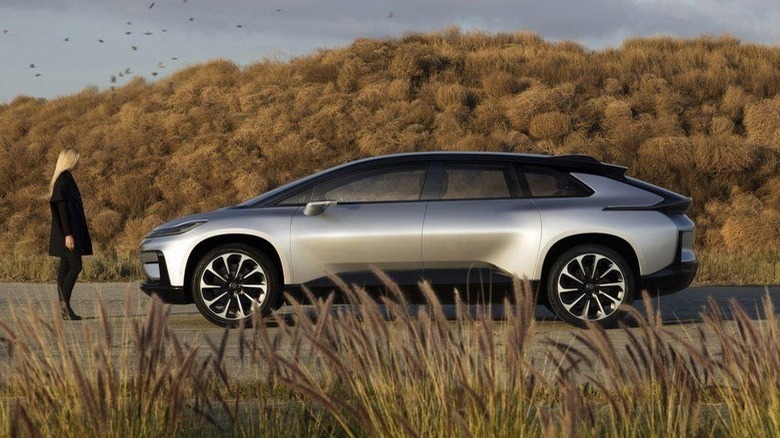 Faraday Future
We'll know more about the FF 91 as it undergoes pre-production testing after completing what the automaker calls Milestone #4. The automaker is also launching the "Born in California, Global DNA" and "ieMedals" co-creation marketing campaigns to recognize contract manufacturers and suppliers.
Faraday Future will issue electronic rewards or "ieMedals" that the automaker will add to users' FFID accounts in the Faraday Future Intelligent App, downloadable via the Google Play Store and Apple App Store. Are these ieMedals akin to NFT that will live on blockchain? We have no official confirmation, but we're excited to see the FF 91 after Faraday Future's tumultuous past.