CAT S60 Review: Hardcore To A Fault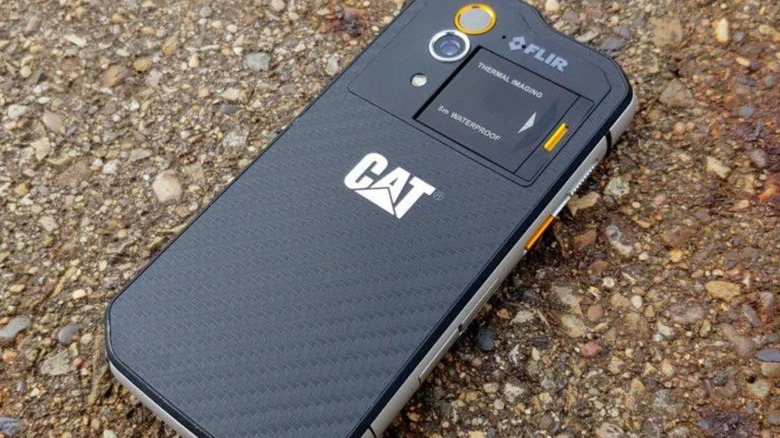 SlashGear
EDITORS' RATING: 5/10
We may receive a commission on purchases made from links.
The world's first thermal imaging smartphone is the CAT S60, a device first introduced back in February of 2016. This smartphone is part of a collection of Android-based devices made by the folks at CAT, aka Caterpillar. We've not traditionally reviewed a lot of Android devices this far from their original release date for several reasons, one of which is Android updates.
It's more of a CAT than an Android
This is not a phone for Android fans. It did not move beyond Android Marshmallow, and only received the most crucial of firmware updates. Like back in October of 2017, it got a firmware update to solve the BlueBorn vulnerability. Not much after that.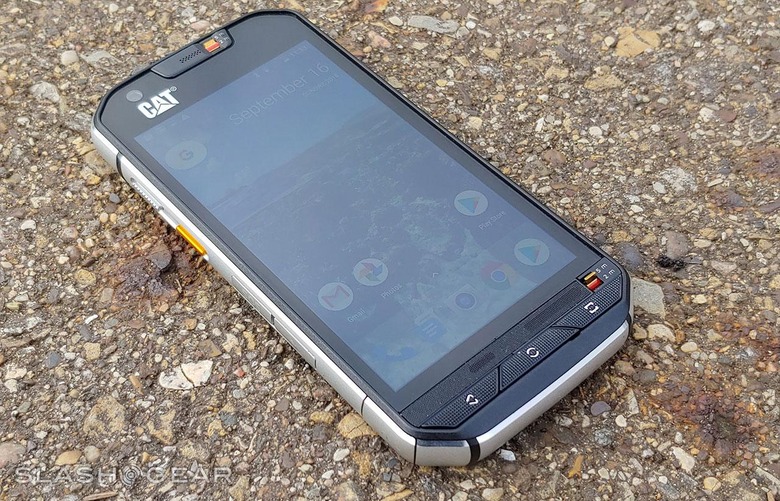 Instead, this is a smartphone for people who work in rugged environments and could benefit from thermal imaging in their daily lives. There ARE people out there, believe it or not, who can benefit from heat vision but do NOT care about Android updates. For them, this S60 might be just the ticket.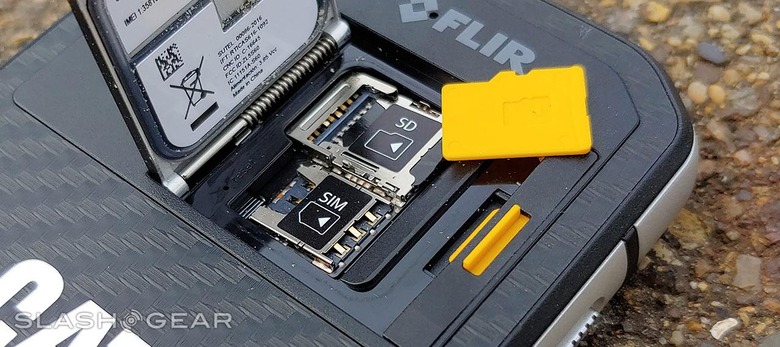 This phone has one very important thing in common with the first Razer phone. Because it does not follow smartphone trends and instead concentrates on one or two other super-specific areas of interest, CAT S60 and Razer Phone (2017) are quite alike. But where the Razer phone had mobile courage, the CAT S60 falls just a little short.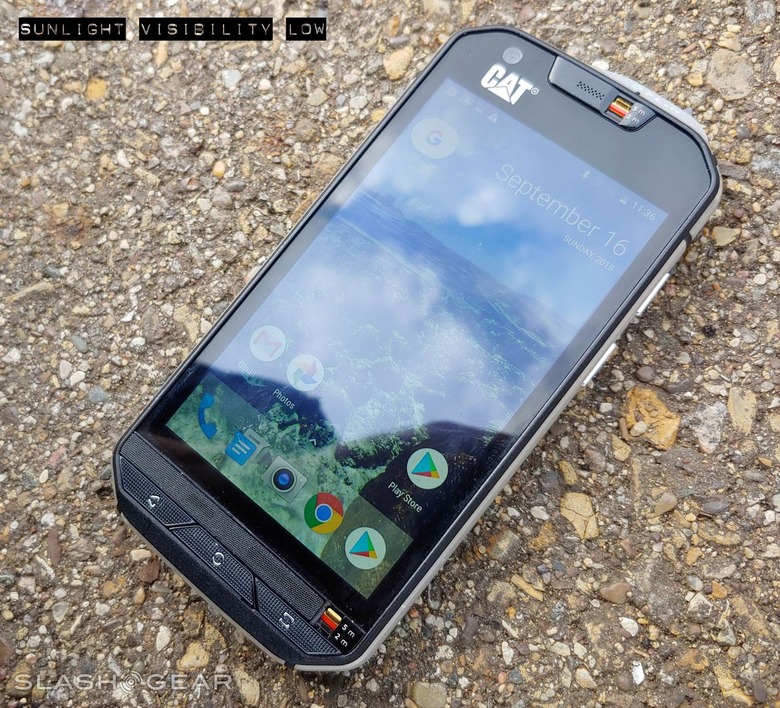 Above you'll see the display on full brightness in both the shade and in direct sunlight. It's not quite up to the task for one of these two, but the other does fine, for the most part.
With a 4.7-inch LCD display that's 1280 x 720 pixels dense, it's most certainly not going to impress your kids any time soon. Not unless they've never seen any other modern smartphone. Instead, this CAT S60 is a set of digital tools that just happens to run Android. But it's hardcore. CAT concentrates so extremely hard on being rugged, here, that it's as if they decided any effort they'd have spent upgrading the software was better used on additional ruggedness.
Ruggedly Heavy Duty
The CAT S60 is drop proof to 1.8 meters, and I would not be shocked to find that it'd survive drops from well above that height. It's MIL-SPEC 810G, IP Certified, drop proof on concrete up to approximately 6 feet above the ground.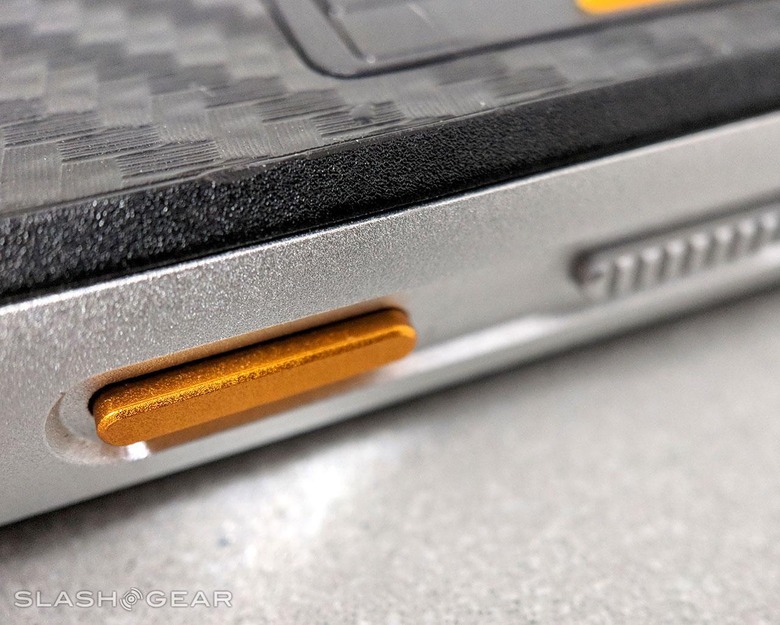 This smartphone has a kevlar weave backside, super thick body, and a rim around both front and back edges. You could fit a layer of very tiny sand between the ground and the display glass with this device lying face-down.
The rim of this device is aluminum and it features several beastly-sized buttons for volume, power, and quick access to a number of different functions. You can choose what the yellow button does, both with short and long-press actions. I've got this ones quick-press set to open the device's thermal camera interface.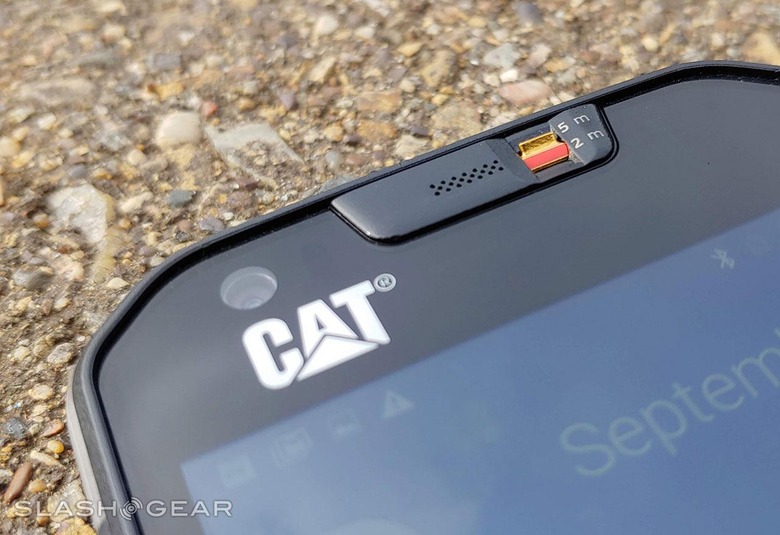 The S60 is waterproof to a couple different depths. With speaker switches open, the phone is waterproof to 2 meters. With said switches closed, the phone is waterproof down to 5 meters for 60 minutes. These switches close an extra door between the device's speakers up front, effectively closing the hatches like it's a submarine when it's time to dive.
While it doesn't function fully with touch underwater, it does have a "wet-finger compatible Corning Gorilla Glass 4" pane of reinforced glass up front. That paired with an extra-sensitive touchscreen panel (more than most, anyway), allows use once you come back up from a dive.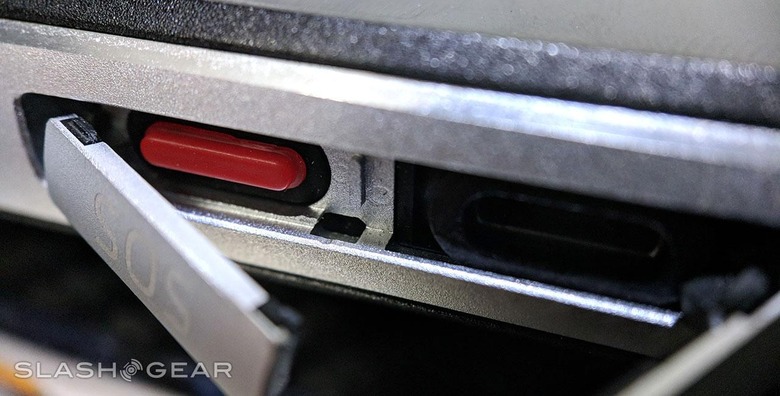 It's sealed around all the edges, with rubber gaskets around each of the ports. There's a USB port (micro-USB, no USB-C here) covered by a metal door, another metal door over an SOS button, and yet another metal door over the device's standard headphone cord jack.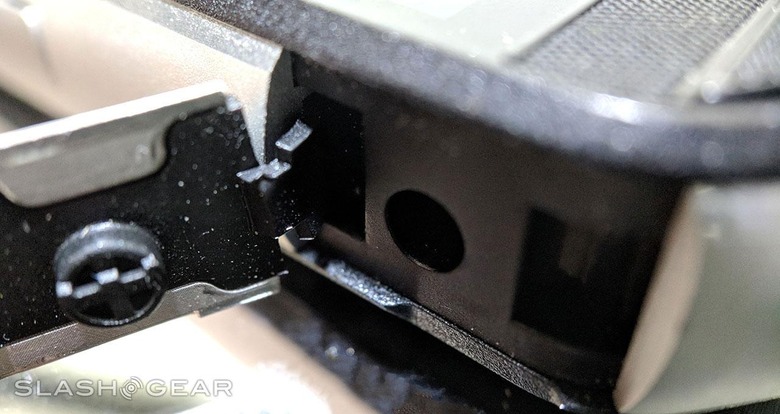 Software
The SOS button connects to a Location Alert app, which in turn makes it relatively easy to signal for help when you're in a dangerous situation. When the app is properly pre-set with contact information, pressing the SOS button sends an alert to your emergency contact. This emergency contact is alerted complete with GPS location of your CAT phone.
There's a Speaker Dry cycle you can run your phone through – that's another built-in app. There's an app called APP TOOLBOX that gives the user app suggestions. You'll have the ZELLO app right out the box, too. All the Google standard apps are here, and the Google Play app store if you'd like to download apps compatible with Android Marshmallow. To CAT's credit, the apps included here beyond Google's are helpful and mostly necessary. That's not always the case when it comes to manufacturers of Android devices around the world.
Cameras
The cameras have their own set of rims. They're just as protected from harm as anything else on this device, complete with reinforced glass covers that get very dusty very easily. Make sure you've got a tiny cloth (or a t-shirt) handy whenever you're about to snap a few photos – clear the lens glass area out before snapping.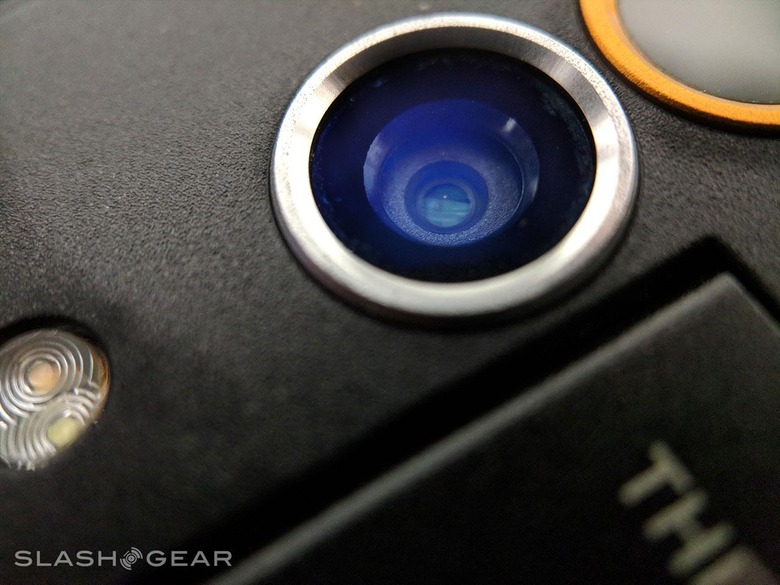 MyFLIR is the camera app for the phone that allows the user to access thermal imaging. There's also a standard camera app – Google-made – that uses the device's standard 13MP back-facing camera or its 5MP front-facing camera. Both of these standard cameras are pretty baseline – they're OK for documentation purposes, but certainly not to the level we'd expect for the price of this phone.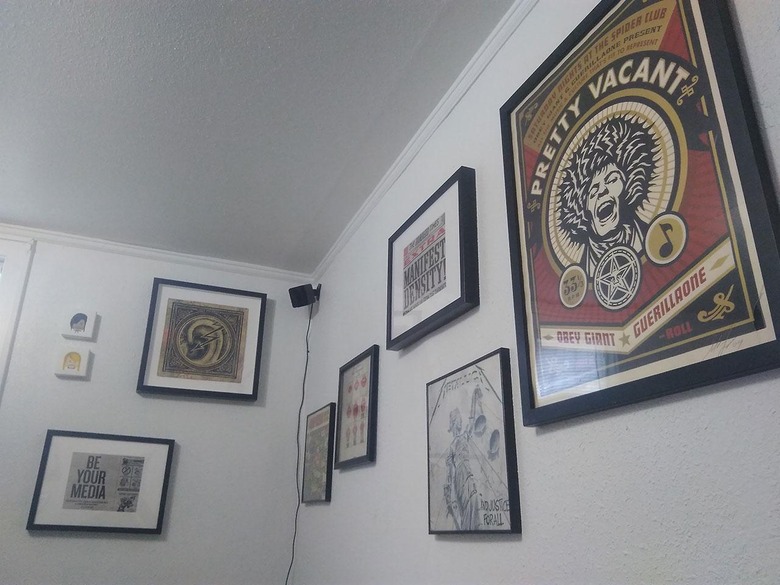 The thermal imaging bit is pretty neat. It's a very similar interface to what we saw back when we did a mini-review of the first FLIR ONE camera add-on for Android. With this CAT phone you get a FLIR thermal imaging camera built-in.
With this camera you can see the approximate temperature of everything around you. The camera is extremely sensitive to what you're already able to see – but with heat vision. You are NOT able to see through walls, as some early users suggested – unless those walls are paper-thin. And in that case, you're not actually seeing through walls, you're just seeing heat signatures in a very, very basic way.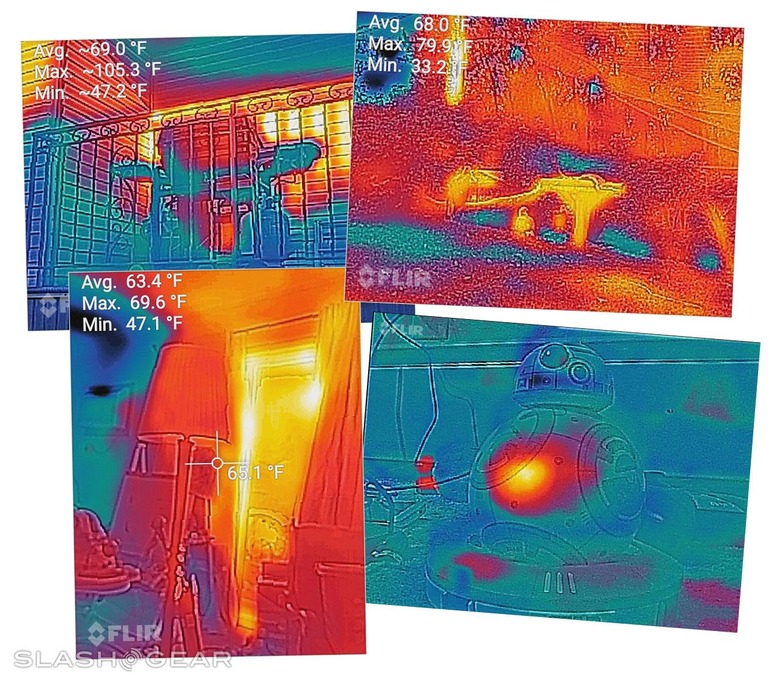 This FLIR camera part is a simple tool. It's not a toy, and not something you're going to use to take award-winning photos. It really, truly, is only good for finding temperatures of the things in your immediate area.
Wrap-up
If you're aiming for the newest smartphone software or any sort of device security, this isn't the phone for you. If you need a device that can access the internet, email, send messages, and tell you the temperature of a nearby vehicle engine block, the CAT S60 is decent.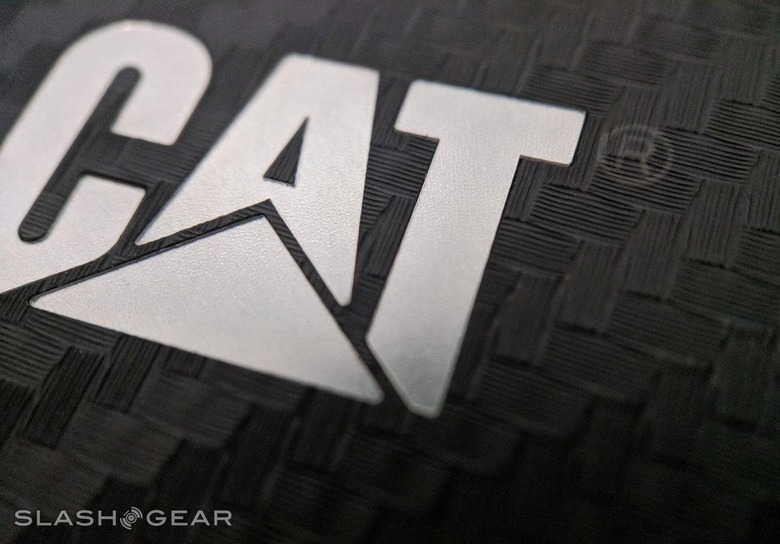 This phone can be attained from a number of retailers through Amazon right this minute for around $579 USD. It comes with GSM compatibility, which means Verizon and Sprint SIM cards won't work – AT&T and T-Mobile USA will work. There's also a CAT S61 out now if you'd like to see a very similar device with a larger display and a few new features.