Cat S61 Android packs heat-vision, lasers, & MIL-SPEC toughness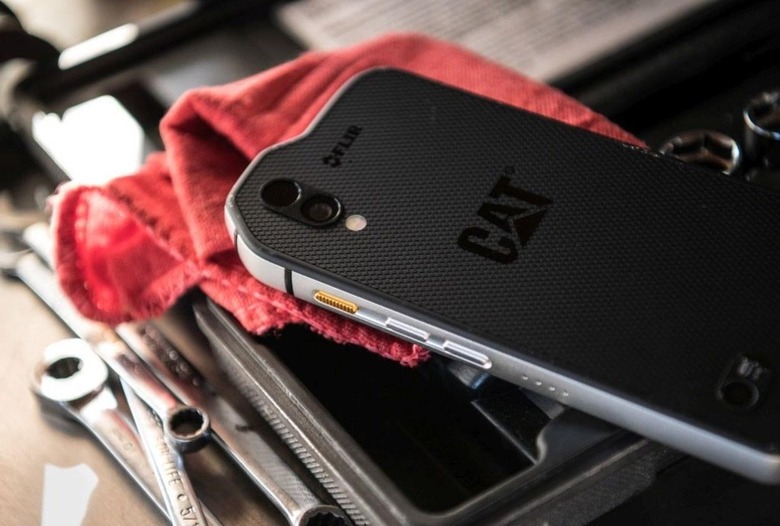 An Android that can see in the dark and has a built-in laser sounds like something from a Terminator movie, but it's actually Caterpillar's new Cat S61 smartphone. Upgraded the trade-friendly Android handset with a higher-performance thermal camera and better internal specs, the new Cat S61 also promises to oust some hardware from your toolbox.
It should definitely be tough. There's IP68 rating ingress protection – against sand, dust, and dirt – and it's waterproof for up to three meters for an hour. Caterpillar has drop-tested it up to 1.8 meters onto concrete, too, and says the Cat S61 survived that.
Then there's MIL-SPEC 810G compliance. That means thermal shock resilience – between -22 degrees and 149 degrees Fahrenheit for up to 24 hours – together with Category 4 vibration and resistance to humidity and salt mist. The display gets a slab of Gorilla Glass 5 to protect it.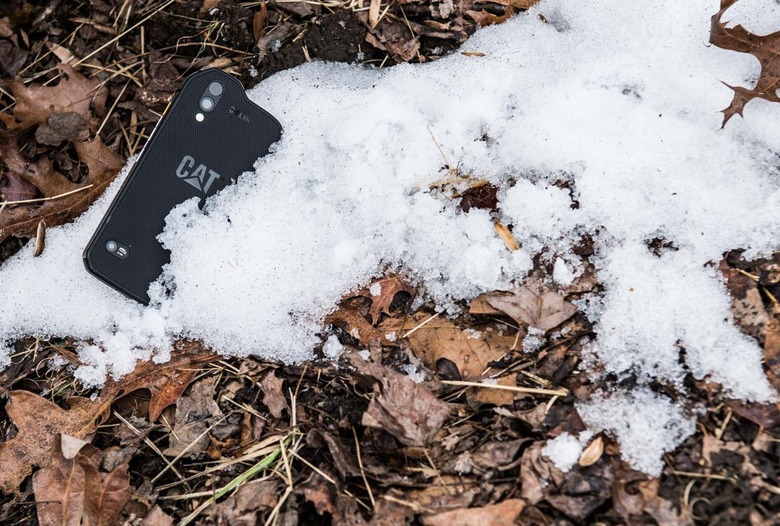 Inside the rugged case, mind, there's a fairly mainstream Android smartphone lurking. Caterpillar has opted for a Snapdragon 630 processor paired with 4GB of memory. There's 64GB of storage – and a microSD card slot – while the display is a 5.2-inch Full HD LCD which, the company says, will work even if you're wearing gloves or have wet fingers.
Caterpillar does get some credit for throwing in an FM radio, and there's a 3.5mm headphones jack, Bluetooth 5.0, and NFC; both single-SIM and dual-SIM models will be available. Oddly, there's only WiFi b/g/n support, though the Cat S61 does at least switch over to USB-C. The battery is a non-removable – but sizable – 4,500mAh with Quick Charge 4.0 support.
The real magic, though, is in the cameras. The mainstream sensors are 16-megapixels on the back and 8-megapixels on the front, but there's also a FLIR Lepton thermal camera too. That increases the range over which it can operate versus Caterpillar's old phone, now functioning from -20 to 400 degrees Celsius: enough, FLIC points out, to monitor things like asphalt temperature. The resolution has been improved, too, from VGA on the old phone to HD, and there's now support for live-streaming thermal video via Facebook Live.
It's not the only unexpected tool. The Cat S61 also throws in an indoor air quality sensor, which can spot pollutants like Volatile Organic Compounds (SOVs) from sources like paints, solvents, and other chemicals. The phone flags up a warning if levels get to the point where they're unhealthy, prompting the user to take a break or at least improve ventilation.
Finally, there's a laser measuring tool, which can calculate point-to-point distances of up to around 32 feet, then calculate area from that. It automatically saves the measurements as it goes along, too, and can flip between Metric and Imperial depending on need.
While it may all sound like overkill, according to Bullitt Group – the company who makes Caterpillar-branded phones under license – earlier models have found an appreciative audience. Apparently 60-percent of Cat S60 owners use the thermal camera on that phone at least once every week.
They'll pay handsomely for the upgrades, mind. The Cat S61 is expected to go on sale in Q2, priced at £799 in the UK or €899 in Europe. US pricing hasn't been confirmed yet, but based on those figures we'd expect the Cat S61 to be upward of $1,000 unlocked.