Ford GT Alan Mann Heritage Edition Commemorates The End Of An Era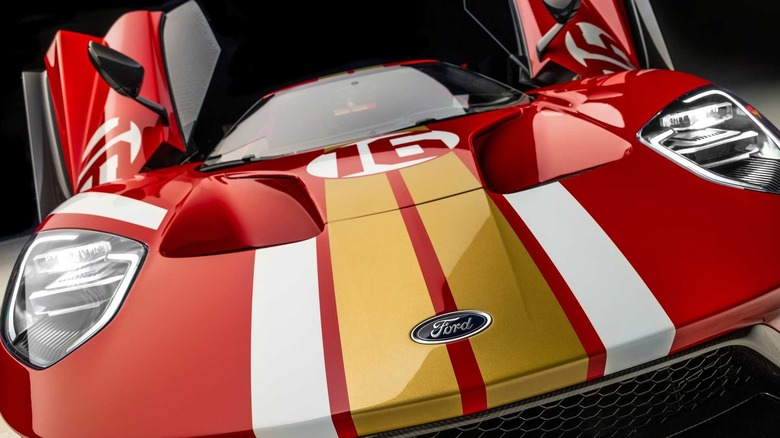 Ford Motor Co.
American automaker Ford has a penchant for releasing Heritage Edition models of its GT supercar. The latest is the Ford GT Alan Mann, the seventh Heritage Edition variant since the Ford GT's debut in 2006.  
However, you could be looking at the last iteration of Ford's supercar. It's no secret that 2022 marks the final year of production for the incredible Ford GT, so Ford came up with something unique that will surely tug at our vintage-loving heartstrings.  
Alan Mann Racing is a British motor racing team that played a massive part in Ford's eventual dominance over Ferrari at Le Mans in the 1960s. The team built a lightweight GT40 Mk II prototype (the AM GT-1) and a second based on the GT Mk I leading to the 1965 and 1966 24 Hours of Le Man race. Neither of the vehicles won an actual race, but the prototypes were instrumental in developing the GT Mk II race car that conquered Le Mans in 1966.  
Paying Homage to Alan Mann Racing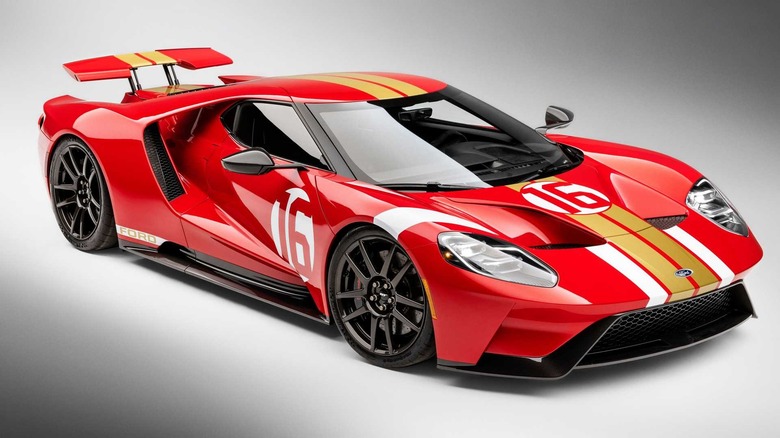 Ford Motor Co.
The Ford GT Alan Mann Heritage Edition pays homage to those two prototype cars. It starts with a genuine racing livery bearing the red and gold trademark of Alan Mann Racing. "It's a great honor for Alan Mann Racing and the Mann family to celebrate the epic motorsports heritage of the Ford GT with this fantastic limited-edition car," said Henry Mann, director of Alan Mann Racing Ltd.
Retro-inspired touches include dual over-the-roof white and gold racing stripes, white No.16 roundels (on the doors, hood, the rear wing's underside), and a generous splashing of exposed carbon fiber parts, including the front splitter, side sills, side mirrors, engine louver, rear diffuser, and those lovely 20-inch wheels. To seal the deal, it also has red and black Brembo brake calipers and black lug nuts.
Vintage Livery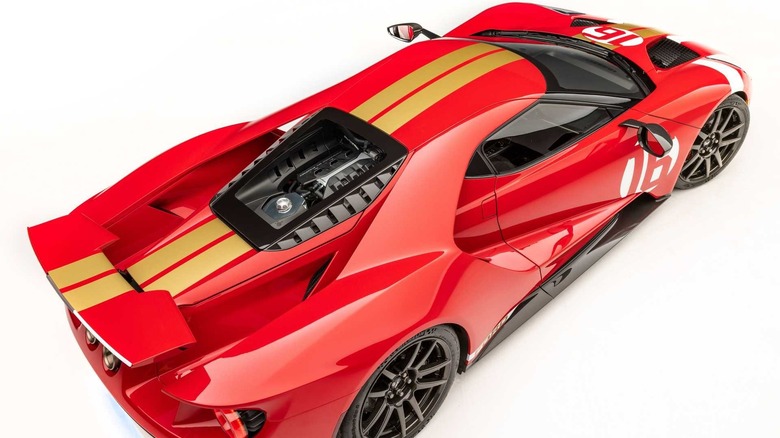 Ford Motor Co.
Meanwhile, the interior is resplendent in Ebony Alcantara upholstery with gold and red stitching, red paddle shifters, gold trim, and matte carbon fiber accents. Under the hood remains a high-strung 3.5-liter twin-turbocharged EcoBoost V6 engine pumping out 660 horsepower and 550 pound-feet of torque.
The Ford GT Alan Mann Heritage Edition will officially debut at the incoming 2022 Chicago Auto Show from February 12 to 21, 2022. Ford has yet to disclose production numbers and pricing, but it did say the car is available for sale to "approved Ford GT customers." If we have to guess, we reckon base prices to start upwards of $500,000.