4 Tesla Roadster Alternatives You Can Drive Today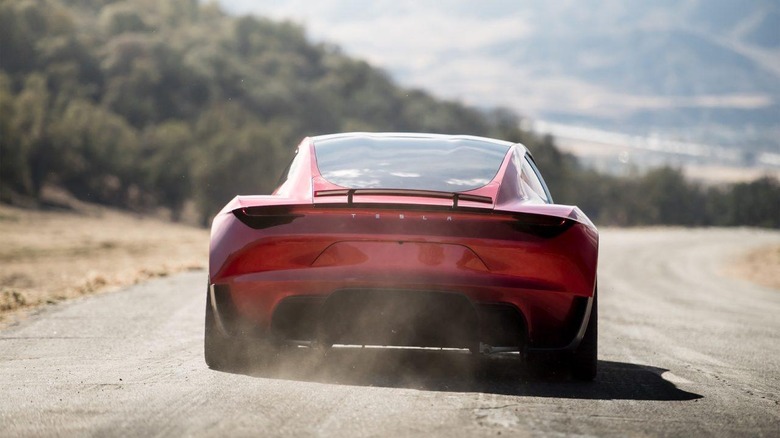 So the new Tesla Roadster has you gripped. There's $200k burning a hole in your pocket – or $250k, if you want to be among the first 1,000 owners – and you're all set to put down your deposit and join the waiting list. Problem is, Tesla isn't going to start making them until 2020, and that's assuming no delays between then and now. If you're in the market for some electrified sports car action while you wait, what are your options? Fret not, eco-racer, I've got you covered.
I know you don't like compromise, but there are a few ground-rules all the same. For a start, I'm not allowing any concept cars or not-in-production vehicles onto the list. After all, we're looking for instant gratification here, right? That counts out exotics like the Ferrari LaFerrari, McLaren P1, and Porsche 918 Spyder, sadly.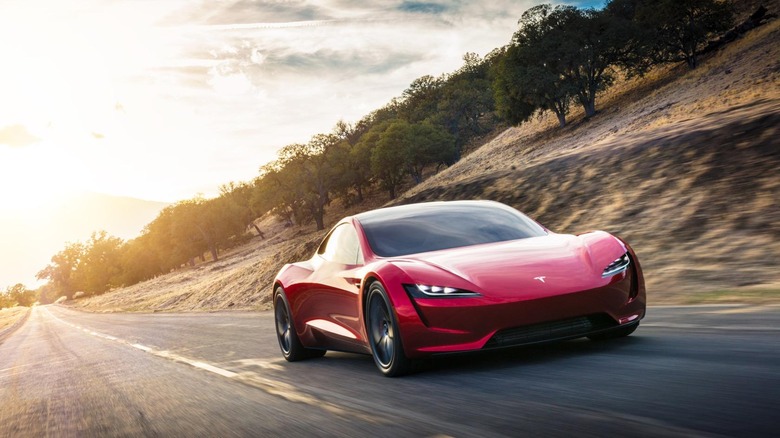 Secondly, you might have to temper your insistence on all-electric. That's right, I'm going to be throwing hybrids in here too, since there's relatively slim-pickings for BEV exotica right now. The Tesla Roadster will probably help change that in the coming years, but for now you're going to have to settle for some tailpipe emissions. Hopefully you'll be having too much fun to notice.
Acura NSX
Seldom has a supercar been so under-appreciated as the Acura NSX. Maybe expectations were simply too high for the coupe, after the near-ethereal reputation its predecessor built up. Perhaps familiarity bred contempt: Honda just couldn't stop itself from rolling out various generations of NSX concept and prototype for years before the production car actually made it to dealerships.
Whatever the reason, there are some achingly good deals around that knock tens of thousands of dollars from the $158k sticker price. For that, you're getting one of the most intriguing and rewarding powertrains around: the combination of a 3.5-liter turbocharged V6 gas engine and three electric motors that together muster a hefty 573 horsepower. However, it's how they put that power to the asphalt that's really worth noting.
MORE 2017 Acura NSX First-Drive
If you watched Elon Musk talking about the Tesla Roadster last night, you'll have heard him mention torque vectoring. That's available on the NSX today: each of the rear wheels has its own electric motor. Acura can drive one wheel more than the other, tightening cornering and increasing performance and stability. Sure, the NSX's 2.7 second 0-60 mph time and 191 miles per hour top speed are slower than what Tesla is offering, but not if you factor in the three years you're going to be waiting for the Roadster to actually arrive.
BMW i8
BMW's i8 arguably looks even more unusual than the Tesla Roadster does, the handiwork of the German automaker's i Series team and an odd but oddly-alluring hybrid in its own right. Like the NSX, the i8 combines a gas engine with electric motors and batteries. However, it does that in a fairly different way.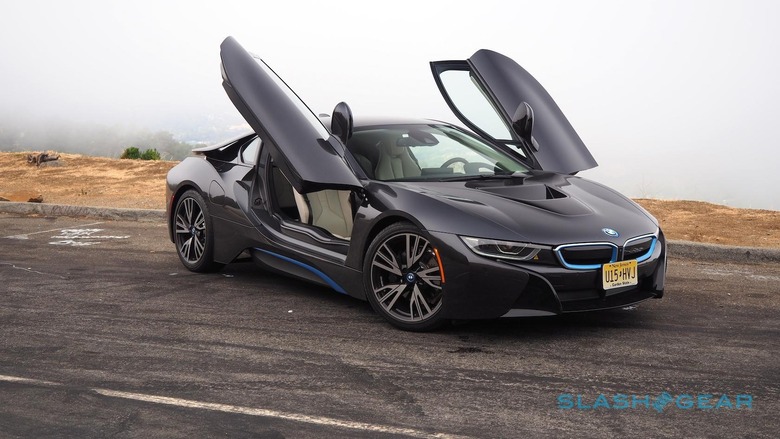 BMW's engine of choice is not something you'd expect to find in a performance car: a turbocharged 3-cylinder. It's combined with an electric motor, and together you get 357 HP. Far less, sure, than either the Acura or the Tesla, but entertaining all the same. Worth some engineering kudos is the way the two power sources work: the front wheels get the electric motor, the rear get the gas engine, and there's no physical connection between the two. Everything is managed electronically.
MORE 2017 BMW i8 Review
Certainly, the i8's 4.2 second 0-60 mph is positively ponderous by Tesla Roadster standards, and the 155 mph top speed isn't going to win it any awards. Nonetheless, $144k is a lot less than Tesla is asking, and it properly looks like it comes from the future.
Koenigsegg Regera
Does the hard-to-pronounce Swedish supercar qualify for this list? Announced in 2015, it's officially still in production, though you might struggle to acquire one. Not only is the sticker price approximately $1.9m, all eighty of the cars Koenigsegg will make have apparently been sold.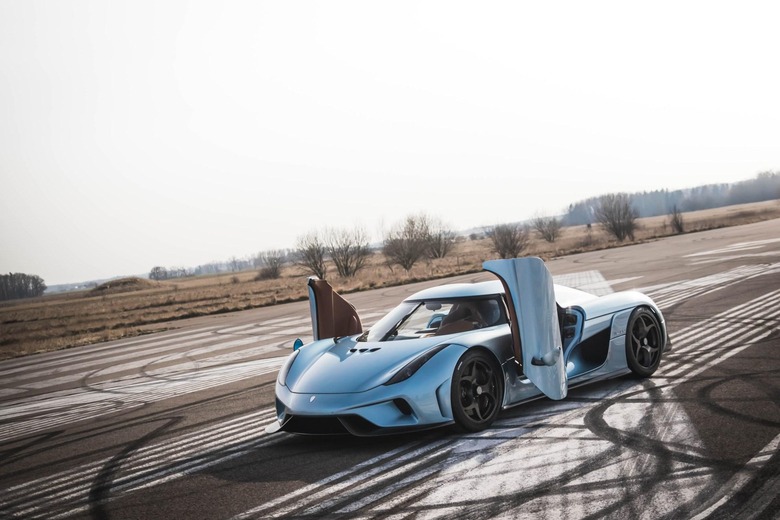 Assuming you can coerce someone to part with their order, the Regera has plenty of reasons to fall in love. A 5.0-liter twin-turbo V8 is paired with three electric motors, in much the same way that the NSX delivers power. There's more of it, though, much more: 1,797 horsepower, in fact. A 0-60 mph time of 2.7 seconds matches what Acura promises, but the Koenigsegg will keep thundering on to a top speed of 255 mph.
MORE Meet the car giving Bugatti nightmares
Company founder Christian von Koenigsegg himself is responsible for the design, and we can't really fault it. You may not blend in while doing the weekly shop, but the dramatic upward-hinging doors and lavish cabin will probably assuage any self-consciousness.
Tesla Model S
Okay, okay, a four-door sedan isn't going to turn heads like a seductive coupe might. Yet if electric performance is your lodestar, there's plenty to love about an existing Tesla that will cost you a fraction of what the Roadster will eat from your bank account. Plus, you can buy one and be driving it in a matter of days, not years.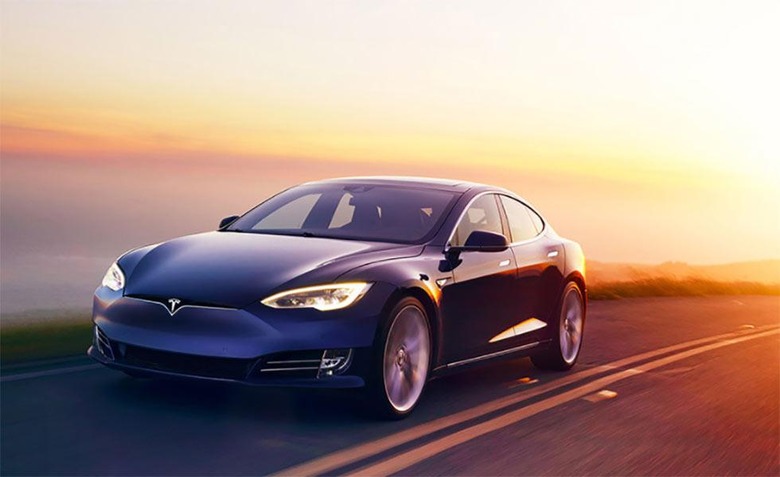 Order a Model S P100D and you're looking at 2.5 seconds for 0-60 mph, a 315 mile range, and all the Autopilot cleverness that we're expecting from the Tesla Roadster. It may not be as sexy to the eyes, but at $121k before rebates you've got plenty of cash left over to slap on a bodykit, get a custom paint-job, or take it to a tuner if that tickles your fancy. Some are already advertising upgrades that can cut the 0-60 time to nearly two seconds: this may be a sensible sedan, but it's also wickedly fast.
Got more suggestions for Tesla Roadster alternatives? Let me know in the comments!