2021 Ford Mustang Mach-E leaks: Design, EV range, price and more revealed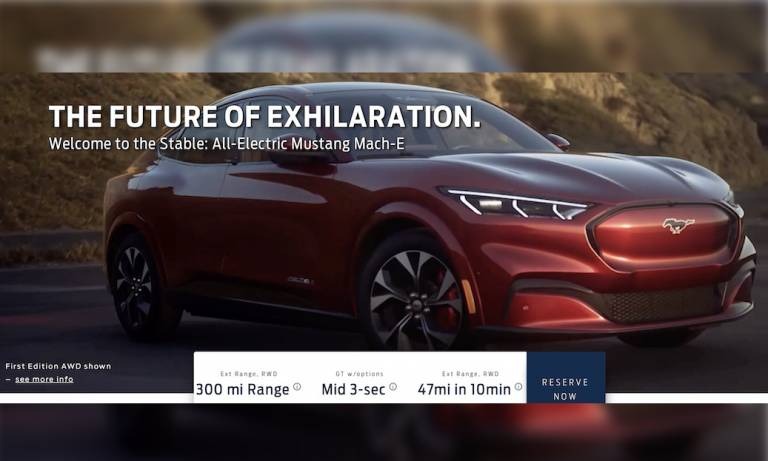 Ford may have confirmed its new electric crossover will be the Mustang Mach-E earlier today, but it probably didn't intend to inadvertently spill all the EV's details and its design ahead of the big Sunday reveal. Unfortunately for those plans, a prematurely spotted product page for the controversial "Mustang inspired" electric crossover were caught live ahead of time.
Ford's plan had been simple. The automaker has been building hype for its all-electric car for months now, with the final unveil of the 2021 Mustang Mach-E expected on Sunday night, just ahead of the LA Auto Show 2019 kicking off midway through next week.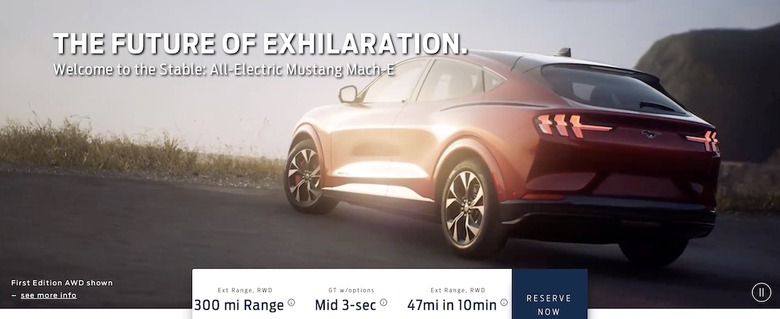 All that teasing, though, had led some enterprising Ford EV fans to go hunting. As the MachEForum members explain, Motor Authority spotted, a little URL tinkering turned up a page the automaker probably wasn't intending to be seen until the weekend. It turned out to be quite the bonanza, confirming several models of Mustang Mach-E along with pricing, range, and design before Ford pulled it all down.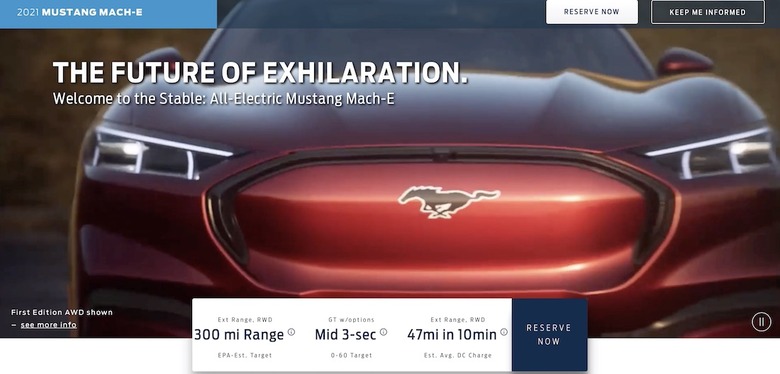 The aesthetics will be controversial, most likely. Certainly you can see where Ford's Mustang influence comes in, only the Mach-E inflates it into a four-door crossover. The blanked-out grille has what looks like an illuminated Mustang logo, while the rear gets the car's distinctive triple-slash taillamp clusters, albeit with some extra flourishes.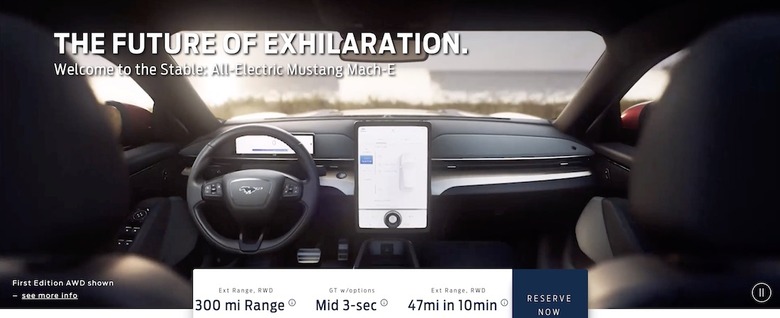 Inside, there's a fairly restrained cabin with some very obvious tech. The driver gets a wide, low digital display for their instrumentation, while the center console is dominated by a huge portrait-aspect touchscreen. Considering Ford has been talking up SYNC 4 of late, its next-generation infotainment system, it seems fair to assume the 2021 Mustang Mach-E is packing a 15.5-inch touchscreen as that's the maximum size supported.
2021 Ford Mustang Mach-E range, trims and price
There'll be five different trims, with pricing kicking off at $43,895 – that's before the $7,500 federal tax credit, and any other incentives. It could bring the entry-level Mustang Mach-E Select down to as low as $36,395.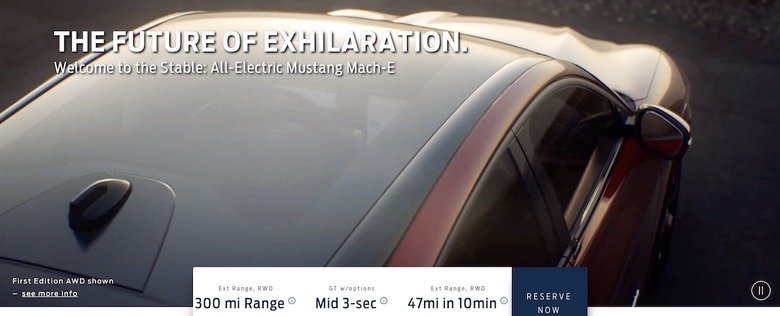 The Select trim will be offered in RWD or AWD form, with 18-inch wheels. Ford says EPA targeted range is 230 miles for the RWD car, and the AWD version should do 0-60 mph in mid-5 seconds. For CoPilot 360 2.0 and Ford Co-Pilot360 Assist 2.0 will be standard.
Next up comes the Mustang Mach-E Premium, at $50,600 before incentives. It, too, will be RWD or AW, with 19-inch wheels as standard. Range rises to an estimated 300 miles for the RWD version; both the RWD and the AWD are targeting a mid-5 second 0-60 time.
Then there's the Mustang Mach-E California Route 1. That'll be from $52,400 before incentives, and offered in RWD only with 18-inch wheels. It'll do an estimated 300 miles and have a mid-6 second 0-60 mph time. Ford describes it as "cruise-worthy" and it comes with the automaker's extended range battery.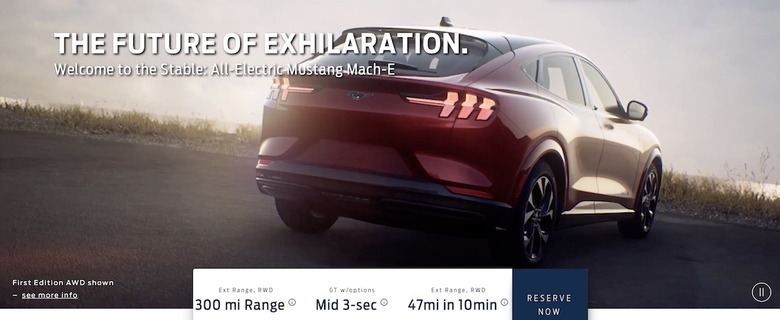 Fourth is the Mustang Mach-E GT, the most expensive of the five trims, from $60,500. It's the performance model, in AWD only with 20-inch wheels, and will have a mid-3 second 0-60 time, Ford suggests. Range will be an estimated 235 miles.
Finally, there'll be a limited edition Mustang Mach-E First Edition, priced from $59,900 before incentives. It'll have AWD and 19-inch wheels as standard, an estimated 270 mile range, and mid-5 second 0-60 time. It'll come in a choice of three exterior colors, including an exclusive Grabber Blue Metallic, with red brake calipers, while inside there'll be special contrast stitching, First Edition scuff plates, and brushed aluminum pedals.
Ford says that, with DC fast charging, you should be able to add around 47 miles of range in 10 minutes. That's not an unimpressive figure. As for horsepower and torque, they vary considerable. The Select should have 255 hp, along with 306 lb-ft of torque for the RWD or 429 lb-ft for the AWD. The First Edition, meanwhile, will have 333 hp and 429 lb-ft. Figures for the GT are "coming soon," Ford promises.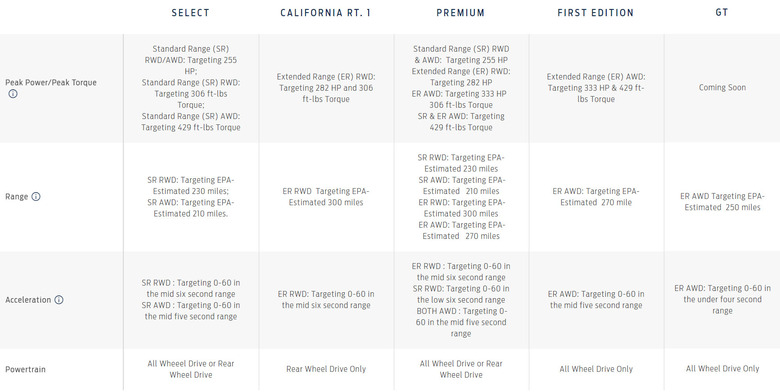 Mustang Mach-E availability
Ford may be announcing the Mustang Mach-E this coming week, but there'll be a while to wait before you can actually drive one. The first of Ford's EVs will be arriving in late 2020: that'll be the First Edition and the Premium.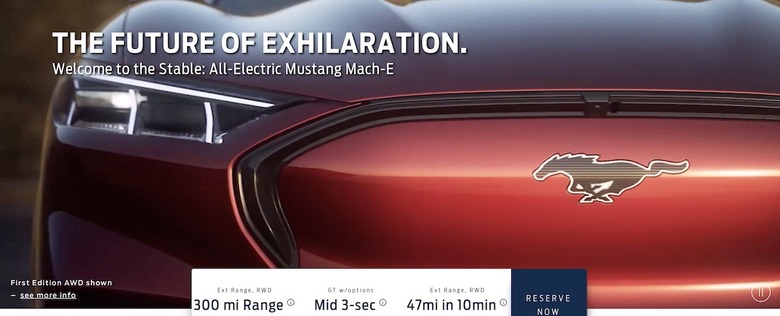 The Select will come in early 2021, as will the California Route 1. Finally, the 2021 Mustang Mach-E GT will hit dealerships in spring 2021, according to the site.
Has Ford any surprises up its sleeves? It seems likely that there'll be some tweaks to the specs and trims between now and the official debut. We'll know more on Sunday evening, when the wraps are taken off the new EV. Reservations will be opening up as soon as the car is revealed.