2020 VW ID.3 official as Volkswagen bets on electric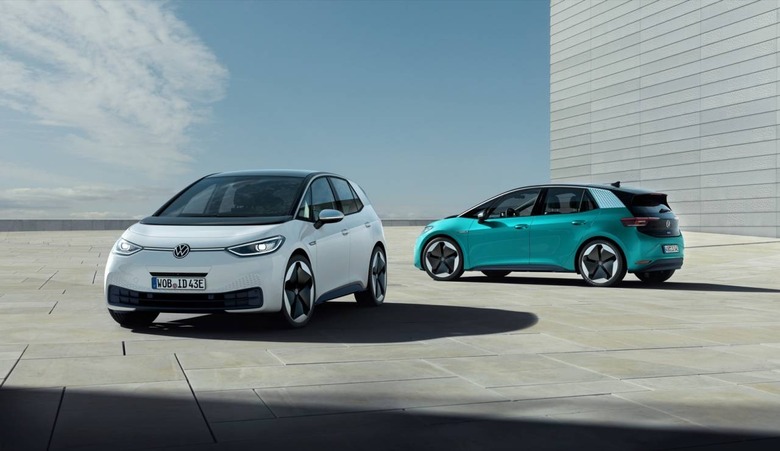 Volkswagen has revealed the 2020 VW ID.3, the first all-electric car to be based on its brand new EV platform. Previewed earlier this year, and already seeing more than 30,000 reservations in Europe, the ID.3 will offer up to 342 miles of range on a charge while the most affordable model will kick off at under 30,000 euro ($33k) before incentives.
First out of the gate will be the 2020 VW ID.3 1ST special edition, using the mid-sized 58 kWh battery. That's rated for up to 420 km (261 miles) on the European WLTP test cycle, with Volkswagen suggesting that on a 100 kW charger you should get enough power for around 180 miles of driving in under half an hour.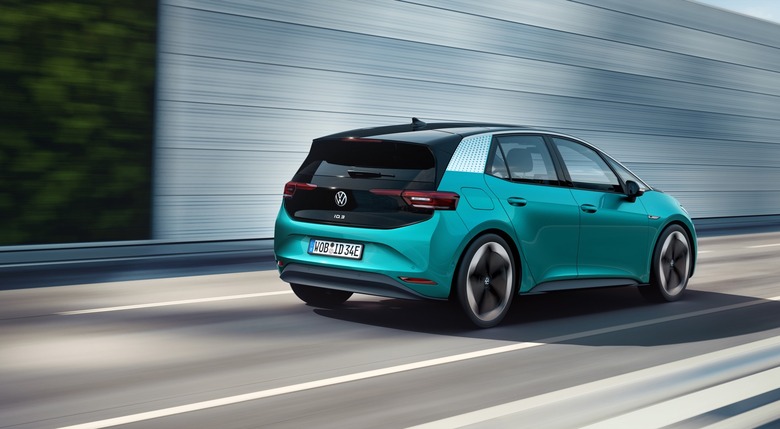 Down the line, meanwhile, there'll be both smaller and larger power pack options. The most affordable ID.3 will have a 45 kWh battery, rated for up to 330 km (205 miles); 7.2 kW AC and 50 kW DC charging support are standard, with 100 kW DC optional. The biggest available will be 77 kWh and rated for 550 km (342 miles); it'll support up to 11 kW AC and 125 kW DC charging. All three battery packs will be guaranteed for eight years or 99,000 miles of driving.
They use the new MEB, or modular electric drive matrix, platform, and debut the "ID" name which the automaker will use solely for its all-EV models. The key to the MEB is packaging: VW has the flexibility to make its MEB-based cars front-, rear-, or all-wheel drive, with varying dimensions and battery sizes. That way, it can flexibly adjust those criteria to fit different segments and budgets.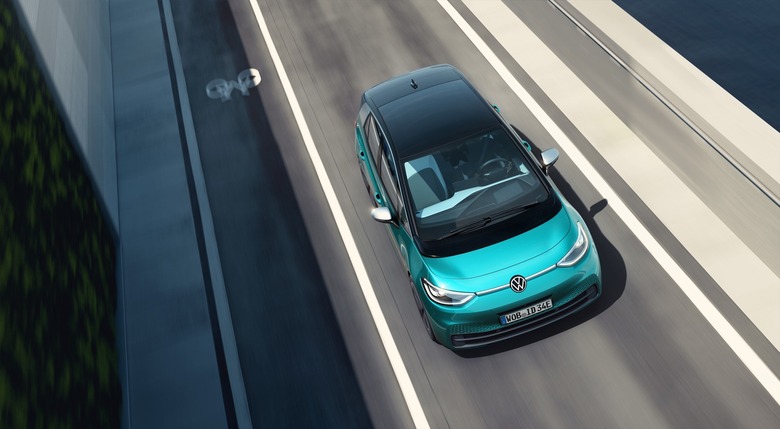 The motors are permanent-magnet synchronous types, with the ID.3 using one that has been integrated into the rear axle. The battery fits into the underbody, while other components, including the air conditioning compressor, slot into the front end. While EVs – and affordable EVs in particular – may not have a reputation for engaging driving, VW says the combination of a low center of gravity and perfect front to rear weight distribution should actually leave the ID.3 surprisingly fun on the road.
Outside, there's plenty of LED lighting and a choice of 18- to 20-inch light alloy wheels. Matrix LED headlamps have up to 750 lumens of brightness and Dynamic Light Assist control, which uses a camera to make sure you're not dazzling oncoming traffic. They're also used for more whimsical purposes, the headlamps fluttering like eyelids when you approach the car.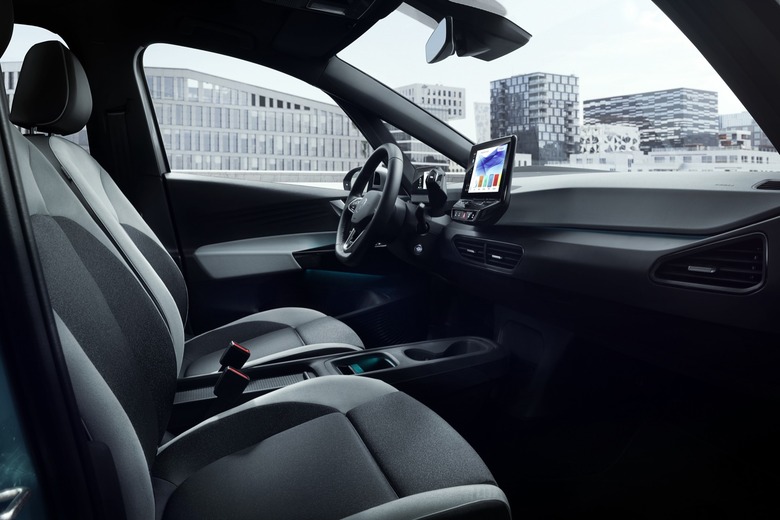 Short overhangs push the wheels to the corners, maximizing the interior space. A glass hatch lid spans the whole width of the ID.3, with slim LED lamp clusters. There's also a sliding/tilting glass roof, which VW says is actually the largest it offers in its whole range. While roughly as long as a Golf, its wheelbase is almost 109 inches, while curb weight is 3,790 pounds.
Cargo capacity is up to 13.6 cubic feet, and there's seating for five. No center tunnel means the middle rear seat shouldn't feel so cramped as it might usually in a compact car. The driver gets a brand new dashboard to play with, with a digital display for the gages along with a new, 10-inch touchscreen atop the center console. An ID. Light system uses an LED strip to indicate navigation instructions and act as a warning.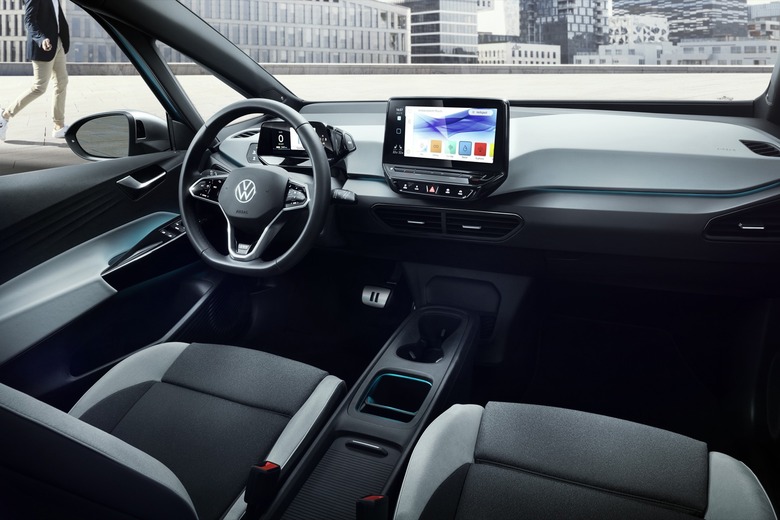 Almost all of the controls are touch-sensitive, bar the electric window switches and the hazard lights button. Saying "Hello ID" summons the voice assistant, with the ID. Light used to indicate who the assistant is listening to. An optional augmented reality head-up display projects key information onto the windshield, a perceived 10-33 feet in front of the ID.3. A Beats audio system with eight speakers and a subwoofer is optional.
On the safety and assistance side, there's Front Assist with City Emergency Braking System and Pedestrian Monitoring, multi-collision brake and Lane Assist lane keeping system, Side Assist lane change system, Park Assist including rear view camera system, and keyless entry. Park Distance Control featuring maneuver braking is standard.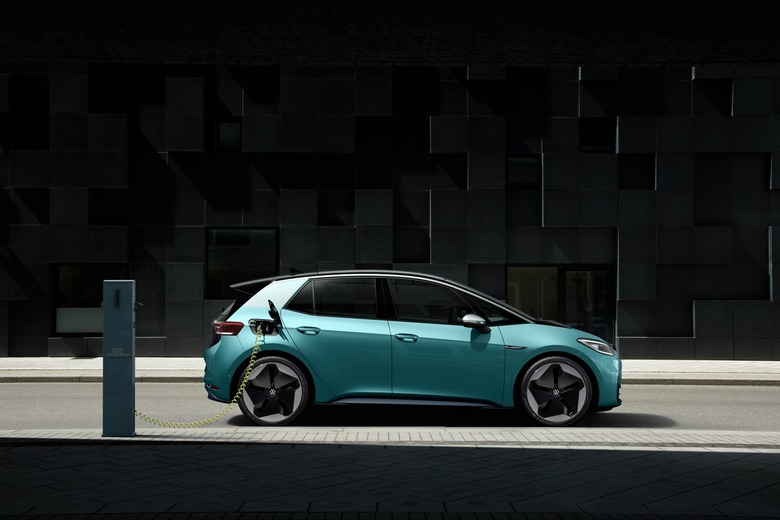 The ID.3 1ST special edition will be offered in three trims. Each will have a 150 kW electric motor (201 hp) and 310 Nm of torque (229 lb-ft). Top speed is 99 mph.
The entry-level car will get navigation, digital radio, seat and steering wheel heating, front armrests, and 18-inch wheels. The ID.3 1ST Plus will add adaptive cruise control, keyless locking and starting, a reversing camera, different seats, two USB-C rear ports, and ambient lighting. It'll also add 19-inch wheels and different exterior trim.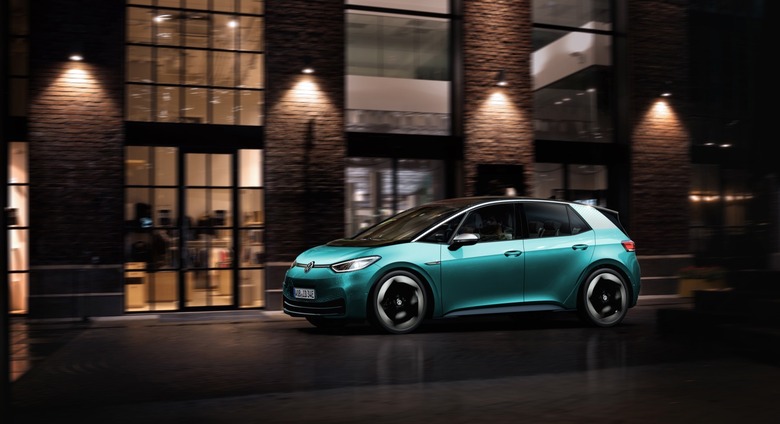 Finally, the ID.3 1ST Max gets the AR HUD, Beats audio, the panoramic glass roof, and 20-inch wheels. It also adds lane-keeping and changing, Qi wireless phone charging, the comfort seats, and a level luggage compartment floor.
Now the bad news: just as we'd already been warned, the ID.3 is not going to go on sale in North America. The automaker has decided that an all-electric hatchback just isn't the right car to launch the MEB platform here, and so American and Canadian drivers will have to wait until the ID. CROZZ-based electric crossover.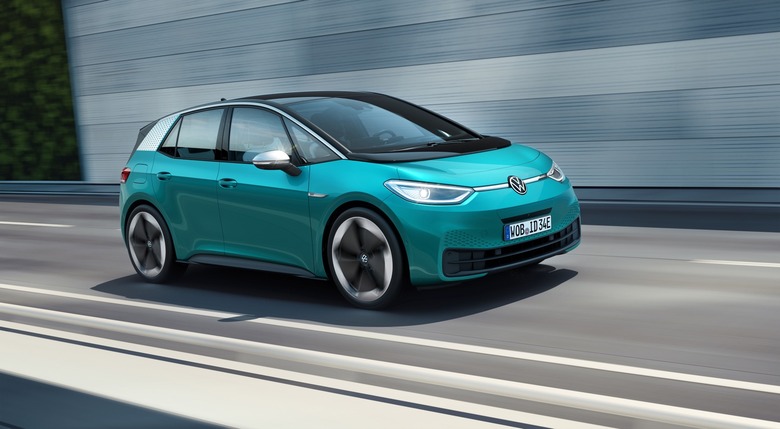 In Europe, VW says, the ID.3 will begin deliveries in Germany from mid-2020. It'll be the first of more than twenty electric models planned by the Volkswagen Group overall.