2020 Volvo XC90 First Drive: T8 hybrid, T6, and smug Swedes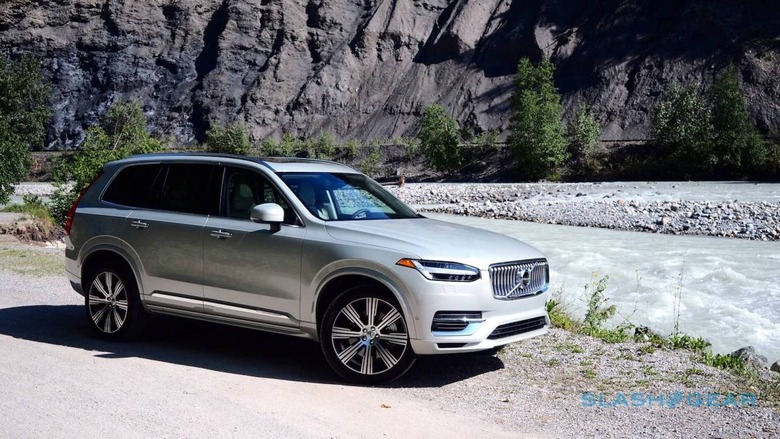 It's been five years since the second-generation Volvo XC90 began the wholesale reboot of the automaker's range, and it's fair to say that the 2020 XC90 arrives – refreshed and updated – on a high. The Swedes aren't typically prone to either smugness or boasting, but with Volvo sales in the US up almost 5-percent so far this year, versus the industry as a whole down almost 2-percent over the same period, it's clear they're doing something right.
You can't understate how important the XC90 is to that growth. Even now, with a revamped version of the full-sized SUV almost in dealerships, XC90 sales still outpace the rest of the automaker's range this year.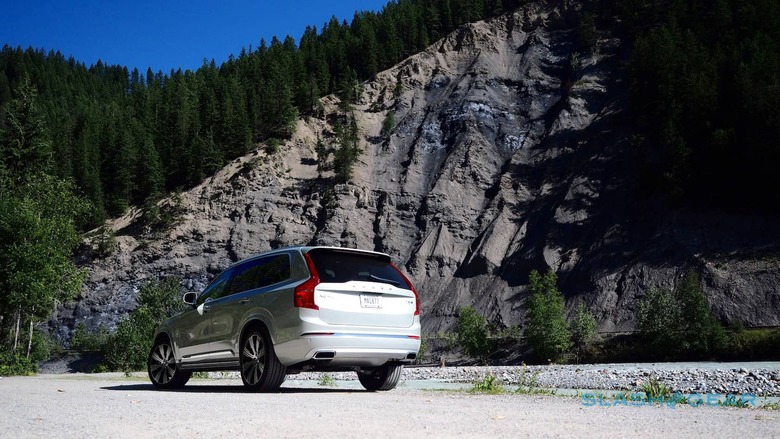 The name of the game for the 2020 XC90 is massaging the best-seller, then, rather than outright reinvention. It starts with a facelift on the outside, with a new concave grille, new lower front bumper, and new wheel designs. The XC90 Momentum trim gets integrated roof rails on top and integrated tailpipes at the back, while the XC90 R-Design adds gloss black trim to the windows, mirror caps, and roof rails. Finally, the XC90 Inscription gets extra exterior chrome.
Beauty is in the eye of the beholder, of course, though while I'm personally a fan of Volvo's new wheels – particularly the Momentum's step up from 18-inch to 19-inch as standard – I do wonder if the lower front fascia has become a little fussy compared to the 2019 car. Happily now-traditional detailing like the Thor's Hammer LED headlamps are present and correct, and there's no denying that the overall shape of the XC90 has aged gracefully.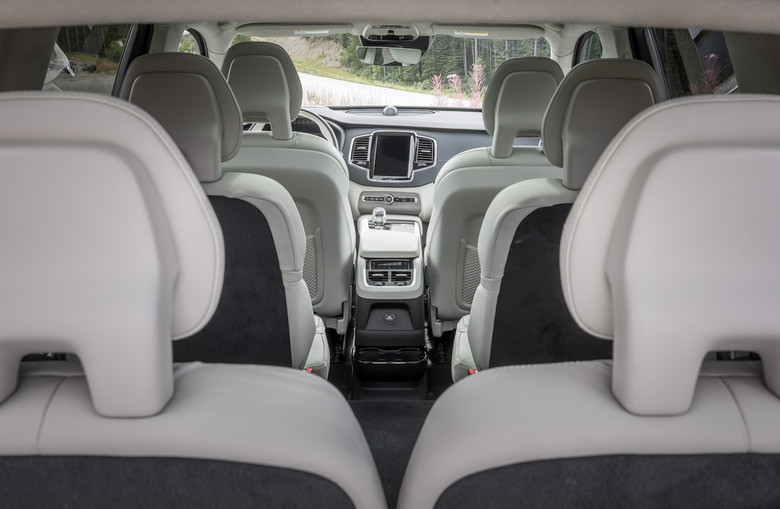 The bigger changes are inside, however. The XC90 T6 and T8 can have, in Momentum and Inscription trim, a six-seat configuration now. Three rows of two chairs, the second and third rows dropping down for those times you need greater cargo space. Elbow and shoulder room in the second row are particularly broad, with enough room to drop your rucksack in-between if you so desire. It makes Volvo's decision not to give its otherwise-excellent second row seats armrests all the more confusing.
2020 brings new leathers, depending on trim. Momentum cars can now have Slate Grey hide, to go with their new Black Ash wood inlays; the driver display has grown from 8-inches to 12.3-inches now. Inscription cars can have Slate Grey perforated Nappa leather for their Contour seats, and optional Grey Ash wood inlays. The R-Design can now pair Blond Nappa leather with the Charcoal trim, making for a much lighter-feeling cabin.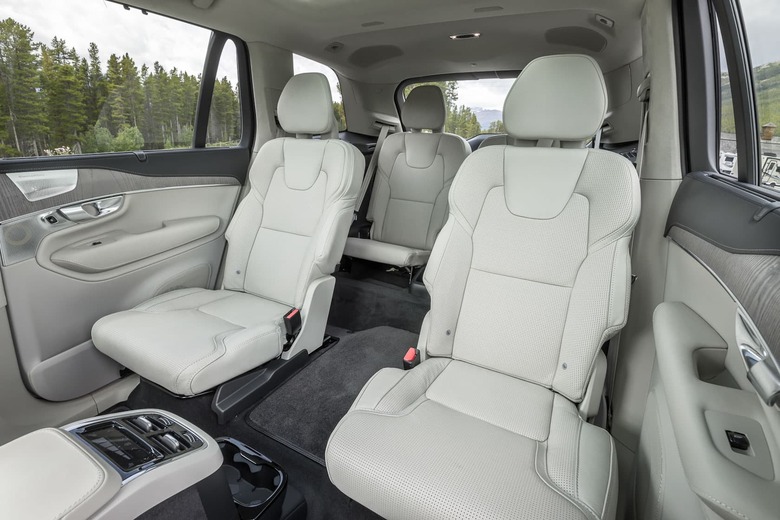 Arguably more interesting, though, are Volvo's new fabric options. We've seen it flirt with non-traditional seat trim before, and the 2020 XC90 adds the choice of Slate Grey or Midnight Zinc Tailored Wool Blend for the Inscription trim. It feels warmer than hide, equally premium but in a different way.
Out on the road, that sense continues. I started the day in the 2020 XC90 T8 AWD, Volvo's plug-in hybrid, which for the new model year gets a slightly larger 11.6 kWh battery. That's slung between a 4-cylinder 2.0-liter gas engine driving the front wheels and an electric motor at the rear; altogether, you get 400 horsepower and 472 lb-ft of torque.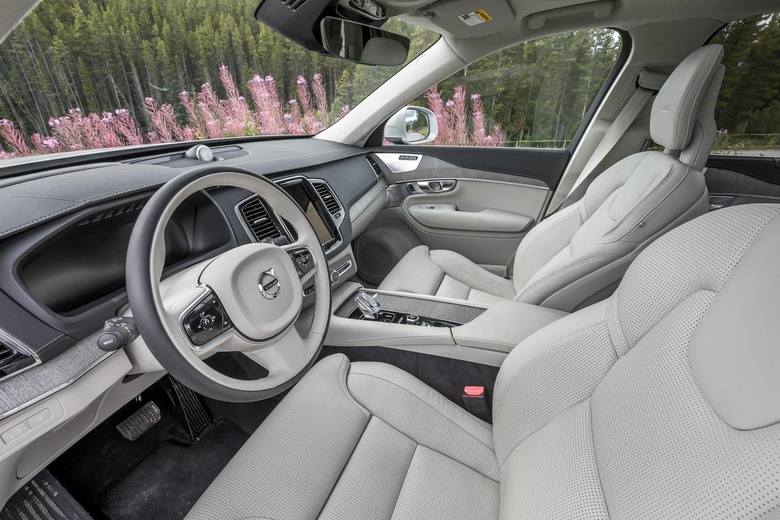 You can drive on pure electric power alone, but even with the bigger battery you're not going to go far. Figure on under 20 miles at best. Better, as I found with the 2020 Lincoln Aviator, is to leave the gas/electric blend to the XC90, the SUV delivering a smooth rush of power that belies what you might expect from such a relatively small engine. 0-60 mph arrives in 5.3 seconds.
Later on, in the 2020 XC90 T6 AWD R-Design, the combination of turbocharging and supercharging kept things running neatly. Despite the more aggressive styling, the XC90 is hardly a sports SUV even in R-Design form. Unlike the turbo-only T5, which can be had in front- and all-wheel drive form, T6 cars are all-wheel drive only. 0-60 mph takes 6.1 seconds, courtesy of 316 horsepower and 295 lb-ft of torque.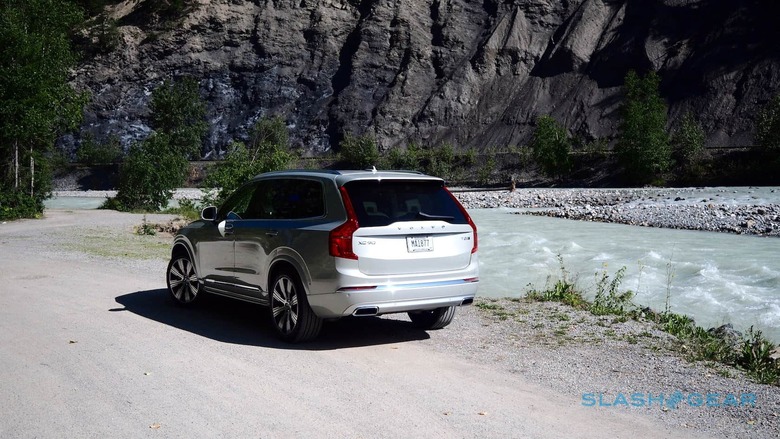 Not crazy-fast, then, but a plush ride certainly. It's worth noting that Volvo had checked the $1,800 air suspension option on both of its SUVs; that replaces the regular springs, and helps keep the XC90 level when physics might ordinarily have it lean in tighter corners.
The cabin's hush is the perfect stage for the still-excellent Bowers & Wilkins sound system. It'll set you back $3,100, yes, but you can't argue with its 1,400 watts and 19 speakers. Android Auto and Apple CarPlay are both included as standard on the 9-inch Sensus infotainment. What with the trend for bigger touchscreens, Volvo's dashboard display no longer looks quite as impressively large as it once did, but it's still straightforward to navigate and allows you to have both Apple and Google's smartphone interfaces on-screen at the same time as Sensus' own UI.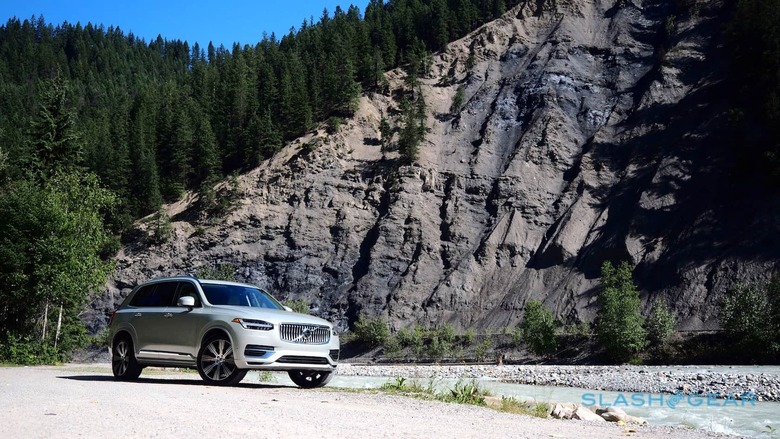 With the 2020 XC90 T6 R-Design kicking off at $56,300 (plus $995 destination) and the T8 Inscription at $67,500 – or, in T6 Momentum form, now offered as part of the Care by Volvo subscription program – there's still a lot to like about this big Swedish SUV. Certainly, a BMW X5 is more eager on the road, but you pay handsomely for that – and for some of the tech that Volvo throws in as standard – while the German car is down on cabin and cargo space as well. I suspect the XC90's stately lines will age better than the X5's angles, too.
In short, Volvo did exactly what it needed to. The 2020 XC90 is a subtle evolution, emphasizing where the old SUV did well, and buffing away some of the edges which had started to look a little rough over time. That's probably more than sufficient for a little more atypical Swedish smugness.