2019 Volvo V60 first drive: The wagon's time has come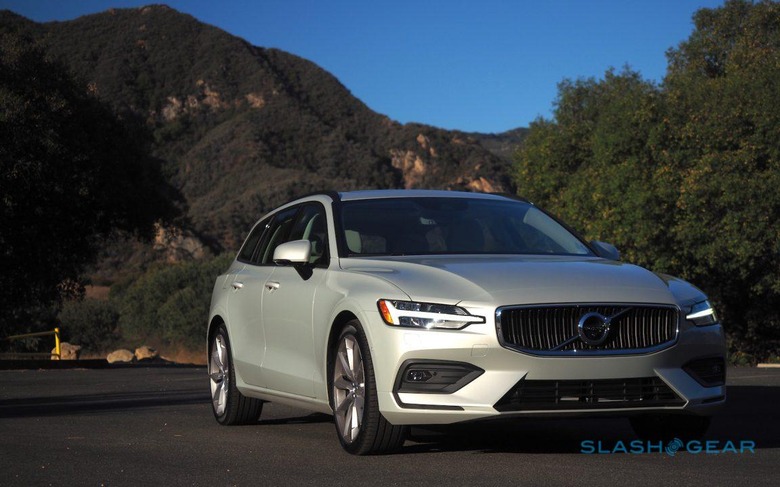 America may love SUVs and crossovers but, if Volvo has its way, at least a small portion of those sales will be carved out by the 2019 Volvo V60. Latest in the automaker's all-new 60 series, it follows in the tread-marks of the handsome V90 and V90 Cross Country. Question is, has Volvo done enough to make this wagon a must-have?
Style and practicality
The V90 proved that we were a long way from the days when Volvo designed its wagons with a straight edge alone, and the 2019 V60 demonstrates that style language works just as well in a smaller footprint. Compared to the old V60 it's almost 5-inches longer and 2-inches lower. More important still, near 4-inches of that length increase has gone right into the wheelbase.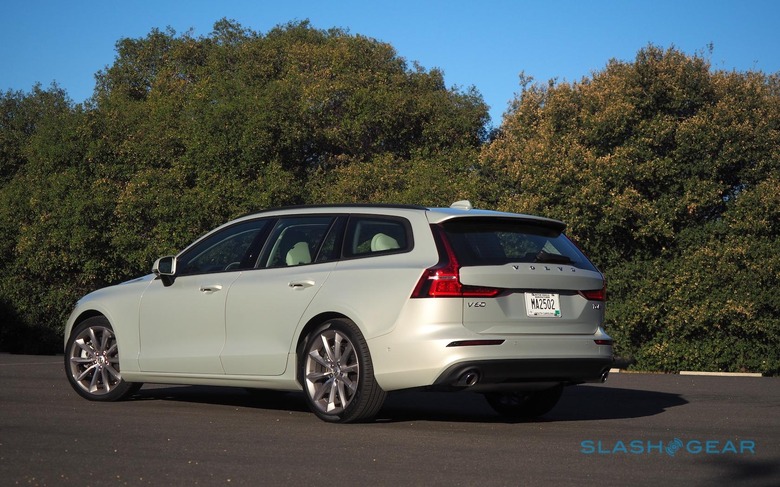 It all comes courtesy of the new SPA platform – shared with the 90 series – and it leaves the new V60 with shorter overhangs, not to mention a more shark-like profile. Back to around the B-pillars it's the same sort of handsome as we've seen already on the 2019 S60 sedan, with Volvo's broad grille gleaming with concave chromed struts, and flanked by the standard Thor's hammer LED lamps.
Further back, though, the roofline tapers only slightly, into fairly steeply-raked rear glass. The trunk holds 29.7 cubic feet – more than twice the space in the S60 – and if you drop the rear seats that expands to 48.2 cubic feet. It's highly usable, too, capable of accommodating four standard-sized cases side by side.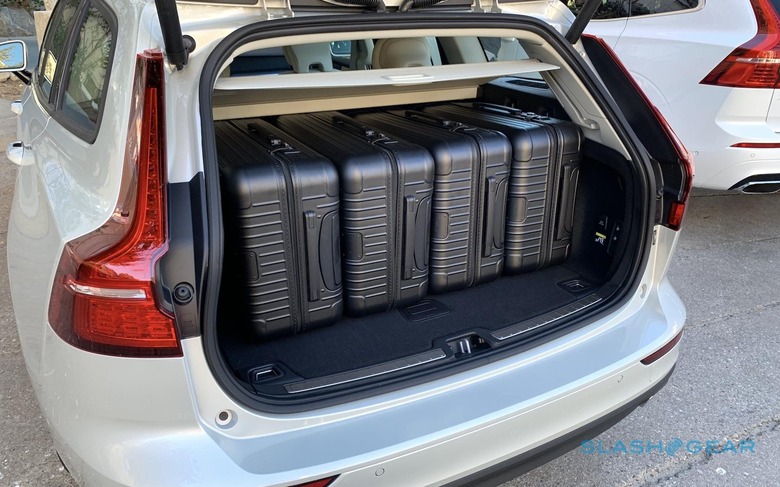 That's not Volvo's only pitch on the practicality front. Being lower than an SUV or crossover makes loading up the roof easier, the automaker points out, even if it does run the risk of blocking the standard panoramic sunroof.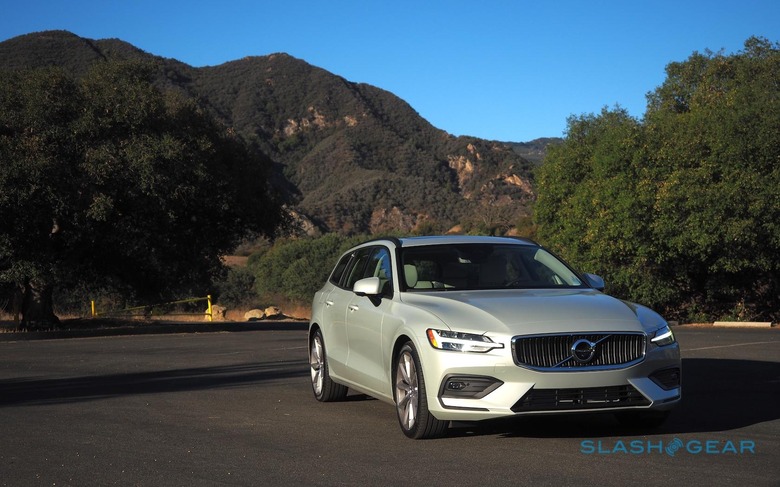 As with the S60 there'll be V60 Momentum, R-Design, and Inscription trims. The Momentum gets matte black exterior trim, keyless entry, a power tailgate, and 18-inch wheels. Inscription cars step that up with bright aluminum trim and dual tailpipes, while the R-Design goes for a sportier look.
Familiarity under the hood
Volvo's T5 and T6 engines are responsible for keeping the wagon running. The former comes with 250 horsepower, 258 lb-ft of torque, and front-wheel drive from its turbocharged 2.0-liters, while the T6 gets 316 horsepower and 295 lb-ft, along with all-wheel drive. 0-60 mph in the T5 comes in at 6.5 seconds; the T6 knocks a full second off that.
It also punishes you in economy: both a turbocharger and a supercharger will do that. The EPA numbers aren't in yet, but Volvo is estimating 24 mpg city, 36 mpg highway, and 28 mpg combined for the 2019 V60 T5, and 21 mpg city, 31 mpg highway, and 25 mpg combined for the 2019 V60 T6. Not shabby compared to the XC60.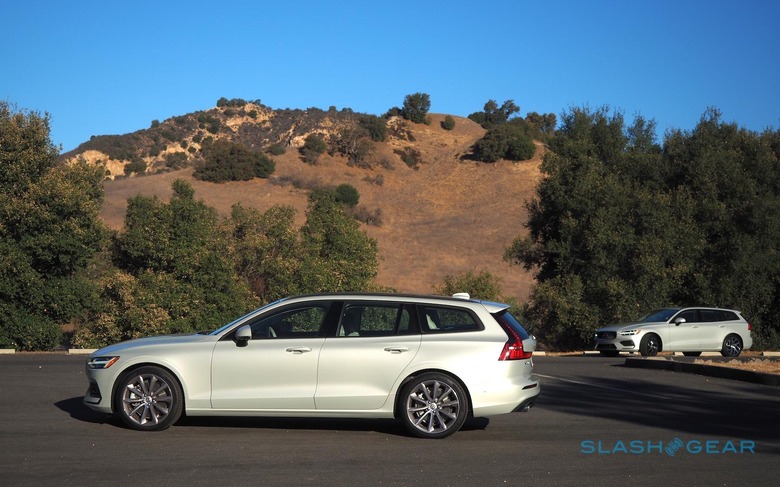 Conspicuous by its absence at this stage is Volvo's hybrid drivetrain, the T8. That pairs the T6's gas engine with electric drive, and while the new S60 offers it in both regular and Polestar Engineered forms, the V60 will just have to wait.
Behind the wheel of the V60 T6 AWD, though, that didn't seem too arduous. The T6 suits the V60 well, providing no shortage of urgency from a standing start, and the standard 8-speed auto doing an excellent job of being in the right gear at the right time. You can shift yourself with the paddles if you so prefer.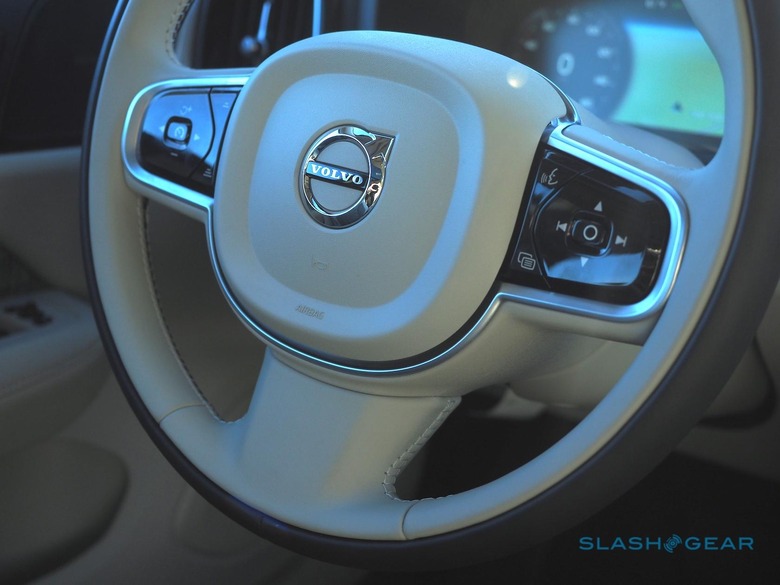 Body-roll is noticeably less pronounced than you'd find in an SUV, even one outfitted with sports springs. Sometimes you really can't argue with the laws of physics. The V60 corners flat; even when I jerked the wheel to make a last-minute turn, the wagon wasn't unsettled.
Even in Dynamic mode the double-wishbone front suspension and integral link rear suspension won't convince you this is a sports wagon, no, but they're poised in a way that makes you question why anybody might want a crossover. Switch to Comfort, meanwhile, and even the rutted streets of LA proved no great hardship.
Volvo's City Safety package of automatic emergency braking, forward-collision warnings, and cross-traffic alerts with auto-braking is standard; blind-spot warnings are optional. Pilot Assist, the automaker's adaptive cruise control with lane-keeping assistance, comes in a $2,500 Advanced package along with a 360-degree camera and head-up display. It's still a hands-on-the-wheel system, but it works well.
A cabin worth considering
At this point in Volvo's post-XC90 reinvention we'd probably be criticizing the designers for reusing the same cabin themes, were they not so good. Glance at the V60's dashboard and you'd be forgiven for mistaking it for that of the V90, which probably isn't going to upset too many buyers of the smaller wagon. As ever, it's clean, minimalistic without looking stark, and contains some neat Swedish touches.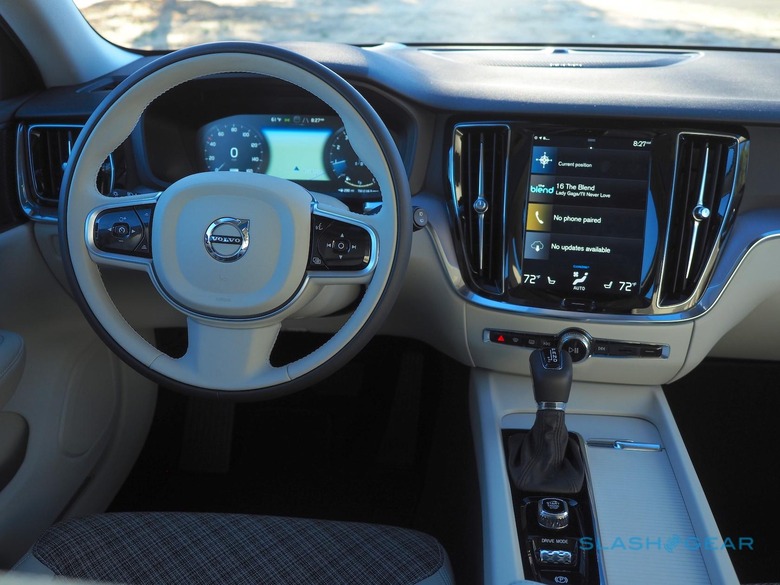 The center console is dominated by Volvo's Sensus Connect infotainment system, with a 9-inch touchscreen and swifter internals so that startup, route recalculation, and other features arrive more swiftly. Apple CarPlay and Android Auto are standard, as is 4-zone automatic climate control. Options include a 1,100W Bowers & Wilkins sound system with 15 sweet-sounding speakers, and a 12.3-inch digital drive display behind the wheel.
You may not be able to get a V60 Polestar Engineered, but Volvo does offer something special for the wagon-lover. That's the City Weave interior, a special textile that looks like a restrained plaid in black and white. It's a no-cost option in place of the standard leather in the V60 Momentum, and combined with cream leather panels and the two-tone dash it really helps lift the V60's cabin.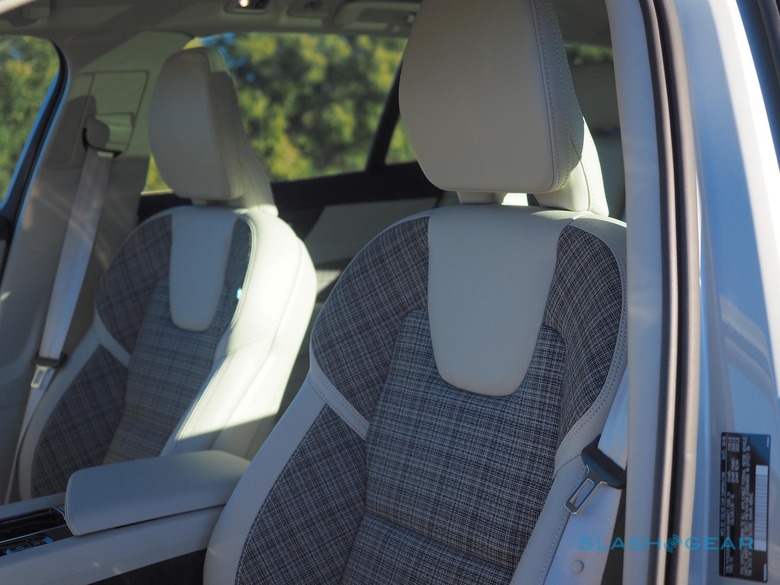 The V60 Inscription can't have it, but makes up for that with ventilated Napa leather seats with massage. Either way, the dashboard's broad sweep of ribbon-like metal trim and tactile air vents feel more approachable and natural than the starker surfaces you'd find in one of the German competition. Rear seat space benefits from a touch more headroom than the S60, too.
Verdict
Is anybody going to buy the 2019 Volvo V60? The raw fact of the matter is that wagons still struggle in the US, though concerted efforts by Volvo, Audi, Mercedes, and others are pushing back against driver preconceptions. There's also the timeline to consider: Volvo says the V60 will go on sale in the US in the summer of 2019, and won't be confirming pricing until closer to that point.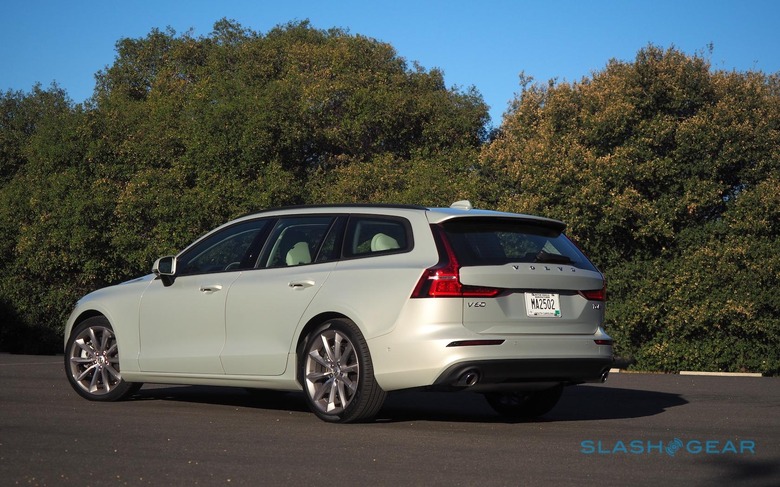 I can't tell you what the market will do, but I can say what I think it should do. The V60 delivers the practicality of a crossover with the driving dynamics of a sedan. It's more efficient and, to my eyes, more attractive than an SUV, too. And, even if you can't persuade your friends and family to give a wagon a chance, you'll end up with a car that's rarer on the road than most. That sounds pretty special all round to me.