2019 Volvo S60 first drive: A Swedish revelation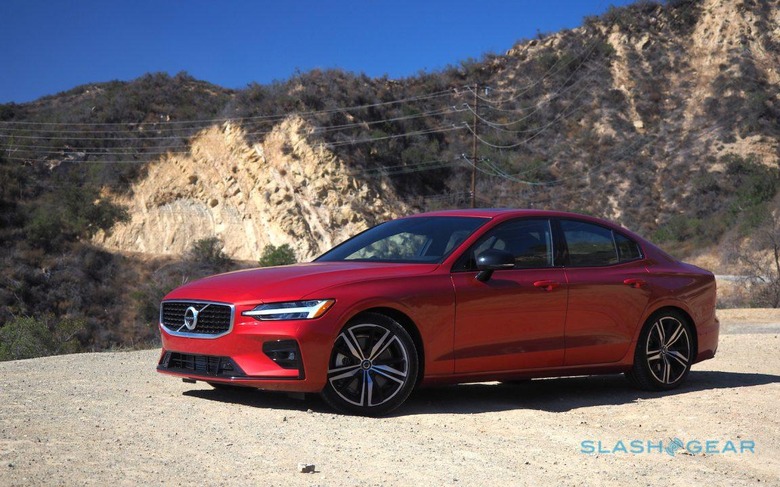 The 2019 Volvo S60 has a lot to live up to. Following a series of award-winning new models like the XC90, S90, and XC40, it's the third-generation of an enduringly-popular sedan known for being safe, even if not sporty. That omission is something Volvo really wants to change with its 2019 S60 T8 Polestar Engineered, too. It's also the first vehicle off the line at Volvo's new $1.1bn Ridgeville, SC facility, the automaker's first US production line.
Throwing money at a company to turn it around doesn't always reap rewards, but Volvo is a sterling example of reinvention. The combination of Geely's deep pockets and the Swedes' refusal to compromise on their own quirky style, safety, and luxury obsessions is a case study fit for a textbook. Better still, it's a range of cars and SUVs that pretty much satisfy wherever you look.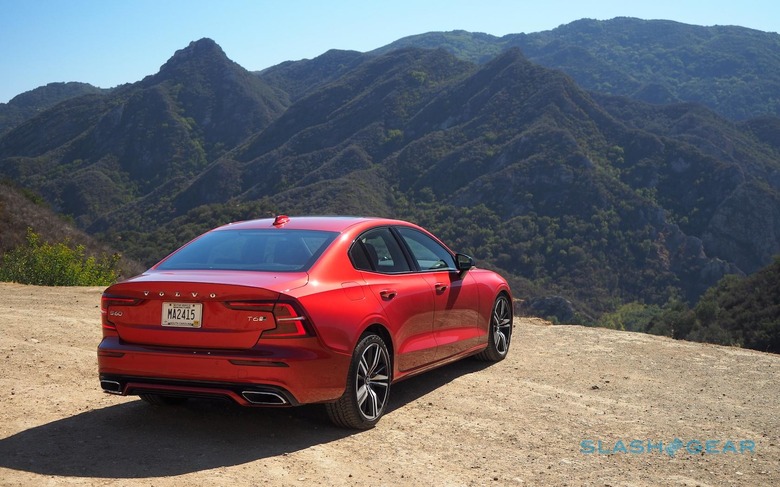 For the US at least, the 60 Series had been the last, lingering reminder of the old Volvo. Now, inheriting the best and brightest of the cars that have impressed before it, the 2019 S60 has evolved into something deeply special.
The familiar and the new
Like the S90 sedan, the S60 uses Volvo's Scalable Product Architecture. It's another example of the platform's flexibility: the 2019 S60 is 4.9-inches longer than the outgoing model, as well as 3.8-inches longer in the wheelbase and 1.8-inches lower. However, it's also noticeably more compact than the S90.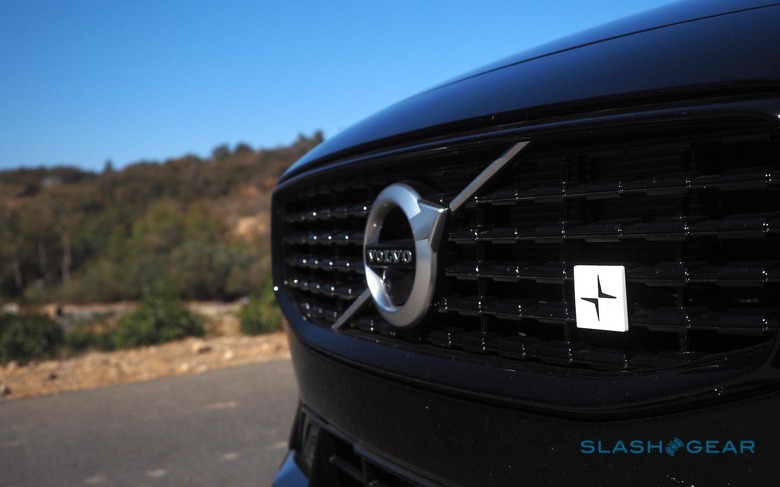 The aesthetics arguably suit this smaller four-door more. Volvo's slightly concave grille, flanked by the distinctive "Thor's hammer" headlamps, are the lead point for a triumph of careful surfacing. There's something sculpted and elegant about the car, from the short overhangs and lengthy hood, to the way the bodywork catches the light and plays with shadow.
It's taut and elegant, and should age nicely without looking stodgy today. Volvo has used integral link rear suspension and double-wishbones at the front, while the engine line-up should come as no surprise to anybody halfway familiar with the automaker's recent models.
The S60 T5 kicks things off with front-wheel drive and 250 horsepower from Volvo's four-cylinder, turbocharged 2.0 liter gas engine. Expect 258 lb-ft of torque and an eight-speed automatic transmission; the EPA hasn't finalized economy numbers yet, but Volvo is predicting 24 mpg in the city, 36 mpg on the highway, and 28 mpg combined. If you want all-wheel drive, you need the S60 T6, which adds a supercharger for 316 horsepower and 295 lb-ft of torque. There, figure on 21/32/25 mpg for city/highway/combined.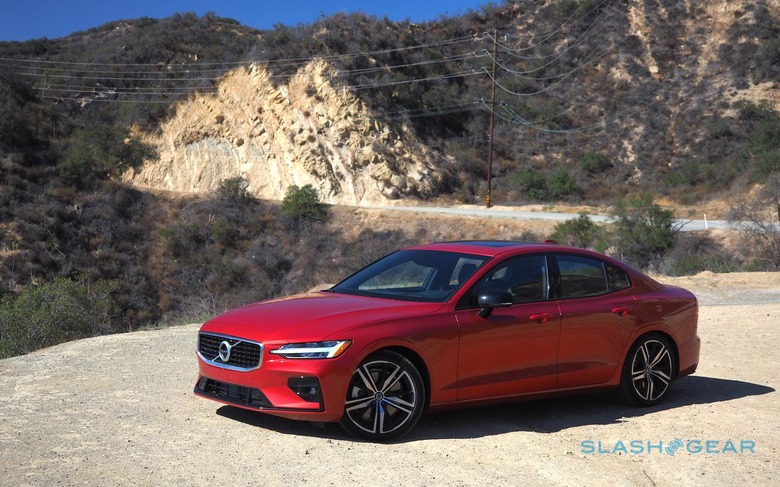 Volvo has some fairly aggressive electrification goals, promising some sort of EV option – whether mild hybrid, plug-in, or full BEV – on all new cars from 2019, and targeting sales of 1m such vehicles by 2025. For the 2019 S60 it's the T8 Plug-In Hybrid that plays into that commitment, bringing together a 313 hp gas engine and an 87 hp electric motor for a total of 400 horsepower.
It's a clever system, though not perfect. The gas engine drives the front wheels while the electric takes care of the rear; there's no mechanical connection between the two. Volvo's battery runs along the center of the car, front to rear, delivering a fairly underwhelming 21 miles of all-electric range. Pre-EPA numbers are 27/34/30 mpg for city/highway/combined, or 72 mpge.
There's one final model, the 2019 S60 T8 Polestar Engineered Plug-In Hybrid. As the name suggests, it's the regular T8 given the tuning treatment of Volvo's in-house Polestar team, which has taken time out from fettling its Polestar 1 hybrid coupe to squeeze 415 hp out of the S60.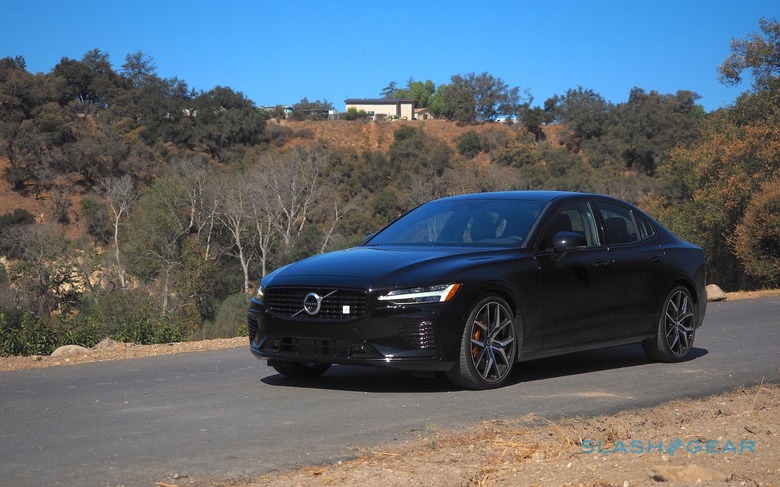 Simple trims with plenty of tech
Volvo keeps the trim walk straightforward. The entry-level is Momentum, available on the T5 and T6 from $35,800 and $40,300 respectively, though it's no hair shirt experience. 18-inch wheels, a panoramic sunroof, LED lights front and rear, leatherette seats – with 10-way power adjustment in the front – and an 8-inch digital instrumentation display are all standard, as is Volvo's Sensus Connect infotainment with a 9-inch touchscreen. That gets Android Auto and Apple CarPlay, plus a 4G WiFi hotspot.
Next comes R-Design, the more sporting trim, available on the T5, T6, and T8 at $41,900, $46,400, and $54,400 respectively. Along with a sport tuning upgrade to the chassis and different 18-inch wheels, much of the exterior chrome is switched to gloss black. Inside, there's a bigger, 12.3-inch driver display, paddle shifters, R-Design leather and textile sports seats, and a different steering wheel. Volvo also throws in cross-traffic and blind-spot warnings.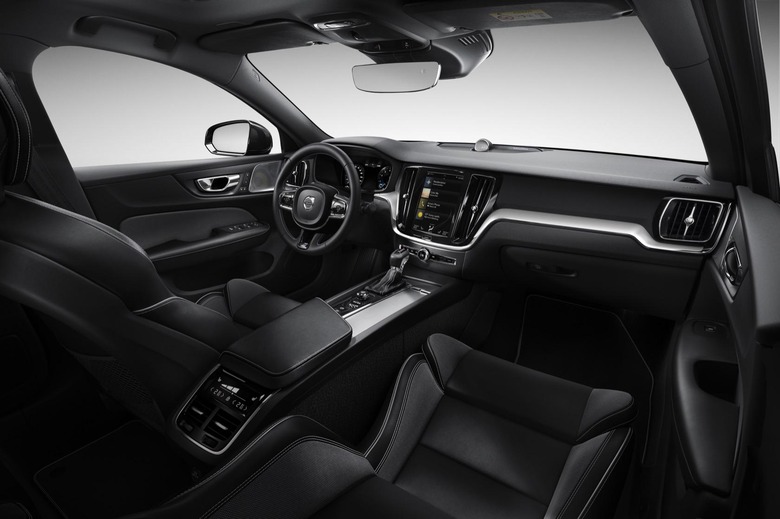 Inscription is the top spec, priced from $42,900, $47,400, and $55,400 respectively for the T5, T6, and T8 cars. You get navigation and 4-zone climate control, a cooled glove compartment, upgraded leather comfort seats, and nicer materials finishing off the dashboard. Both R-Design and Inscription get a Harman Kardon audio system, parking assistance, keyless entry, and some other comfort features.
The $2,500 Advanced Package, meanwhile, throws in Pilot Assist, Volvo's driver assistance tech combining adaptive cruise control and lane-keeping. It also adds a 360-degree surround view camera and lights that angle their way around corners. There's a $2,200 Inscription-only option to add ventilated massage seats up front – unique to the S60's segment – along with different leather.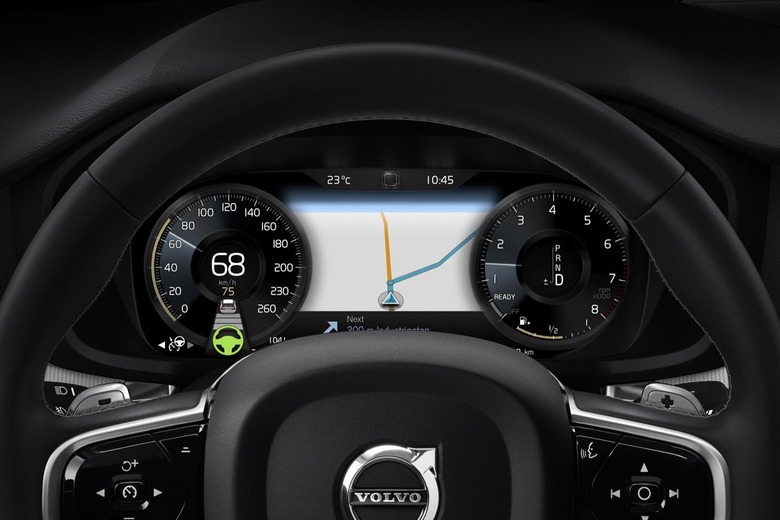 S60 T6 on the road
I split my time between the S60 T6 R-Design and the Polestar – more on which in a moment – in a combination of frustrating LA stop-go traffic and some far more satisfying mountain roads. The latter proved that Volvo's description of the new S60 as a sports sedan wasn't just marketing hyperbole.
You may only have a four-cylinder engine, but the combination of first supercharging and then blending into turbocharging does a convincing job of mimicking V6 power. It sounds great, too, all vrooshes and eager thrumming when you push harder. The eight-speed never left me wishing for a different gear, though you can notch the selector over and go to town with the paddles if you so prefer.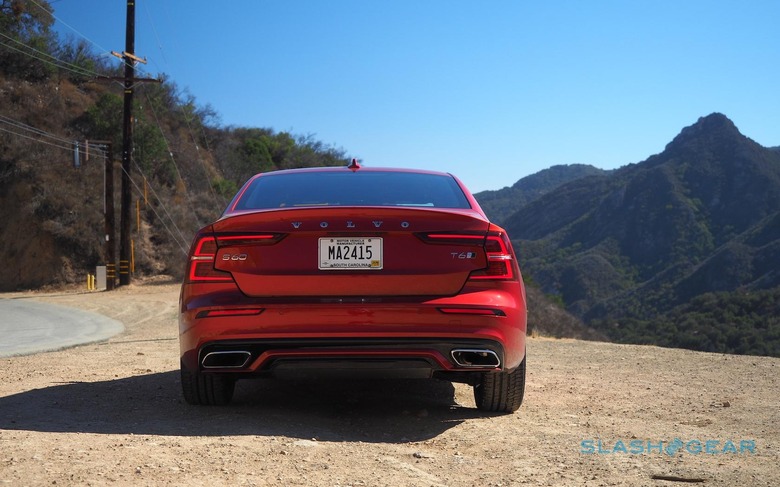 In Comfort mode, the S60 eases along nicely. Only the lesser legroom in the rear might remind you that you're not in an S90. Dynamic mode, though, is where things are interesting. Stab the gas pedal and its reactions are more immediate, and there's a meatier feel to the steering. It's not wild – and Volvo admitted that it had 19-inch wheels fitted, rather than the standard 18-inchers – and you'll get more aggression elsewhere, but there's a throwable enthusiasm that belies the automaker's sensible reputation.
S60 T8 Polestar Engineered
First disappointment: the 2019 S60 T8 Polestar Engineered was black, not that glorious cyan blue that's now so closely associated with the tuning division. Second disappointment: if you weren't among the first to jump on the $1,100 Care by Volvo Polestar deal when the order books opened back in June, you're out of luck. Only 20 of the 2019 model year cars were earmarked for the US, and all were snapped up in a matter of minutes.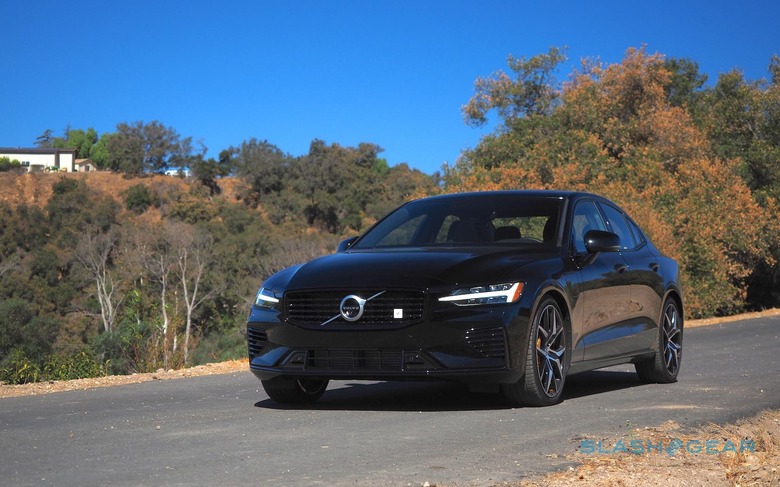 You can see the appeal from the curb. With the darker exterior trim and sculptural 20-inch wheels, behind which glint gold six-piston brake calipers to clamp the Brembo discs, it looks suitably menacing. Under the skin there are Öhlins adjustable dampers and some software tweaks that lift total power to 415 hp and torque to 494 lb-ft. It's enough, Volvo says, for 0-60 mph in 4.5 seconds.
Suddenly the mere 21 mile electric range makes a lot more sense, since the S60 Polestar uses it to get you away from a standing start more rapidly. The soundtrack is good, too, though it's fair to say that this isn't a light car. You notice that in the corners, where the hybrid's roughly 4,000 pound weight leads to inevitable body roll. Ironically the lighter R-Design car, without the electrification to carry, corners more tightly.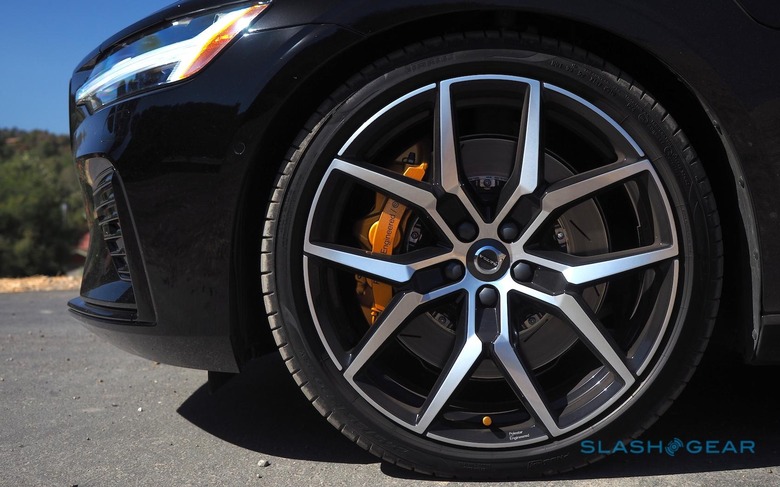 The third disappointment proved to be the brakes. As in the regular T8, there's a mixture of regenerative braking and the physical brakes, but the transition between the two still needs some work. Trying to bring the Polestar to a smooth halt inevitably involved a jolt. The good news is that Volvo knows it's not right, and is still working on the blend.
A cabin fit for a Swede
Instrumental to Volvo's successes since the new XC90 back in 2015 has been its interior design, and the 2019 S60 carries on that tradition. Indeed you'd need a well-trained eye to spot the differences between the dashboard of the S60 and that of the S90. That's very good news for the smaller sedan.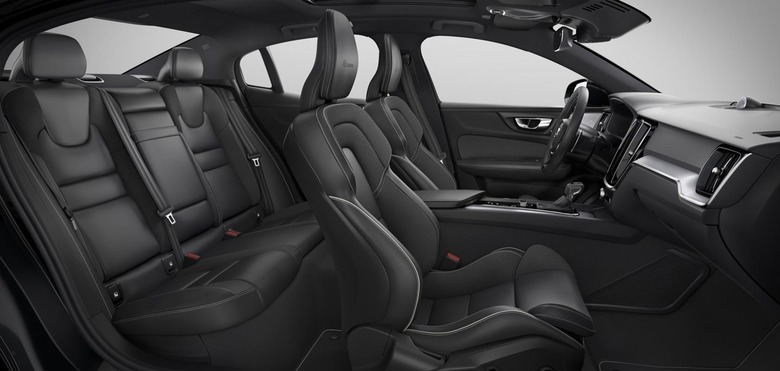 A long strip of metal runs the span of the cabin, twisting sinuously around the Sensus display. It's inset with a variety of woods, depending on trim level, including a rather pleasant driftwood inlay. Physical controls are at a minimum, Volvo preferring you to interact with the touchscreen instead. Happily, it's one of the better infotainment systems out there.
The home screen consists of four sections – navigation, media, phone, and apps – atop a persistent HVAC control panel. Swipe left or right, and you find the settings and controls for the various driver assistance and other features, along with apps like Spotify and Pandora. Plug in your iPhone or Android, meanwhile, and CarPlay or Android Auto occupies a slice of the overall screen, which means you don't lose access to the rest of Volvo's interface.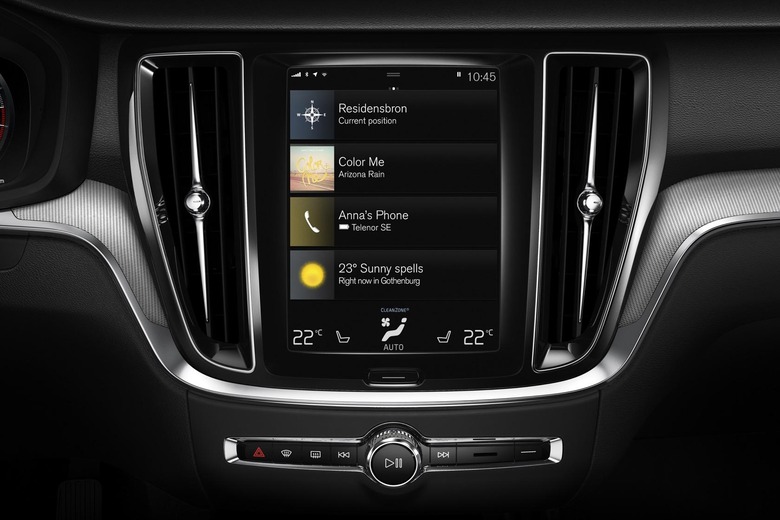 Volvo says the chipset powering Sensus Connect is now 50-percent faster, leading to swifter startup, faster access to the backup camera, more responsive voice control, and quicker recalculations in the navigation app. It has definitely lost some of the annoyingly lag that dragged down earlier Sensus implementations. Still, I'm particularly looking forward to Volvo's next-gen system, which it will build with Android, the Google Assistant, and Google Maps.
Beyond the infotainment, the cabin is just a generally pleasant place to be. Volvo's seats are supportive and comfortable, though the fact you can't have the R-Design sports seats with the massage feature seems a missed opportunity. The Polestar's cabin, with its black wood and black leather, is lifted ever so slightly by bright gold seatbelts, though the Swedish crystal shift knob feels at odds with the rest of the car's style: more overt luxury than sporting.
Moose-proof
Volvo's City Safety package is standard on the 2019 S60, with automatic emergency braking for pedestrians, cyclists, vehicles, and large animals. It'll steer out of the path of potential oncoming collisions, while brake assistance will lend a heavier foot if your own is too timid.
Run-off Road Mitigation will try to keep you on the road if you're near the edge, as well as protect you if the worst does actually happen. Should you stray off the asphalt, there are now crumple zones in the seat structures. Turns out, Volvo says, a car can come down violently if you leave the road, and that energy typically goes right through into your back. Deforming seats can help absorb it before that happens.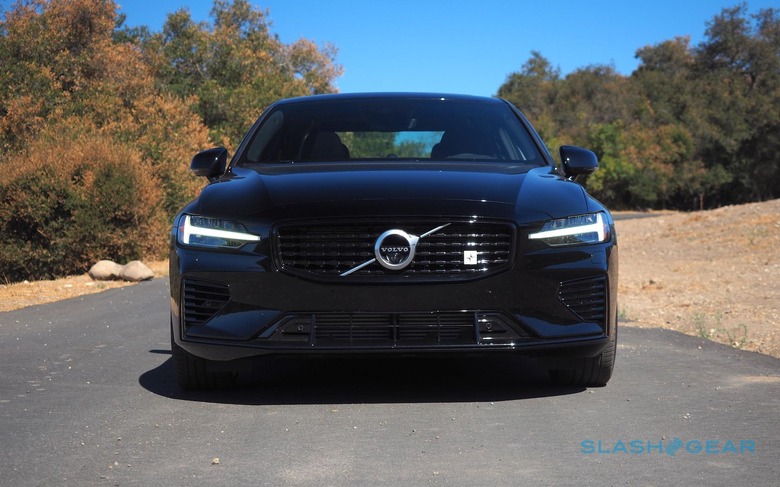 Then there's Pilot Assist. Volvo is quick to remind drivers that its assistance technology is a hands-on-the-wheel Level 2 system, and sure enough if you remove your grip for longer than a few seconds the car will bleat its frustration at you. Instead it's designed to follow the lane at speeds of up to 80 mph, slowing according to traffic ahead. It works well, though I can't help but wish that Volvo had followed Cadillac's lead and used a Super Cruise style visual attention system instead.
Verdict
Volvo has achieved something huge over the past four years: given its cars a dynamic and technological overhaul while also instilling in them a real sense of charm. The 2019 S60 is handsome and elegant, not shouty in its styling but somehow still distinctly Swedish both inside and out. It cherry-picks the best of the S90 and other Volvo models that arrived before it, and ends up even more appealing as a result.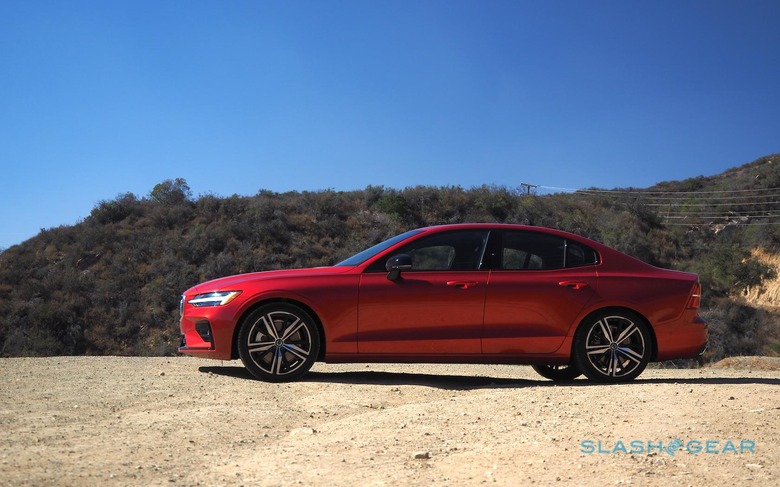 The limited availability of the S60 T8 Polestar Engineered means Volvo's feistiest 60 Series will be rarer than a supercar. Happily you can settle your sorrows with the S60 T6 R-Design, which is arguably more cohesive as an all-rounder. Even at the Momentum end of things, though, generous equipment levels avoid the feeling of bargain-basement shame that you might suffer in a cheaper C-Class or 3 Series.
The 2019 Volvo S60 may be one of the last of the automaker's US-bound cars to get upgraded, but it's by no means the least. Competitively priced and capable on the road, it's a compelling alternative to the go-to choices from Mercedes, Audi, and BMW.