2020 Genesis GV80 revealed: Luxury SUV stands out from the crowd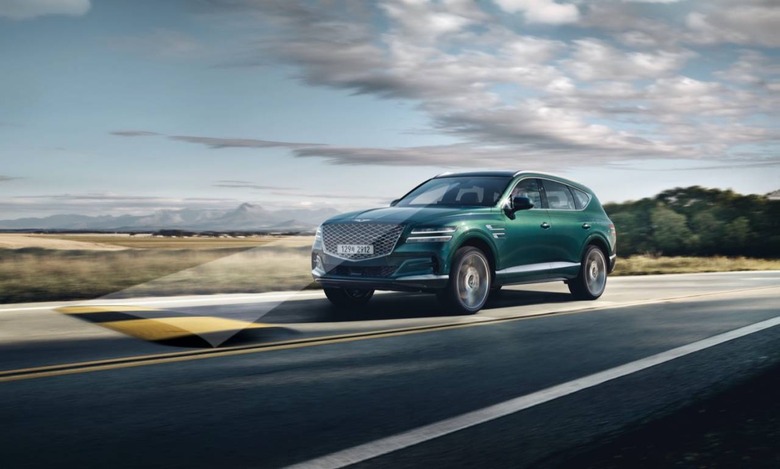 Genesis promised something big for its first luxury SUV, and the 2020 Genesis GV80 certainly delivers. Unveiled in South Korea this week, the newest addition to the automaker's range borrows from the striking styling of the redesigned G80 sedan, combining it with seating for up to seven. The "V" in the name, Genesis says, stands for "Versatility."
It's remarkably close to what Genesis previewed all the way back in 2017, in the shape of the GV80 Concept SUV. At the front, there's an oversized Crest Grille, just as on the G80, which dives deep into the front bumper. Quad Lamps – which the automaker is hoping to make its visual distinguisher – flank it, and feed into the crease lines running the length of the vehicle.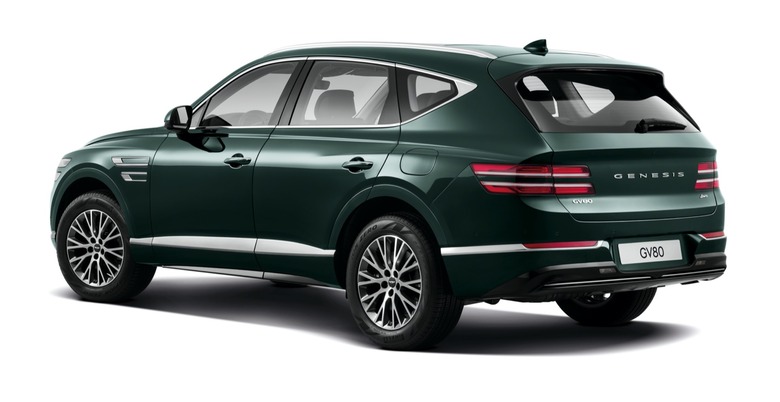 The GV80 will ride on up to 22-inch wheels, the biggest having a diamond-mesh pattern. As for the body itself, that's predominantly made of high-strength steel, with the doors, hood, and tailgate using aluminum.
A premium cabin
Genesis has been doubling-down on interior styling and quality, and that focus seems to have paid dividends in the GV80. The goal, the company says, was "the beauty of white space"; that appears to translate to minimal buttons. Instead, it's a clean, pared-back environment.
A 14.5-inch split-screen infotainment system is on the top of the dashboard, remotely controlled via the Genesis Integrated Controller which allows for handwritten text entry. That's alongside a shift-by-wire transmission controller in the center console. Slimline air vents run horizontally across the dashboard, emphasizing the GV80's width.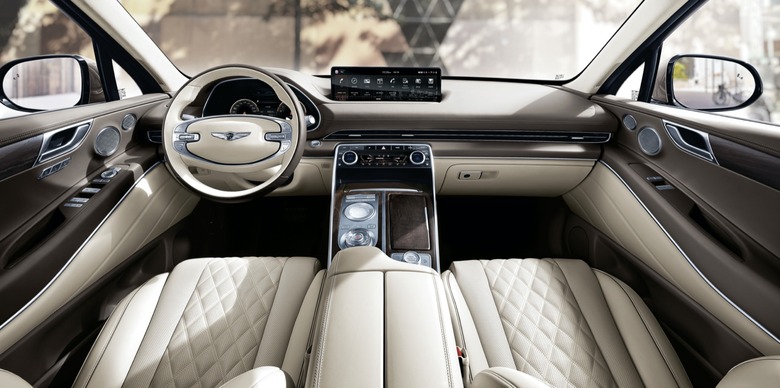 There'll be Road Active Noise Cancellation (RANC) which promises to cancel out wind, tire, and other noises through the same sort of real-time analysis that powers your AirPods Pro. Genesis will also offer an augmented reality navigation system, overlying driving directions on top of a live view of the roadway ahead, on the infotainment screen.
An "active motion" driver's seat uses seven air cells to move the driver's body on long journeys and help avoid fatigue. Seat heating and ventilation will be available for both the first and second rows. Genesis will offer the GV80 as both a five- and seven-seater SUV.
Two engines and optional AWD
Genesis hasn't confirmed exactly which engines it'll be offering the GV80 with in the US, only that there'll be a choice of two turbocharged gas engines. We're expecting one to be a 2.5-liter turbocharged four-cylinder, and the other to be a more powerful 3.5-liter twin-turbo V6. Each will get an eight-speed automatic transmission.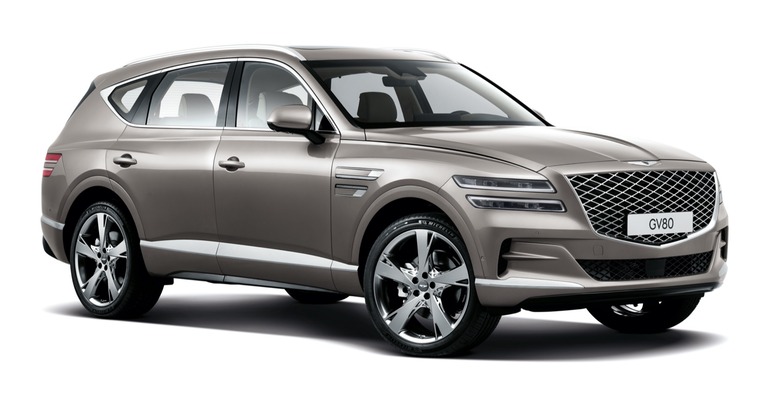 Underneath the shapely body is a new platform. It's rear-wheel drive as standard, but Genesis will offer all-wheel drive as an option. In the US, that will come with an electronically controlled Limited Slip Differential at the rear axle. There'll also be electronically controlled suspension with road preview, which for the first time on a Genesis vehicle will use a front-facing camera to scan the road surface, and preemptively adjust the settings for the smoothest ride.
In South Korea, Genesis will offer the GV80 with a 3.0-liter six-cylinder diesel engine. However that won't be coming to the US. Genesis also has electrification plans for its range, though no specific details for a GV80 hybrid have been confirmed yet.
Active safety as standard
As on the 2020 G80, Genesis is pushing standard active safety tech on the GV80, to help it stand out versus rival SUVs which often charge for such features. There'll be smart cruise control with machine learning (SCC-ML), that promises to learn from how each individual drives, and tweak its assistance to match their style.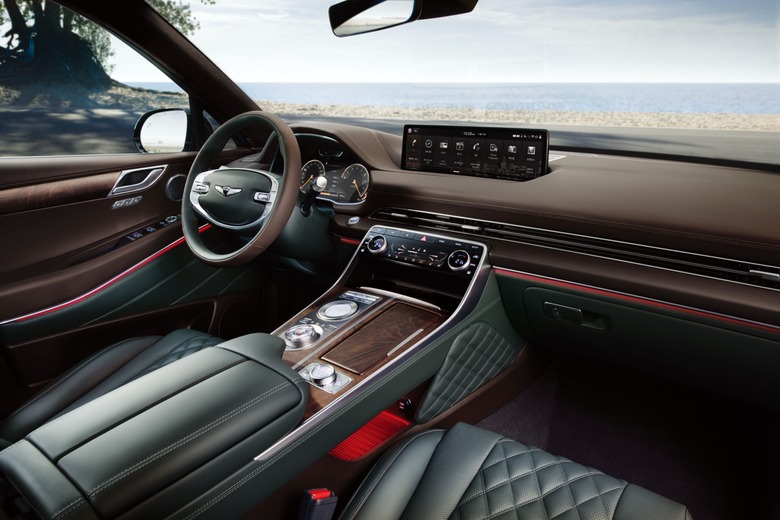 Highway Driving Assist II can now auto lane-change when you indicate, as well as help with merging in congestion. Forward collision avoidance reacts to pedestrians and other vehicles, and there's blind-spot collision avoidance that flags cars in the blind spot as well as actively preventing a collision if one is likely. Rear cross-traffic collision avoidance does something similar for behind the SUV.
2020 Genesis GV80 verdict
While its sedans have been well-received, Genesis really needed an SUV in order to play fully in the US market. The 2020 GV80 is shaping up to fit that requirement nicely. While full details of what will – and won't – make it to the US-spec vehicle haven't been confirmed at this stage, we shouldn't have too long to wait.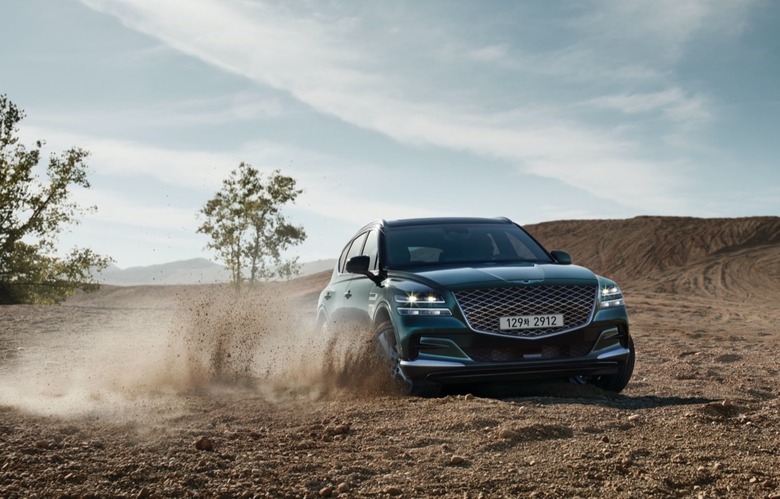 We're hoping that features like the two-tone dashboard – something traditionally limited to far more exclusive cars – make it across to North America. Indeed, Genesis' cabin is looking like a pleasant place to spend time on the road in general, what with its twin infotainment screens and restrained use of physical controls.
Genesis says the South Korean GV80 should be headed to dealerships there later in January. Sales elsewhere should kick off shortly after. Pricing will be confirmed closer to launch.