2020 Aston Martin DBX first look: SUV body, supercar heart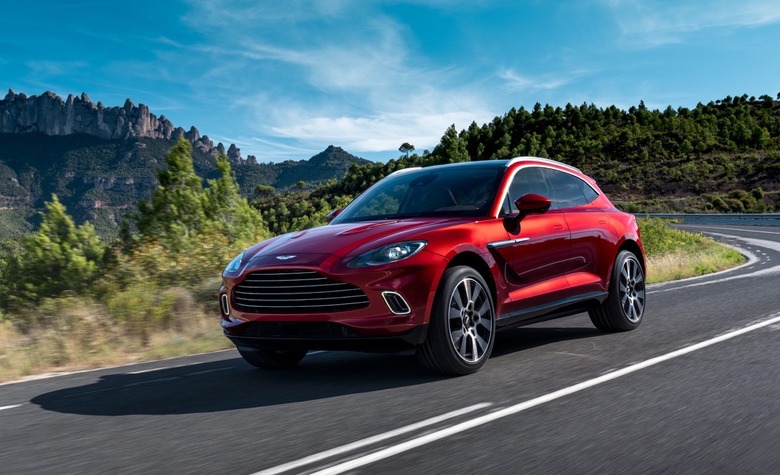 The 2020 Aston Martin DBX is a long time coming. After all, this is Aston's first attempt at building an entirely new product, its first SUV, and it needs to be better than good. There's a lot riding on the new DBX: the British automaker is projecting an annual production of 4,000 vehicles by 2023, with the DBX leading the way. The first concept was shown back in 2015, and even back then it was clear that Aston's entry into the luxury SUV space was shaping up to something special.
As expected, the sensuous proportions of the production-model DBX are carried over from the concept, and this makes it unmistakably an Aston Martin from the very moment you lay eyes on the vehicle. "We had to fulfill three criterions for the DBX. It has to look like an Aston Martin, it has to sound like an Aston Martin, and it has to drive like an Aston Martin," declared Dr. Andy Palmer, Aston Martin Lagonda President & Group CEO. "We were absolutely guilty of being ambitious, but I'd rather be in a company that has ambition," he continued.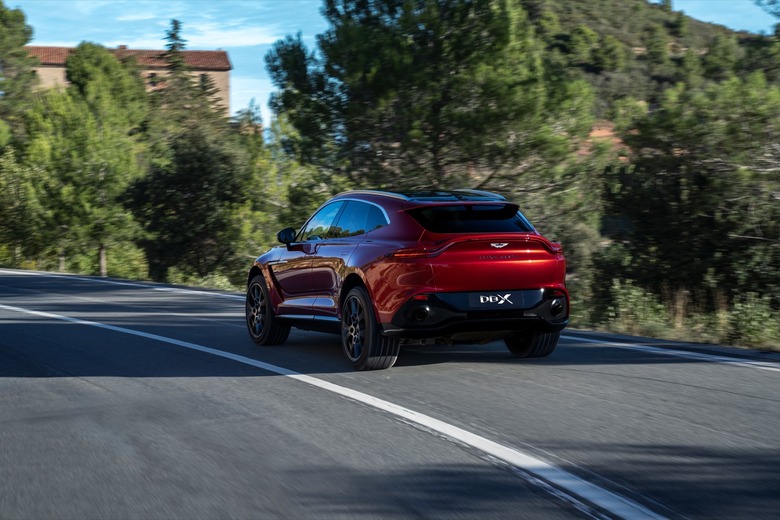 "Aston Martin's second-century plan is about learning from history and having the ambition to change the company," Palmer explains. "And that means to go from a company that historically made beautiful GT cars for the British market and moving into the ubiquitous SUV market."
After experiencing a manual-induced thrill ride aboard the new Aston Martin Vantage AMR, I can't help but wonder how it all that translates into the DBX. Aston's newest SUV is based on a bonded aluminum chassis resulting in a curb weight of under 5,000 pounds (1,145 kg). I'm hoping that the lightness and stiffness of the body structure should leave it just as much at home both on-road and off-road. The same 4.0-liter twin-turbocharged V8 as in the Vantage and DB11 – a beastly powerplant sourced from Mercedes-AMG – should help in both situations, too.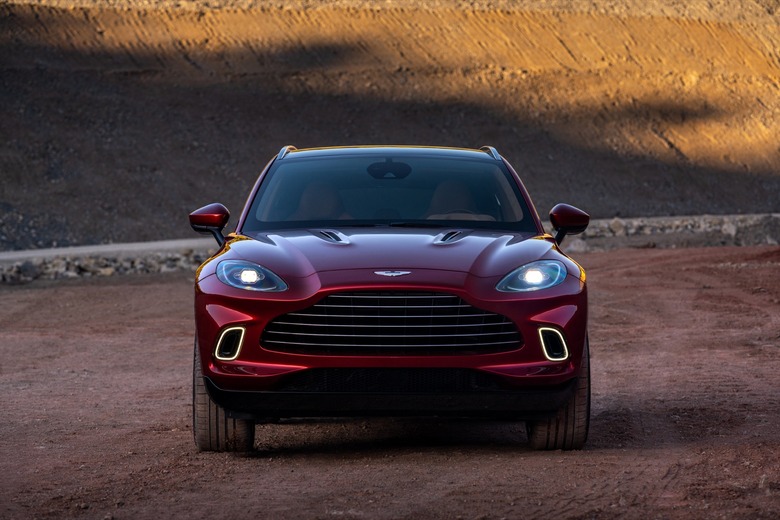 In the DBX, however, the engine is further tuned to pump out more power and torque than both the Vantage and DB11, which produces 542-horsepower and 516 pound-feet of torque. As a result, the DBX SUV is more powerful even than Aston Martin's newest range of sports cars.
Making that power usable is a nine-speed automatic transmission and an all-wheel-drive system with a carbon propeller shaft, active center differential, and an electronically controlled rear locking differential. The latter is also found in the Vantage automatic, and all of which are also courtesy of Mercedes-AMG. There's an active exhaust system that varies the tailpipe growl, to allow the DBX to shift from a refined and luxurious SUV into a sports car. Aston Martin's claim is 0 to 60 mph in a mere 4.3 seconds. Top speed is rated at 181 mph.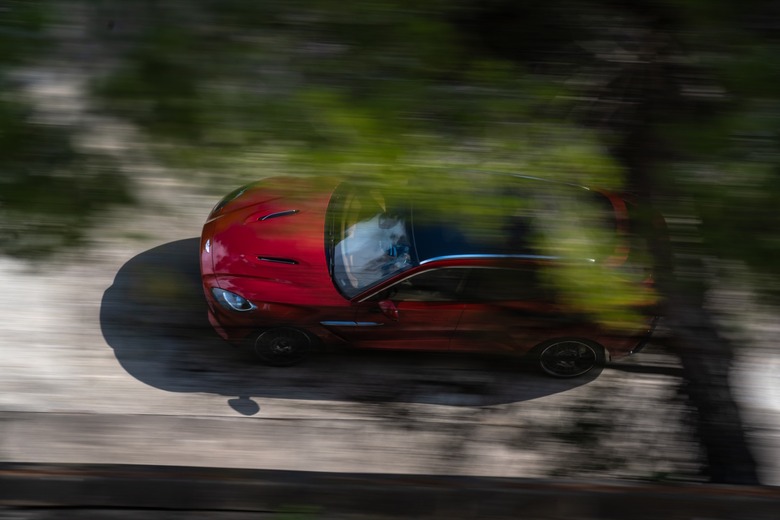 Power is a given, but how about ride and handling? "Aston Martin is all about authenticity," continues Dr. Palmer. "The goal of DBX is to be the best-handling SUV in the market." In order to do that, Aston had to go back to basics to get a deeper understanding of what an SUV offers. "We broke it down into two categories," said Marek Reichman, Executive Vice President and Chief Creative Officer, Aston Martin Lagonda. "The first and foremost was to give that versatility of an SUV to carry more people in the vehicle, and then also to have that all-weather capability."
Using a double-wishbone front and multi-link rear suspension setup with adaptive triple-chamber air springs and Bilstein adaptive dampers with four different spring rate settings, the new DBX can complete a lap of the Nurburgring in sub-eight minutes. Improving the dynamic focus of the DBX is a 48-volt active roll-control system, replacing conventional anti-roll bars. It helps limit body roll when driving aggressively. The result, Aston Martin claims, is that the DBX can attack a corner just as fast as the Vantage, and brake as hard as the DBS Superleggera.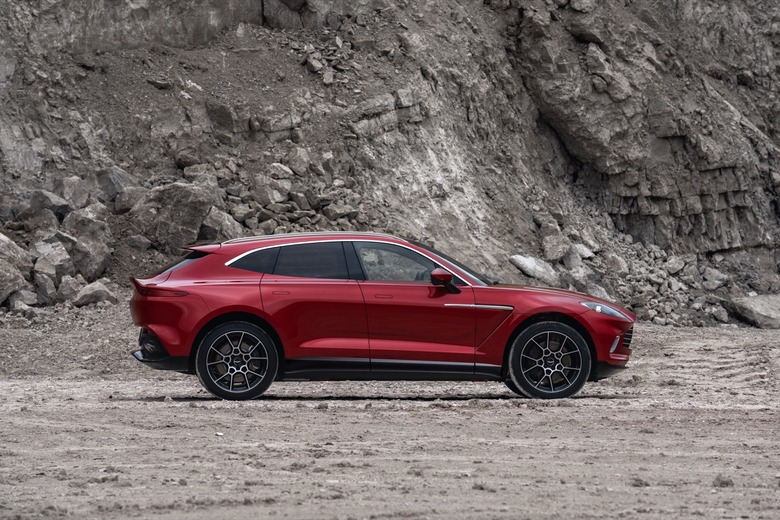 "Through its development alone, the DBX has already taken the company into new territories and inspiring directions," said Dr. Palmer. "This is a real landmark for this great British brand, and I promise that DBX will reward all who experience it in their everyday lives."
An everyday Aston Martin
The DBX's full suite of active and passive safety features will keep everything under control in the event that the weather changes for the worse. Electronic stability control, traction control, roll-over stability control, hill descent control, and hill start assist are all standard. So too are forward-collision warning, adaptive cruise control, automatic emergency braking, lane departure warning with lane change warning, traffic sign recognition, and blind-spot warning with rear cross-traffic warnings. Braking comes courtesy of six-piston aluminum calipers with 16.1-inch ventilated steel discs in the front, and sliding-piston aluminum calipers in the rear with 15.4-inch brake discs.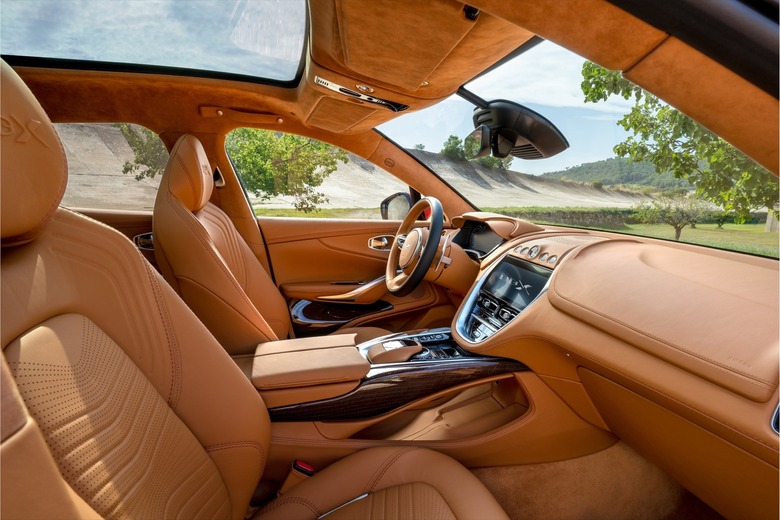 Without a doubt, it's hard enough to make a car go fast, but it's harder to make it fast around a corner without the intervention of safety nannies. In its first SUV, Aston Martin knew the DBX should be fast enough to be exciting, yet still provide a ride as smooth as a Bentley Bentayga so as not to upset either the driver or passengers.
An SUV – even one from a company generally associated with sports cars – faces demands a performance coupe is excused from. That includes the ability to wade through deep water while carrying heavy roof loads, among other rough conditions. Aston Martin benchmarked DBX against the best the market has to offer, including the aforementioned Bentayga along with Lamborghini Urus, Range Rover Sport, and even the Porsche Cayenne Turbo.
It all starts with an all-new bespoke aluminum platform with extruded aluminum sections and cast aluminum nodes. The DBS has the longest wheelbase in its class, with shorter front and rear overhangs; that allows it to have expansive levels of room without demanding a large and bulky body. I wouldn't dare to call the DBX a Vantage on stilts, but the sporty body design – most particularly when you're looking at it from the rear of the vehicle – is clearly inspired by the new Vantage's desirable rear end.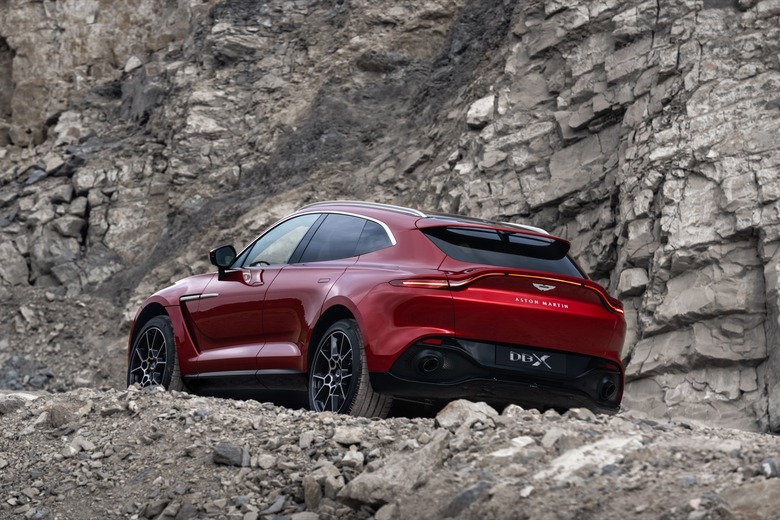 Those contoured body curves were sketched with aerodynamics in mind, particularly the aero ducts integrated on the daytime running lights in the DBX. According to Aston Martin, those ducts are responsible for channeling air through the front wheel arches and along the sides of the vehicle.
"From the very beginning, each millimeter is defined through the design of the R&D team. We wanted an SUV that is beautiful not just to look at but to drive as well, which means the dynamic capabilities have to match the proportions we defined," added Reichman. And, with standard 22-inch alloys shod in wider Pirelli tires, the sporty grand touring aspect of the DBX is oozing at the seams.
An Aston Martin for four or more
Aston Martin is keen to emphasize just how much work it put into the interior design of the DBX. "It has more legroom on the inside and has class-leading headroom and space," Reichman points out. The company spent more than six months on figuring out the ideal driving position, from the 99th percentile male to the 5th percentile female. It also offers better practicality than most rivals. The DBX offers 22.3 cubic feet (632 liters) of trunk space with the rear seats up. Fold them down, however, and you have 54.0-cubic feet of additional room for carrying ski equipment, luggage, and a bevy of suitcases.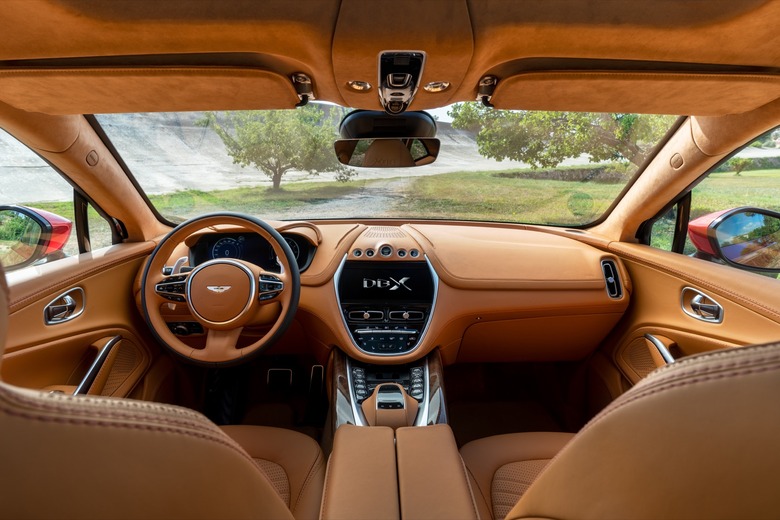 The interior theme is to provide a feeling of space and wellness. Whether sitting in the front or back, the DBX offers class-leading headroom and legroom. The frameless door glass and full-length panoramic roof should lend the cabin an airy feel, while the dashboard further accentuates the feeling of space and luxury with cleanly integrated display screens and an innovative bridged center console with a humongous storage bin.
The driver gets an expansive 12.3-inch digital instrument console, complimented by a 10.25-inch display placed front and center to share with the front passenger. Additionally, the DBX also has Apple CarPlay, ambient lighting, and a 360-degree camera system for easier parking and navigation over rough surfaces.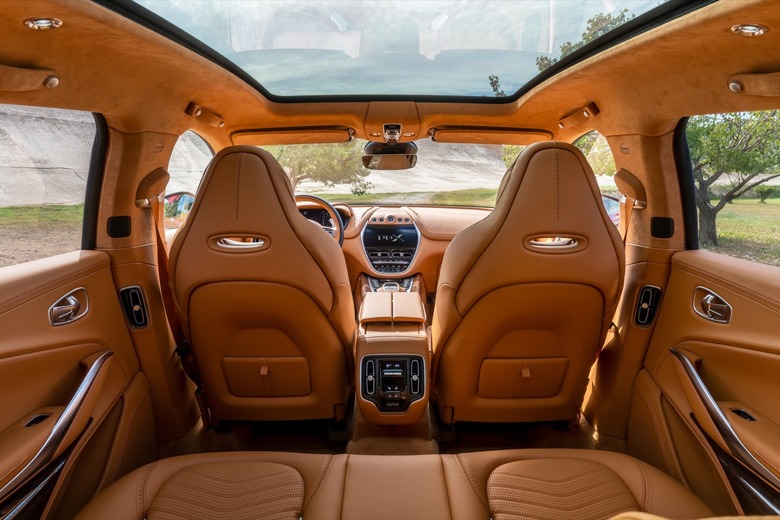 As expected from an Aston Martin, just about every surface you might touch is wrapped in premium materials: fine leathers, milled aluminum, glass, and high-grade Alcantara. The seats are wrapped in full-grain leather sourced from Bridge of Weir. You can also choose from an array of wood, composite, or metal veneers.
A total of 11 accessory packs are available to order, including a Pet Pack with a portable washer and cleverly partitioned trunk. The DBX Touring Pack adds a four or six-piece luggage set and lockable storage room under the front passenger seat. If that's not sufficient, the DBX is Q-customizable, Aston Martin's bespoke team promising to meet just about any buyer's preference.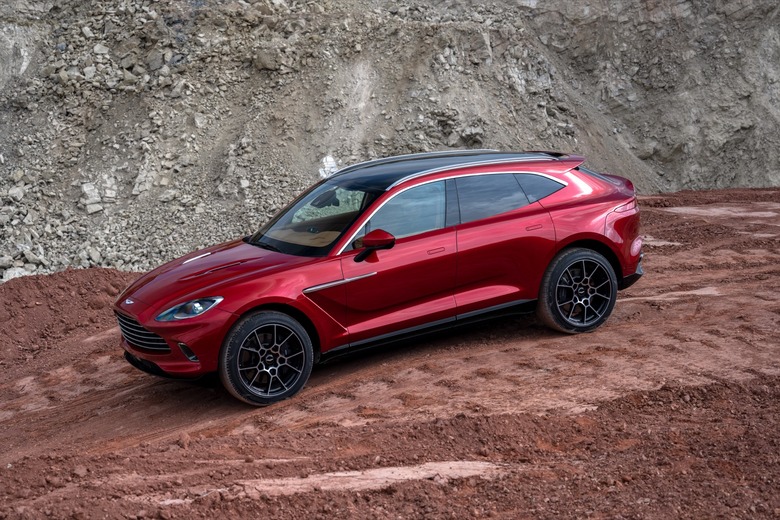 When it launches next year, the DBX will be priced at around $189,000 in North America. It may be late to the luxury SUV segment, but if it delivers on the promise of sports car performance with family practicality, the DBX could well prove to be a game-changer.