2019 Ram 1500 multifunction tailgate is a flexible first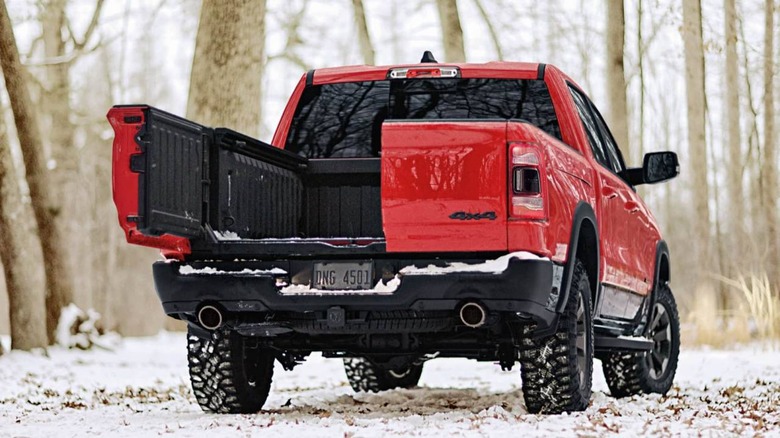 You're nobody in the modern truck world if you don't have a slick multifunction tailgate with more flexibility than a Transformer, and now the new 2019 Ram 1500 is getting in on the action. FCA's beefy new pickup has plenty to recommend it already – not least the huge, portrait-aspect touchscreen that dominates the dashboard – but aiding cargo loading and unloading means there's more going on at the rear.
Unsurprisingly, the Ram 1500's tailgate drops down like you'd expect. It's fully dampened, too, and has remote release so that you can have the bed available as you approach.
New, though, is the 60-40 split. The multifunction tailgate on the Ram 1500 has dual side-hinged sections: 60-percent on the left, and 40-percent on the right. That allows them to hinge open separately for a different way of accessing the bed.
The benefits, Ram says, are various. Swing open the doors, for instance, and you can stand up closer to the bed itself – rather than having the tailgate in-between. That's extra-helpful if you're trying to bring a forklift or something up close. Meanwhile being able to open up just one section allows for easier curbside loading.
As you'd hope, the new mechanism doesn't impact the ruggedness of the tailgate. It's still rated for 2,000 pounds, for instance. Each door opens 88-degrees, Ram says, and there's the option fo a center-mounted retractable step to make climbing up more straightforward.
It's one of a number of different tailgate styles we've seen adopted in modern trucks over the past few years, as automakers attempt to make the rear end of their vehicles more flexible. The Honda Ridgeline, for example, has a tailgate which both opens flat as usual, but also hinges out from the side. Unlike the Ram 1500, though, the Ridgeline's tailgate is a single part, not split in two.
More recent still, the GMC Sierra 1500 packed an even more flexible tailgate. That boasts six different functions, with a second mini-tailgate built into the overall tailgate.
In short, it's a good time to be a truck buyer if you want something more useful than the regular old drop-down 'gate. Ram says that the 2019 1500's multifunction tailgate option will be available across all seven variations of the truck, and is expected to be offered from Q2 2019. It'll be priced at $995, while the optional center step will be an extra $295.