The 2019 GMC Sierra 1500's tailgate is pretty darn ingenious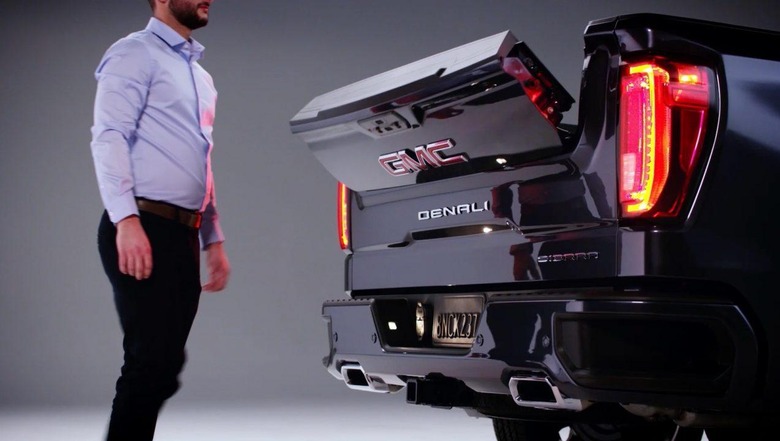 When it comes to cutting-edge truck tech, you might not expect GMC to point you to the rear of the new 2019 Sierra 1500. All the same, that's where some of the fresh pickup's most impressive talents lie, in the clever MultiPro Tailgate. While it might seem a strange thing to get excited about, that's only until you figure out just how this tailgate-inception works.
It's not the first pickup to boast some innovative tailgate tech, mind. Honda's second-generation Ridgeline, for example, distinguishes its rump by virtue of a two-way tailgate: you can either drop it down in the usual manner, or swing it open with a side-hinge, depending on what's easiest for the task at hand. Tailgates with integrated steps are fairly commonplace, too.
Even so, the 2019 Sierra 1500 distinguishes itself all the same. The MultiPro Tailgate has a total of six different functions, making it the Rubik's cube of pickup portals. For a start, you can open it either manually or remotely from the keyfob, and it unsurprisingly has an integrated step that drops down and can support up to 375 pounds.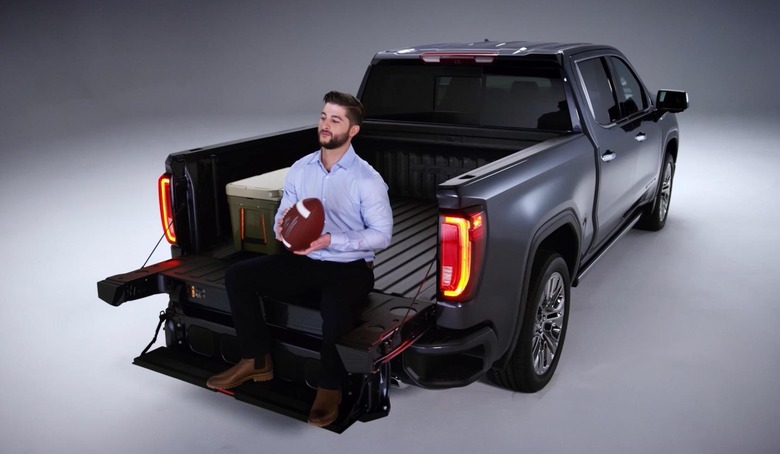 There's also a flip-up load stop. That can be used to prevent items longer than the bed from sliding back off the rear of the truck, but hinges down into the tailgate itself when not required. While it doesn't have the Ridgeline's swing-out-the-way dual hinge, what GMC has included is a flip-down gate section. That drops down so that you can stand in closer to the box.
Indeed, that gate section has its own load stop, ideal for a second tier of cargo. Finally, you can hinge the whole thing up and use the broad tailgate as a work surface. If you've ever tried to perch a laptop, tool box, or other item on the edge of your tailgate and then watched it dangle precariously, that's probably going to sound like a good thing.
Sadly, not every 2019 Sierra 1500 buyer will get to enjoy this trick-tailgate's clever flexibility. The MultiPro Tailgate will be standard on the Denali and SLT versions of the truck, though not necessarily on other trims. That's something you'll have to make up your mind about when the pickup goes on sale this fall. Pricing will be announced closer to that point.