2017 Honda Ridgeline first drive - Not your typical truck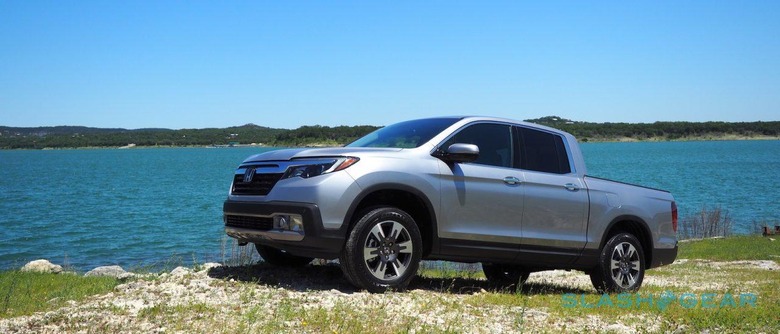 In trucks, as in all things, you can take the easy way or the hard way, and the 2017 Ridgeline suggests
has some masochists in its ranks. In a market filled with beefy, does-what-it-says-on-the-tin competitors, the second-generation Ridgeline takes a more measured, considered approach. That works for Civic and Accord, but are Tacoma and Colorado drivers really ready to embrace the thinking person's pickup?
The original Ridgeline was a love-it-or-hate-it truck, not least because of its styling. Honda took a risk, and the result was memorable and distinctive, but not entirely in a good way. Many potential buyers, the company now concedes, dismissed the Ridgeline before they even got near a dealer's forecourt: the style simply turned them off.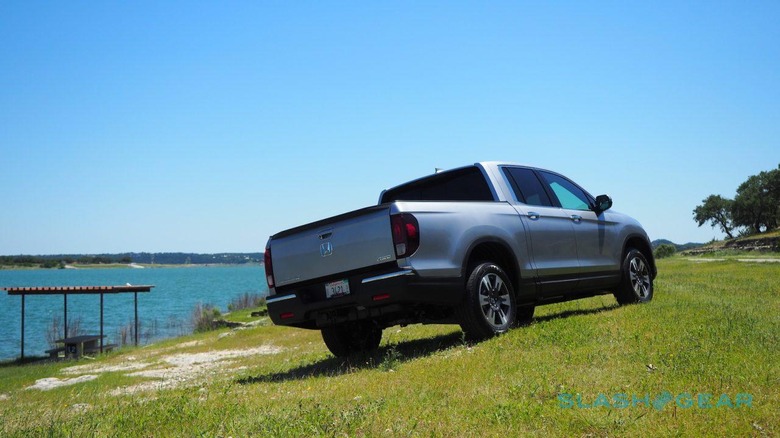 For the 2017 Ridgeline it's a very different aesthetic, though Honda still hasn't gone with the usual "Tonka toy" stereotype of what's considered butch.
Gone are the slope-shoulders, the awkward transition between cab and bed. That had been a side-effect of the reinforcement required by Honda forming the whole side-section of the old Ridgeline from a single piece of metal. The new truck splits the cab and the bed in two, primarily because they're now too big to fit in Honda's metal presses in one piece, but with the useful side-effect that dints in the bodywork should be easier and cheaper to replace.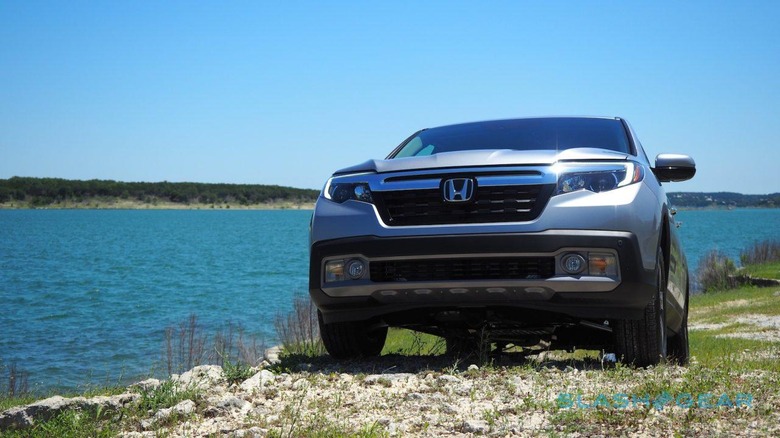 At the front, if you're feeling generous it's like the Pilot; if you're not, it's a minivan. Honda's corporate face currently involves a fair amount of chrome and glitz around the headlamps, and the Ridgeline wears that a little awkwardly. Best is the Black Edition, which tones down the bright stuff and looks all the more moody as a result.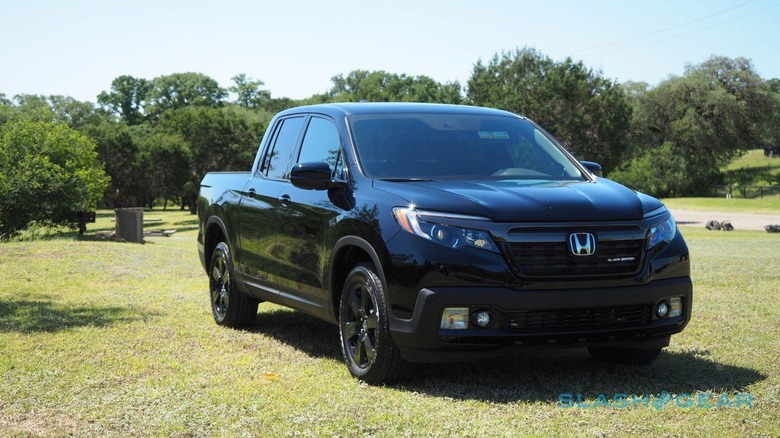 Too many cooks may spoil the broth, but when you're re-entering the truck segment after a couple of years absence it pays to ask what buyers are really looking for. Honda, to its credit, actually seems to have listened to the demands and delivered.
Current and former Ridgeline owners wanted a two-wheel-drive option, for instance – the original truck only came in AWD – and so there's now a 2WD version for five of the seven trims. They wanted better economy, too, so the 3.5 liter direct-injection V6 engine delivers 280 HP and 262 lb-ft. of torque, but also scores 18/25/21 mpg (city/highway/combined) for the AWD and 19/26/22 mpg for the 2WD.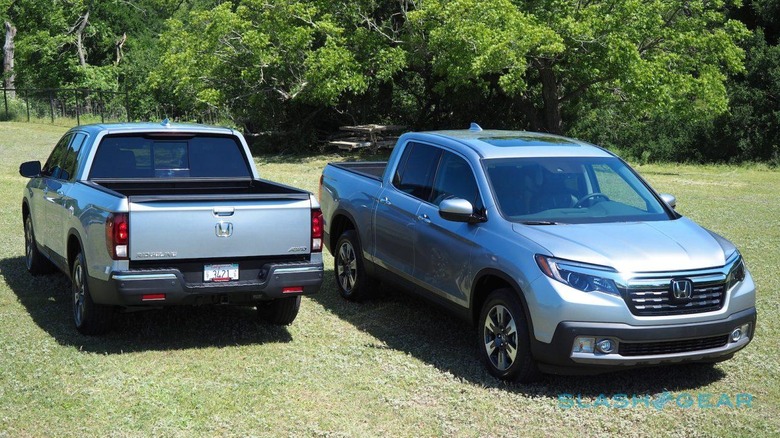 At the same time, there was a call for more refinement, and so Honda injected more noise-muffling foam, various deadening panels, and other seals. It works, too: back-to-back with the Tacoma and the Colorado, the 2017 Ridgeline is markedly quieter when it comes to both engine noise and road noise.
In fact, it's decidedly car-like. The steering has a similar feel to that of the Pilot – strongly assisted, and erring on the soft side – and the brakes are firm rather than grabby. Unlike the competition, Honda uses a unibody design rather than body-on-frame and the pay-off – along with independent suspension – is a welcome smoothing of road imperfections. Those impressions even maintain despite having a load hitched to the back: I tried towing a boat as well as some other hardware, and the Ridgeline masked the extra weight astonishingly well.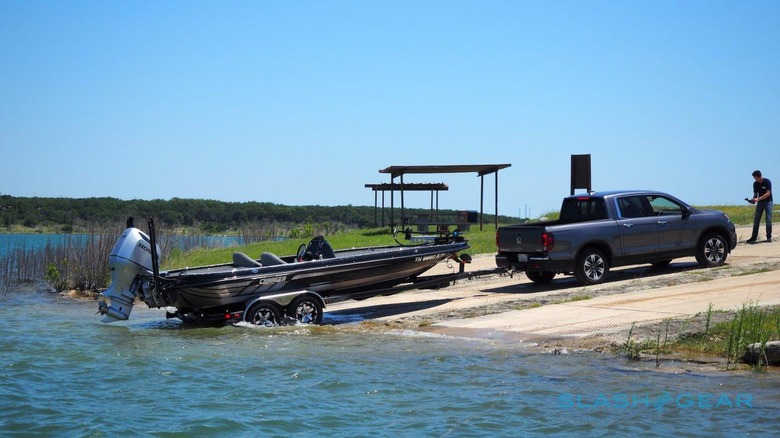 Overall towing capacity is 5,000 pounds, and it'll handle a 1,584 pound payload on the bed, too. That's for the AWD model, mind; opt for 2WD – which Honda didn't supply for me to try – and you're looking at 3,500 pounds towing instead. The bed itself is 63.3 inches long and 50 inches between the wheelhouses, with a flat floor, and Honda has switched to a new composite material which is more resilient to scratches as well as impervious to rust.
The original Ridgeline's clever bed features have been carried over, too. The tailgate hinges down as you'd expect, but it can also open out from the left side; it's a little heavy as a result, but the flexibility is definitely worth it. Lift up the bed of the truck, meanwhile, and you find a huge, lockable trunk, big enough at 7.3 cubic feet for an 82-quart cooler or golf bags.
Alternatively, you can fill it with ice and use it as a massive drinks bin, and there's a plug at the bottom to drain it out once you're done. It's not the only thoughtful aspect in the rear, either, with plenty of tie-spots, illumination, and an optional 400W outlet which is enough to run a full-sized flat-screen TV, for instance. Bear in mind it's not a three-prong grounded outlet, though, which may mean your power tools are a no-go.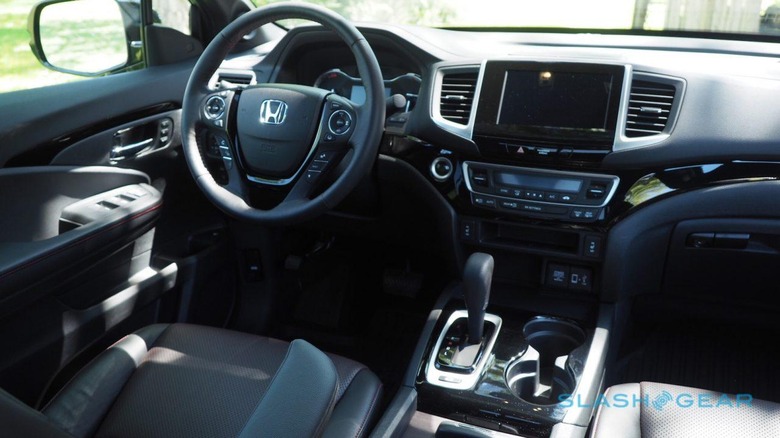 The flexibility continues into the interior, too. Pull a handle and the rear seats flip up – with a 60/40 split – giving you a full, floor-to-roof space that can swallow a bike with both wheels still attached. Alternatively, you can tuck a golf bag under the seats and not infringe on legroom.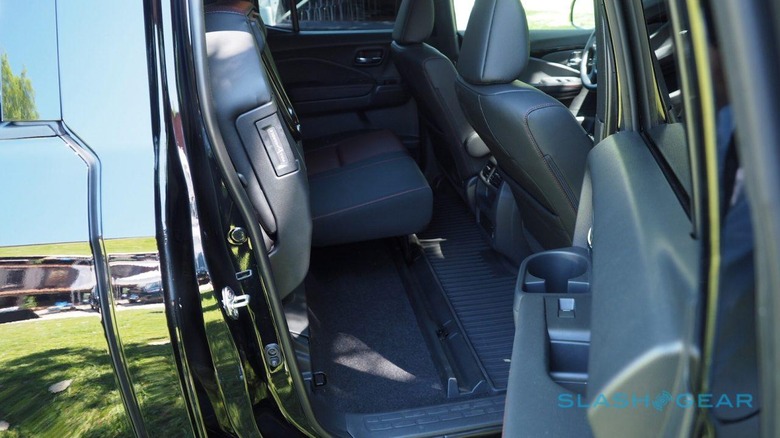 Driver and passenger get plenty of cubby holes and nooks as well, notably including a big bin in the center console with a flat-topped cover. The dashboard and controls err on the plastic side but do at least feel solid, with the top-spec infotainment system having an 8-inch touchscreen, Garmin-powered navigation, and both Apple CarPlay and Android Auto. The driver gets a useful second screen sandwiched in-between the analog gages, but you still don't get a volume knob for the radio.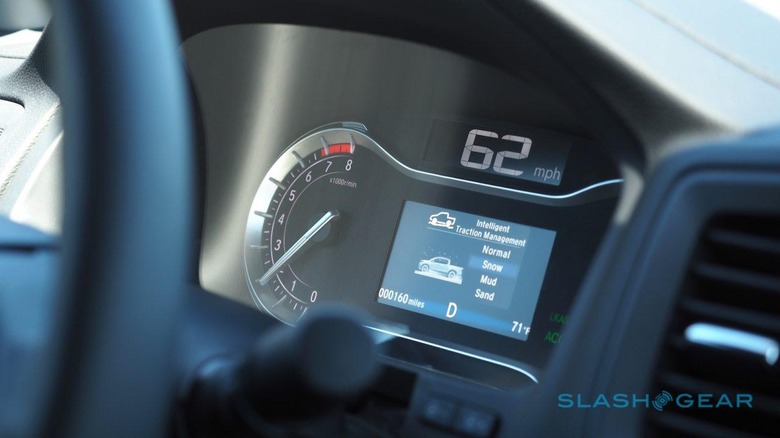 So-far, so-Pilotesque. For the 2017 Ridgeline, Honda's engineers have thrown in a four-mode "Intelligent Traction Management" system which condenses the levers and knobs of the old truck – the focus group said they were too confusing – into a single, small button. Leave it in Normal and it'll handle everything itself, intelligently funneling power to the wheel with most grip, but there are Snow, Mud, and Sand modes which variously change the Ridgeline's behavior according to the road conditions.
On Honda's test course of inclines, water, sand, and ruts, the truck demonstrated its prowess, though to be honest most of the time I left it in Normal mode and the Ridgeline did just fine.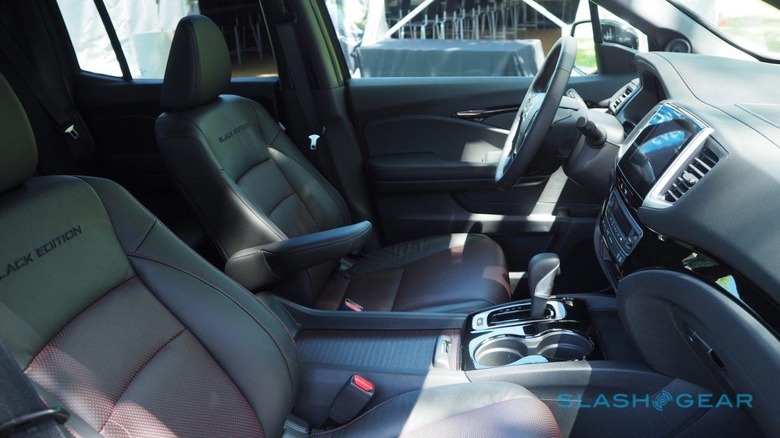 Similarly, one of the Ridgeline's biggest talents only really shows itself when you push it – more, most likely, than you're likely to do so on public highways. Torque vectoring on the AWD version means the truck can push power not only front and back but between the left and right wheels, courtesy of a fiendishly clever wet clutch among other things. Just as
(though there done with electric motors) it can dramatically tighten up your turns and combat understeer, though I only noticed it at play when trying to provoke the Ridgeline into a cross-field drift.
Honestly, though, you'll probably get more use out of the truck-bed audio system, which uses a cluster of "exciters" – think along the lines of the magnets in regular speaker cones – to turn the lining into one big music system, playing back whatever is piped through the head unit. It's surprisingly loud and clear, not to mention usefully waterproof and rated to withstand impacts to the liner.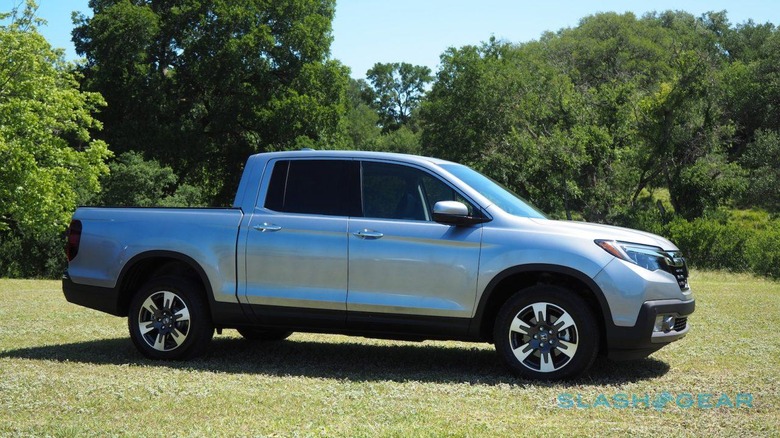 Resilience and safety is a big deal to Honda. The company expects a five star NHTSA score for the 2017 Ridgeline, as well as an IIHS Top Safety Pick+ rating, with Honda Sensing – the company's suite of active safety systems, including active lane-keep assist, adaptive cruise control, and various other safeguards – standard on top-tier RTL-E and Black Edition trims, and optional on other models.
Honda even went so far as to invent its own test for load intrusion into the passenger cabin under heavy braking; unsurprisingly, the Ridgeline aces it.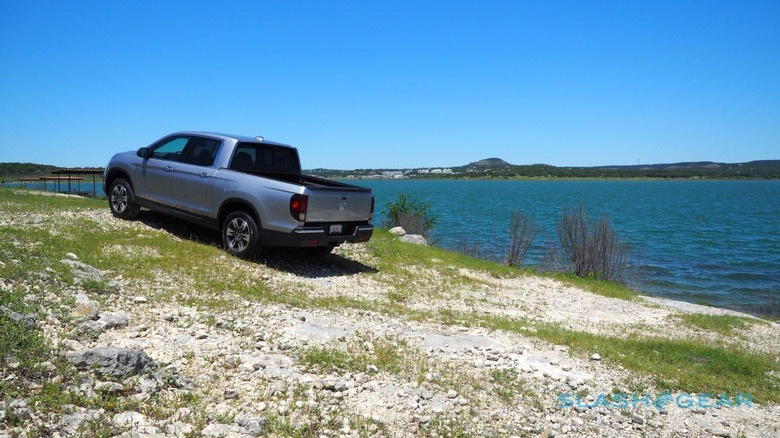 There's no denying that the 2017 Ridgeline is more capable than you might initially give it credit for, especially if you drive it on the road first. Those good manners are misleading, though: venture off the tarmac and into sand or mud, or onto inclines, and Honda's clever running-gear is more than capable of keeping up with the midsize competition.
Problem is, for many truck buyers the furthest off-road they get is the curb in the mall parking lot. Actual ability takes a back-seat to perceived ability, therefore, and there the Ridgeline's mild styling works against it. None of the butch attitude of the Tacoma, or the lantern-jawed handsomeness of the Colorado.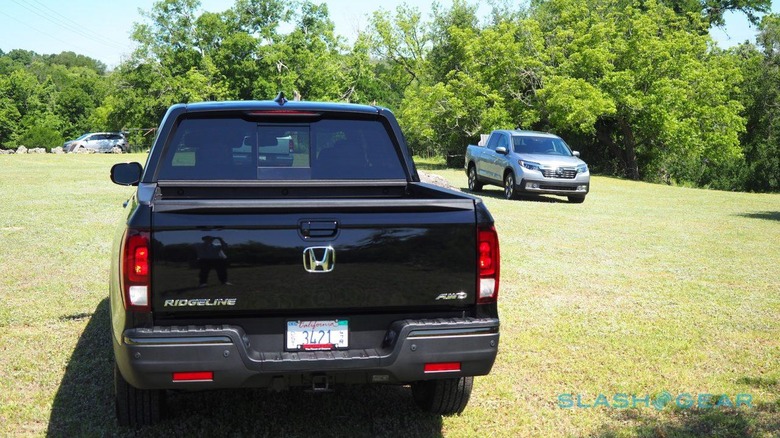 Still, Honda can afford to take a few risks with Ridgeline along the way. Right now there's nothing for it to compete with in the company's own line-up – people aren't going to walk into a Honda dealership and try to decide between the CR-V and the Ridgeline – and so any sales the truck racks up are effectively gravy on top of existing demand.
Pricing kicks off at $29,475 for the 2WD Ridgeline RT, which gets you 18-inch alloys, keyless start, and a 5-inch touchscreen with Bluetooth. You'll spend $31,275 for the same truck with AWD. Leather in the cabin doesn't arrive until the RTL – $33,780 for 2WD; $35,580 for AWD – though by then you're also getting tri-zone climate control and power, heated front seats.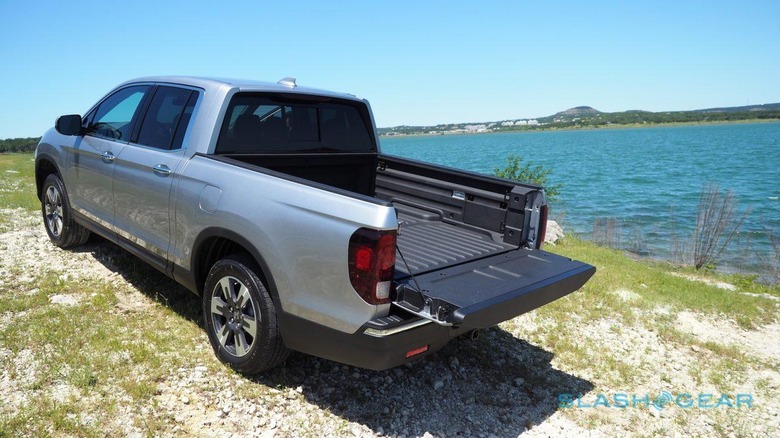 The AWD-only Ridgeline RTL-E is $41,370 with all the bells and whistles, including CarPlay/Android Auto, in-bed audio, a moonroof, and Honda Sensing, while the Black Edition is $42,870 for the same kit in a moodier suit.
Pretty much each and every one of Honda's decisions with the 2017 Ridgeline makes perfect sense. It took the logical design route, engineered in an admirable combination of on-road and off-road manners, and packaged it up with a decent splash of technology and safety. The starting price even kicks off at $100 less than the old Ridgeline.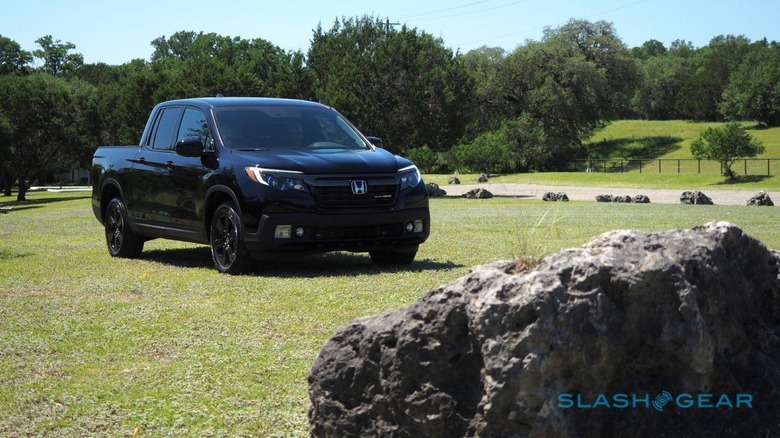 That would be great, were truck buying a rational process. The success of Toyota's Tacoma – the midsize best-seller, despite being near-agricultural on the road and fairly cramped inside – is cast iron proof that it really, really isn't. Focus groups tell you what's in their head, but it's the heart that unlocks the wallet, and that means beefy go-anywhere looks and a certain machismo that I'm not sure many will find overspilling in the Ridgeline.
Honda has made a great truck, no question of that. Now it just has to convince drivers that the 2017 Ridgeline isn't too sensible for its own good.
Check out the rest of the photos of the 2017 Ridgeline in action in our full gallery