2018 Lexus LC priced up, and it's cheaper than we feared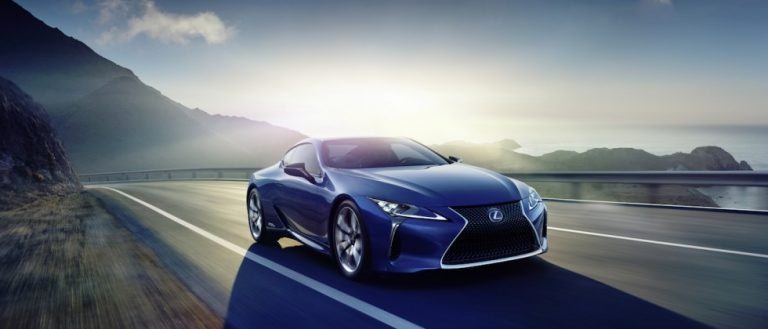 Lexus has announced pricing for its 2018 LC 500 and LC 500h coupes, ahead of the sleek two-doors arriving in dealerships in just a few months time. The cars, based on the LF-LC concept and astonishingly close to that design as they reach production, will sneak in under the $100,000 mark whether you go for the naturally-aspirated V8 or the hybrid model. Meanwhile, there's a healthy options list with some of the niceties we've seen on the GS F, details of which you'll find below.
The most affordable version of the car, the 2018 Lexus LC 500, will come in comfortably under the six-figure mark, in fact. $92,000 gets you a 5.0-liter V8 good for 471 horsepower and 398 lb-ft. of torque, paired with a 10-speed direct-shift automatic transmission. Standard features include triple-projector LED headlamps, Lexus Safety System+ with adaptive cruise control and lane-keep assist, and a Lexus Premium Audio system with 10.3-inch color display.
If you want to go hybrid, meanwhile, it'll cost you a little more. The Lexus LC 500h is $96,510, and pairs a 3.5-liter V6 with an electric drive system. Together, they're good for 354 horsepower. Both have a delivery fee of $975.
Lexus will, unsurprisingly, have a healthy options list if you want to spend more. The Touring Package will add 20-inch forged wheels, semi-aniline leather seats with heating and ventilation up-front, 2-way passenger seat lumbar control, a Mark Levinson audio system, blind-spot monitoring, and park assist. It'll be $4k to add to the LC 500, or $2,790 to add to the LC 500h.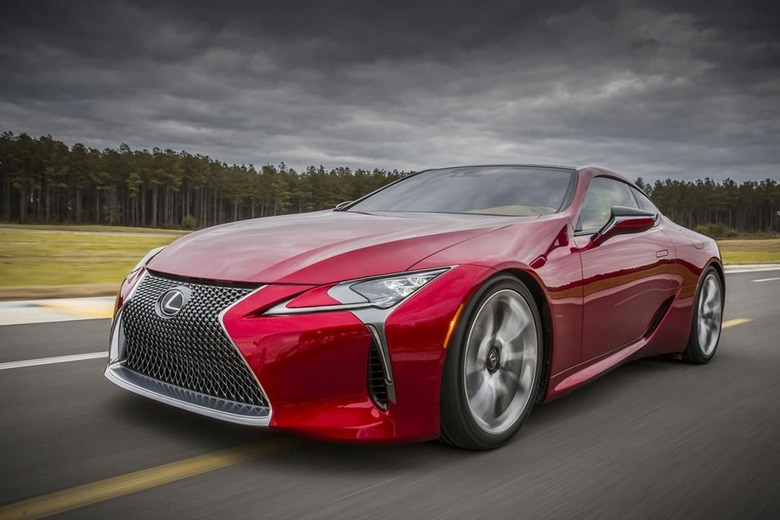 Then there's the Sport Package. That also has 20-inch wheels but adds Alcantara sport seats with heating and ventilation. It uses Lexus Premium Audio, and includes both the blind-spot monitoring and park assist, but also throws in a limited slip differential for $4k on the LC 500 and $2,400 on the LC 500h.
Next up, there's the Sport Package with Carbon. For $7k on the LC 500 and $5,400 on the LC 500h, you get 21-inch wheels, a carbon-fiber reinforced plastic composite roof, Alcantara sport seats, and the same safety tech and differential as on the Sport Package with Glass. For a little extra, you can also throw in the Mark Levinson audio system, a head-up display, and a Cold Area Package that adds heating to the steering wheel and a windshield de-icer.
Finally, there's the Performance Package with Carbon. For $10k on the LC 500, or $8,790 on the LC 500h, you get all of the Sport Package with Carbon features plus active rear steering, a variable gear ratio system, and an active rear spoiler. Inside, there's an Alcantara headliner and carbon-fiber scuff plates.
NOW READ: How Lexus made the LC 500
So, the LC 500 won't be the cheapest way to get around, but it's definitely one of the most striking. In fact, it's probably the most appealing cars, design-wise, that Lexus has produced in recent memory. That's likely to translate to plenty of orders when the LC 500 and LC 500h go on sale in May 2017.
Update: Lexus has updated its pricing release to clarify that, rather than being an option, the glass roof is in fact a standard feature.