Living Concept: How Lexus made the astonishing LC 500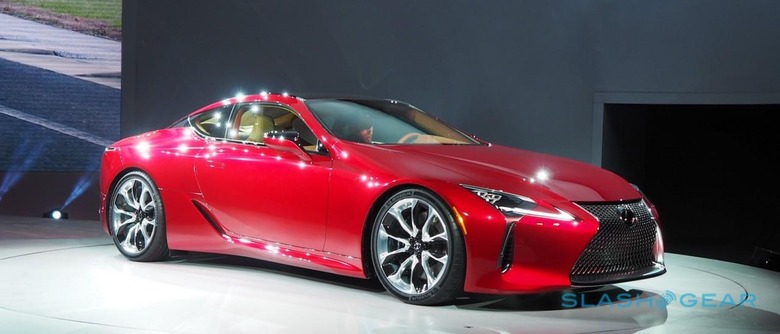 Making a concept car is easy. Taking that concept and coaxing a production car out of it – something people can walk into a showroom and drive away, something you can offer a warranty on – is far, far harder, as Lexus discovered when it decided to move the LF-LC from car show stands to dealership forecourts.
It's been four years since we first saw the LF-LC. Four years since Lexus' Calty Design Research center in California demonstrated that the company was capable of penning more than just sedate sedans.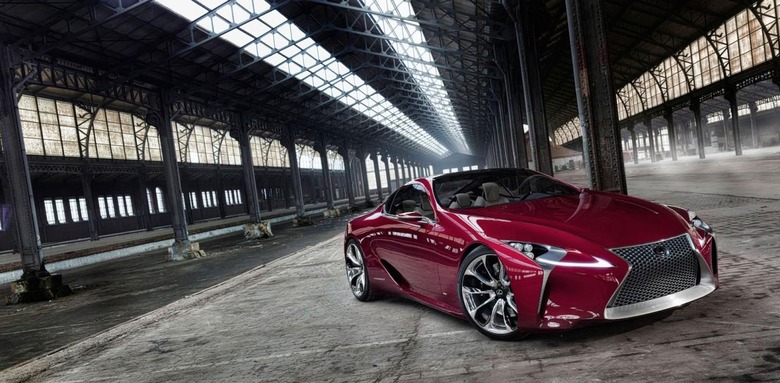 It's come to represent more than just a potential Porsche 911 rival in that period, too. While work on the LC 500 continued in absolute secrecy, in public Lexus courted a new type of customer: one who would value a performance edge to his or her premium car.
The F SPORT line – and the even more aggressive F cars – have gradually earned the respect of keen drivers looking for something off the beaten track of M Series, AMG, or S Line. It's a process that began with the IS F and the LFA, but has gradually trickled down to the point where every car Lexus currently sells has an F-badged option.
Now, with the LC 500, Lexus has a new sports flagship. Its also laid down a gauntlet to its competitors: the Detroit Auto Show wasn't short on striking concepts, with Buick and Acura grabbing more than a few headlines that way, but all too often they end up diluted for production or disappearing altogether once the booths are dismantled.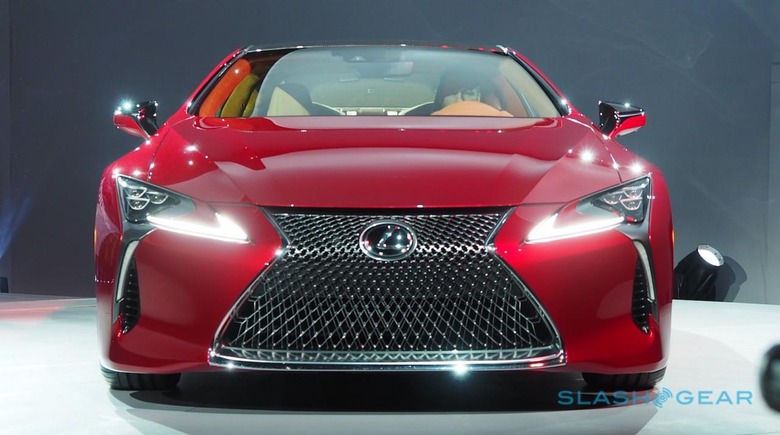 At first glance, you'd swear the LF-LC and the LC 500 were pretty much identical. Lexus hasn't shown the two cars, concept and production, together; if it did, chief designer Tadao Mori explained to me, the extent of the changes along the way would be clear.
"Basically, we tried to realize the show car, the concept car, as a real car. Some of the changes were the headlights: the original concept car had three lights, this car has a diamond of lights which has more eye-strength. The grille pattern was refined."
"It looks like the show car, but actually everything is different. Size is different, height different, overall length different. So that was a hard task."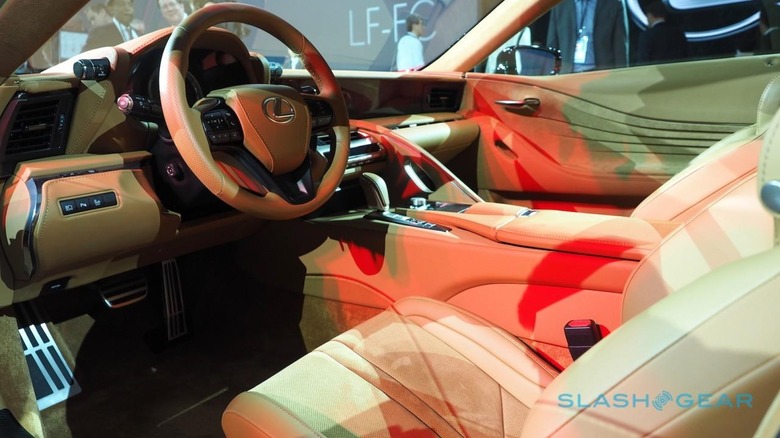 "Also, the interior is different. The show car is a space shuttle! [For LC 500] we combined high technology with high style. We didn't want to show too much technology, too many gadgets, so we covered all the function, all the high-tech with elegant styling. Almost all the car is wrapped with premium materials: Alcantara, leather, and things."
That cosseting interior is something I'd typically associate with a luxury grand tourer, in keeping with the LC 500's expected price bracket (final figures are yet to be announced, though in the ballpark of $100k seems likely). However, the naturally aspirated V8 engine – borrowed from the RC F and GS F – is no whispering cruiser.
So, is the LC 500 a grand tourer or a performance car?
"It's kind of combined," Mori told me. "Our design theme was seduction and technology. Of course, this car has a brand new platform. Has a low [center of] gravity, and also the driver's hip-point is almost center. Very much nicer weight distribution. So that's why, performance-wise, this is a very high performance car."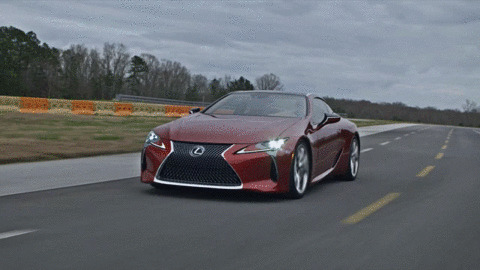 "But we didn't want to show just a performance car. We wanted to show elegant styling. We wanted to show high-end lifestyle."
Does that mean this – like the superlative-conjuring LFA before it – is a Lexus you might take to the track?
"It's okay, you could bring it," Mori says. "But I could imagine more like you driving in the night, [between] luxury hotels."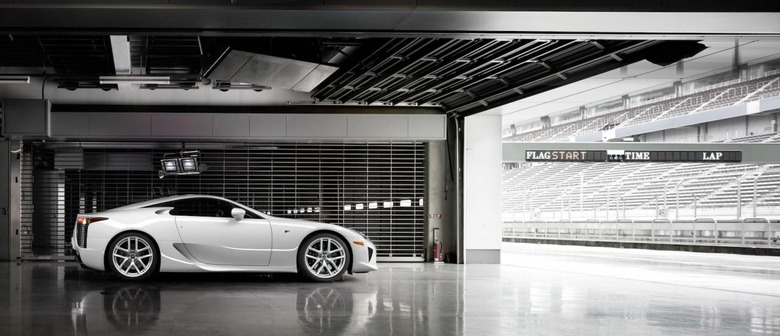 The LFA was criticized by some for being too exclusive for its own good. So polished, so much the pinnacle of automotive engineering as art, that its inevitable exclusivity meant few actually learned of its existence and thus never came to associate its values with the Lexus brand itself.
At less than a third of the price, relative affordability will certainly help the LC 500 there. Meanwhile Lexus has, in the years since the LFA, learned a little more about singing its own praises.
"The aim of the [LC 500] is the halo model of the Lexus brand, that will elevate the brand," chief engineer Koji Sato told me. "More emotional. That will help us elevate all the Lexus models with that image. A more dynamic feel and a more emotional side, that is the main goal of the car."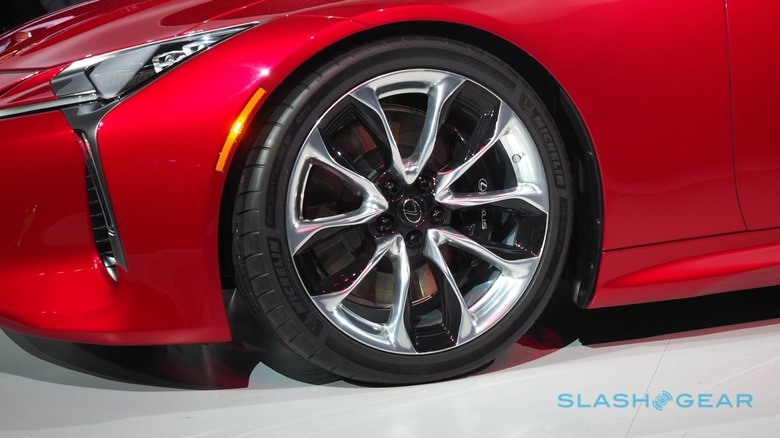 There's a implicit bargain there, though, which is that Lexus must deliver some degree of refined exhilaration in the rest of its cars. The LC 500 has clearly benefited from a new willingness to invest in cabin materials, fit, and finish, and in the process has highlighted just how much plastic you find inside the rest of the Lexus range.
Sales goals for the coupe haven't been shared, but it's almost certainly going to be the most niche model Lexus sells. Can, then, the company commit to following through on that elevated cabin experience?
"I think technological improvement will never stop," Sato insisted. "Our quality is getting better and better. Tomorrow is better than today! Right now, we believe that this is the best quality car in Lexus."
Meanwhile, the underpinnings of the LC 500 will also shape future models. While exclusive in the flagship coupe, Lexus' front-engined, rear-wheel-drive layout could turn up across almost the entire range.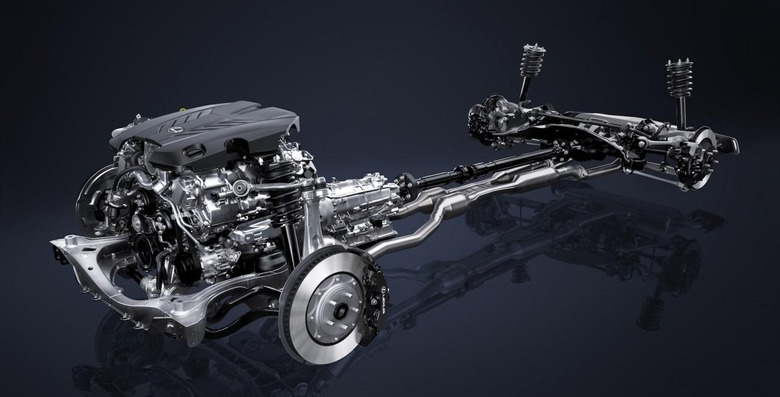 "We are considering the upper level of D-segment – IS or GS level – cars, and also F-segment, and also coupe or sedan," Sato confirmed to me. "All these are categories covered by this platform."
After hearing about just how much effort went into turning the LF-LC concept into a production car, I couldn't help but wonder whether Lexus would've been better just starting from scratch. According to the chief designer and chief engineer, though, it's never so clear cut.
"It's different," Mori argued, "starting from scratch, zero design. Starting from zero is also difficult, we've got to think about a new design. But in this case, we have something already [rather than a] new proposal. But still, there was a big challenge, all the dimensions are different. For the engineers, big pressure! They couldn't say no!"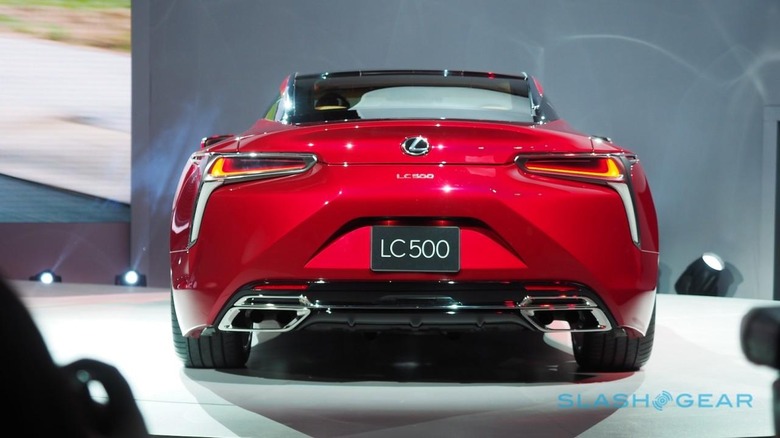 Not that, Sato says, they wanted to. "For me, for an engineer, the LF-LC was not just a design concept, it was a symbol of our challenge. We don't want to just make a concept car into a real [car] – it's a symbol, meaningful."
"I believe that the car brings new driving dynamics and also great design. More aggressive, more elegant," Sato concludes. "So the people who buy this product feel more satisfied – that is my dream."
Mori's hopes are even simpler. "To me," he said with a smile, "I want existing customers and competitors' customers just to say 'Wow! I want that car!'"
[gallerybanner p="422580"]