Orange is the new F (Sport)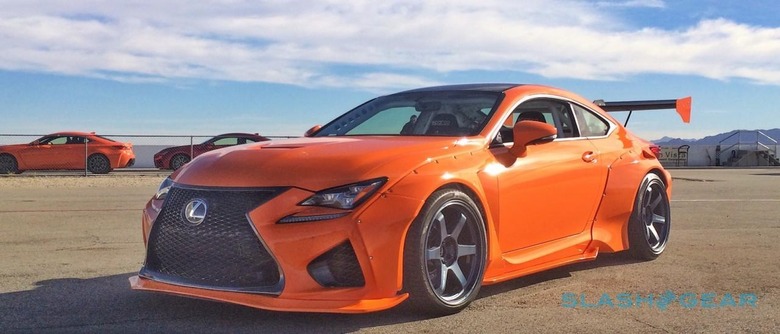 I'm sitting window on a CRJ200 to Palm Springs (CA) waiting for the crew to finish loading. I grab the American Way Magazine from the seat back in front of me and open to an anecdote on Sinatra and fashion. "Sinatra absolutely hated brown," it said. "Orange was the happiest color," he said.
An hour later, a Lexus chauffeur picks me up from the airport in an LS 400 Hybrid. We cruise through Palm Springs, past golf courses with bleached-dead grass like the inside of an orange peel while down the street, a sprinkler wets a sidewalk in front of a mid-century town home. Kids walk home from school in shorts and t-shirts. It's convertible weather in December, and as we turn onto Frank Sinatra Drive in nearby Rancho Mirage, the sun dips behind Mt. San Jacinto, casting a cantaloupe-colored glow across the valley.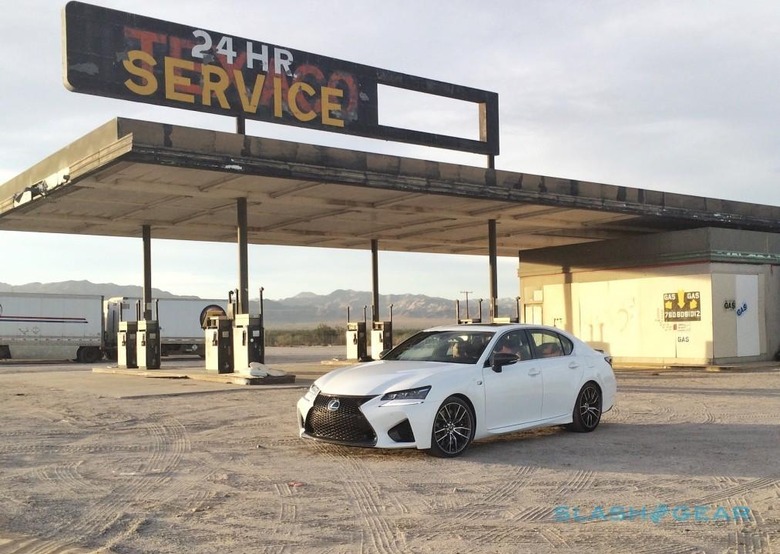 That evening, at Lexus' F-brand product presentation, there's orange accent lights on each side of the flat screens. A pumpkin-colored GS F with massive six-piston, carrot-colored calipers is displayed on the monitor. Editor Matt texts me, asking if I made it in okay, then reminds me to read up on the 2016 GS F first drive he reported on from Pamplona in October.
I click his link and see a closeup of the spindle grille, the same car parked in a courtyard in Madrid.
Next morning sunrise is sublime. I'm happy, and not because I was fortuitous enough to pack—and was now wearing—my orange sweater. On the driveway in front of me, overlooking the valley, 13 brand new Lexus F-Sport cars sat idling and ready, each waiting like an eager mistress.
IS. GS. RC. NX. CT. LS. RX.
What's the best for me?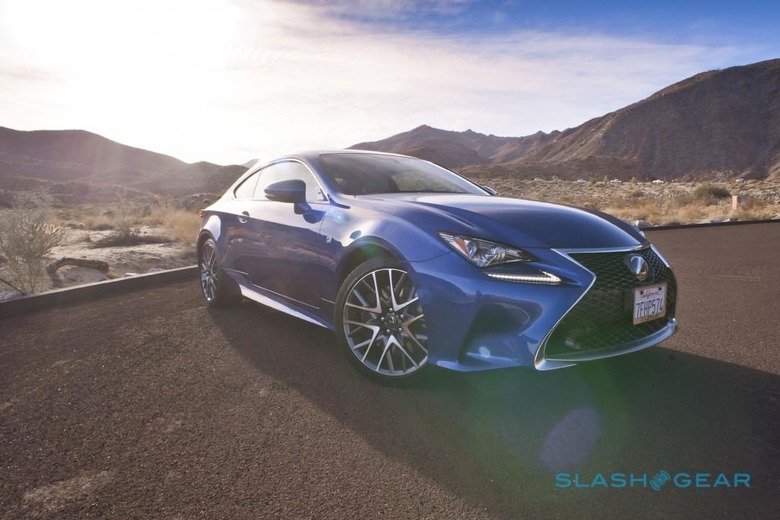 I drive off with the windows down in a 2016 "five o'clock Vegas blue" RC 350 F-Sport. A throaty snarl pipes into the audio stream through Lexus' "Active Sound Control (ASC)," but not enough to dim the Mark Levinson premium sound audio system. Around town, I shuffle through the various driver select modes: Eco is a technicality (enables up to 32 mpg highway) on an F-branded sport coupe that most would ignore—it retards the throttle and eight-speed automatic transmission's shift patterns—and Normal and Sport S modes are incrementally looser. In Sport S+ mode, however, the steering firms in your hands, the throttle becomes more sensitive, and the transmission shifts quicker than a flip-flopping politician.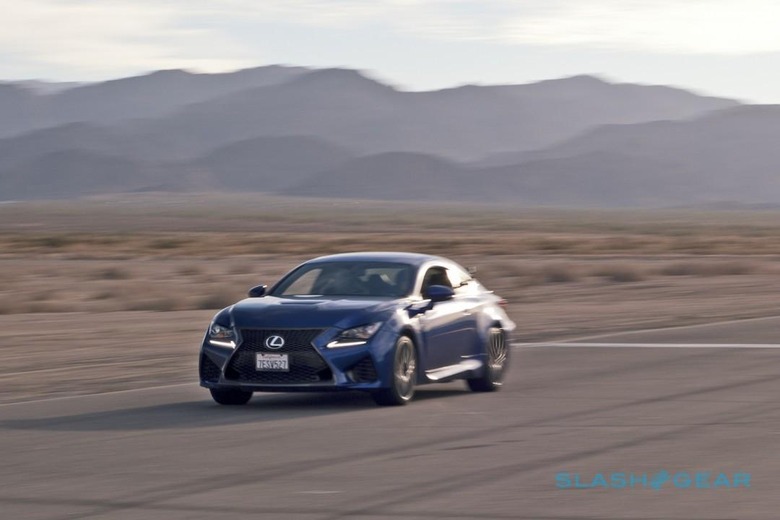 On the curvy, mountainous Ortega Highway, the large coupe feels like a block of ice on wheels. You feel its weight, its heft in the corners, and yet it never feels bogged down or—at legal speeds—unwilling. Its 3.5-liter V-6 engine, taut suspension, and grippy tires make for an engaging ride. Inside is fleshy, soft-touch, and supportive. It's easy to see the appeal my single, 20-something friends find in its approach: it looks good, is plenty fun, doesn't kill the wallet on commute, and at the end of the day, it just feels good to sit in.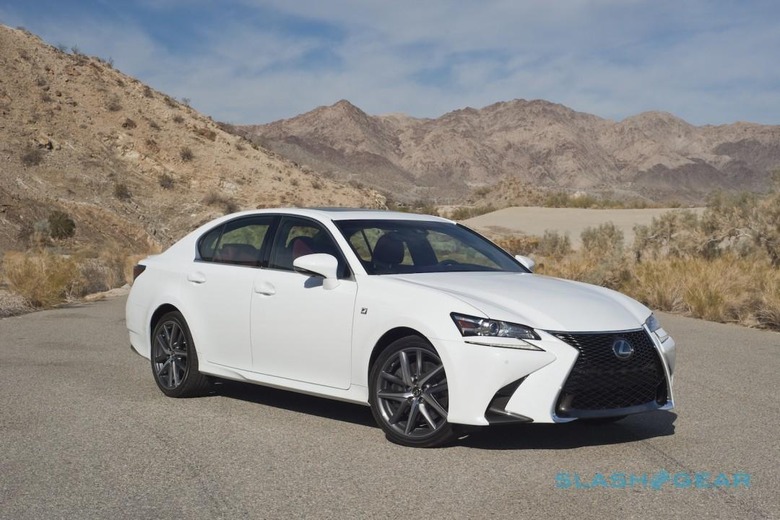 If the RC is boldly styled, then the GS is subtle and refined. There's more to like the longer you look it over, and that's perhaps why more of my 30-something friends say it's the car they'd buy with their own money. I drove all variations of the GS when it launched couple years ago, but here in Palm Springs were two new additions to North America: an entry-level GS 200t with a 241-hp, 2.0-liter four-cylinder turbo (up to 33 mpg highway; starting at $45,615), and the GS F with its 467-hp V-8 (starting at $84,440).
I'd be driving the F later at the track, so I waited for another driver to return in a GS 200t. I wondered how it drove around town, whether it had enough power for its large frame and, more importantly, if this engine choice was just another measure to appease the Corporate Average Fuel Economy (CAFE) overlords. "Small engine, big car" is not normally what one expects with a luxury car, nor one with sporty aspirations. Could a four-cylinder Lexus really be a "purchase statement?"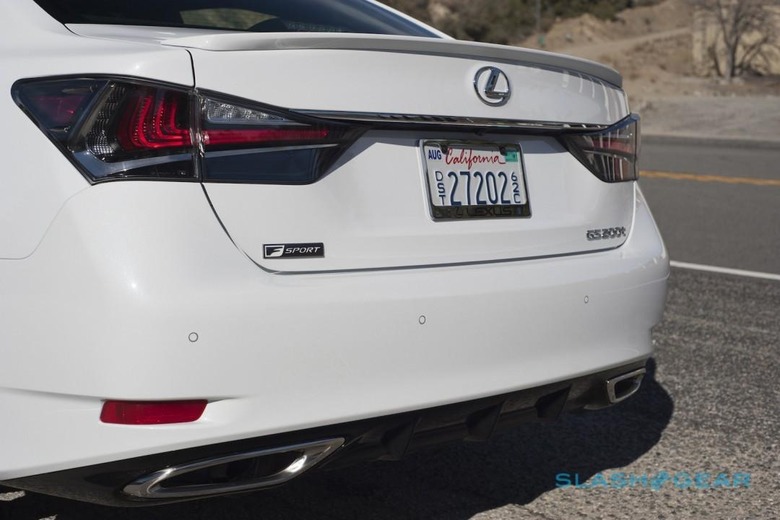 Finally, I'm behind the wheel of a panda-colored GS 200t F-Sport.
Around town, on city streets and in traffic, it drives like an ES. It turns and goes and stops without fuss. It's so well-composed, my drive partner and I talk for several minutes while following the voice-guided navigation before we realize we weren't even paying attention to engine choice and shift points and all the other things we auto geeks scrutinize.
It's Sinatra's world, I'm just drivin' in it.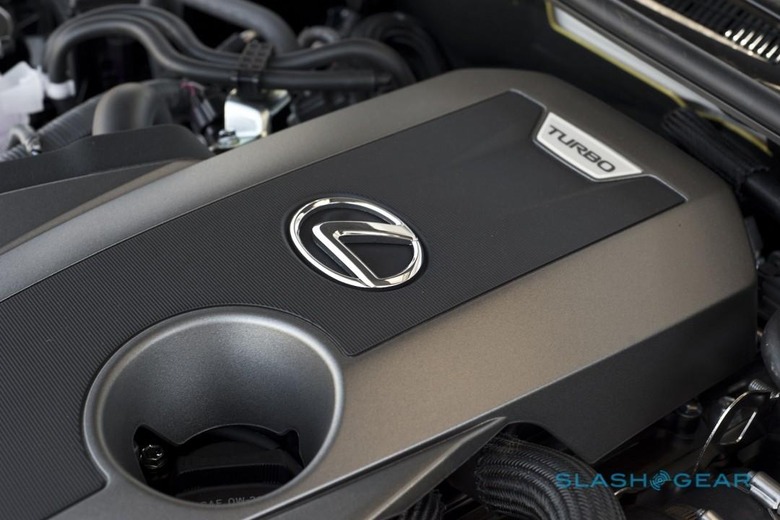 Then the road opens up and straights begin to bend and fold and redouble. I rifle through the drive modes and settle on Sport S+. Lexus says the turbo is a totally in-house twin-scroll design (potentially squashing tuner ambitions), but it shows considerable lag under 3400 rpm and is more pronounced from a standstill. Still, it's not peaky. It makes surprisingly usable power to redline and the eight-speed transmission keeps it in boost with each upshift. Lexus claims freeway speeds in about 7.0 seconds and I'm optimistic of its optimism: this feels like a proper sports sedan.
It's nearly lunchtime and I'm due at Chuckwalla Valley Raceway. If you've heard of the Coachella Valley Music and Arts Festival, you know it's in the middle of the desert, somewhere near U2's Joshua Tree album cover and Frank Sinatra's getaway house. Chuckwalla is a private track 70 miles further into the middle of that golden, sourdough crust-stained desert.
The GS 200t finds freeway speeds without sweating and before I know it, I'm backing off at 85, amazed at how there's no wind and tire noise. In fact, the only sound I hear is the piped-in engine noise on acceleration via the ASC (a little generous for a turbo four-cylinder).
Chuckwalla is empty. There's no buildings, no discernible coordinates, no permanent tenement or occupation. There's just organic-grown emptiness and supposedly the ruins of an old military runway. An 'Ol Blue Eyes sky rises above the catering tent. Behind it, on pavement near the front straight, an orange peel RC F SEMA concept with Rocket Bunny aero kit sits begging for attention. Show, or Go, it no-shows the go.
After a brief track brief and demonstration, we're let loose for two-lap intervals. I grab a helmet and jump into an RC F. It feels like a half-melted block of ice on wheels, but with a touchy throttle and heavier steering. Loud V-8 noises come from under the hood, the exhaust, and through the ASC. That's a recipe for permanent smile lines.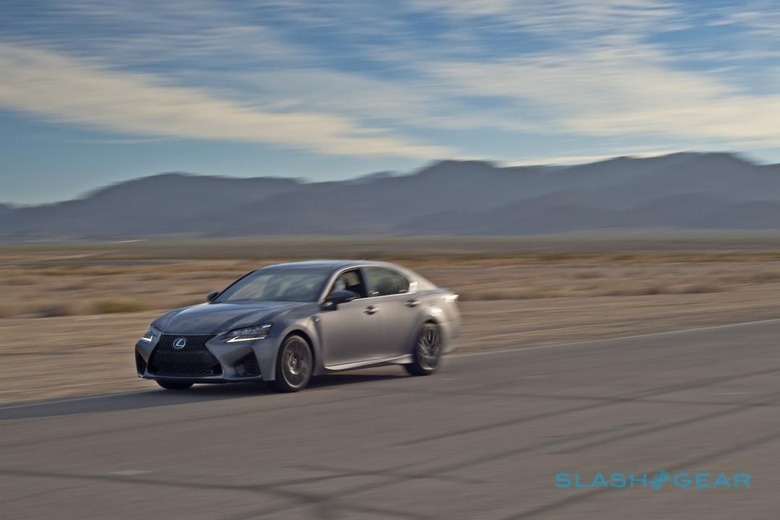 Next, I snag an all-new GS F. It has all of the RC F's go-fast bits, but in an arguably better-looking four-door package. According to Math, it's technically slower, but it's better balanced, more composed, and easier to drive. Which is silly when you think about it, funny when Lexus admits it, and then admirably smirkable when you put it together: probably no one but Lexus is going to drive this car on a race track. But you could. And I did. It makes the right noises, has brake rotors larger than your head, more technology than the Apollo 11, and it lays more rubber than a squad of Hevea lumberjacks. And yet, somehow, only in today's insane, hyper-sonic, electric Kool-Aid world is 467 horsepower and 4.4 seconds to 60 considered not competitive.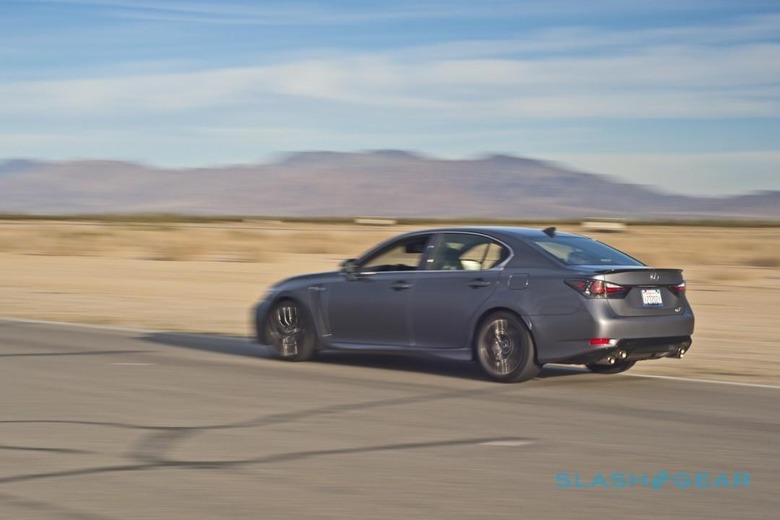 So, what's the point?
For Lexus, an F must meet three criteria: the car must sound good, respond well, and have the feel of limitless power. With just 2,000 GS F's coming to market, it doesn't need to compete in categorical comparison tests to maintain longstanding perceptions of brand modesty or quality with its base. Instead, it shows us that deep down, Lexus has always had the wherewithal to F with us.
In that case, maybe the best is yet to come.
[gallerybanner p="420601"]