2018 Honda Clarity Plug-in Hybrid priced up with 110 MPGe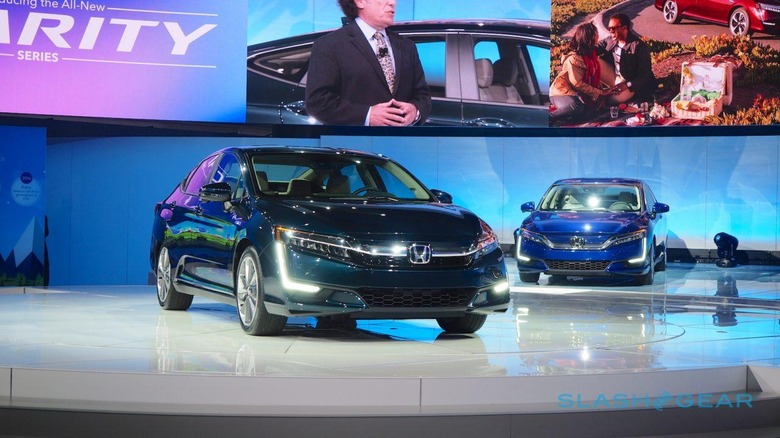 Honda has priced up the 2018 Clarity Plug-in Hybrid, the gas-electric version of its mid-sized sedan. Though the car may be almost visually identical to the Clarity Fuel Cell, the hydrogen-powered car that Honda launched in limited markets earlier this year, the Clarity Plug-in Hybrid will undoubtedly be appealing to a greater number of drivers, with its more familiar powertrain.
It'll also be more affordable, since the hybrid version doesn't haven't absorb any of the hydrogen fuel-cell investment Honda has been undertaking over the past decade or two. The 2018 Clarity Plug-in Hybrid will start at $33,400 plus $890 destination, and before a $7,500 federal tax credit and potentially state rebates too, depending on where it's bought. Meanwhile, Honda will also have a Touring trim for the car, which will be priced at $36,600.
While it may be cheaper than the lease-only Clarity Fuel Cell, the Clarity Plug-in Hybrid carries over the bulk of its well-equipped spec sheet. The standard car gets Honda Sensing, the automaker's suite of active driver assistance and safety technology, together with 18-inch alloys wheels, LED headlamps, a reversing camera, smart entry and keyless start, and digital instrumentation. There's also an 8-inch touchscreen infotainment system, 8-speaker audio, and dual-zone climate control.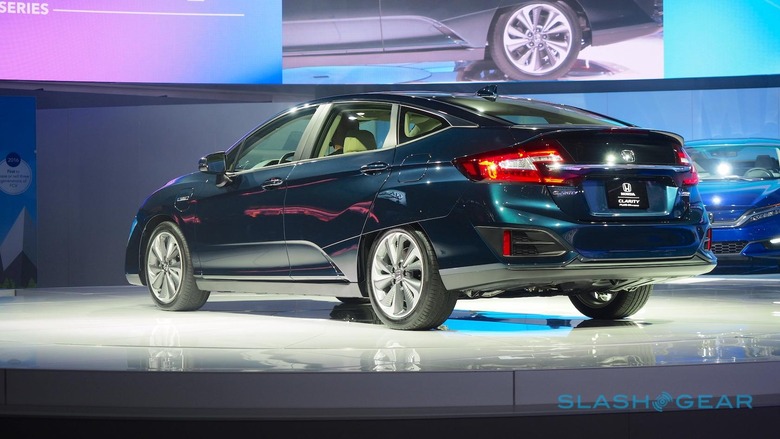 Step up the Clarity Touring trim, meanwhile, and Honda throws in some extras. There's perforated leather trim for the seats, and a leather-wrapped steering wheel, for instance, along with Ultrasuede for the cabin trim. The driver's seat has 8-way power adjustment and 2-position memory, while the front passenger seat gets 4-way power adjustment. Finally, there's a custom version of Honda's navigation system, which includes information on charging point infrastructure.
As for when you'll need that charger, Honda says the Clarity Plug-in Hybrid has an EPA rating of 47 miles of battery-only driving. With the 1.5-liter 4-cylinder engine active, the EPA says it achieves 110 MPGe combined. In gas-only mode, it'll do 44 MPG in the city, 40 MPG on the highway, and 42 MPG combined. Overall driving range is 340 miles.
For charging, it'll take 2.5 hours to refill the 17 kWh battery on a 240 volt supply; obviously, a 110 volt domestic connection will take significantly longer. Altogether, you get 212 horsepower, 181 HP of which comes from the electric motor.
Of the three cars in the Clarity trio – Fuel Cell, Plug-in Hybrid, and all-electric BEV – Honda always expected to sell more of the hybrid. After all, the freedom to roam away from a charging point, and rely solely on what fuel you'll find at gas stations, is a big mental hurdle to overcome. The 2018 Honda Clarity Plug-in Hybrid is expected to arrive in dealerships from December 1st.