Honda's Clarity EV trio is complete: All-electric and Plug-in Hybrid debut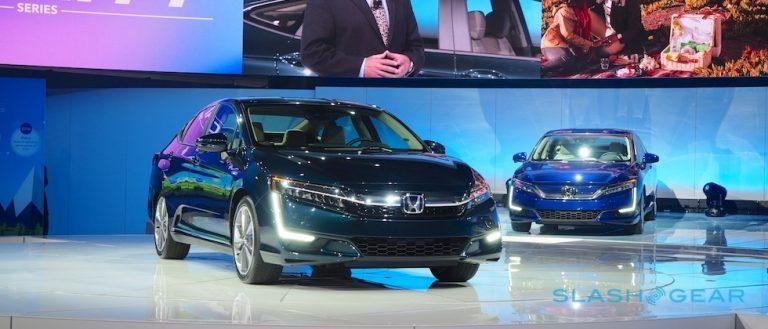 Honda's Clarity trio is complete, with the new 2017 Clarity Electric and the 2018 Clarity Plug-in Hybrid joining the existing Clarity Fuel Cell car. Offering less extreme green options than the hydrogen powered car already on the market – albeit in limited areas of California – the two new Clarity variants balance zero-emission range with convenience. In short, if you're not quite ready for fuel cell life, Honda still has a Clarity it'd like to sell you.
Most mainstream will be the 2018 Clarity Plug-in Hybrid. That has the smallest all-electric range of the three models, just 42 miles from its 17 kWhr li-ion batteries alone. However, Honda adds a 1.5-liter gas engine which can be used to extend range considerably.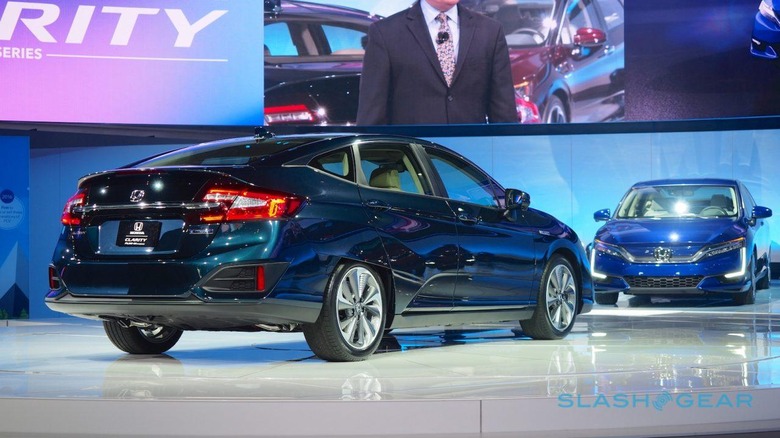 Indeed, Honda says the Clarity PHEV will be good enough for more than 330 miles on a full battery and a full tank of gas. The gas engine itself uses the Atkinson cycle, more efficient than usual, and altogether the car musters 181 horsepower and 232 lb-ft. of torque. Ordinarily, it's used as a mobile generator of sorts, though under certain situations it can directly drive the wheels.
Charging the battery takes 2.5 hours on a 240V supply, and Honda is predicting a 105 MPGe rating from the EPA. There are three drive modes – Normal, Econ, and Sport – with a HV setting that can optionally preserve the battery's charge for use later on. Altogether, Honda is expecting it to be the sales leader of the Clarity line-up, and though pricing is yet to be confirmed, we can expect something in the mid-$30s for the entry-level PHEV Standard, and more for the better-equipped PHEV Touring.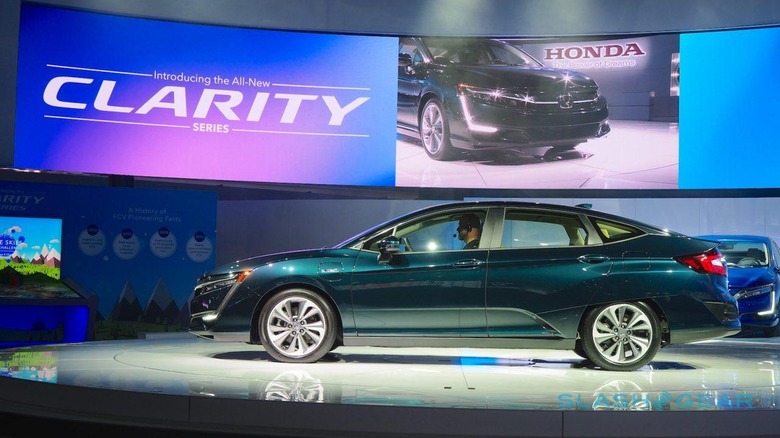 Those with more green ambitions can opt for the 2017 Clarity Electric, however. That has a 161 HP electric motor and a larger battery than the PHEV, at 25.5 kWh. Even so, total range is only 80 miles; that's more than enough for the typical American commute, though might not assuage those who believe they need 200+ miles in order for an electric car to be practical.
A total recharge takes just over three hours from a 240 V supply. Switch to a DC fast charger, using the SAE Combined Charging System standard, and you'll get to 80-percent in half an hour. Again, EPA numbers aren't finalized, but Honda is expecting 120 MPGe in the city, 102 MPGe on the highway, and a total of 111 MPGe combined.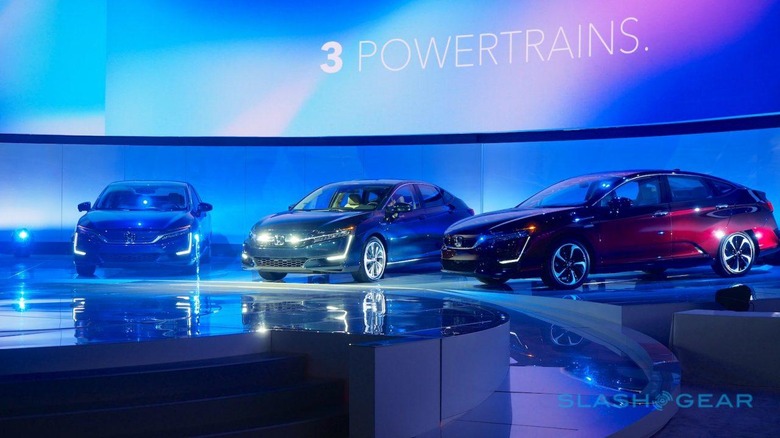 NOW READ: 2017 Honda Clarity Fuel Cell First Drive
As in the PHEV there are three drive modes, and the cars share the same cabin design, too. That's an improvement on what we've seen from Honda in recent years, as we discovered when we drove the Clarity Fuel Cell earlier this year. Sales of the 2017 Clarity Electric will kick off later in 2017, initially with lease options in California and Oregon.