2017 Honda Clarity Fuel Cell First Drive: Hydrogen Hero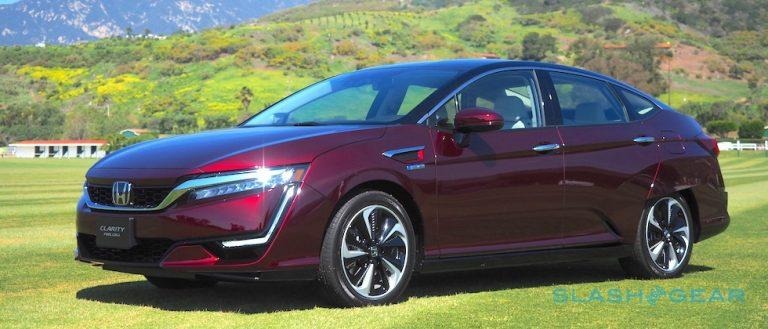 Strange new hydrogen fuel; same reassuring Honda experience. That's the equation the 2017 Honda Clarity Fuel Cell is counting on for success, a four-door premium sedan straddling the cutting edge of propulsion and the familiarity behind the wheel that the automaker is known for. Not a science experiment, or an ecological hair-shirt, but simply guilt-free driving with nothing but pure water coming out of its hidden tailpipe.
The Clarity isn't a single car, but actually a whole new model family. Perhaps unusually, the first out of the gate is the most niche: Honda will only sell the Clarity Fuel Cell in areas where there's the all-important hydrogen infrastructure to service it, which right now means a handful of dealers in California. After all, while the greenest car is one that never drives, that's not much use to buyers.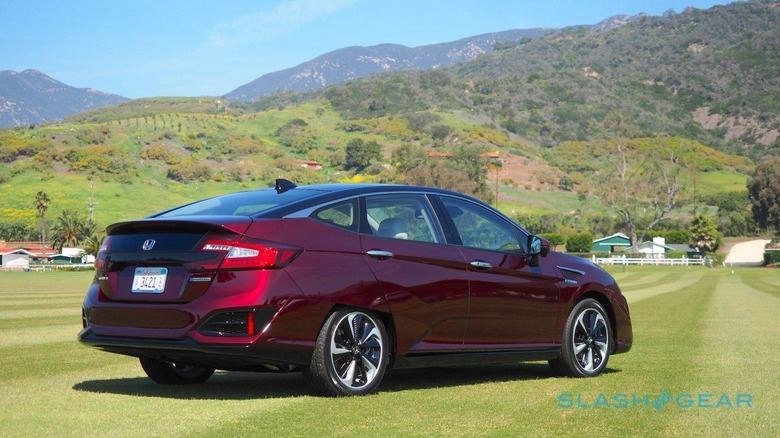 Beyond the so-called "green early-adopters" who might be drawn to hydrogen power, however, Honda is making a play for "green purist" and "mainstream green" drivers. The former get the Clarity BEV, an all-electric version of the car which like a Chevrolet Bolt or a Tesla Model S must be plugged in regularly to charge it up. The latter – likely the biggest market – will get the Clarity Plug-In Hybrid, which will combine gas and electric power in the manner of a Prius Plug-In, and which Honda expects to have a 40 mile electric range and 300+ mile total.
Those next two Clarity models will make their debut in just a few weeks time, at the New York International Auto Show 2017. Sales of the Clarity Fuel Cell, however, have already begun. In fact, Honda delivered its first car on December 19 last year in Southern California. While it might seem like the automaker is spreading itself too thin – at a time when Tesla's Elon Musk has been brusquely dismissive of hydrogen's potential in cars, and when pure EVs are still suffering the impact of low gas prices – Honda insists this is all strategy not scattergun.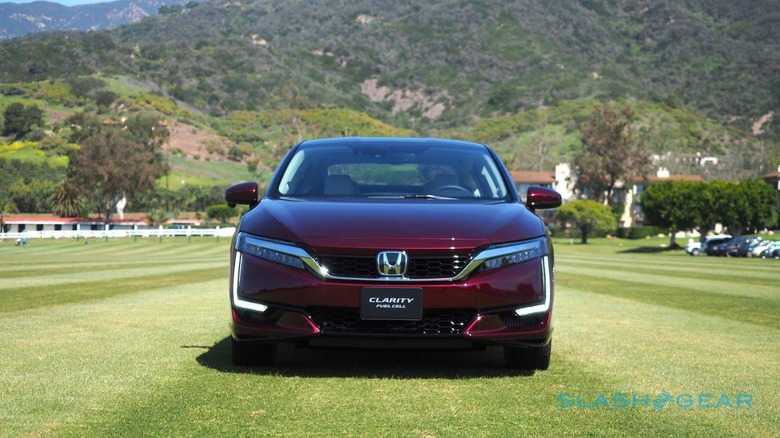 "In the near to mid-term there is no silver bullet. No single technology that will take electrified powertrains into the mainstream," James Burrell, assistant vice president of Honda's Environmental Business Development Office, explains. "Fuel cells have the greatest long-term potential to solve society's environmental and energy concerns. We need to advance all available options ... and, importantly, do it in a way that confirms to current norms for vehicle packaging and production."
Don't underestimate that last point. The Clarity Fuel Cell may not be Honda's first hydrogen-powered vehicle – the company began its research all the way back in the 1980s, began leasing cars using the technology in 2002 to commercial customers, and then to individuals from 2005 – but it is its most "normal". Exactly what "normal" is, Honda's early customers told them.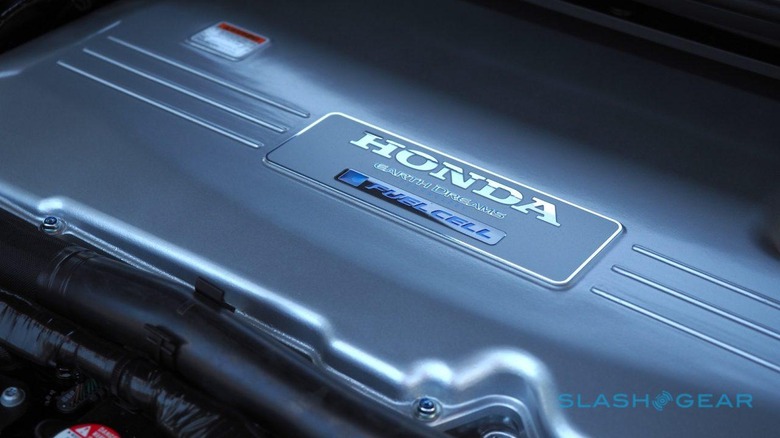 Turns out, those expectations are pretty much what you'd expect from a gasoline sedan. Those who had leased the last hydrogen car, the Honda FCX Clarity, said a fuel cell sedan really needed five seats, that they felt its cruising range was too short, and that its features were lacking. Basic stuff, maybe, but it goes a long way to shaping what the new Clarity Fuel Cell offers, and how it does that.
In the old FCX Clarity, the fuel cell was under the front seats and the hydrogen tank was behind the rear seats. Honda decided that for the new Clarity Fuel Cell to work, it would need to fit the entire engine under the hood like a gasoline car would. So, its engineers shrank the fuel cell stack and made it so that it could be mounted horizontally instead of vertically; by rotating the drive unit 90-degrees, they ended up with a total package that's actually slightly smaller than their 3.5-liter V6 gas engine.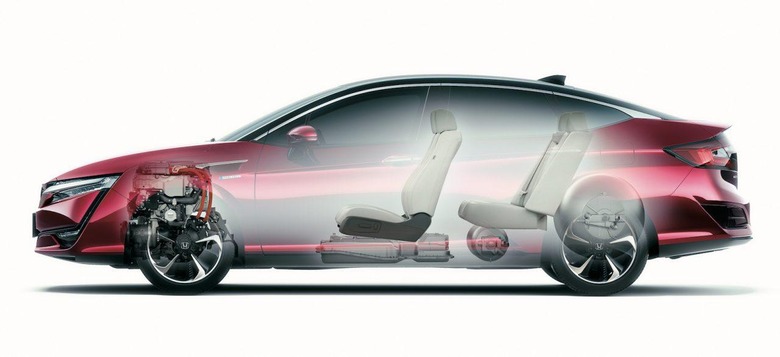 MORE: Why hydrogen cars like Clarity Fuel Cell are safe
That one sentence doesn't really do the work justice, mind. To make the fuel cell smaller without impacting performance it had to be more efficient, and indeed each cell now offers 1.5x the performance of the old design, despite being 20-percent thinner. Together, that allowed for 30-percent fewer cells but a 60-percent increase in power density. Honda is confident it can mitigate any concerns about hydrogen safety, too.
Now, under the front seats, you find the battery which the Clarity Fuel Cell uses to store electricity that the hydrogen is turned into. Two tanks have been used for fuel rather than one, with 117 liters behind the rear seats and 24 liters underneath them. Though total liquid capacity is down – 141 liters in the new car, versus 171 liters in the old FCX Clarity – tank pressure has been doubled so that the Clarity Fuel cell actually holds just over 12 pounds of hydrogen versus 8.6 pounds before. As a result, potential range has increased from 240 EPA miles to 366 EPA miles.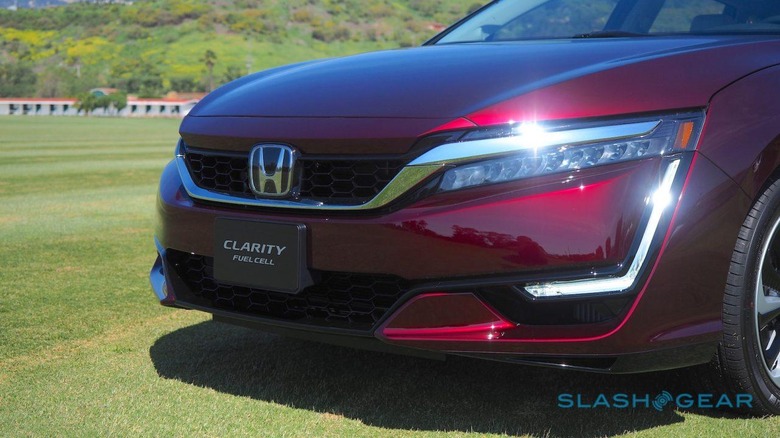 The resulting car sits, from Honda's perspective, in a premium niche above an Accord Touring, its high-spec'd mainstream sedan. Its design has clearly been shaped by the demands of the wind tunnel – though it's certainly less aggressively "challenging" to the eyes than Toyota's Mirai – and to good effect. Honda says that the air curtains created ahead of the front and rear wheels have the equivalent effect of covering the wheels altogether, for instance.
It's not ugly, though it's fairly busy to my eyes. There are a lot of angles and lines which make it visually heavy; without that over-styling, I think it would be a lot more handsome. Honda will only offer three colors – black, white, and dark red – and it's the black which hides the design excesses most successfully. Were it on my drive, I'm not sure I could resist taking some tin snips to the rear wheel arches.
Ironically, for all Honda's mastery of hydrogen, driving the Clarity Fuel Cell is fairly unsurprising if you've been behind the wheel of a recent electric car. Though the method of generating its power might be different from most electrified vehicles, the way it's delivered is just the same.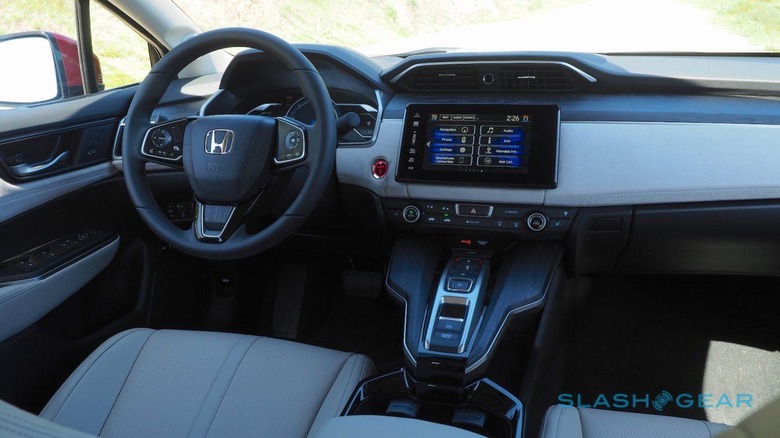 So you get its 221 lb-ft. of torque from the get-go, with none of the lag an internal combustion engine suffers. Total power is 174 HP, but since there's no gearbox it comes in a single, smooth wave. We're not talking Model S P100D levels of performance, of course – 0-60 mph comes in about nine seconds – but neither is the Clarity Fuel Cell a slouch.
A button on the center console switches between the two drive modes. In "Normal", the linear power delivery is prioritized and the car wafts smoothly. Switch to "Sport" and the accelerator gets more responsive; the regenerative braking – switching the motor into generator mode to recharge the battery with otherwise wasted energy – becomes more aggressive.
There's a noticeable difference, though I can't help but wish Honda had gone a little further with "Sport" mode. The brake regen could certainly be dialed up a few notches without penalty, and it would give the car a braking alacrity more akin to traditional sport sedans in the process. Manually braking, at least, benefits from a smooth and responsive pedal feel, with neither the wooden feel that some EVs suffer nor a noticeable transition between regenerative and traditional braking.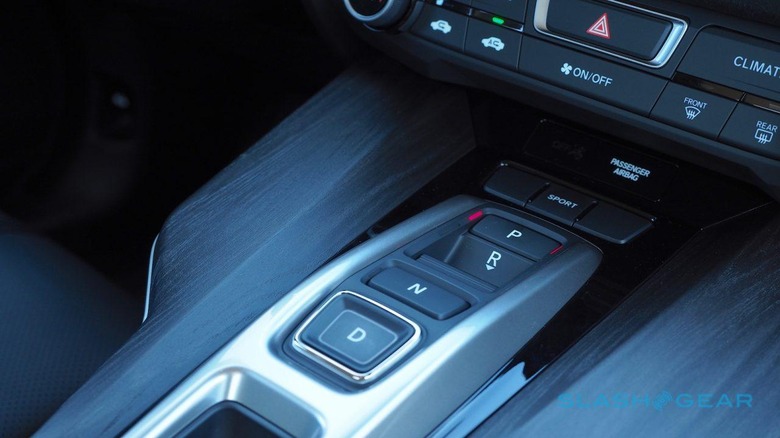 For what's neither a small nor, at 4,134 pounds, a light car, the Clarity Fuel Cell handles surprisingly well. Keeping heavier components low helps with the center of gravity, and combined with the McPherson strut front suspension and multi-link rear suspension, the ride is smooth and flat. Quiet, too, courtesy of plenty of extra insulation, acoustic glass for both the windshield and the side glass, and a new air compressor for the fuel cell which reduces the annoying whine of the old drivetrain. You can hear a faint thrum when you're pushing the car, but it's far less intrusive.
It gives you more time to enjoy the Clarity Fuel Cell's cabin, which is quite possibly the best interior Honda has done in memory. The goal was apparently "Advanced Modern Lounge", which translates to sleek design and environmentally-responsible materials like recycled ultra suede and plant-based plastics. Everything you'd want – and expect – to be soft-touch is; the lines are sweeping and simple, escaping the overwrought excesses of other recent cars from the company. Filters both active and passive promise to strip out mold spores, pollen, and other unpleasantness before they reach you.
Cabin space isn't in short supply, particularly in the rear, where there's sufficient width for three adults and excellent headroom. Indeed, it feels more spacious than an Accord, though that doesn't follow through to the trunk. The larger of the two hydrogen tanks takes a considerable bite out of cargo room, which is down to 11.8 cu-ft versus the Accord's 15.5 cu-ft.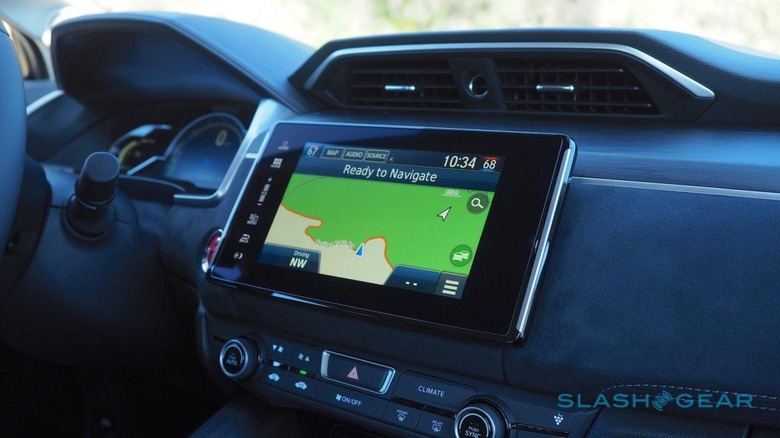 Honda Sensing, the automaker's suite of active safety tech like adaptive cruise control, lane-keep assistance, and emergency braking is fitted as standard. So are 12V power outlets, though where Toyota's Mirai offers an optional 110V outlet for running larger appliances in an emergency, the Clarity Fuel Cell does not.
Still, where the Mirai forces its technological differences down your throat with its busy dashboard, the Clarity Fuel Cell is refreshingly straightforward. An 8-inch touchscreen in the center stack uses Honda's latest Display Audio system, with Android Auto and Apple CarPlay support; its menus and interfaces are reasonably straightforward, though unlike the latest CR-V it hasn't earned back its physical volume knob and makes do with touch-sensitive buttons.
For hydrogen purposes, it also gains a number of Clarity Fuel Cell-specific features. An embedded list of the current fuel stations which offer hydrogen is included in the standard-fit navigation system; Honda Link, the company's companion smartphone app, also supports station searching, and can show which will be reachable with the current fuel levels. Through the app, it's also possible to remotely switch on the HVAC and check what the car's remaining range is.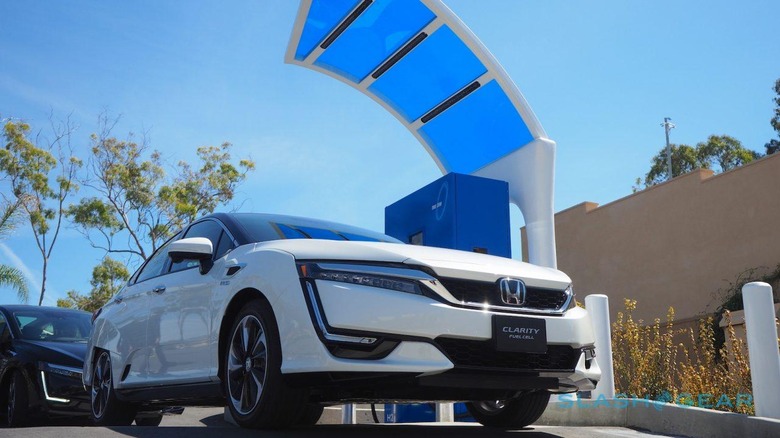 The limitations of the hydrogen infrastructure are the primary reminder that you're not driving a typical electrified vehicle. Along with the fuel gage in the driver's binnacle display – topped with a head-up display, a first for a production Honda in the US – there's a blue ball which attempts to communicate the demands you're placing on the fuel cell. Plant your right foot and the ball swells; ease off, and it shrinks. Even if you can keep it at its smallest, of course, eventually you'll need to refuel.
It's a process both complex and simple. There are 66 hydrogen fuel stations fully-funded in California, though only 26 are actually operational today, concentrated in LA and in the Bay Area. Twenty more will come online before the end of the year; a further twenty will follow "shortly thereafter" according to Honda's Burrell. The goal is 100 by 2020, though I'm told that milestone could actually take a year or so more.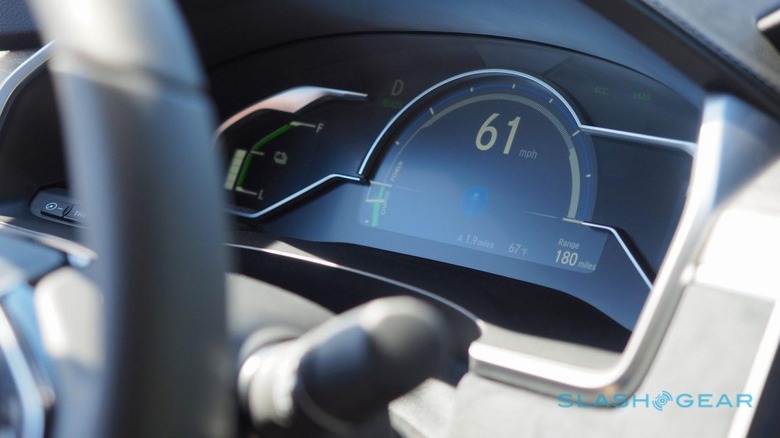 Nobody is arguing that more stations is essential, and soon. Even with research suggesting that the number of required locations is actually more conservative than you might think, assuming you want a refuel to be just a few miles away at any time, the same range anxiety around electric cars holds just as strong for their hydrogen counterparts. Some stations operating today are already at 80-percent of their capacity.
Find one, though, and the refueling process itself is quick and clean. The pump's locking nozzle snaps into place and its grip automatically latches; fueling starts when you pull down the control handle, and from that point on the car and the pump communicate via infrared to fill the tank with no further human involvement. That takes about five minutes if you're close to empty, comparable to a gas or diesel car, and much quicker than recharging a plug-in electric vehicle.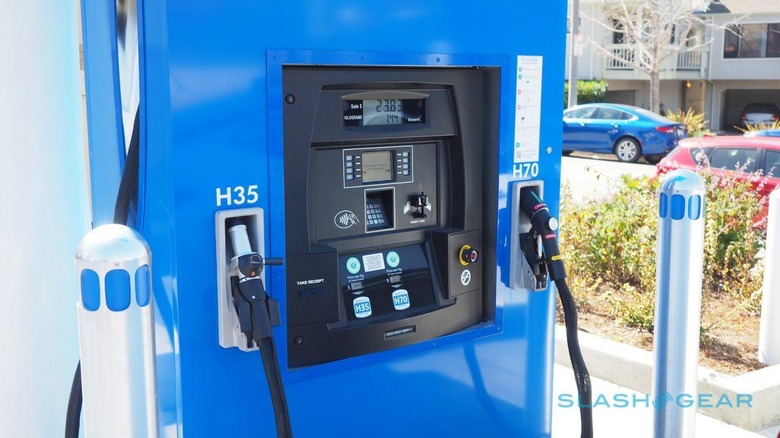 Honda is sweetening the deal, too. It won't be offering the Clarity Fuel Cell for outright purchase, preferring a three-year lease instead. For $369 per month (and $2,868 down), drivers will get 20,000 miles per year, a white HOV sticker granting entry to California's car share lanes, and a $5k rebate – not a tax credit, but an actual rebate – from the State itself. They'll also get 21 days of Avis luxury car rental a year, for those times they want to make longer trips outside of the hydrogen infrastructure network, and $15,000 worth of fuel over the three years.
It is, for the right driver in the right place, an astonishingly good package. Even with a full tank of hydrogen working out in the region of $70-80, combine the fuel allowance and the rebate and the Clarity Fuel Cell – barring insurance – could practically pay for itself. Honda expects 100 units in total to have been delivered by the end of this month, and has "hundreds" of people on waiting lists for the car. That's even with a mere twelve dealers trained to offer it.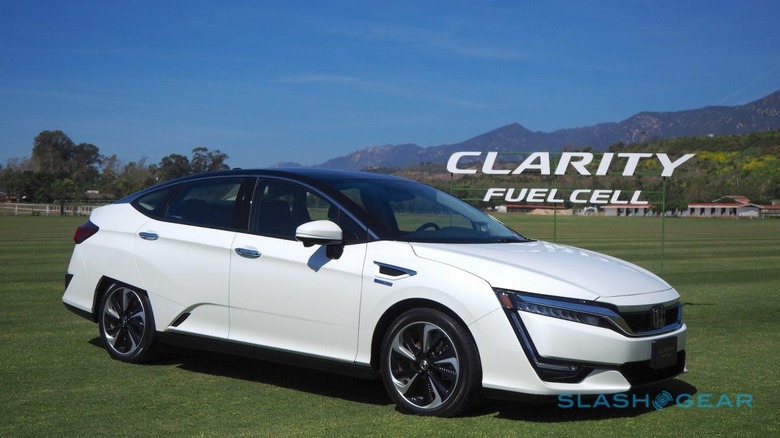 Toyota would like to sell you a Mirai, too, though its deal isn't quite as generous. The Honda is $20 more expensive each month and asks for $369 more up-front, but Toyota only includes 12,000 miles per year in its allowance. Both get the HOV sticker, $15k of fuel, and $5k California rebate.
The Clarity Fuel Cell's 366 mile range – versus the 312 miles of the Mirai – plus its fifth seat compared to the Toyota's space for four give the Honda the edge on paper. Its more enthusiastic driving style, meanwhile, nudges it ahead on the road. Really, though, both of these cars are so deeply niche that whichever you pick, you'll have both the reassurance – and the slightly haunting range fear – that you're right on the cutting-edge. Just as I wrote about the Mirai three years ago, though, for all hydrogen's potential the big limit is its fledgeling infrastructure. If you live and commute in the right places, fuel cells can make sense, but they're far from ready for the mass market.