2018 Audi S5 Coupe and S4 Sedan First Drive: Seriously Smooth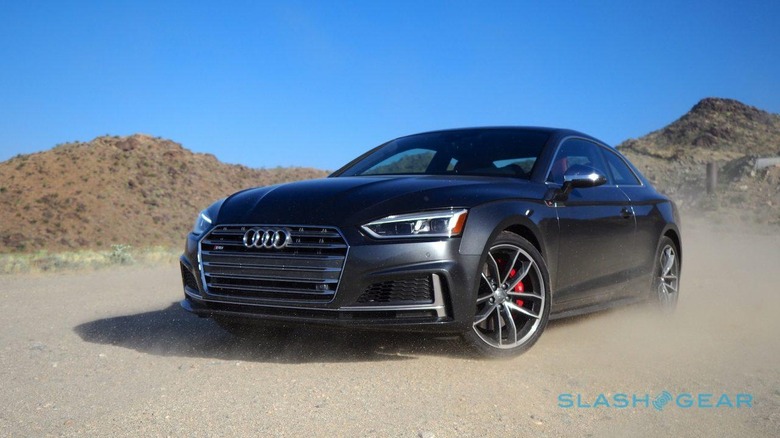 By now, Audi knows the formula for making attainable performance cars like the 2018 S5 Coupe and 2018 S4 Sedan. Take the A-series vehicles on which they're based, glam up the exterior and interior, drop in a more powerful engine, and you end up with a rewarding driver's car that doesn't break the bank. In the process, you find yourself in the midst of a growing segment of enthusiasts' wheels.
Just as Audi has its S line division, Mercedes has its Mercedes-AMG and BMW has its M Sport teams. All offer a taste of their most extreme road-legal sports models, but with fewer compromises in a vehicle that has to be usable everyday (and even with the family along for the ride). For the 2018 S4, pricing kicks off at $50,900; in the case of the S5 Coupe, it's $54,600.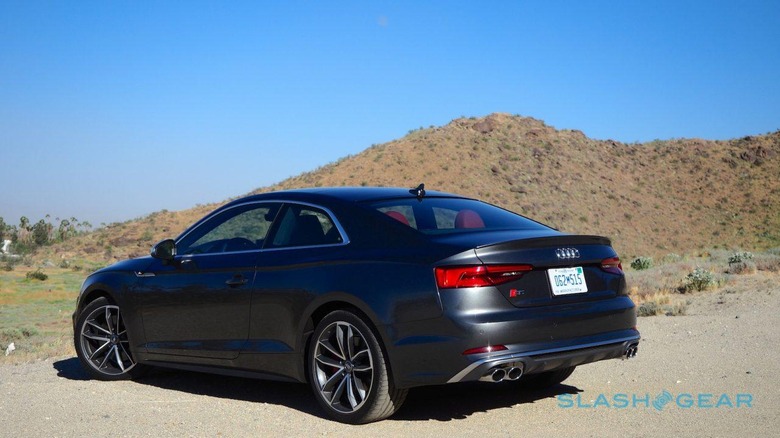 There are plenty of visual clues that you're driving an S4 or S5 Coupe, rather than their A4 and A5 cousins. LED lights front and rear, special S model quad tailpipes, and new fascia and rear diffuser designs all help differentiate from the regular cars. On top of that, Audi throws lashings of its "All-Optic" trim, an aluminum-effect finish for the grille, mirrors, and bumpers. The result is still fairly restrained – especially in comparison to the especially aggressive front of the Mercedes-AMG C43 – but handsome nonetheless, and Audi's designs have a tendency to age particularly gracefully.
Under the different body styles lurks the same core engine. It's a 3.0-liter V6 TFSI, with a new twin-scroll turbocharger mounted inside the V, as opposed to the twin-turbochargers which flanked older versions of the engine. Thanks to that, the use of aluminum for the crankcase and pistons, and various other tweaks, Audi's engineers have trimmed 31 pounds from the powertrain.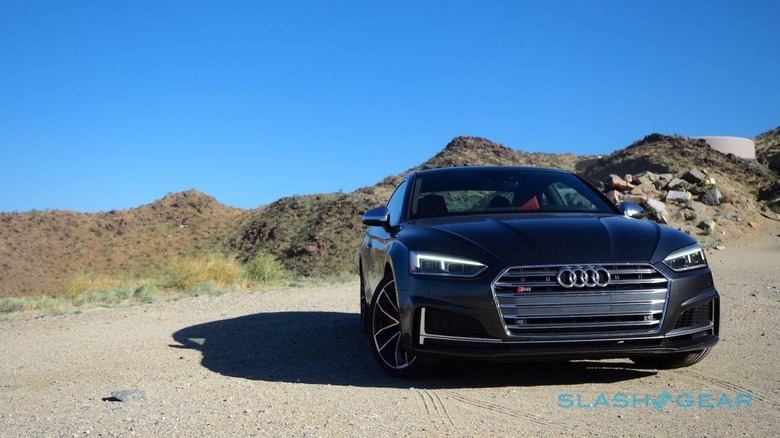 It's good for 354 horsepower and 369 lb-ft. of torque, comfortably up from the old S4 and S5. The new turbocharger system means torque arrives much faster than in the old S4 and S5, too, with almost 200 Nm (around 147 lb-ft.) more off the line.There's also a new 8-speed tiptronic transmission, similar to the gearbox you'll find in the RS 7, though – likely to the dismay of some purists – no manual option.
According to Audi's Anthony Garbis, program manager for the A4, A5, Q5, and R8, there just is the demand for them. "Worldwide, people who are buying performance cars are buying automatic," he points out, "because they're faster." On paper, the S4 and S5 Coupe will do 0-60 mph in 4.4 seconds, Audi says, and on to a limited top speed of 155 mph.
As you'd expect, quattro all-wheel drive is standard, with a 40:60 front to rear bias. Tick the box for the S sport package, and you get sport adaptive damping suspension and a second-generation sport rear-differential. That, Audi says, is quicker to shift power between the rear wheels depending on which has the most grip.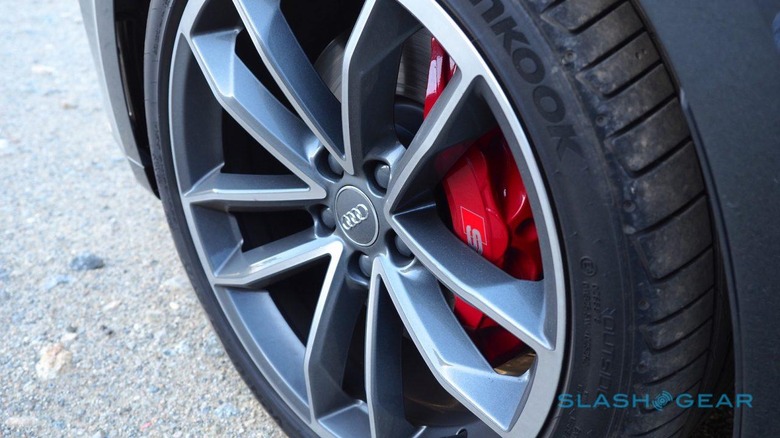 Speaking of grip, Audi is also pitching the 2018 S4 and S5 Coupe as the best at braking in their class. That comes courtesy of 6-piston front calipers as standard, clamping down on 13.8-inch discs. If you coughed up the $2,500 for the S sport package, the brake calipers get a red finish.
On the road, and in Comfort mode – selectable with Audi's drive mode buttons, along with Eco, Dynamic, and the driver-customizable Individual settings – you could almost mistake either car for their regular siblings. Still, there are plenty of differences in the cabin to make things clear. Alcantara door panels and a flat-bottom sport steering wheel with shift paddles are standard, as are carbon inlays on the dashboard. S line sport seats with 12-way power adjustment and massage are also standard, both easy on the eye with their diamond quilted leather, and pleasingly supportive in the corners.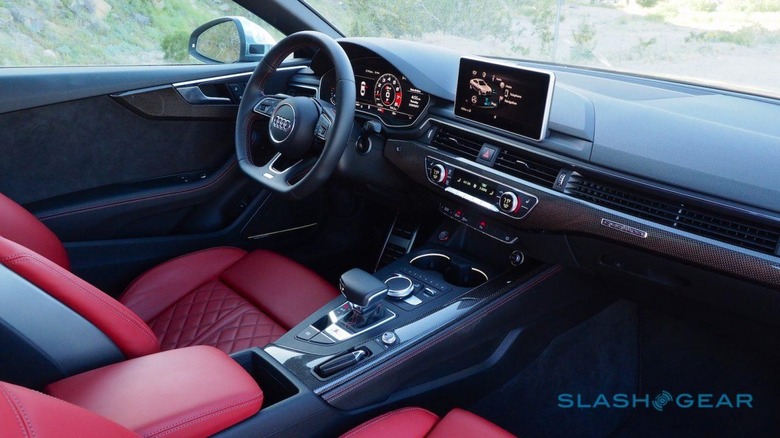 They're heated, too, though not ventilated. If you want cooling you'll need the Warm Weather package, an $800 option that changes the leather too, but also switches the interior to the regular sport seats. A heated steering wheel is $200.
The option I suspect most will check is the $2,600 Navigation package. That upgrades the driver instrumentation to Audi's excellent Virtual Cockpit, with a new S model display that puts engine speed front and center. There's also an 8.3-inch center display and a touchpad integrated into the MMI control wheel, for sketching out letters and numbers to enter addresses. You should probably also consider the $950 Bang & Olufsen audio system on the S5 Coupe – it's standard on the S4 – which sounds great.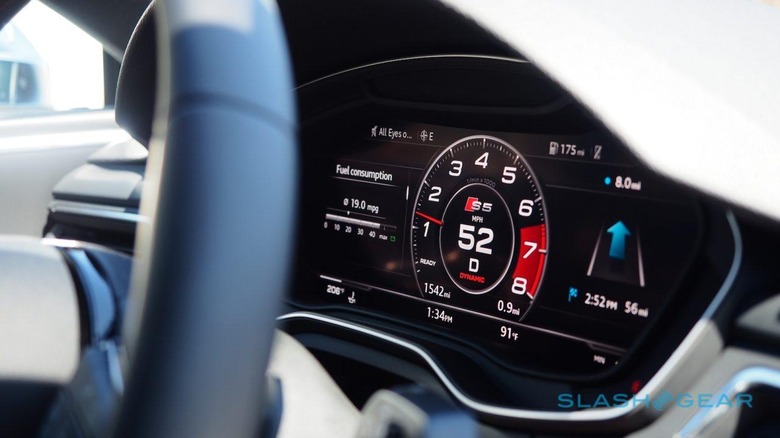 Audi introduces a little more engine noise into the cabin with a fancy resonating system, but I'd not argue with even greater growl from the powertrain overall. Switch into Dynamic mode, and the soundtrack is still a little muted, only really rousing itself when you're above 3,500 rpm. Turbo lag, as Audi promised with its shortened compressor runs, was minimal; the 3.0 TFSI won't quite convince you it's naturally-aspirated, but neither will it – or the transmission – leave you twiddling your thumbs while you wait for the power to arrive.
Steering is precise and, combined with the quattro AWD, there's never a sense of uncertainty as to where you're pointing either car. Dynamic steering is a $1,150 option, adjusting the steering ratio according to speed, driving style, and other factors. In the latter portion of our drive, an unexpected dust storm in the mountains around Palm Springs sent showers of debris into the road, but the S5 proved capably nimble at dodging chunks of rock while still clinging to the asphalt.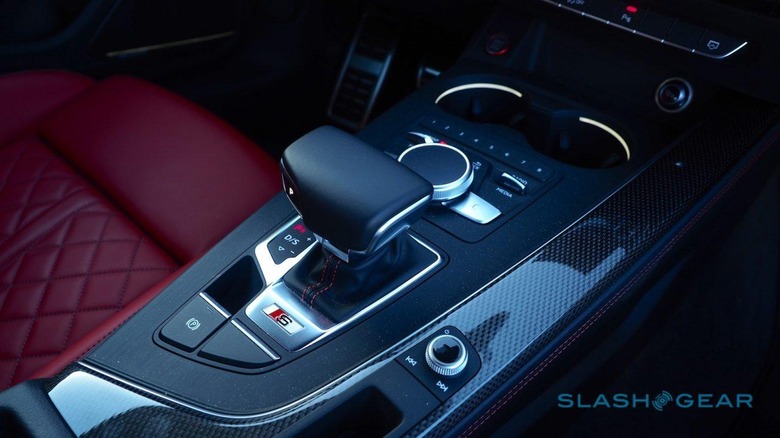 The brakes in both S4 and S5 Coupe are certainly strong. There's a fraction of squish at the very top of the pedal travel, but that uncertainty swiftly gives way to seatbelt-testing levels of stopping power. It can take a few miles before you're quite used to the way Audi's 6-piston setup kicks in, but once you've dialed in your foot it leaves you with no shortage of confidence. Push foolishly hard in corners and you can provoke understeer, but it's easy to modulate with the crisp steering and tenacious AWD.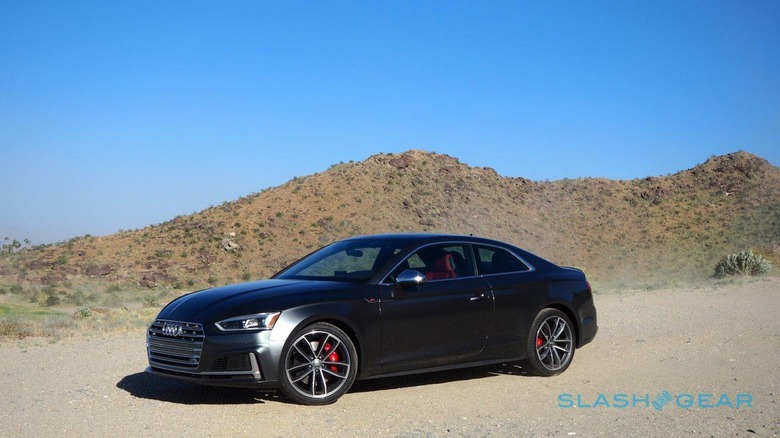 Of the two cars, the 2018 S5 Coupe arguably has more of a sense of occasion. The body-style doesn't hurt there, but it's about more than just losing the rear doors. The S5's bulging hood – Audi calls it a "power dome" – is a persistent visual reminder that you're driving something special. Inside, the fairly high rear roofline means space in the back seats is decent; it also gives the cabin an airiness that those who find many two-doors claustrophobic will appreciate.
Audi's pitch with the S4 and S5 Coupe is that core S line buyers are pointedly loyal, to the point that they won't even consider the C43 and BMW 340i alternatives out there. Those who are more open-minded will probably find the C43 sedan and coupe a little more raucous, compared to the Audi's crisp, teutonic efficiency in how they put power down and pivot through the corners. The 340i sedan is the only one to offer a manual gearbox, and a darn good one it is too. That alone might be sufficient to send you to your nearest BMW dealer.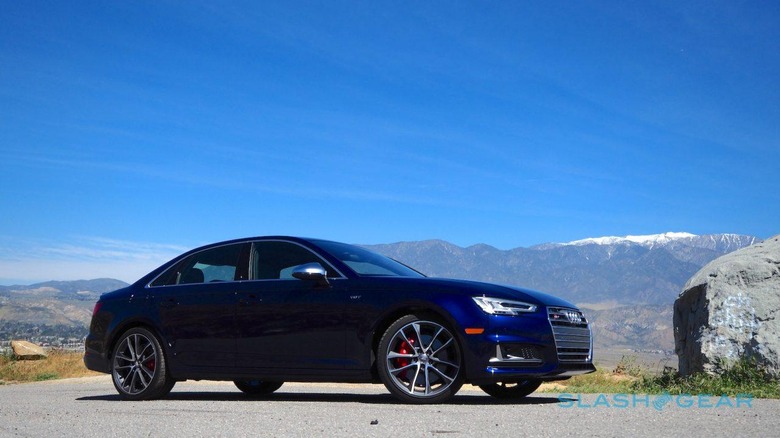 NOW READ: 2018 Audi Sport RS3 First Drive: A 174mph demon
Still, I can easily see why Audi fans would appreciate the 2018 S4 and S5 Coupe. They're fast and easy to drive; practical enough to be your everyday car, but with enough special sauce to set them apart in the parking lot. Neither BMW or Mercedes quite delivers the combination of active safety and driver assistance aids that Audi does, either. True, the upcoming RS 5 will overshadow the performance of each with its 450 HP V6, but it'll also demand seriously deep pockets and may well sacrifice a little comfort in the process.
The 2018 S5 and S5 Coupe request no such compromises. Indeed, you could say they offer the best of both worlds, performance and practicality. It's proven to be a winning formula elsewhere in Audi's line-up, and nothing about these new cars suggest that streak is likely to change.