2017 Volvo V90 Cross Country First Drive: A wagon America can love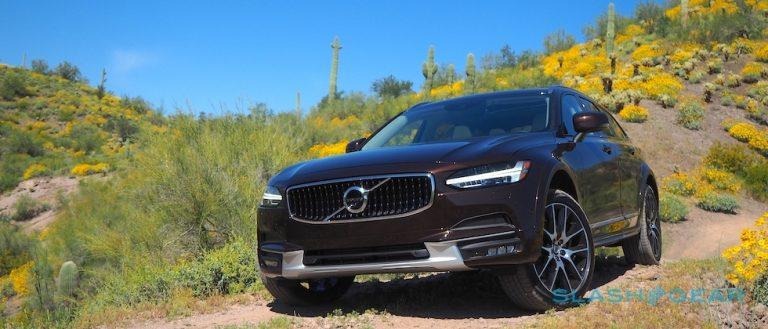 When is a wagon not a wagon? Why, when it's a Volvo Cross Country, of course. The nameplate has graced several cars since it first appeared – in abbreviated "XC" form – back in 1997, building up no small fanbase along the way. Fast forward to today, and you're looking at the 2017 V90 Cross Country, the car Volvo is hoping will coax well-heeled outdoors types out of their SUVs and crossovers, and into something altogether more Swedish. Not bad for a metallic brown wagon.
The Cross Country is a big deal for Volvo – and its bottom line: with the V90-based car replacing the old V70 Cross Country, it's targeting what are traditionally the automaker's most wealthy customers. I confess, I had my suspicions that Volvo's Cross Country treatment for the V90 would be largely aesthetic. Wagons, as we know, sell poorly in the US; jacked-up crossovers are far more in favor among modern drivers. The V90 is a great car, and I thought that Volvo's strategy could have been of the "raise it, clad it, brand it an off-roader" approach.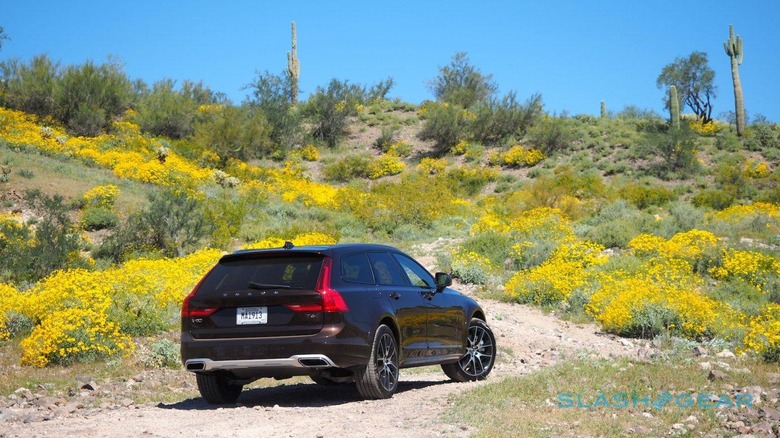 Turns out, I was absolutely wrong. Certainly, the V90 Cross Country is taller and has a wider stance than the regular wagon it's based upon, but it also has some legitimate abilities in the rough stuff. Unsurprisingly, Stefan Sallqvist, senior product manager for the 90 Series globally, agrees. "It's not a design thing," he insists, "it's a truly capable car."
Volvo starts with the SVA architecture as underpins the XC90 SUV and the S90 sedan, and which the upcoming XC60 is based upon too. Then, it does chassis modeling to figure out how best to adapt it for an off-road capable wagon. That, it turns out, is a real time-saver.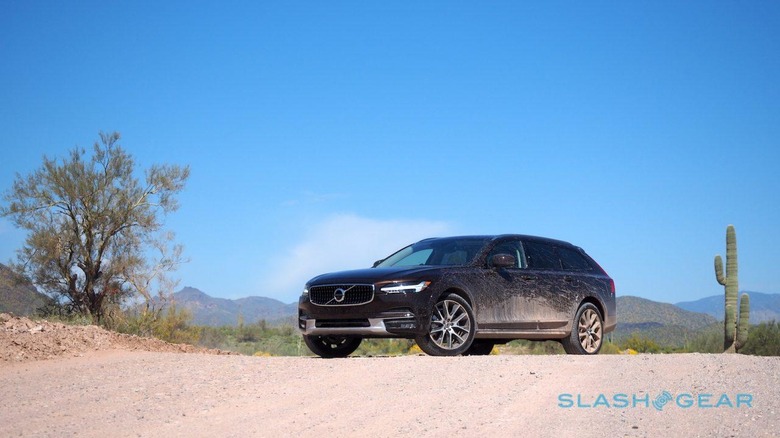 "We've spent several thousand hours in our state-of-the-art simulator," Sallqvist explains, "which help us develop the chassis characteristics of our cars. This saves us a tremendous amount of time. Before we have the physical cars available, we're able to tune the chassis in the simulator so we have a good base when the cars are there."
Like the regular V90, the Cross Country gets Volvo's T6 turbocharged and supercharged 4-cylinder engine, with 316 horsepower and 295 lb-ft. of torque. All-wheel drive is, understandably, standard, but the Cross Country is raised 2.3-inches higher than the normal car, for a total 8.3-inches of ground clearance. The wheel arches are extended, as are the sills, with the wheels pushed out to better fill them and widen the car's stance.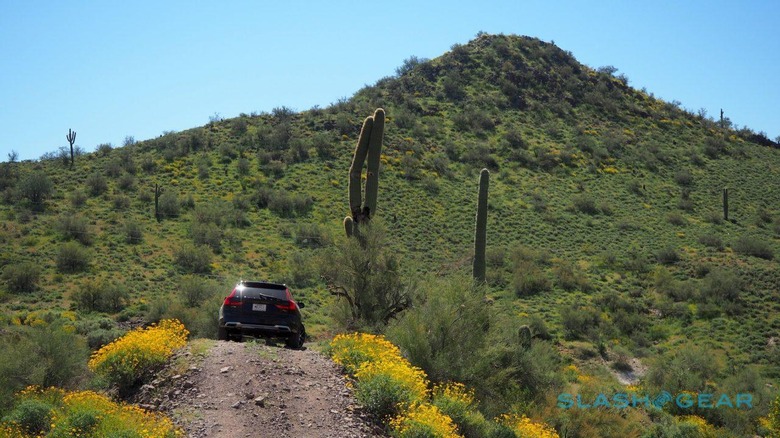 Its wheels use custom-designed Pirelli tires, with a 42mm increase in diameter. As standard you get Hill Descent Control, which automatically kicks in when you're creeping down a slope at low-speed. The Eco/Comfort/Dynamic drive modes are joined by a special Off Road setting which also works at lower speeds. For $1,200 the traditional springs can be replaced with rear air suspension – the car's packaging, Volvo says, wouldn't allow for front air suspension – working in tandem with the car's Four-C electronic damper control.
Given the well-heeled, spec-demanding audience, Volvo is bypassing the usual entry-level cars and making the standard trim fairly comprehensive. $55,400 (plus $995 destination) gets you Pilot Assist, Sensus Connect with both Apple CarPlay and Android Auto, the distinctive "Thor's Hammer" lights, heated front seats and steering wheel, blind-spot warnings, lane departure warnings and road sign information, runoff road mitigation and protection, driver alert, and laminated side windows and a panoramic sunroof. Rear air suspension is an option, as are two packages: Luxury and Convenience.
In the $4,500 Luxury package, you get upgraded seats with ventilated Nappa leather and backrest massage in the front, plus nicer leather on the dashboard and the front and rear door panels. The rear gets sun curtains, and heated outer seats. The $1,950 Convenience package, meanwhile, adds features like 360 surround vision for a bird's eye view of the car, and Park Assist Pilot.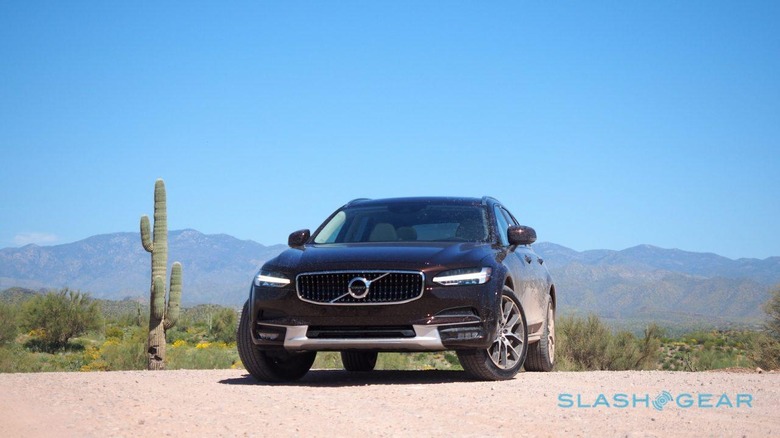 You can also take the exterior design in one of two different directions. Normally, Volvo's added-cladding around the sills, bumpers, and wheel arches are finished in a contrasting color, emphasizing the Cross Country's beefier stance. However, with the Luxury package you can color-match them instead; the result – especially in the oddly appealing Maple Brown Metallic of the car you see here – is both subtle and yet purposeful.
It would also ring hollow were the V90 Cross Country afraid of a little mud. It's not. Volvo's route for the day was to take us through some of the more rugged backroads of Arizona, but we pre-empted the trail with an unplanned excursion along a short but unexpectedly challenging path seemingly popular with quad-bikers.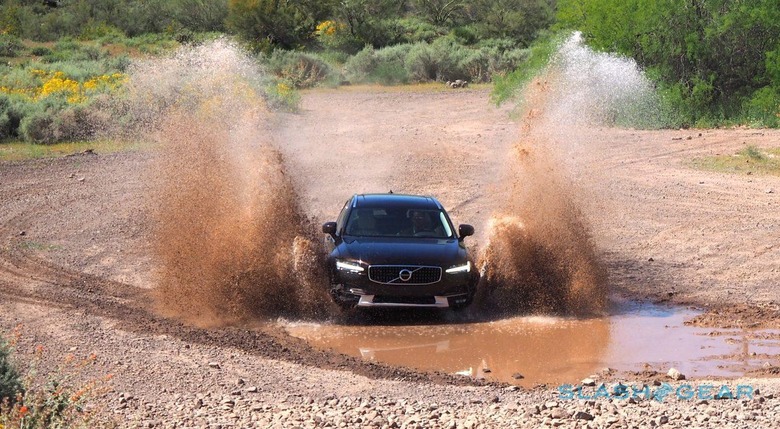 Steep slopes with loose gravel and rocks, tricky changes in incline, and deep potholes that put the extended ground clearance to the test: we didn't coddle the V90 Cross Country, but it didn't miss a beat. Sure, a full-on SUV could almost certainly go even further, but we were mightily impressed by what the Volvo took in its stride. Later on, taking rutted paths with unexpected ditches and gullies at the sort of speeds only the most uncaring owner would consider appropriate, the beefy wagon only bottomed-out its suspension travel a couple of times when we were at our most ham-fisted. For the most part, it barreled through like a wannabe rally car.
Find yourself on a regular road, however, and the V90 Cross Country's refinement comes to the fore. It's a sublimely comfortable cruiser, Volvo's legendary seat design along with the smooth and capable engine – which you'd honestly think, noise aside, was a V6 courtesy of the near-seamless transition between supercharging and turbocharging – making for an eminently pleasant way to travel extended distances. Volvo quotes EPA numbers of 22 mpg in the city, 30 mpg on the highway, and 25 mpg combined, making it more frugal in everyday driving than most SUVs, too.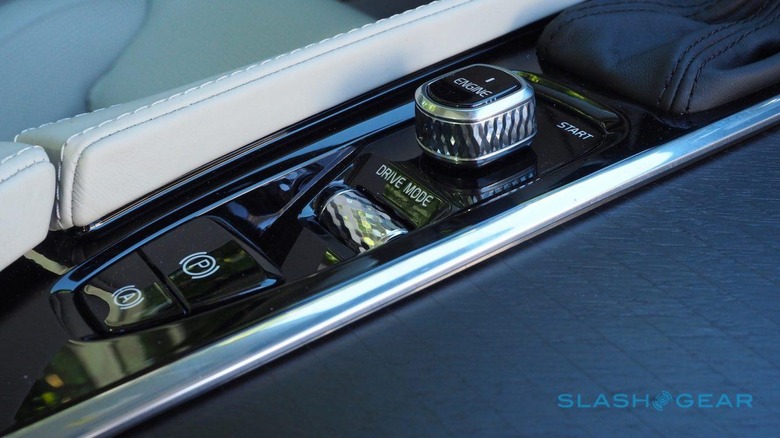 You'll get closer to those figures if you leave Volvo's Pilot Assist in charge. Described as a semi-autonomous driver aid, it's basically a combination of adaptive cruise control and auto-steer. Like its 90 Series siblings, the V90 Cross Country can match pace to the vehicle in front, slow and even stop accordingly, and track road markings to keep you in the lane. It works well, and though it does prefer you to keep your hand on the wheel (with irritated beeps if you try to abdicate too much responsibility), it's a much more relaxing way to cover long highway distances.
There are few such cars that can match the V90 Cross Country's cabin, either. Although it shares the same, clean design as the V90 and S90 overall, it takes a darker and more moody twist courtesy of either dark, open-pore wood or metal mesh inlays. You can have pale leather if you want it, but the charcoal and amber options arguably suit the car more.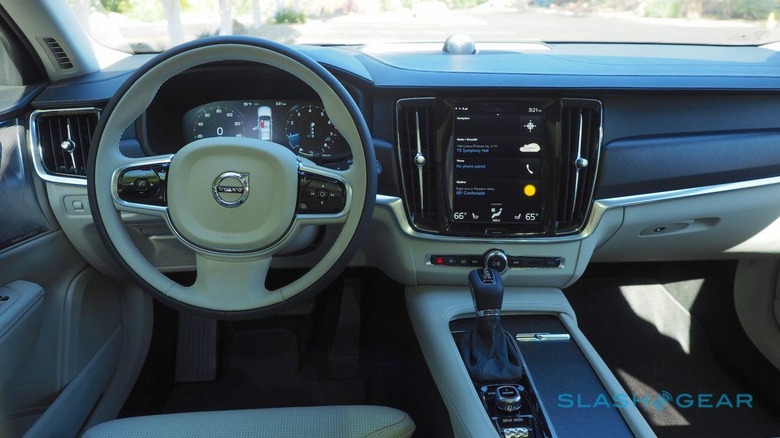 Whichever finish, it's a deeply pleasant place to find yourself. Most of the controls are accessed through the large, portrait-orientation touchscreen, though you do get a physical volume knob as well as quick access to the drive modes and other select features. Sensus' UI – which spreads navigation, infotainment, driver assist features, and phone connectivity, as well as the V90 Cross Country's built-in 4G LTE hotspot, across three side-scrolling panes – takes a few minutes familiarization, but is definitely one of the better systems out there right now.
Driver instrumentation is fully digital, while $900 adds a head-up display which I found tough to see while wearing sunglasses. Tick the optional $3,200 Bowers & Wilkins sound system box, meanwhile, and you get 1,400W shared between twelve channels and 19 speakers. It sounds, as you'd hope, fantastic, though Volvo's spatial modeling to give the cabin the feel of the Gothenburg concert hall suits some musical types more than others. You can, of course, turn that off and choose more normal settings.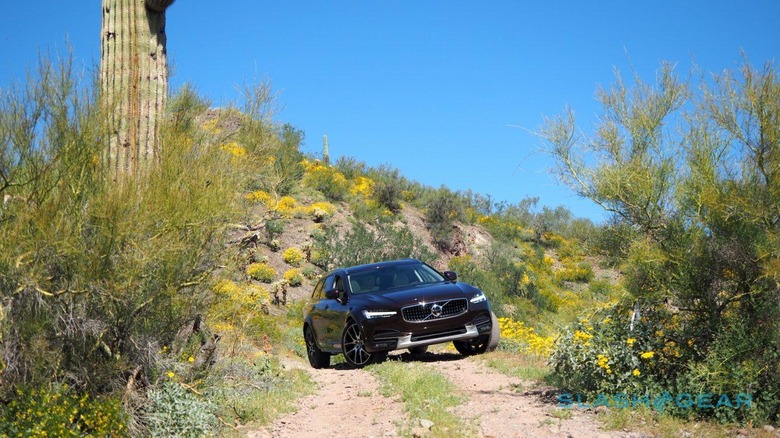 The most obvious rival for the V90 Cross Country is probably Audi's 2017 A4 allroad. It starts a fair amount cheaper than the Volvo, though the difference closes as you get toward spec parity. Both take a wagon and give it a rugged makeover; you get more room in the Volvo, though some might argue that the Audi has more mainstream brand cachet.
Really, though, it's luxury SUV and crossover buyers that Volvo has in its sights. The company's sales ambitions are fairly conservative – "a couple of thousand" cars a year, Volvo's Sallqvist says – though the V90 Cross Country really deserves to be more popular than that. It's handsome, cosseting in a refreshingly alternative way to the usual German flavor, and surprisingly capable off-road without sacrificing everyday usability. Volvo's renaissance just keeps getting better.