2017 Audi A4 allroad First Drive: Wunderwagon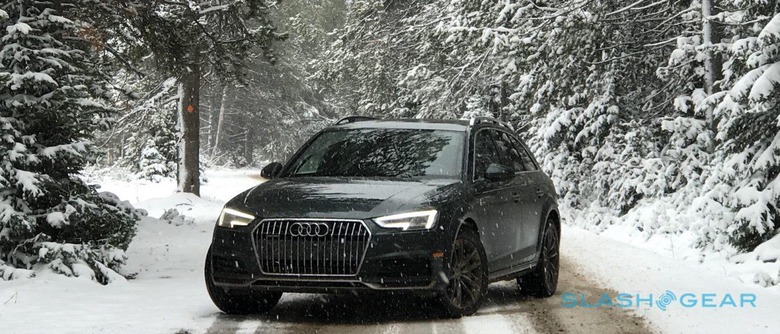 For a nation so addicted to crossovers and SUVs, it's perverse that Audi had to get sneaky to make America swallow its wagon medicine. The 2017 Audi A4 allroad keeps to the Avant-with-attitude ethos of previous generations, but introduces a brand new quattro all-wheel drive system that the German automaker expects to go down very well among what has traditionally been a fairly niche allroad audience.
To my – admittedly wagon-biased – eyes it's one of the most handsome models in Audi's current stable. Ground clearance may only have increased 34mm over the 2017 A4 sedan, a combination of taller suspension and higher profile tires, but factor in the more muscular bodywork, the vertical chrome grill slats, and the higher roof rails, and you have a car that visually straddles the segments between A-series sedan and Q-series SUV.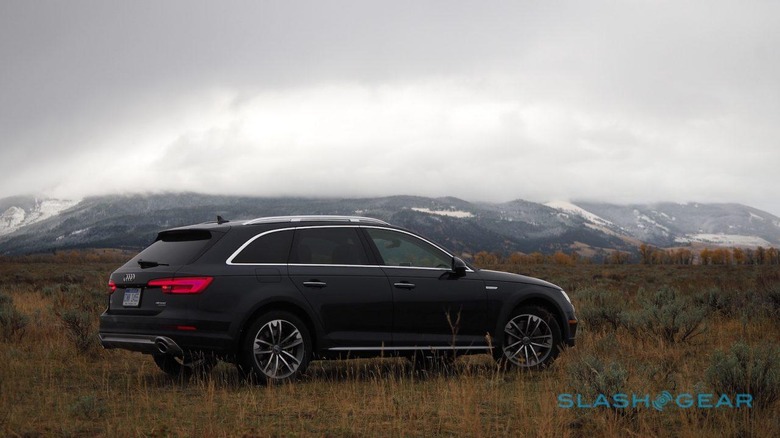 As before, as standard the cladding around the wheel arches and other areas is finished in a contrast color, but for the 2017 A4 allroad you can alternatively have it match the body. It's not just aesthetic, mind: there's additional underbody protection, while the dynamic turn signals on the taillights – which sweep outwards rather than just flashing – not only look great but, so Audi claims the research proves, are more rapidly understood by those following behind.
Under the hood is Audi's familiar 2.0 liter TFSI engine, good for 252 horsepower and 273 lb-ft. of torque courtesy of its turbocharger. It's paired with a seven-speed automatic transmission; although Audi is making a six-speed A4 sedan, there won't be a manual option for the A4 allroad in the US, since sales would likely be a fraction of the already conservative three thousand or so cars per year the automaker expects to shift.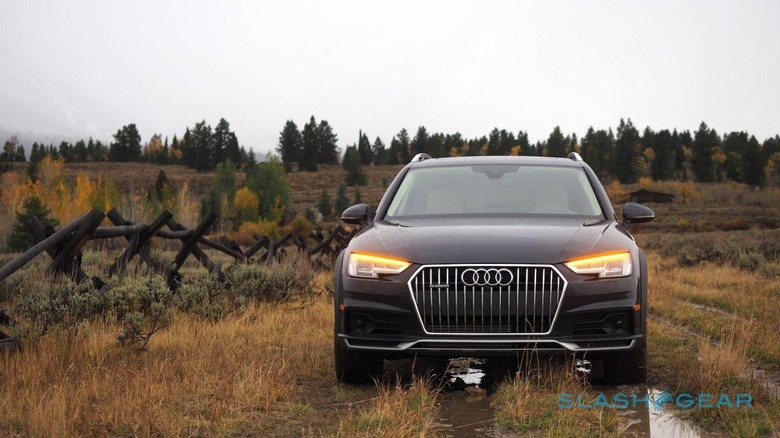 0-60 mph comes in 5.9 seconds – a half second less than the old car – while it'll do 23 mpg in the city, 28 mpg on the highway, for a total of 25 mpg combined. My testing was less than scientific, but with no real consideration for economy the TFSI still managed just shy of 26 mpg.
Audi has picked the A4 allroad to debut the latest iteration of its all-wheel drive system, dubbed Audi quattro with ultra technology. In the works for the past five and a half years – and with more than five million miles of testing under its belt – the new AWD is designed to drive like the old center differential, but with the ability to decouple the rear axle and prop shaft when they're not required. It's also 8.8 pounds lighter than the old AWD system.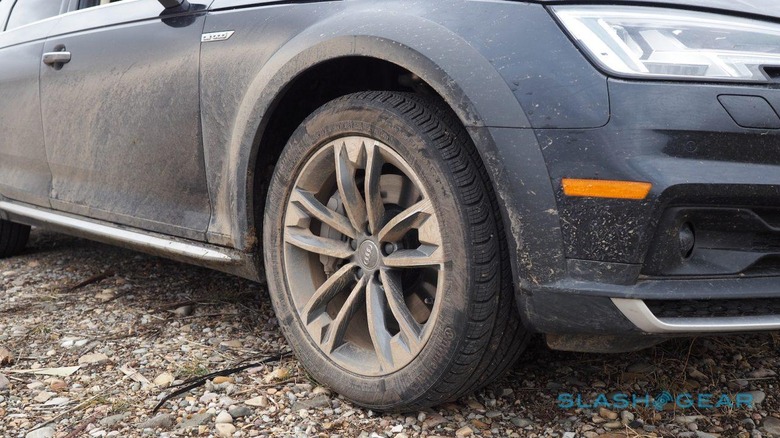 In effect, the A4 allroad can be a front-wheel drive car when extra traction isn't needed, and reap the rewards in extra economy. However, in just 200 milliseconds, it can reenable the rear wheels, and indeed push up to 100-percent of the engine's torque to the back.
Audi has implemented a clever prediction model to figure out when AWD is appropriate and when it can be turned off, looking 500ms ahead and basing its decision on driving dynamics and behavior, steering, and sensor inputs from across the car including wheel slip and exterior temperature. Each time you start the engine, it begins building a driver profile – aggressive versus economical – to shape that model: for those with a heavy right foot, the car might stay in AWD mode more often.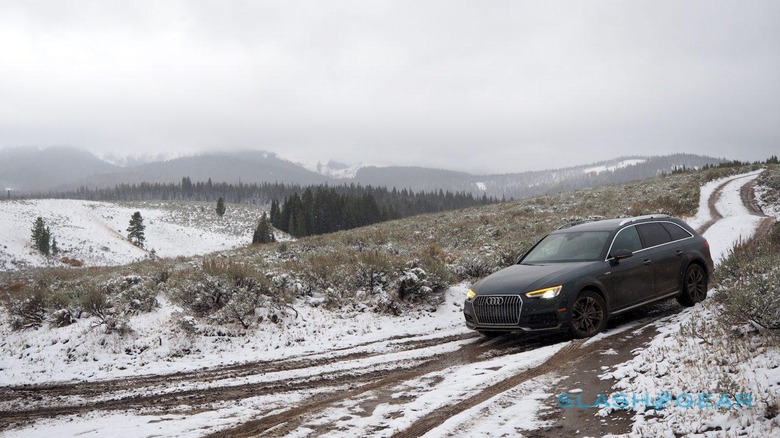 A better awareness of the exterior conditions, meanwhile, improves traction when it's icy or wet. The A4 allroad automatically switches back into AWD mode when at a stop, for instance, if it's likely to be slippery.
Next, the manual transmission versions of the A4 and A5 will get quattro with ultra, followed by the new Q5. In the A4 allroad's case, it's combined with standard adaptive five-link suspension including twin tube adaptive dampers.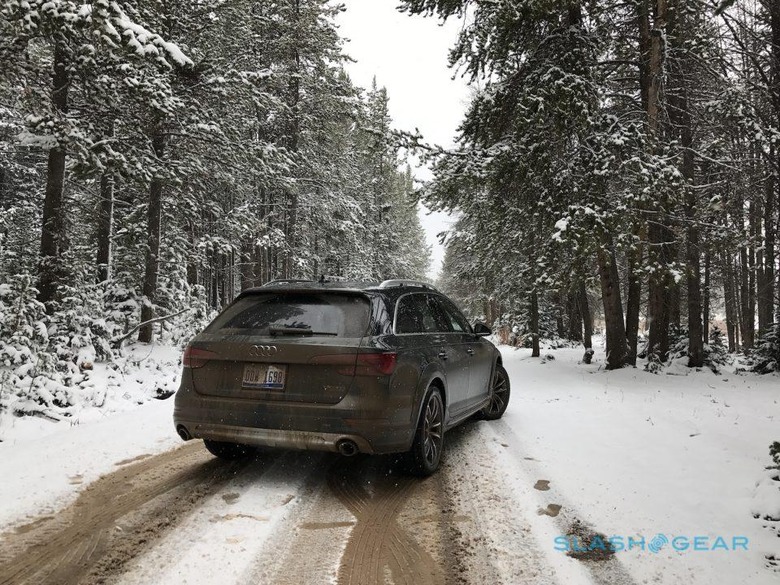 In addition to the usual Dynamic, Comfort, Eco, Auto, and Individual drive modes, there's also an Offroad option. That locks the AWD in permanently – usually, there's no way of telling whether the car is in FWD or AWD – and adapts the suspension for trickier terrain. It also disables Audi's pre sense, to avoid giving you a proximity alarm headache every time you inch close to a tree or rock.
It's easy to be cynical about over-inflated crossovers which look the part but never go further off the tarmac than climbing the curb in a parking lot, but the A4 allroad is the real deal. I pushed the car across a variety of surfaces and road types, spanning everything from highway asphalt through loose gravel, mud, snow, and ice. Wyoming's October climate did an admirable job of throwing rain, snow, and freezing conditions at single-lane mountain roads with no guard rail and a considerable drop.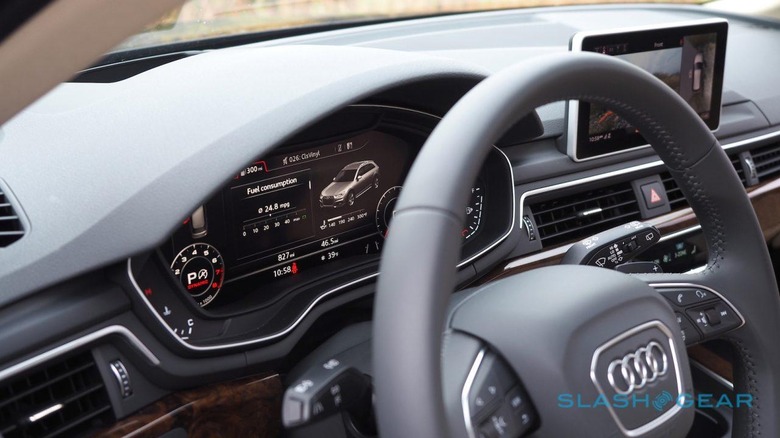 On the highway, it's smooth and quiet – the optional acoustic glass for the front side windows cuts out even more wind noise – with Audi having tuned each of the everyday drive modes for a more relaxed feel than the sedan. There's plenty of power, though, and it's delivered smoothly: peak torque arrives at just 1,600 rpm.
In fact, it was all too easy to get blasé when the asphalt turned to increasingly pitted gravel and then little more than compacted mud. The twin tube dampers soak up or smooth over potholes and ruts with such minimal complaint that I found I needed to regularly check my speed – a full color head-up display is an option – because I was invariably going faster than I expected.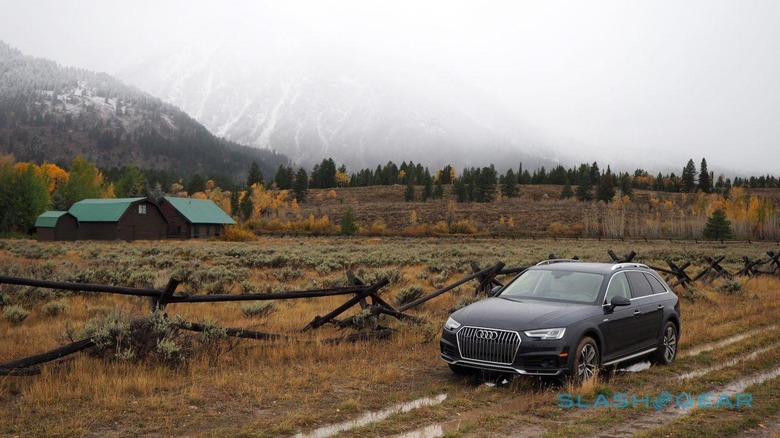 Even when you do provoke a reaction – we aimed the A4 allroad directly at a cluster of water-filled ruts which an SUV had gingerly hobbled across just in front of us – there's no lurch or boat-like wallowing. Instead, the Audi stayed composed and collected, albeit well coated with liquid mud.
At times, pushing things a little too eagerly through loosely graveled or snow-slicked corners, the electronic aids weighed in, but it happens progressively and collaboratively rather than just cutting power. No, it's not quite the making of a rally car, but it's a reassuring co-driver that allows you to have some fun while staying in one piece.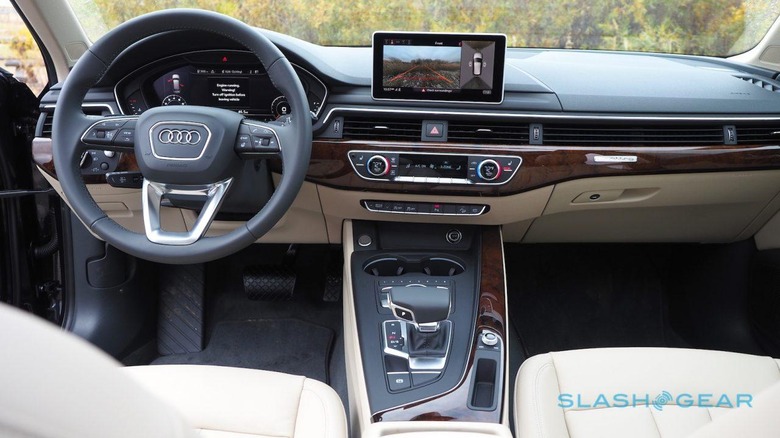 Inside things are familiar from the A4 sedan. That means the a cleanly laid-out dashboard with nifty, touch-triggered HVAC controls, the option of the excellent Virtual Cockpit with its 12.3-inch driver display and 8.3-inch center screen, and the touchpad-topped MMI scroll wheel. Apple CarPlay and Android Auto come as standard, as does 4G LTE with WiFi hotspot support.
The standard front seats – heated in the Prestige trim – are comfortable and supportive, though you can't dial in extra side bolstering. Three zone climate control comes on all versions, along with a panoramic sunroof with tilt and slide, and the rear seats split 40/20/40 for up to 58.5 cubic feet of cargo space.
Speaking of the rear, there's now 10mm more legroom back there, though the A4 allroad still isn't a huge car. Those cross-shopping with SUVs might find things a little tighter than expected, though we had full-sized adults in the back seats without complaint. The body style's contribution to headroom helps.
America's general distaste for wagons means the A4 allroad has few competitors in its class, here. The BMW 3 Series Sports Wagon, from $42,950, is the most obvious rival, though it lacks the Audi's off-road credentials.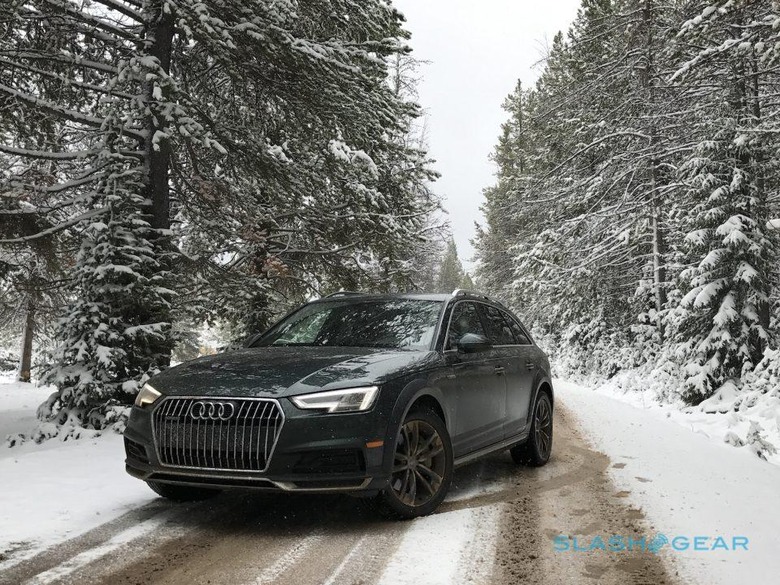 Alternatively, if you can stomach an SUV, Porsche's excellent Macan kicks off at $47.5k, though figure on considerably more for one of the more entertaining versions. Finally, Subaru's Outback has the AWD, though you'd need to tick plenty of options to get it close to the A4 allroad's starting price.
That's $44,000 for the Premium, climbing to $47,000 for the Premium Plus and $51,400 for the Prestige (plus $950 destination). The 755 watt, 19-speaker B&O 3D Surround audio system is standard on Premium Plus and above, while options like adaptive cruise control with traffic jam assist – the car steering for you at speeds up to 40 mph – are extra.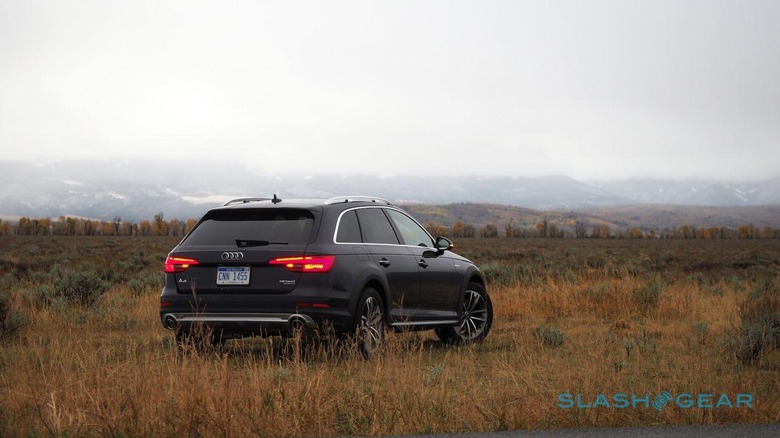 Like I said, I'm a big wagon fan, and the 2017 A4 allroad tickles the same lustful synapses as have previously been triggered by the Volvo V90 Cross Country. From the outset they're more nimble than a crossover but more practical than a sedan, while Audi's excellent quattro system and punchy TFSI engine delivers a surprising degree of performance on and off the road.
Audi may not sell many of them, but that just means you get to bask in the exclusivity.