2017 Chevrolet Volt Review: The secret hybrid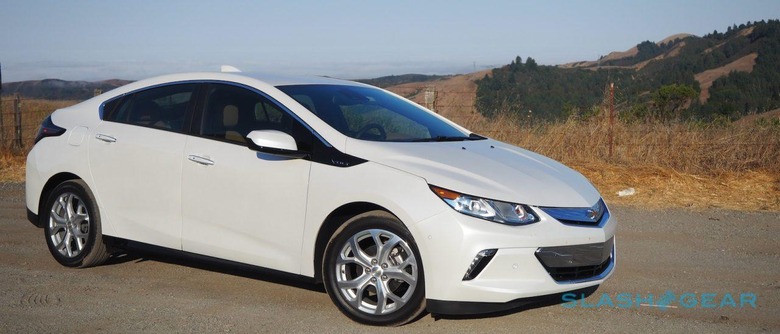 My head knows the future of transportation is probably electric, but my stomach can't quite get past the range anxiety. Pure EV drivers do, over time, quit the urge to stare at the dwindling range and worry about where their next outlet might be, but Chevrolet has another solution if you don't mind carrying a little old-school fossil fuel. The 2017 Chevrolet Volt may officially be a hybrid, but it desperately wants to leave its gas engine turned off and providing mental reassurance not actual power.
Chevrolet has skirted a fine line between space-age and suburban with the 2017 Volt, and the result is a handsome and curvaceous car. Yes, the silver grill looks a little like a microplane cheese grater, but overall the look is smoother and more refined than the somewhat blocky first-generation Volt.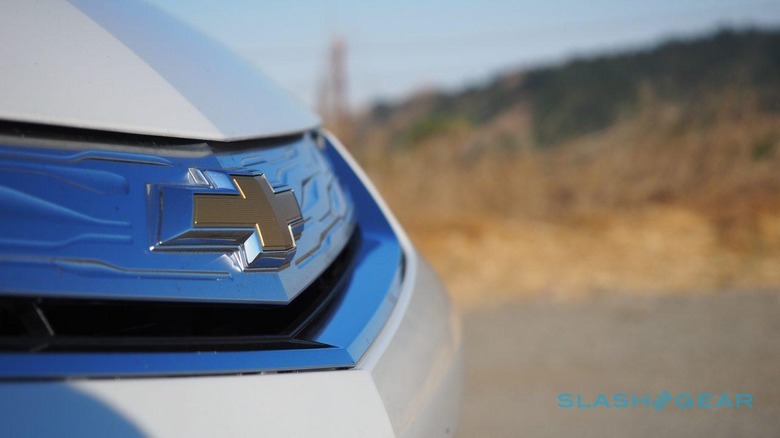 For hybrid fans, though, the big change is under the skin. Chevrolet boosted all-electric range to 53 miles from a full battery, though that obviously depends on how you drive and the terrain; the new 1.5-liter engine – described as a "range extender"; think "onboard generator" – has more power than the old 1.4-liter, at 101 HP versus 84 HP, but no longer requires premium gas in the process.
Effectively, when your battery power runs out, the gas engine kicks in and keeps you moving. Chevrolet quotes a maximum of 430 miles combined; the EPA says you'll get 106 MPGe from the Volt typically, or 42 MPG on gas alone. A button by the transmission allows you to choose between normal mode (which uses battery first, then gas), sport (which is more profligate with power when you hit the accelerator), mountain (which is theoretically more efficient at 5-percent or greater inclines), and finally hold mode (which switches instantly to gas power, saving the battery's charge for later on).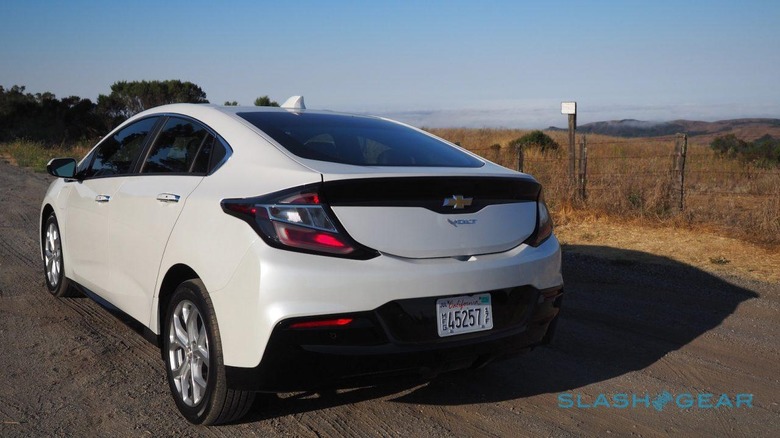 It can take a little getting used to on the road. Pick-up from a standstill is as perky as you'd expect from an electric car, and the Volt is genuinely nippy and bordering on eager; the two electric motors together push 149 HP and 294 lb-ft. of torque to the front wheels, and Chevy's quoted 8.0s 0-60 mph time seems conservative in practice. The li-ion battery pack is mounted low, running the length of the car, which in turn keeps the center of gravity low and helps with stability in corners. Brake, and the Volt tries to convert motion back into charge; shift from Drive (D) mode to Low (L) and you get a fairly aggressive facsimile of engine braking when you lift off the accelerator.
You can trigger something similar using the "regen" paddle, which is behind the wheel where you might commonly find a downshift paddle for a traditional gearbox. Squeeze that and you get the same engine braking.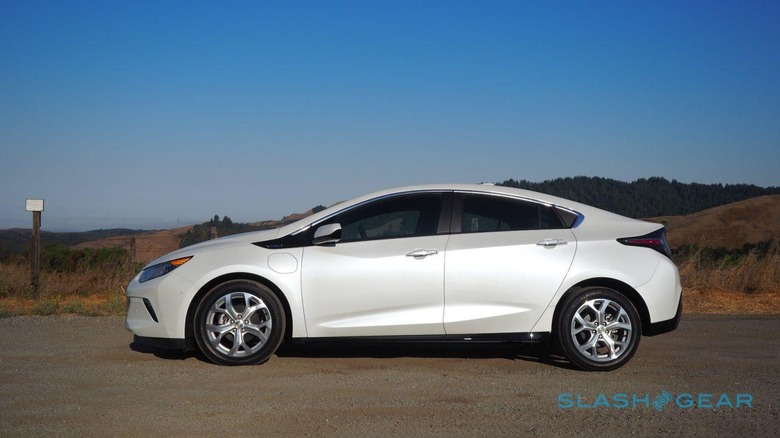 It's efficient both in slowing the car for an upcoming corner and for topping up the battery, but I found myself wishing it was linear in its action. Right now, you either pull the paddle or you don't, and the result is fairly grabby; a pressure-sensitive paddle would allow for more finesse rather than jerking the heads of your passengers.
Otherwise, refinement is high. The gas engine kicks in with little vibration or noise, though the fact that it doesn't necessarily change pitch in the same way as a regular gasoline car might took a little getting used to. Chevrolet says engine speed is determined by current power needs – the gas engine doesn't directly drive the wheels, it creates electricity for the electric motors to do that – and it can be incongruous to the ears at times. Excess power is channeled to the batteries, though the gas engine alone will never fully recharge them.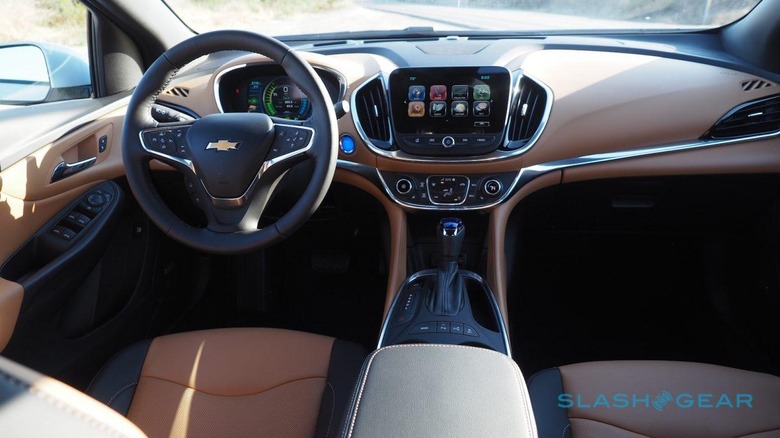 Interior fit and finish is a step above what you'd expect for the price. The dashboard gets plenty of soft-touch plastic and, while I might not personally have picked the two-shades-of-baby-purée color scheme myself, I can't knock Chevy's switchgear. The 8-inch MyLink infotainment touchscreen is swift and responsive, supports Apple CarPlay and Android Auto, and has – for $495 more – Chevrolet's own navigation system. One of my pet hates is sluggish on-screen keyboards that make you pause between hitting each letter, thankfully not something the Volt suffers from.
Chevrolet made the decision to fit OnStar 4G LTE as standard across most of its cars last year, and so the Volt can serve as a WiFi hotspot for up to eight devices. Honestly, I always wondered why I shouldn't just use my phone as a hotspot instead – once the trial period is up, you have to either pay Chevy for LTE data or add the car to your AT&T mobile share plan – but figured out the answer when the Volt could get online in underground parking lots and mountain back-roads when my phone had zero bars. A high-power antenna isn't just something that looks good on paper, it seems.
Even if you don't use the hotspot, the Volt's cellular link allows you to remotely check its location, unlock it and start it, and monitor its charging status from your smartphone. Plugged in, like just about every plug-in out there you can schedule times for it to start and stop charging, taking advantage of off-peak power rates.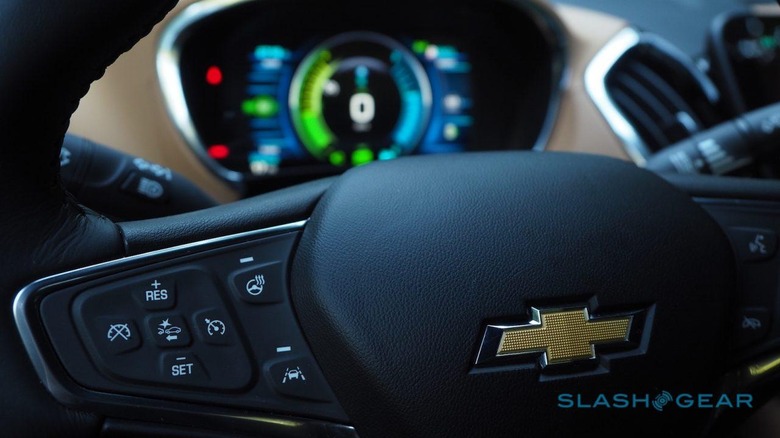 A reversing camera, automatic air conditioning, leather seats with heating for both front and – unusually for the segment – rear, wireless phone charging (Qi standard, and awkwardly located under the driver's armrest), two USB 2.0 ports, an aux-in, and Bose 8-speaker audio system are all standard on the Volt Premier, which comes in at $37,570 before $875 destination and any federal and state incentives.
There are two "Driver Confidence" packages, both $495, one with blind-spot monitoring and rear cross traffic alerts, and the other with lane-keep assist, low-speed front automatic braking, auto headlamps, and forward collision alerts. I'd tick the box for the former and skip the latter, personally.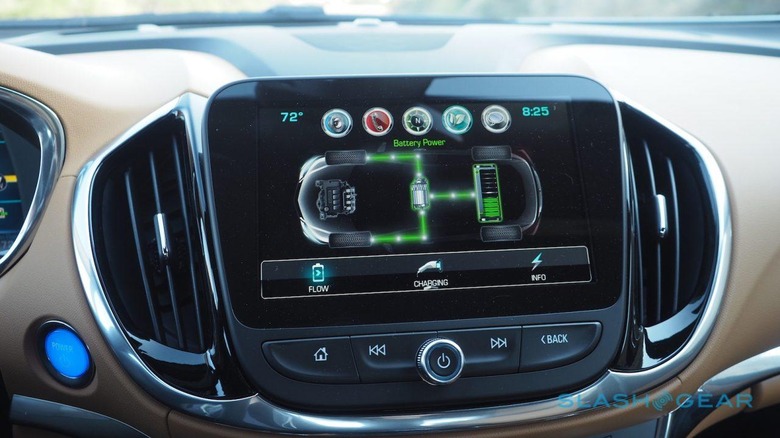 Forward space is ample, aided by the steeply raked dashboard, though the rear is more cramped. Officially, the Volt is a five-seater; try to perch anybody larger than a small child in the middle rear seat, however, and you can expect a litany of complaints. Blame the battery packs for that, and the swooping, aerodynamically-determined roofline for the fact that rear headroom and legroom aren't the most capacious of a car in its class.
The shape also impacts rear visibility, with the high trunk line meaning you'll only see the top half of any traffic close behind. At least with the batteries where they are, trunk space isn't impacted, and there's in fact plenty of room under the hatch.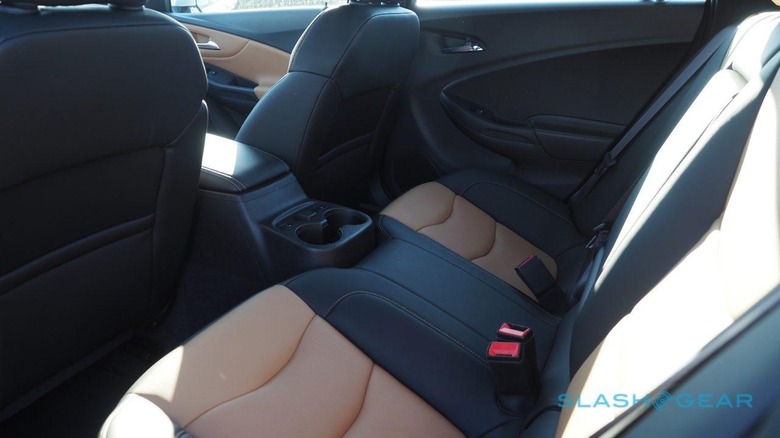 I suspect a week or so with the Volt could temper the concerns of most hybrid cynics. Most of my local trips were completed on battery power alone, and often the car exceeded the 53 mile electric-only estimate. A combination of mountain backroads, highway, and city driving from home to San Francisco and back saw the gas engine only kick in after I'd gone more than sixty miles. 2017's minor model year tweaks include adding adaptive cruise control as a cost option; it wasn't fitted to this review car, which makes do with regular cruise.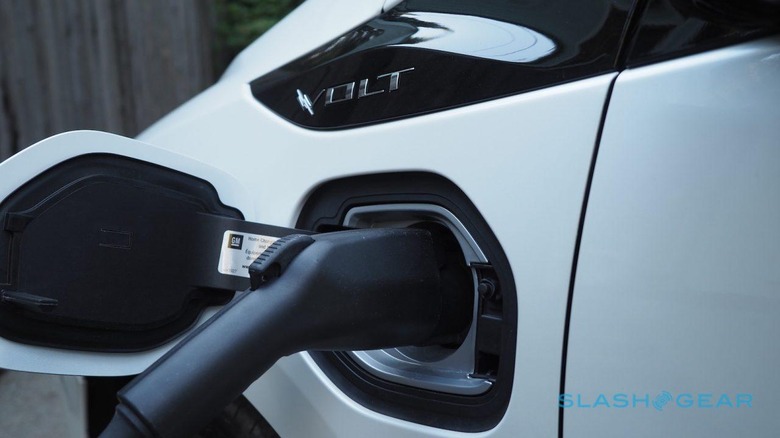 There's a 120V charging cable behind a side panel in the trunk that works with any regular household outlet; figure on anywhere up to twelve hours to get a full charge that way. Better is a 240V Level 2 charger, which cuts that to about four and a half hours, but it's worth noting that – unlike some other plug-ins – the Volt makes do with a 3.6 kilowatt onboard charger, rather than a 6.6 or 7.2 kilowatt system, and lacks DC quick charging. It'd be more of a compromise if you didn't have the gas engine onboard.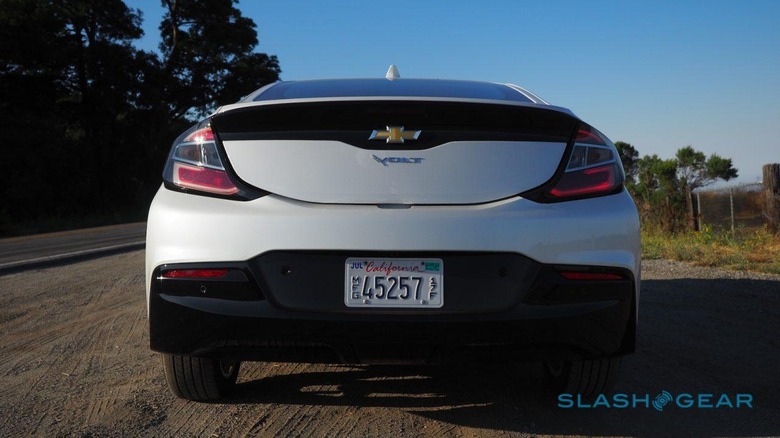 NOW READ: EV showdown: Nissan Leaf versus VW e-Golf
Is the future of transportation all-electric? That may well be, though we'll need significant improvements in charging infrastructure before pure EVs are suitable for the majority of drivers. It's not enough to figure out the bare minimum of chargers and call it a day, either: as I've discovered when driving all-electric cars, the specter of range anxiety is only partly based on reality, and a fair amount of the tension and doubt comes from the uncertainty of knowing for sure that there'll be an outlet waiting for you.
The 2017 Volt dismisses those doubts. Kicking off from $33,220 – pre-incentives, which could bring it under $26k location depending – it's in the same ballpark as electric-only rivals, though Chevy itself will offer some strong competition with the 200+ mile Bolt EV due to hit forecourts later this year. I suspect many drivers will rarely have the gas engine start up – Chevrolet claims nine out of ten typical journeys could be done on electric drive alone – but the knowledge that you have a full tank of gas waiting in the wings does wonders for dispelling range anxiety.