2016 Nissan Leaf vs 2016 Volkswagen e-Golf: Range-Anxiety

Electric cars may be the future, but so is range anxiety. That's the lingering conclusion after testing two of the most popular, competitively-priced EVs on the market, the 2016 Volkswagen e-Golf SE, and the 2016 Nissan Leaf SL. Unlike anything from Tesla's forecourt, you'll get change from $40k even buying brand new, and various subsidies tickle the sticker prices even lower. Question is, are either of these all-electric chariots really ready to join the rat-race?
2016 Nissan Leaf SL
Nissan sold over 17,000 of its Leaf EV in the US in 2015, making it the most popular not-a-Tesla electric car in the country. In SL form, it's $36,790 plus $850 destination; the review car Nissan parked on my drive had optional mats and a Bose audio system, which added $180 and $1,570 respectively, taking the total to $39,390 before incentives.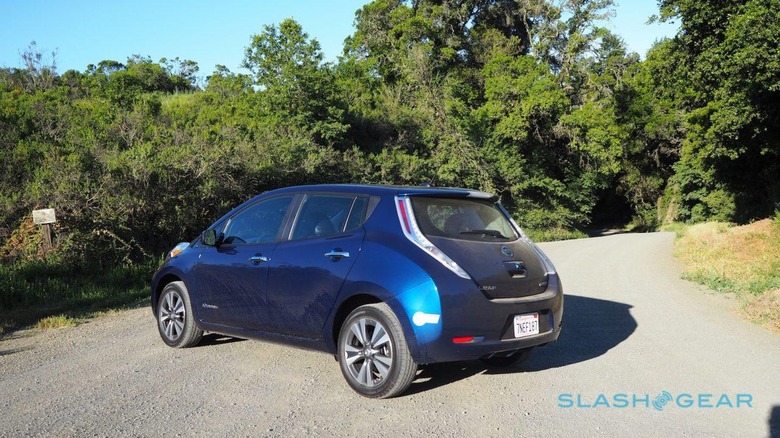 Inside the somewhat cartoonish four-door hatchback there's an 80 kW motor powered by a 30 kWh Li-Ion battery. That's good for up to 107 miles of EPA-rated range, or 112 MPGe.
Nissan does have a Leaf S base model which, from $29,010, offers 84 miles of range from a smaller 24 kWh battery.
The Leaf's dashboard does a mostly good job of communicating exactly what's happening with the battery. For the driver, there's a chart that shows whether you're using power or regenerating it – both Leaf and e-Golf can convert energy most traditional cars waste during braking back into battery charge – plus a clear power gage and range estimate. A small display tells you how long it will take to recharge based on a regular 120V outlet, as well as a 3 kW or 6 kW 240V higher-powered supply.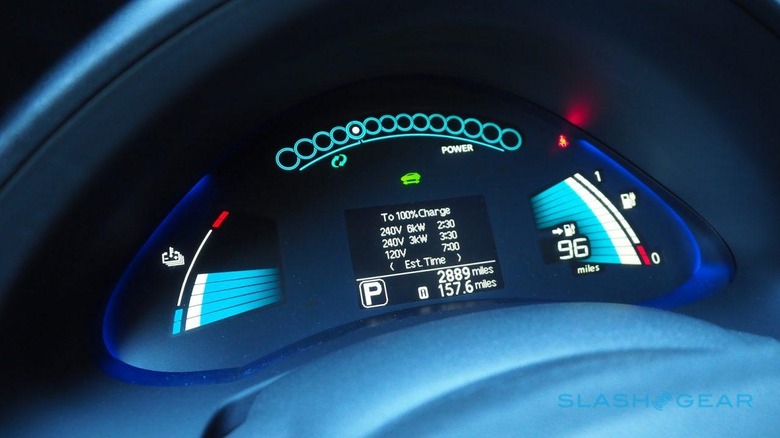 In the center stack there's a touchscreen with more granular information on what's using power, and that also serves up useful hints such as how many more miles you could squeeze out of the battery if you turn off the air-conditioning.
Ample space for four – and five at a squeeze – and a surprisingly accommodating trunk makes the Leaf more practical than you might expect.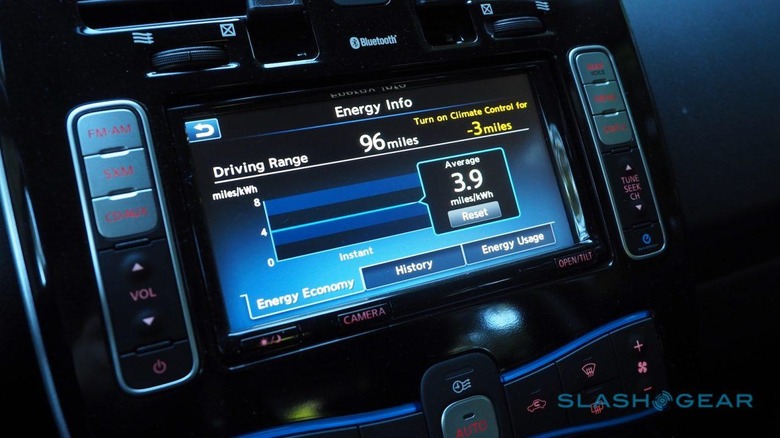 On the road, it's hardly a speed demon with 107 HP, but it feels solid and planted, though you get a fair amount of lean in corners. Pep levels from a standing start are high – all that torque landing at once – but only if you avoid the battery-saving Eco mode. Stab that button and suddenly the Leaf feels like it's wading through mud.
2016 Volkswagen e-Golf SE
If first impressions kick off at the dealership, VW's e-Golf has a big advantage: in SE form it's almost $10k cheaper than the Leaf SL I tested. With naught but the $820 destination charge tacked on, VW is asking $29,815 before incentives.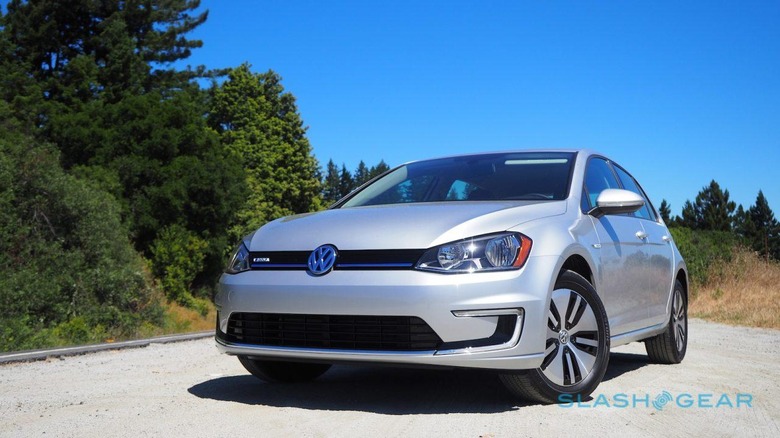 Unlike the Leaf, which is only sold as an electrified model, the e-Golf is a variant of VW's existing Golf line-up. There are a couple of differentiating aesthetic features, like the low-resistance alloy wheels and LED lights, but you could easily mistake it for any of the other four-door hatchback Golfs on the road.
It uses a slightly more powerful 85 kW motor but a smaller 24.2 kWh Li-Ion battery, so while the economy numbers are a little better than the Nissan at 116 MPGe, overall EPA range is just 83 miles.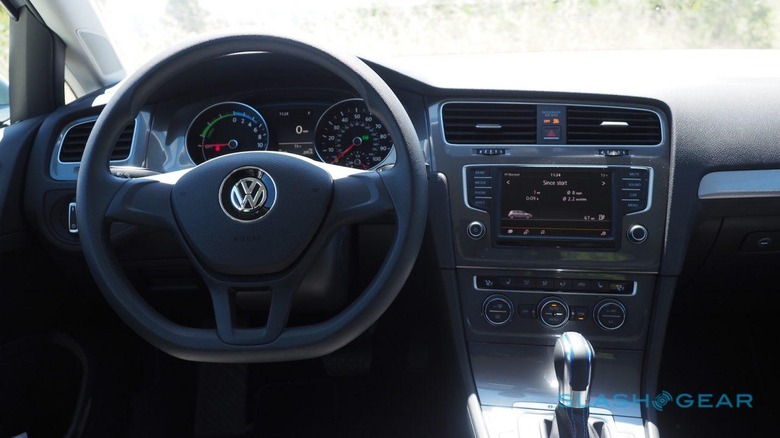 The gas-powered car's dashboard carries over too, which means an analog fuel gage repurposed to show battery level. I'm less convinced by VW's graphics overall; the touchscreen in the center console didn't give me the same at-a-glance overview that I felt I got from the Leaf. In the driver's display, I had to choose between the useful digital speedo and always seeing the range-remaining estimate.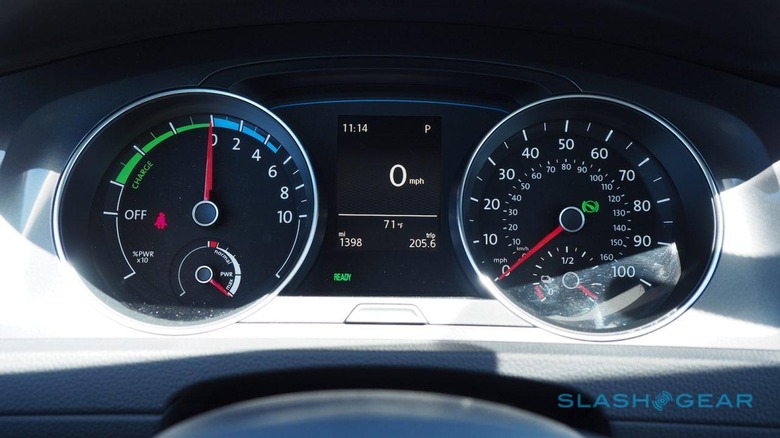 Space inside is similar on paper but in practicality beats the Leaf, particular in rear legroom where Nissan's batteries eat into footwell space. Where the SL-trim Nissan gets leather seats, the e-Golf SE makes do with cloth, and indeed the whole cabin feels a lot darker and under-equipped overall. No steering wheel music controls here, though you do get Apple CarPlay support. It's solid, but hardly inspiring.
Happily on the road the e-Golf does much better. With 115 HP it's slightly more powerful than the Leaf, but more importantly both steering feel and handling are spritely. VW's stability control is less intrusive too.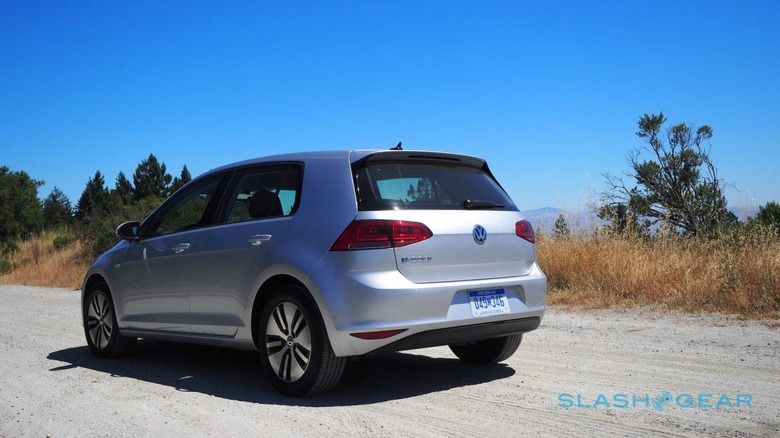 As well as the standard drive mode there are "Eco" and "Eco+" settings which limit acceleration and scale back things like HVAC to prolong range. More noticeable is the regenerative braking in "B" mode: then, the e-Golf is aggressive in shedding speed when you lift off the accelerator, to the point where you can feasibly one-pedal drive without tapping the brake most of the time. In regular "D" mode there's far less regenerative braking, unlike in the Nissan.
Range anxiety is real
You need a certain mindset to get into the swing of electric car ownership. Personally, when I'm driving a gasoline or diesel powered car, I tend to start thinking about refueling when the dashboard range estimate dips into double-digits.
Thing is, it doesn't take much driving of the Leaf before you get to that point, while the e-Golf starts out under 100 miles anyway.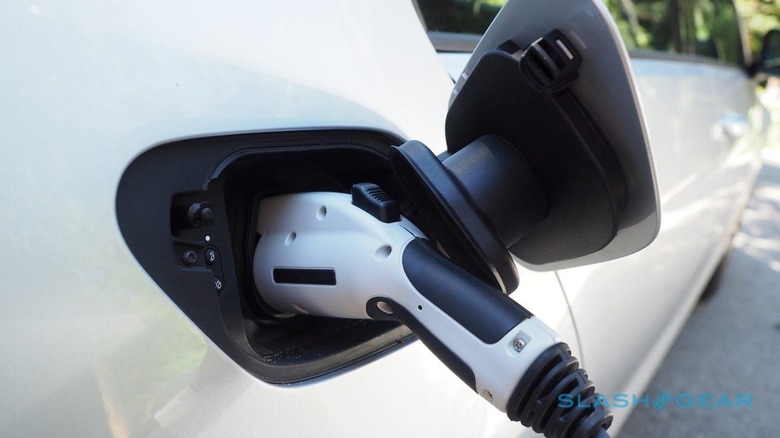 Both companies provide a regular charger in the trunk from which you can rejuice each car from a standard 120V outlet. You have to factor in a long time off the road if you're relying on that, however. While charging, the Leaf shows a rough indication of its battery status with three LEDs blinking on the dashboard – it's handy to be able to glance outside and see where it's up to – and both cars are app-connected so you can remotely check in on status.
You can also program in your upcoming schedule and have the HVAC come on to cool or heat the cabin ahead of time, drawing mains power rather than taking up battery charge.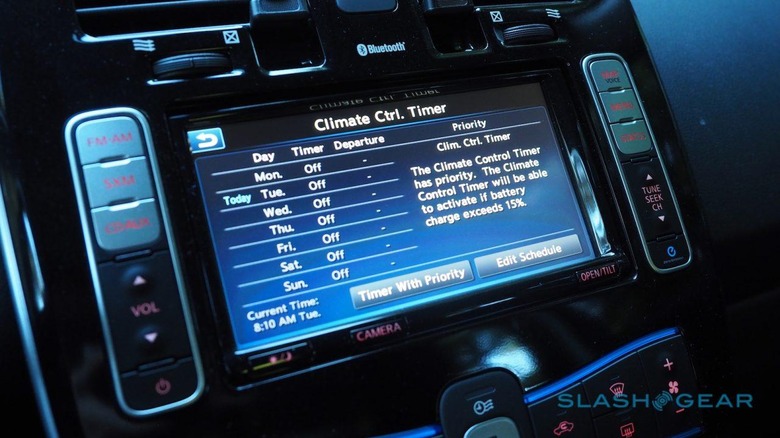 Even with those convenience features, I found I was constantly aware of how much power I had left while out in both cars. The specter of running out of charge at the side of the road – further away from an outlet than any extension cord could reach – was enough to leave me obsessive about watching the power gages.
On the plus side, it does make you aware of how you drive and whether that's economically or otherwise. Stepping back into gasoline cars, I couldn't help but think about all that energy squandered during braking, which the e-Golf or Leaf would be eagerly gobbling up.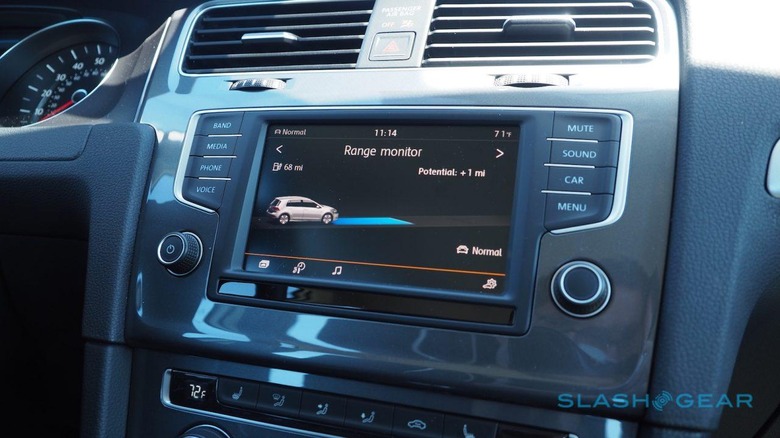 Fluctuations in estimated range, though, did cause a few cold sweats. Part of the problem is that there's no taking into account changes in elevation, which can have a huge impact on how much power is used.
I'm a fairly extreme example, since I live at the top of a relatively high hill: the Leaf, for instance, could end up gaining 20-30 miles of estimated range simply during my mostly-coasting trip down the hill. However, taking the same roughly four miles of twisting road back up to the top could easily knock 30 miles from the Leaf's estimate.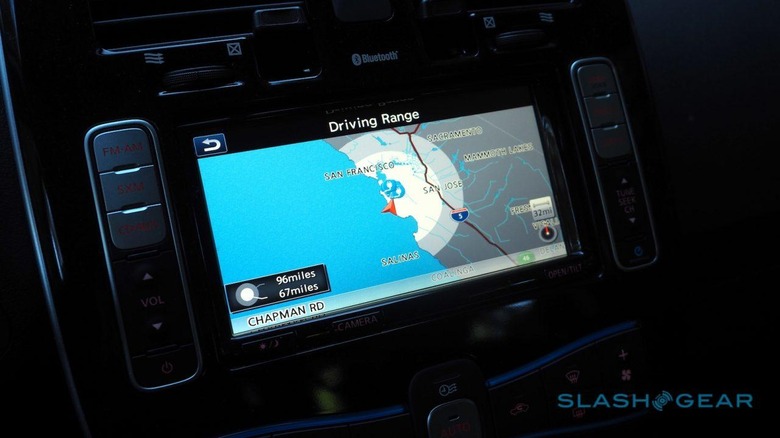 On several occasions with each car, when considering a commute from home to San Francisco – roughly 36 miles each way – I decided to take a regular gasoline car instead, since I wasn't confident I'd find a charger with space when I got into the city. Even though a 72 mile roundtrip is theoretically within the range of both e-Golf and Leaf, the vagaries of their actual longevity meant I wasn't confident I could trust them.
Wrap-Up
Of the two cars, I prefer how the Leaf handles the day-to-day management of an electric vehicle, but the e-Golf is more engaging to drive. Range overall was better in the Nissan – unsurprisingly, given the larger battery – though I was always reluctant to push them to their theoretical limits given the risk of getting stranded as a result.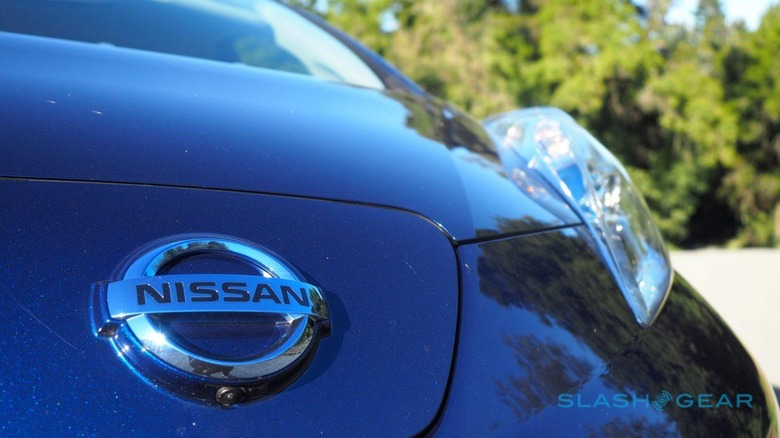 Personally, while they work very well in urban areas and for those with short commutes or making errand runs, I suspect relatively affordable EVs of this sort will only really come into their own when potential range climbs to around the 200 mile mark.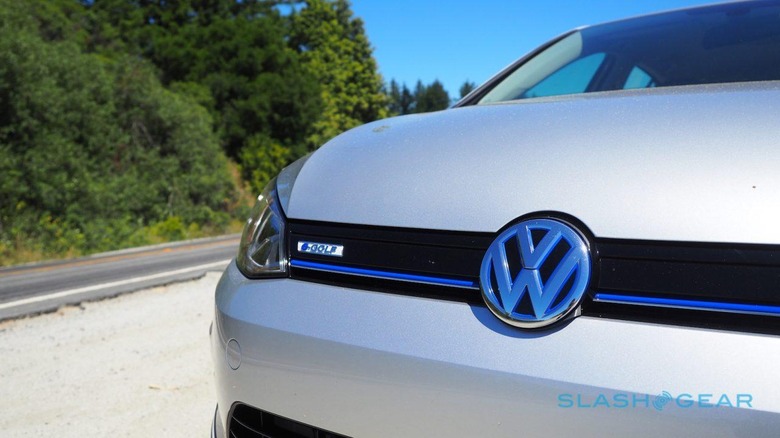 NOW READ: Inside Tesla's affordable Model 3
That's promised by the Chevrolet Bolt, due later this year, as well as the Tesla Model 3 which is of course further out. For 2017, Volkswagen is expected to offer a larger battery in the e-Golf, which will take EPA range to 124 miles; more competitive with the Leaf, true, but still closer to double-digits than the 200 threshold.
Electric cars work, certainly, and they needn't be expensive to buy or run. For the moment, though, it's vital you make sure your needs – and your nearest chargers – line up with the limited range that the most affordable EVs still suffer from.