2017 Chevrolet Bolt EV first-drive - Prototype Promise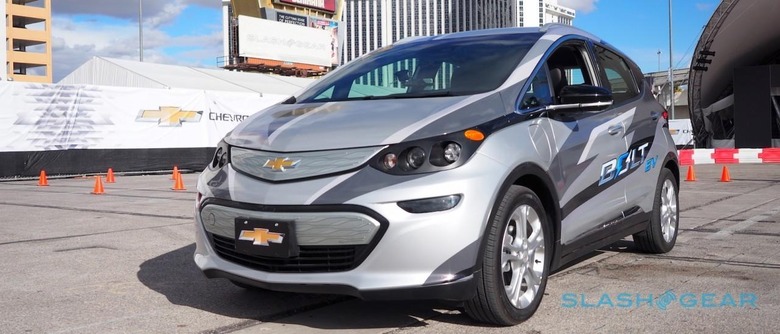 Making a luxury electric car is fairly simple. Making an affordable EV that will overcome the range anxiety of the mass-market is a very different thing, but General Motors thinks the 2017 Chevrolet Bolt EV has that X-factor. Production won't kick off until later in 2016, but GM invited us to test one of a couple of engineering prototypes at CES 2016 to get an early insight into how the Volt's baby brother is shaping up.
Chevrolet has done a little to disguise these pre-production cars, and some of the detailing isn't finished. Most drivers – even the most EV-ardent – aren't going to want the Bolt branding scrawled large across the side, and the egg-carton like light clusters will be replaced by cleaner, fared in plastic covers for production cars.
All the same, there's no denying the lineage between this and the Bolt EV Concept GM surprised us with only a year ago. Some of the lines have been softened slightly – having to make something production-possible will do that to a car – but it's a handsome little thing with a pleasingly small footprint.
That compact feel continues when you're on the road. Chevrolet's test course was effectively a coned-off parking lot with a few straights and some curves of varying tightness. The Bolt leapt eagerly forward with the torquey alacrity familiar from most electric cars, but thankfully none of the pitchy whine.
Final specifications haven't been confirmed – GM still says "around 200 miles" of total range, and a sub-7.0s time for the 0-60 mph run – but it definitely feels perky enough for the city. The low center of gravity helps in the corners, while the regenerative braking gives way almost imperceptibly to the traditional brakes.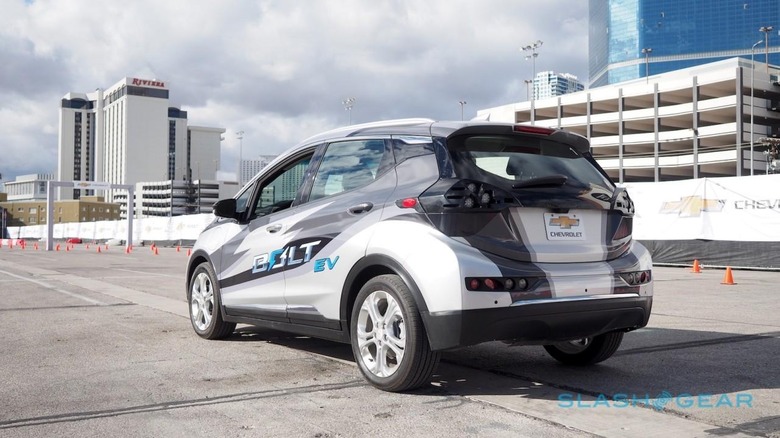 The braking paddles Cadillac introduced on the ELR have happily trickled down to the Bolt, and the new EV has a paddle on the left of the wheel which, when squeezed, makes the regen more aggressive and simulates engine braking in a manual car. There's also a "Low" mode on the shifter which allows for more regen when you lift off the accelerator, for one-pedal driving.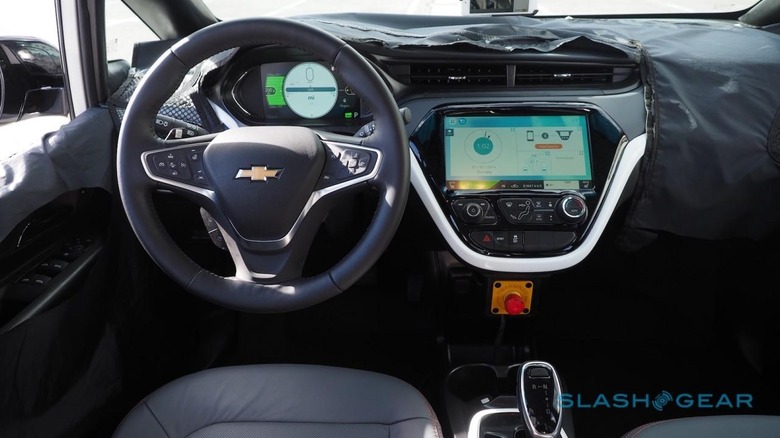 For a compact, it's not short on space. Officially GM calls it a five seater, though the person in the middle at the rear might complain on anything longer than a scoot around town. They shouldn't have an issue with headroom, though, and at 5'8 I had knee space to spare even after a 6-footer had been in front of me.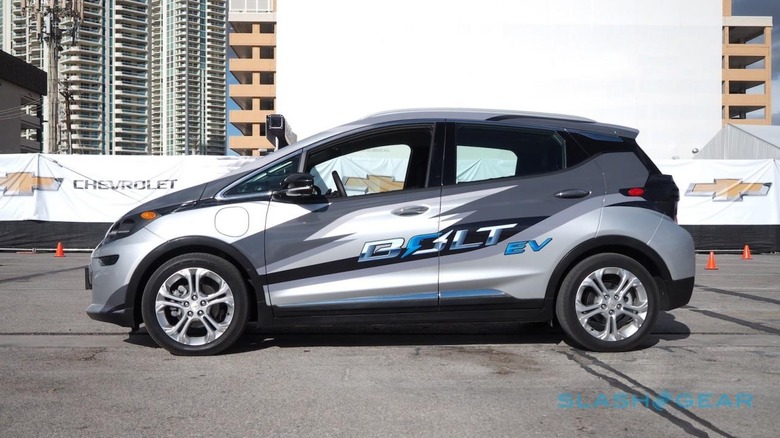 Arguably just as important for the target market, the trunk is surprisingly capacious. Since GM slots the batteries right underneath the passenger compartment, your luggage gets a 94.4 cubic feet space that's wide and deep. Rear seats have a 60/40 split.
Though most of the dashboard was covered up, two of the Bolt's star interior features had space to shine through. The driver gets a big, 8-inch LCD behind the wheel to see charge status, speed, and other details, while a 10.2-inch touchscreen sits in the center console.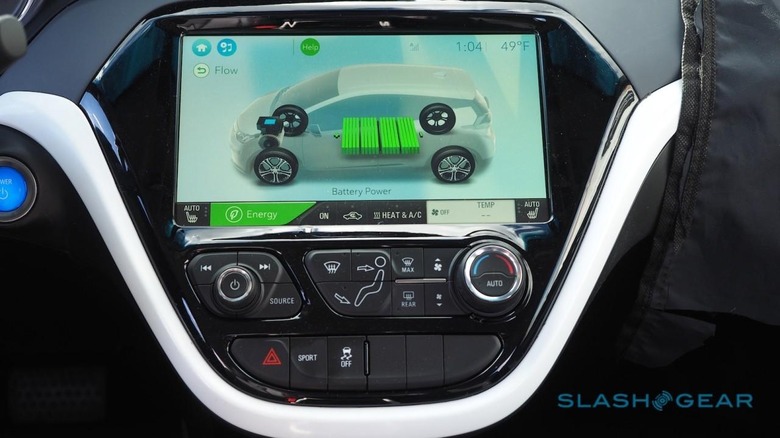 Chevy worked with LG on the software for that system, and it's one of the best I've used in testing cars. For a start it's fast – no uncertainty about whether you've tapped or not – and it does a good job of balancing details with remaining clean and unthreatening. The home screen can be reorganized with interchangeable widgets, and there's a persistent shortcut to the EV efficiency pages.
OnStar 4G is onboard for turning the Bolt into a mobile WiFi hotspot, and there are plenty of USB ports – including two in the rear – for charging phones. Even better, not everything is left to the touchscreen. Key features like the heating controls still get manual knobs and switches.
Glance up, and the rear-view mirror flicks between regular glass and a hidden widescreen LCD, feeding a view from a rear-mounted camera into the car. That way, no matter how many bags you have stacked, or how many rear passengers, you shouldn't struggle to see what's behind you. Parking gets a 360-degree birds-eye-view thanks to some strategically placed cameras.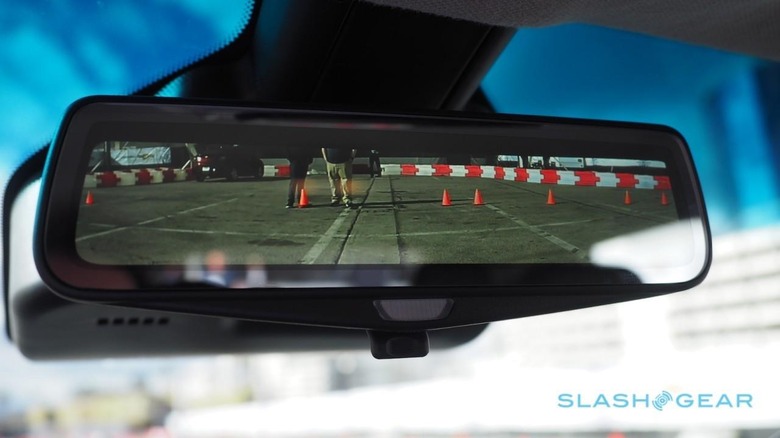 Without more time behind the wheel and out on the road it's impossible to give a final judgement on driving feel; this is also far from the finished product, with GM only expecting to begin production at the end of the year.
All the same, there's a ease of driving that I suspect will resonate nicely with Chevrolet's target audience for the Bolt. Sure, you might bypass the gas station and head for a charger instead – the Bolt will suck up 110V power if that's all you have, but GM predicts most owners will have access to a beefier Level 2 supply with a 240V feed, which should take the car to around 80-percent in an hour – but there's no jarring sense of the unusual when you get behind the wheel.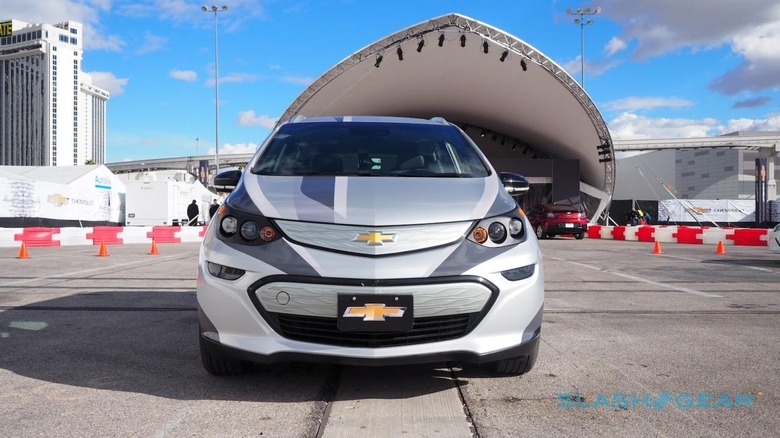 NOW READ: 2016 Chevrolet Volt first-drive
There are still plenty of gaps in the Bolt story. Final pricing is the biggest, and while GM says it expects the car to cost around $30k after tax incentives, that still leaves a fair degree of maneuvering space. Spec levels are yet to be confirmed, along with final range.
Nonetheless, I'm excited. For a mass market all-electric car to be successful, it needs to combine style, range, and affordability, and to do so in a way that's interesting but not threatening. Chevrolet may not have finished telling us every detail of that story, but first-impressions suggest the 2017 Bolt EV is off to a more than solid start.
[gallerybanner p="421873"]