2017 Bentley Mulsanne Speed Review: The $400,000 question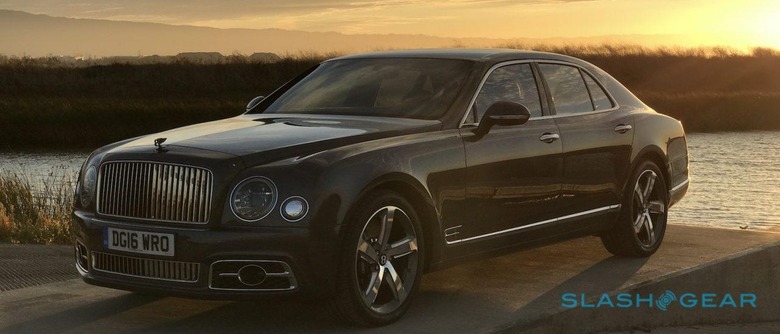 It's late in the evening in San Francisco, and I'm singing along to Blondie's "Atomic" at the top of my lungs in a $400k Bentley Mulsanne Speed when I realize people have stopped walking to watch me at the lights. Then again, when you're driving eighteen feet of British hyper-luxury sedan, it probably doesn't matter much what you're doing. You're going to get attention either way.
In the strata of astonishingly expensive cars, the Mulsanne Speed is a niche within a niche. Forget Bentley's Flying Spur, which is as "entry-level" as the automaker's sedans get: that's a mere $200k or thereabouts. Even the regular Mulsanne is eclipsed by its faster, pricier sibling.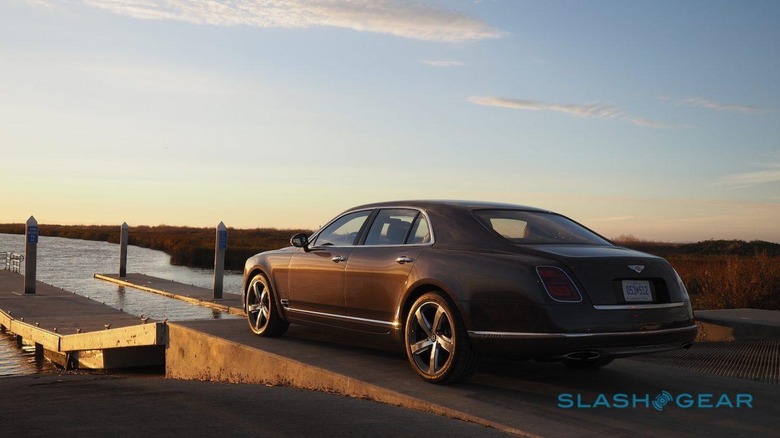 I suspect you don't need a review of the Mulsanne Speed. If you're one of the very, very small number of people – a fraction of a fraction of the one-percent – considering buying this very expensive, very exclusive car, you probably don't require my opinion on it first. You're probably cross-shopping against the Rolls-Royce Phantom, which might strike you as a little buttoned-up even in Black Badge form, or the Mercedes-Maybach, a car that I fear may be too similar to the S-Class 'Benz it hails from to stand out in this rarified company.
The $335,600 starting price (or £252k in the UK) won't cause you to wince, or go slightly cross-eyed, or take out a second mortgage. Neither will the near-$70-grand's worth of options, including more than seventeen thousand dollars' worth of carbon ceramic brakes. Almost twenty thousand dollars of "Entertainment Specification" infotainment upgrades, including Google Maps data, won't floor you.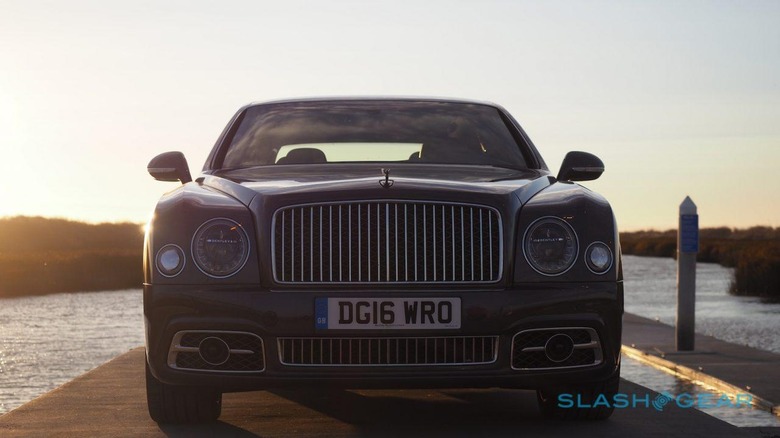 Your buttocks will not clench uncontrollably at the idea of an $11k refrigerated bottle cooler with matching, bespoke crystal champagne flutes. Mine did, and I couldn't bring myself to use them. I suspect they're not dishwasher-safe.
Bentley's aesthetic of choice has always been "imposing" and the Mulsanne Speed doesn't disappoint. Finished in "Magnetic" metallic brown, with whimsically-named "Porpoise" leather (accompanied by "Anthracite" secondary hide) and the lashings of extra chrome that help distinguish the 2017 model year, it's magnetic to eyes.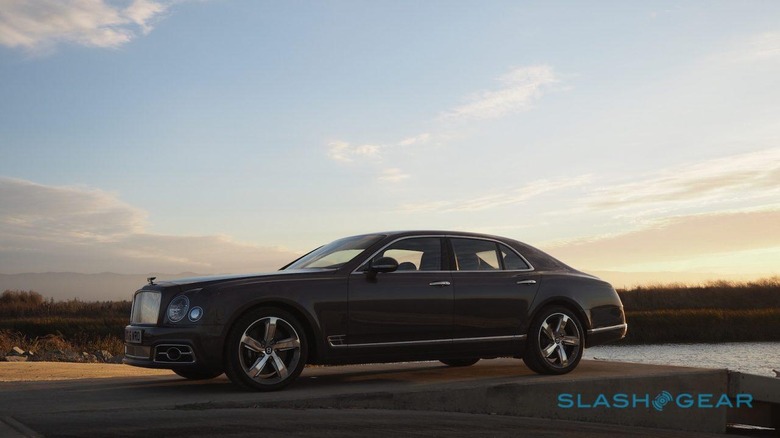 Traffic parts automatically when you nose the elegantly gaping snout into an intersection. Perhaps it's the fear of what sort of repair bill they'd be stuck with if they were so unlucky as to scratch it; maybe it's the 21st century equivalent of serfs doffing their cap to the landed gentry cruising past in their horseless carriage. Either way, I found myself sitting up straighter as a result, my posture subconsciously raising its game so as not to let the car down.
Bentley describes the Mulsanne Speed as a "four-door, five-seat luxury sporting limousine" and it isn't joking. Under the sculpted hood is a 6.75-liter twin-turbo V8 engine, rated for 530 HP and 811 lb-ft. of torque. The latter arrives at a mere 1,750 rpm, fed directly to the rear wheels via an eight-speed ZF automatic transmission.
Even with a curb weight of almost 6,000 pounds, it's enough to propel the sedan to 60 mph in 4.8 seconds. 0-100 mph takes 11.1 seconds. Top speed is a ridiculous 190 mph.
Numbers don't come close to encapsulating the sensation, mind. Wedge down your right foot and there's a moment, a scant half-breath, in which the Bentley seems to clear its throat and muster its fortitude. Then you're launched forward with a muted roar and a whoosh, nary a pause for slick-shifting gear changes, and speed limits be damned.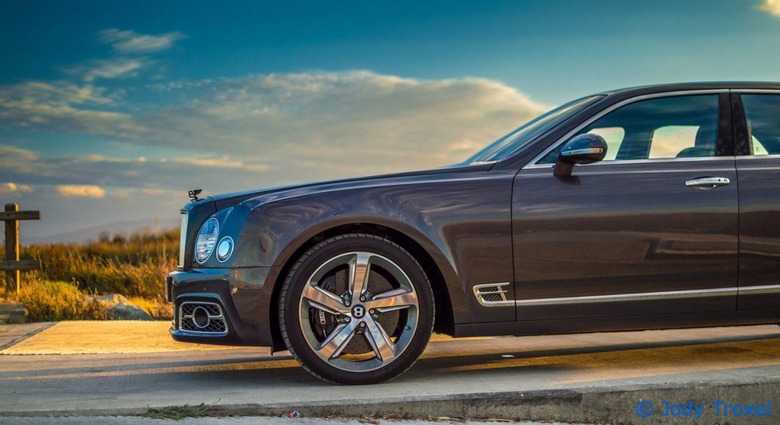 The combination of weight, no all-wheel drive, and the mundane constraints of physics had led me to expect monstrous wallow in corners to accompany the monstrous speed. Bentley's self-leveling air suspension is, arguably, more impressive than the raw power, however. With the car set to Sport mode – there's also Comfort and "Bentley", the latter a custom mix of settings believed to embody the marque's core spirit – it slips around bends with the poise of a much smaller sedan.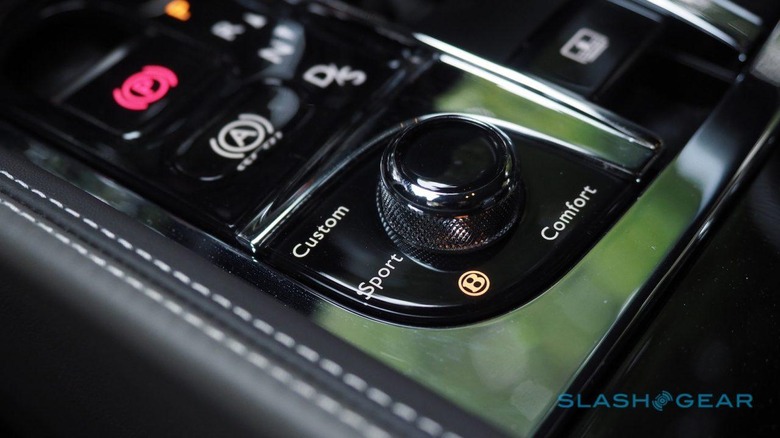 No, you never quite forget the dimensions (this is a car a foot longer than the Flying Spur, and it's not like that's an especially small sedan), but the driving experience is charming enough that you revel in it, rather than fear it.
Am I proud of myself, baiting 911 drivers and then gleefully chasing them through California's winding back roads? I'll channel the Bentley's stiff upper lip and respectfully decline to answer that. Let's just say, if they got away from me in the corners, I'd usually be able to catch them on the straights.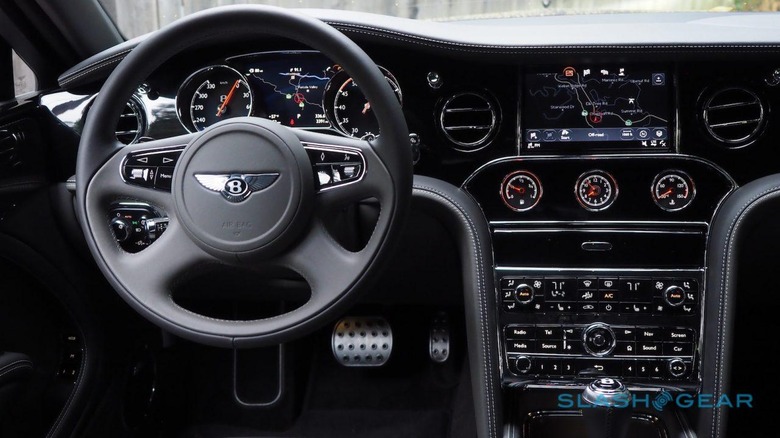 If you've ever wanted to recreate the womb experience, only within a sweet-smelling jigsaw of artisan-stitched hide, the Mulsanne Speed's cabin delivers. Leather spans the seats, the dashboard, the pillars, and the roof; if it's absent, it's only because there's wood there, or carbon fiber, or lashings of metal trim. The seats, redesigned for the new model year, are more plush and supportive than an ermine-lined jockstrap.
The in-dash display is an 8-inch touchscreen, but Bentley doesn't stint on buttons either, and there are many of them. Happily, the ancient infotainment system that dates the Flying Spur and Continental has been replaced with a far more up-to-date version. It's not perfect, but you do at least get CarPlay and an (optional, but worth it) 2,200 watt Naim audio system with twenty speakers.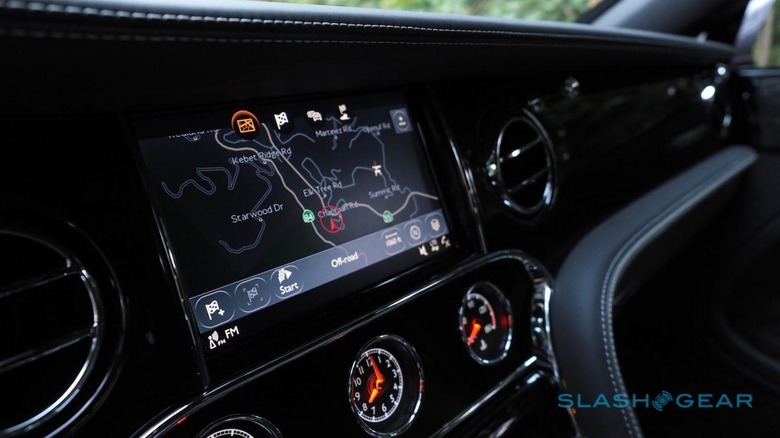 Bentley owners generally drive their own cars, most of the time at least, but the Mulsanne's rear accommodation isn't lacking either. Twin 10.2-inch Android tablets glide out from the front seat-backs, online via the integrated 4G LTE WiFi hotspot, while a delightful hidden panel of controls adjust the massage settings, recline, and general bolstering.
There's an expectation of perfection when you're spending somewhere high in six figures on a vehicle. How, then, do you explain the Mulsanne Speed's lingering omissions: no lane-keep assist, for instance, or the occasional, finicky oddness of the navigation system? The car's LED headlamps can adjust in width and reach depending on the speed you're traveling at, and yet there's no forward collision warning, or emergency auto-braking.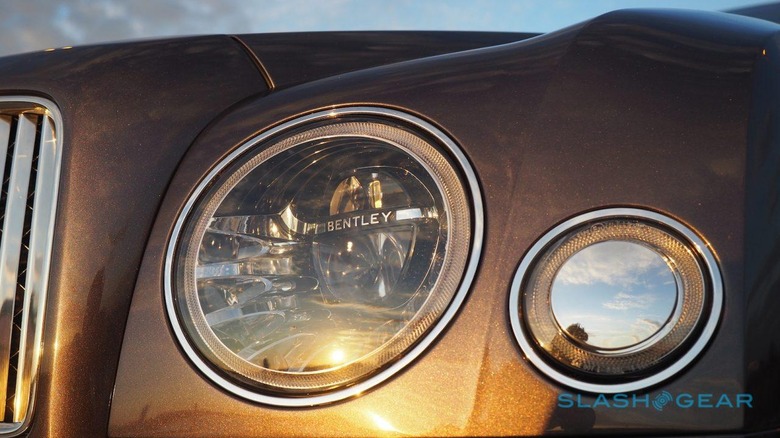 NOW READ: 2017 Bentley Bentayga first-drive
All I can think is that it comes down to rarity. Exclusivity. Only a couple of hundred Mulsanne make it to the US every year; fewer still are of the Speed variety. And, by virtue of its stature and its style, not to mention its speed, the Bentley turns heads in ways that high-end Mercedes, or BMW, or just about any other marque cannot.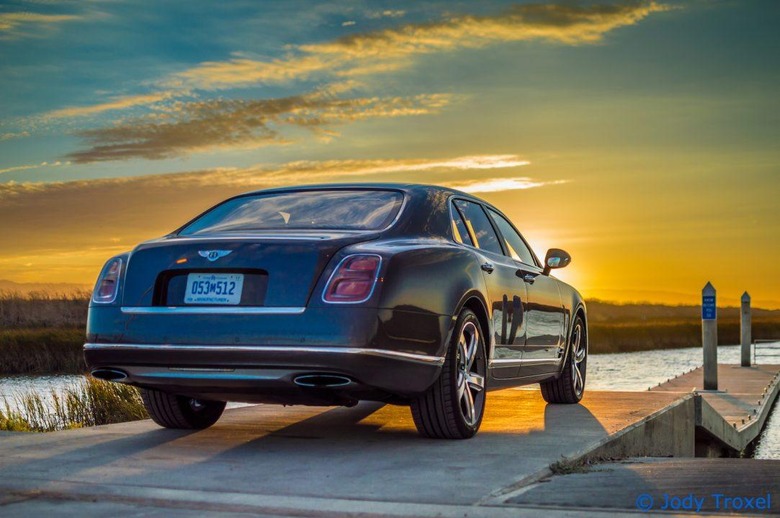 If you're unswayed by the presence, care instead about the bespoke construction and the storied powertrain that traces its lineage back more than six decades. Care about tremendous speed, a cocked snook to physics and wind resistance and mundane preoccupations like fuel consumption. Or care most of all about the fact that, when you're driving it, the Mulsanne Speed has a sense of occasion that's conspicuously absent from most other cars on the market today.
Additional photography by Jody Troxel