The Lexus RC F Needs An Attitude Adjustment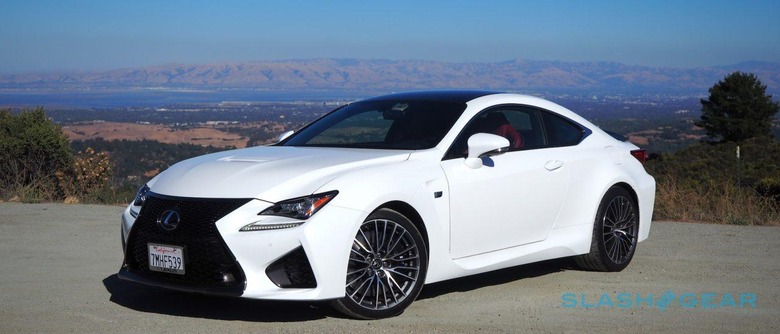 EDITORS' RATING: 7/10
First impressions matter, which is why – economy be damned – the Lexus RC F should start up in its feistiest Sport S+ mode. Lexus' hottest model, offering 467 HP and 389 lb-ft of torque from a 5.0-liter V8 that, increasingly rare, succumbs neither to turbocharging nor supercharging, it sits alongside the more practical GS F but – also like its sedan sibling – hides its magic from the start.
It's increasingly hard these days to find a car without a "Sport" button on the dashboard. More often than not, it's difficult to see exactly what pressing it actually does: a little more accelerator sensitivity here, a little less traction control policing there.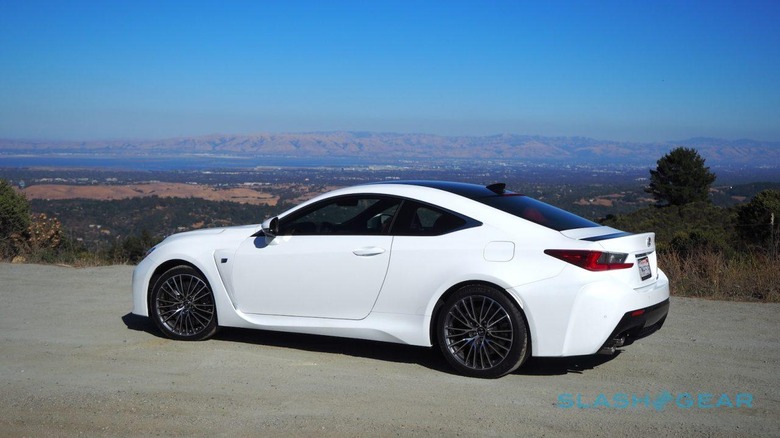 At times, I suspect automakers had a spare button and bulb assembly lying around, and pressing "Sport" does nothing more than light the whole thing up.
The RC F is different. Very different. Gloriously, frustratingly different, in fact.
It starts in "Normal" mode, which is fine on paper because "Normal" is, well, normal. Problem is, that's Lexus normal: a soft, undemanding, sybaritic-on-a-budget pliancy that suits "waft for a million miles" sedans but is entirely at odds – and, frankly, disappointing – on a $70k+ coupe.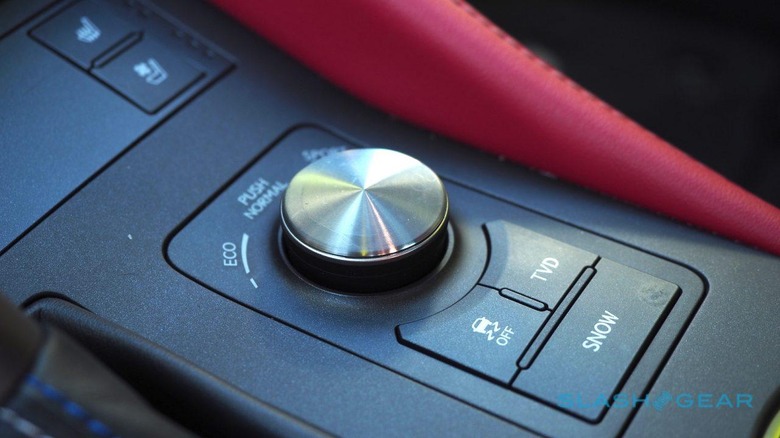 So incongruent is the lazy, heavy, desensitized feel of the RC F in its default mode, versus the "killer origami meets Predator" exterior, you spend the first few minutes wondering if you've missed something obvious, like perhaps forgetting to disengage the parking brake.
There are hints of the roaring fun you could be having if you get aggressive with the gas pedal. Above 3.5k rpm, or thereabouts, the mellow thrum of the 5.0-liter engine is crushed with a Tyrannosaur's howl, as powertrain, tailpipes, and everything in-between suddenly remember they're in a sports car.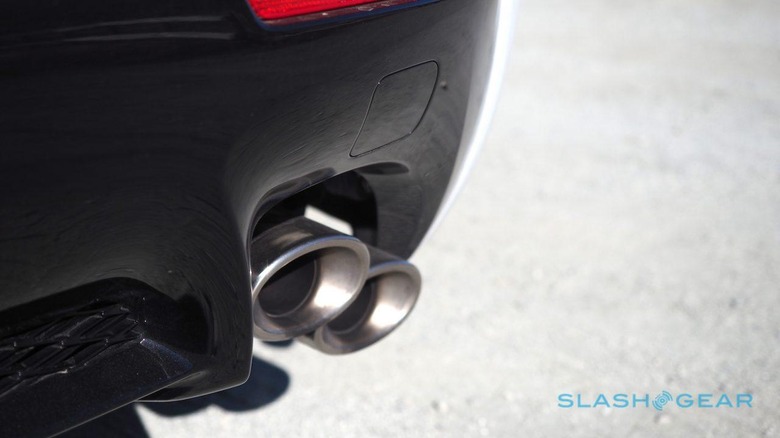 You only get a few seconds of it at most, before the efficient eight-speed transmission weighs in and dumps the revs back into the 1.5k range and lo, you're back to puttering. No turbocharger, unlike much of the competition, means low-end torque is fairly miserly.
Happily, the RC F's true personality is a couple of knob-twists away. Twiddle the Drive Mode dial once to the right and you find "Sport S": suddenly, the throttle is more responsive, the steering weirdly feels both lighter and more direct, and the noises emanating from under the hood and at the rear are less burble and more gurgle.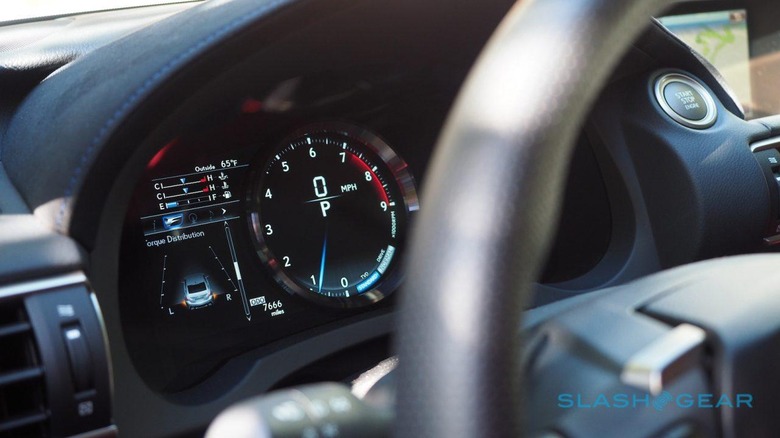 This, really, should be the RC F's new Normal, but consider the car's true colors unlocked with a further turn to the right. That summons Sport S+ mode, with even tauter suspension among other changes. Ride is on the notably firm side of stiff, courtesy of a Frankenchassis made up of the GS' front, the IS Convertible's middle, and the IS sedan's rear; you'll get more cosseting with Cadillac's ATS-V and its adaptive suspension, but you can't criticize the Lexus' communication from road to driver.
Like the GS F with which it shares an engine, the RC F can be had with Lexus' Torque Vectoring Differential. It's a $5,500 option – you also get the carbon fiber roof and rear wing – but one you really ought to tick.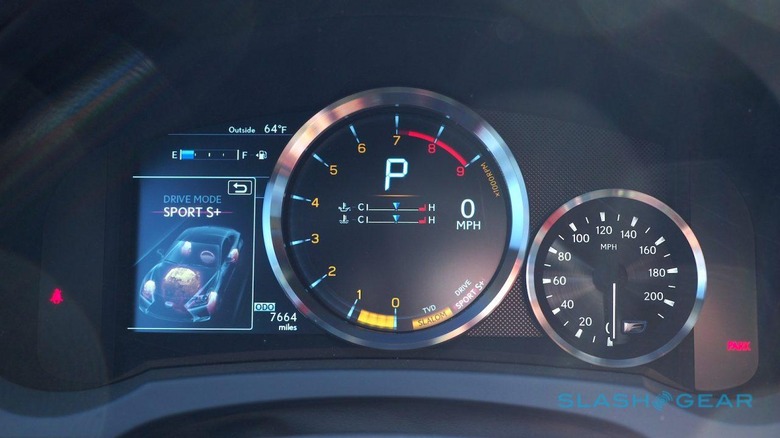 Unlike most torque vectoring systems, which brake the inside wheels when cornering to tighten up the turn – and waste power in the process – Lexus' TVD is a proper, mechanical system. The RC F can actively direct engine power to the left or right rear wheel, shifting it from side to side as the conditions demand.
You get three TVD modes to play with. Standard is the default, while Slalom uses the system to mimic a shorter wheelbase, allowing the RC F to pivot gracefully around more aggressively tight turns. Finally, there's Track, which focuses on high-speed handling.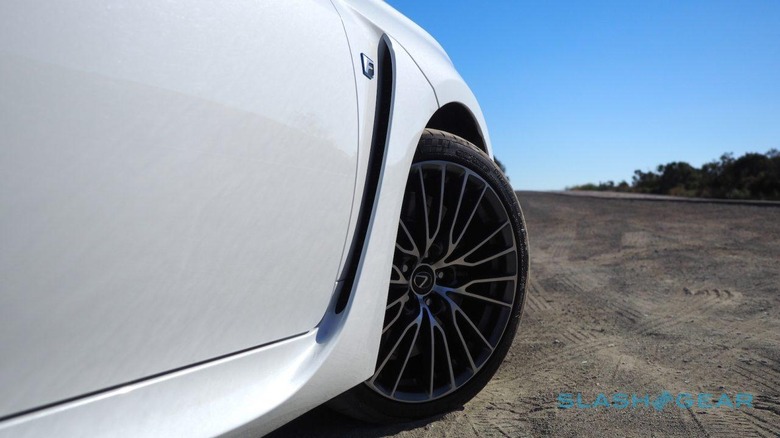 The result is a car that's astonishingly good fun when you reach twisty roads. Lexus buries a little two-bar graph in the driver display, which shows how much torque is going to each rear tire, but you'll probably be too busy snapping the wheel left and right as the RC F flicks neatly from corner to corner with a grace that belies its weight.
You don't even need to be pushing dangerous speeds to coax some glee from it. Even at a more sensible pace, with the Sport S+ chorus at work and the RC F dancing from bend to bend, there's more than enough to put a smile on your face. The redline arrives at a heady 7,300 rpm, while the standard Brembo brakes – 15-inch rotors with six calipers on the front, and 13.6-inch with four calipers on the rear – have no issues bringing the whole thing to a halt again.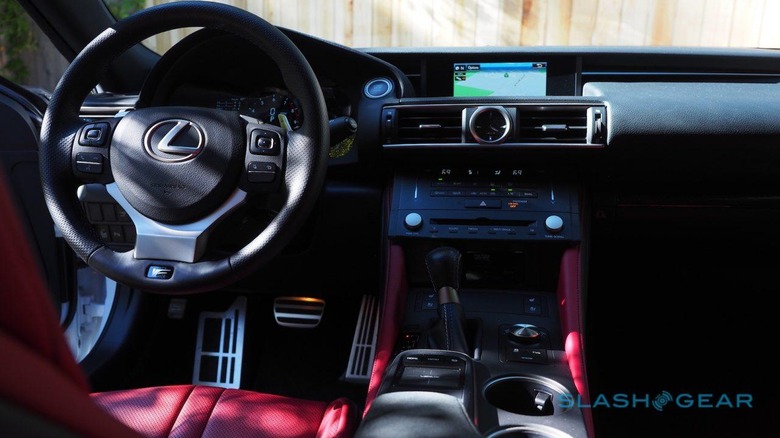 Inside, the cabin feels solid but lacks some of the delight that rivals manage. Plastics and controls you'd find in a GS half the price don't do much to make the RC F the aspirational beast Lexus would like it to be.
It all works – the digital driver's binnacle, with its graphics which change according to each Drive Mode, is a neat touch, and the bulky but supportive front sports seats are comfortable and padded in all the right places – but there's a lot of grey plastic where other automakers would have treated your fingertips to metal.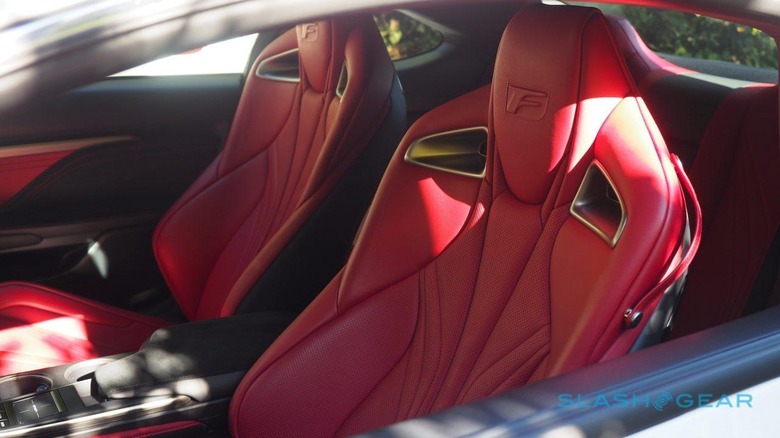 The RC F is a 2+2, officially, but it's probably best to think of the rear seats as beautifully leather-wrapped shelves for your bags rather than submit friends or family to the shortage of headroom and legroom. We've probably Lexus' big audience of golfers to thank for the surprisingly capacious trunk, though: they get upset if they can't stow a golf bag or two back there, and that means plenty of space.
Some of the systems are showing their age, design or ergonomically. Lexus' infotainment system is clunky, as is the trackpad used to navigate it. Media controls like malnourished Tic-Tacs float in a mass of otherwise unused panel: there's really no need for them to be so minute.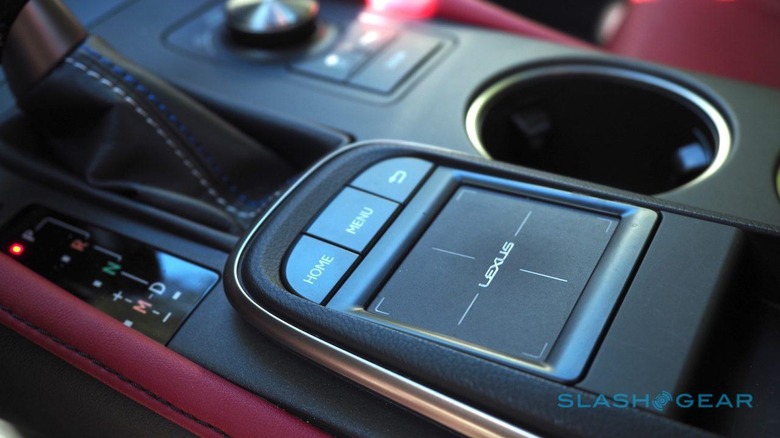 Lexus is clearly capable of doing so much more, as the pristine interior of the upcoming LC 500 demonstrates, not to mention the new infotainment system previewed in the recent UX concept. When that will trickle down to the rest of the range remains to be seen.
Should you buy the Lexus RC F? There are plenty of companies eager to sell you a coupe in the $70k bracket, not least BMW's excellent M4. That kicks off at $66,200 though climbs rapidly as you add the necessary kit to compete like-for-like with the $62,805 RC F (as tested; the 2017 model year now starts at $64,165).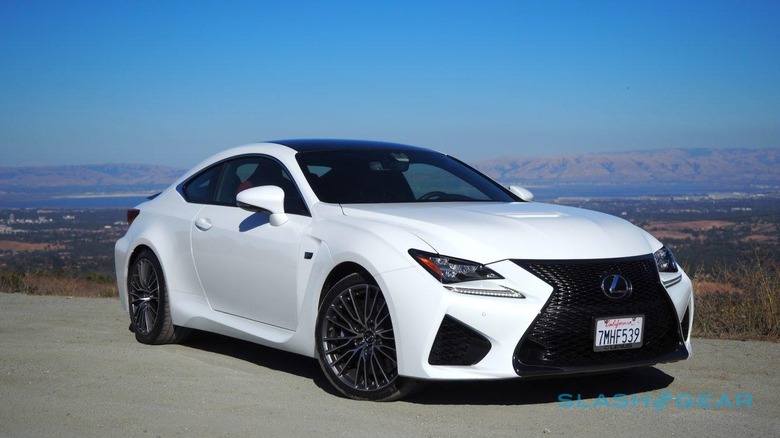 Of course, when you add the $5,500 Performance Package for its trick differential you're up to $68,305. For this particular car, Lexus also threw 19-inch split alloys, triple-beam LED headlamps, nicer leather and ventilated seats, a Mark Levinson 835W audio system, and park assist into the mix, bringing the whole thing to $77,905 including destination.
NOW READ: Lexus GS F Review
The BMW's lighter curb weight pays dividends in performance – 0-60 mph in 3.9 seconds versus the RC F's 4.4 seconds – though it can't compete with the Lexus' accompanying soundtrack. Big, naturally-aspirated engines are increasingly rare these days as automakers look to balance performance with economy, and I give Lexus credit for sticking with its hefty V8.
Rationally, you'd choose the Beemer. Lexus, though, deserves no small amount of praise for its commitment to naturally-aspirated engines, the cleverness of its torque vectoring differential, and the resulting snappy-tail, sweet-sounding combination of the two, and I couldn't blame you if that engine howl was enough to tip your hand.