Lexus UX Concept will make you feel like a superhero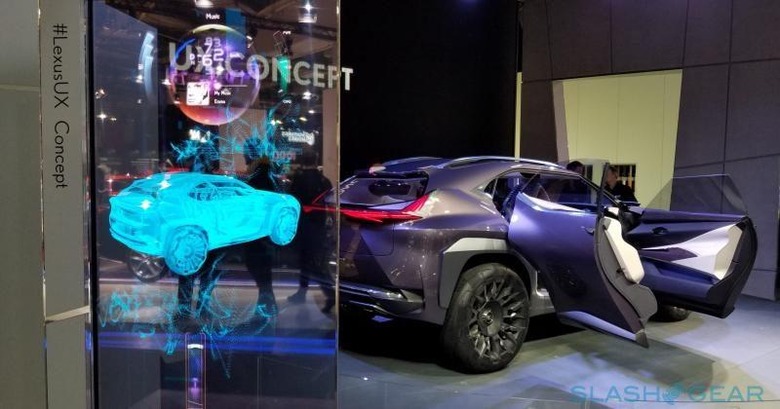 Concept cars are used to showcase more than just the latest but also the future of car designs and technologies. But some concept cars just take that to the extreme. Take the new Lexus UX Concept shown off at the Paris Auto Show. While still called an SUV, it might defy all preconceived notions of a rugged, aggressive 4x4. That's because the Lexus UX Concept, both inside and out, feels like car straight out of a comic book, or a movie tie-in even.
To call the Lexus UX Concept "futuristic-looking" might be the understatement of this year's auto show. Touting what its designers call an "inside-out" design, both the shape of the car as well as the structures inside are supposed to exude a human-centric focus. Instead, it might actually give off the impression of a superhuman driver.
The car almost looks like it has mini wings, which flow into the cabin to house e-mirror screens that display images from the door-mounted rear cameras. The wheel spokes look like they're connected to the side walls, thanks to a laser-carved rubber inducing an optical illusion. Looking inside feels like you were really looking at the insides of the car, with a design that seemingly shows off the skeletal structure of the car.
That futuristic character of course continues to the technologies inside the Lexus UX Concept, which makes judicious use of cameras and mirrors. E-mirror cameras take the place of traditional door mirrors, displayed on embedded internal screens. Controls are electrostatic and windows are electrochromatic. There is even a trackpad control built into the driver's door armrest panel.
Of course, as a very futuristic concept, we might not see anything resembling the Lexus UX Concept within a few years. But that's OK, because Lexus's target is a younger audience of "Urbanites", the ones that well might remember the superhero films of this decade.