The Dodge Challenger R/T Scat Pack Is 485HP Of Tire Hate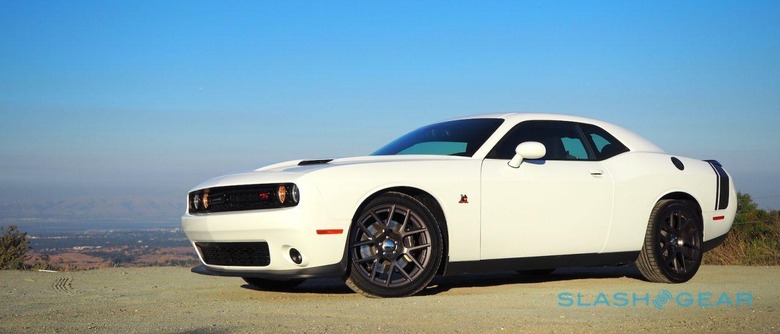 You know what you're getting with a Dodge Challenger: some good, old-fashioned American muscle. In the somewhat confusing – unless you're a super-fan – line-up of trims, tunes, and general craziness, this 2016 Challenger RT Scat Pack strikes its balance near the top of the tree. No, it doesn't have the ridiculous 707 horsepower of the infamous SRT Hellcat, but its $38,995 sticker is also twenty-five grand cheaper.
It's not like Dodge is short-changing you on power, either. The vast 6.4-liter 392 HEMI V8 is good for 485 HP and 475 lb-ft of torque. Its makers quote a "low 4-second range" for 0-60, and a top speed of 182 mph if you can find a suitable straight.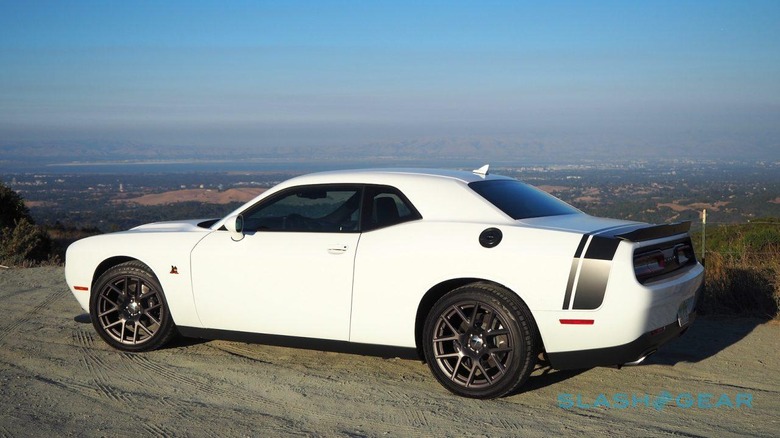 The closest comparison isn't the fearsome Hellcat, of course, but the Challenger SRT 392. They share the same engine, in fact, though the SRT 392 does get some extra bells and whistles to justify its premium. Bilstein sports suspension and 4-piston Brembo brakes are the main difference – the more expensive car switches those for adaptive suspension and 6-piston anchors.
Dodge will sell you a six-speed manual, and I suspect the purists would take it, but the $1,400 TorqueFlite 8-speed automatic with its paddle shifters is a sensible and capable alternative. Not only is it miles better than Dodge's old 5-speed auto, it's well suited to the act of pointing the Challenger's big, angry grille at a road and hurling yourself along it. Its Sport mode is a particular pleasure, with all the soundtrack and downshift rev-matching you'd hope for.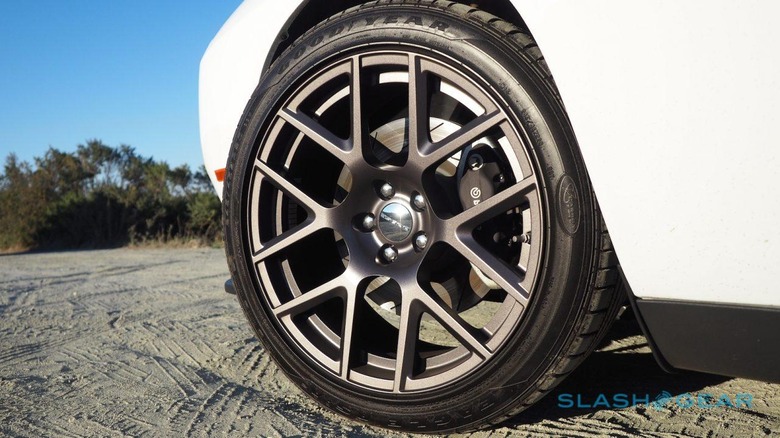 It may be shod with big, 20-inch alloy wheels and 245/45ZR20 all-season performance tires, but it doesn't take much to lose traction. In fact, the Challenger R/T Scat Pack is, seemingly, designed for the express purpose of spinning your wheels. Pulling away from intersections smoothly demands a careful balance of throttle: smoky drag strip starts are fun at first, but not especially practical.
They probably fit with the aesthetic, Dodge's already-retro-when-it-arrived design has aged well, though some colors flatter the big body more than others. The bright white of this particular car, with its contrasting black stripes, helps disguise what's actually a pretty big coupe. As the orange of the daytime running lights glows balefully, either side of the narrower front grille that was introduced in the 2015 model year – here gloss back as part of the $1,195 Scat Pack Appearance package – you could easily believe that the Challenger is out for blood.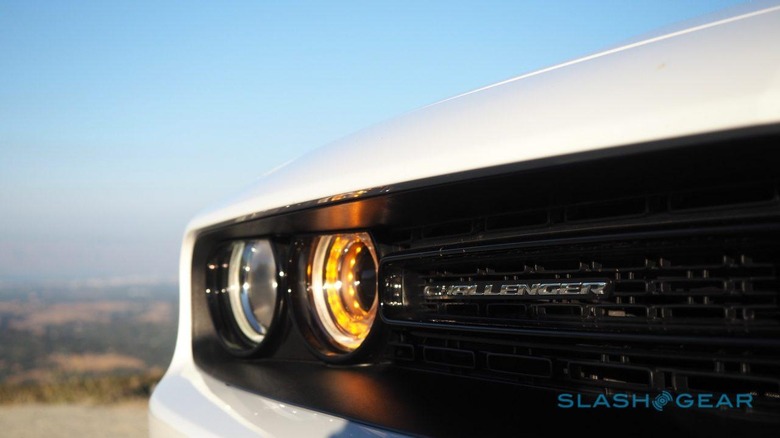 Maybe not blood, though, but just rubber. Were I a paranoid man – the sort to rant about email servers, or scream until hoarse about tax returns – I might even suspect Dodge of being in bed with Big Tire. More likely, though, the Challenger is just a muscle car of the old school, and the Scat Pack's excesses only magnify that fact.
It's at its most stark when you consider the Dodge's natural competition. Both the Mustang and the Camaro have embraced cornering: in their current incarnations, they pivot with ease. The Challenger, in contrast, requires a heavy stomp on the brakes to slow before you tackle tighter turns. At more than 4,000 pounds there's a lot to slow and a lot to turn.
Inside, the seats may be cloth-covered but they're well padded and bolstered. Dodge's instrumentation has a charmingly 60s-rocket-ship feel to it, though the analog dials flank a sizable display and there's a big touchscreen in the center console: 7-inches as standard, but upgraded to 8.4-inches with navigation and HD radio/SiriusXM as part of the $795 Uconnect 8.4 package. It's easy to use, and Dodge hasn't succumbed to the temptation to do away with all physical buttons and controls, so you can still change the volume or adjust the HVAC without digging through menus.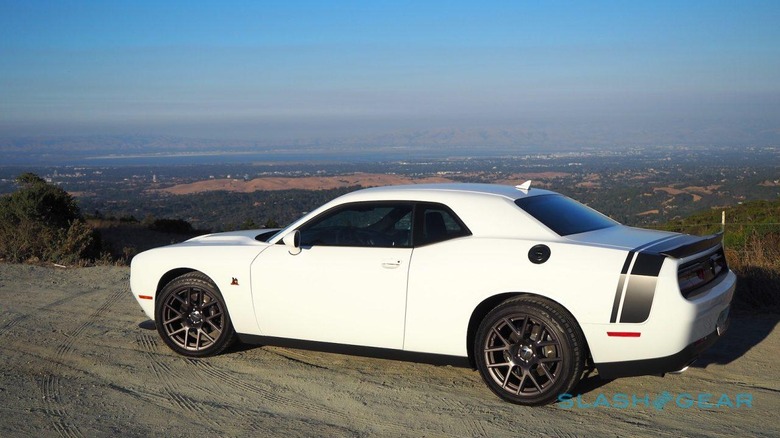 In fact, the Challenger is astonishingly practical for a coupe. That big body pays dividends, with back seats that fit adults without demanding yoga classes first, not to mention a sizable trunk. 16.2 cubic feet is nothing to be sniffed at, and you the rear seat has a 60/40 split too. This is no economical family runabout, mind: the EPA says 15 mpg in the city, 25 mpg on the highway, and 18 mpg combined. In my own mixed driving, I saw 17 mpg on the display.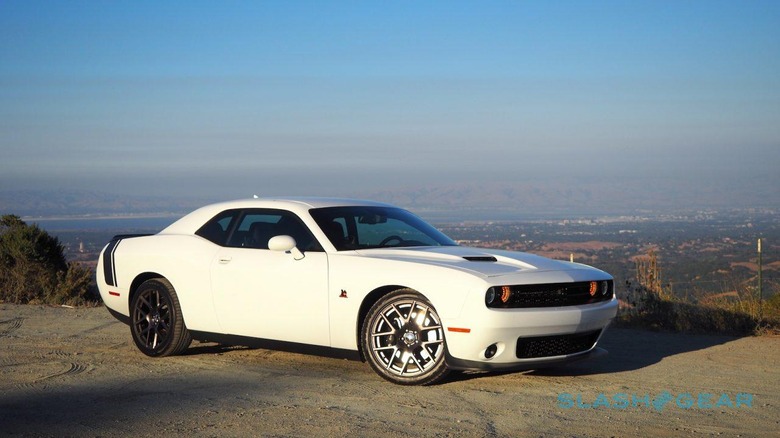 Still, it carves out a niche for itself that neither the Mustang nor the Camaro quite come close to. With its compliant ride and sizable interior dimensions, the Challenger straddles the line between being family-friendly and still saving some excitement and character for the times you want to have fun. That it comes in at under $40k – though you're looking at $43,475 for this particular example – makes it practically a bargain.
Forget the Hellcat, that's a number-chasing distraction. Dodge has made one of the most entertaining family cars around, but hidden it in a completely different segment. Performance that once would've made it a supercar, but at a fraction of the price, is no small achievement. Just make sure you budget for new tires.