2016 Chevrolet Volt now has a price tag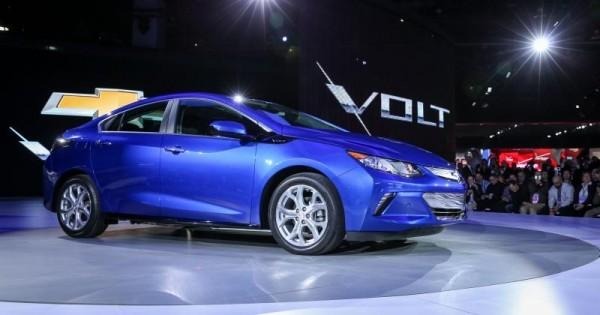 It seems that Chevrolet is going full steam ahead with the 2016 model of its hybrid electric vehicle, the Chevy Volt. Now it has a price tag in the US, and an even sweeter deal for those in California. But while it's mentioned to be cheaper than the current Volt model, it is only slightly so. The 2016 Volt carries an MSRP of $33,995. And in $825 for destination fees, which doesn't include tax, title, license and dealer fees, and you're just $1,200 shy of the current Volt titleholder.
The new Volt was unveiled at the Detroit Auto Show early this year. For this model, GM concentrated on what it said was what Volt owners clamored for. Based on their studies, drivers rarely resorted to the range extender, its term for the gas-powered engine of the Volt. And so they upped the mileage of the electric engine, now boasting a good 50 miles, a 12 mile increase from its predecessor. Chevrolet claims that this means 90 percent of trips will be powered solely by electricity.
After a full federal tax of $7,500, the highest amount the range can go, the 2016 Chevrolet Volt will have a price tag of of $26,495. But that's only the starting price, as configuration options will, of course, add up. California, touted to be the Volt's largest market, enjoys the singular privilege of slightly lower prices. The 2016 Volt there will start at $24,995 instead.
Chevrolet seems quite confident about the prospective success of its 2016 Volt, this despite the looming suspension of the production of the current Volt. Partly to give way to the production of the 2016 model, the production is also being halted due to the slow sales of the Volts. Chevy claims, however, that the Volt has the highest number of trade-ins for any Chevy nameplate, with 70 percent of Volt owners trading in a non-GM vehicle.
The 2016 Volt might be facing a bit of competition, if not confusion, from its own ranks. Quite strangely, GM decided to name its full electric vehicle as the Chevrolet Bolt EV. GM actually thinks this potentially confusing naming might be to the Bolt's advantage. That is, of course, if the 2016 Chevy Volt becomes the success that it expects. Details on the Bolt EV are thin at this point, without a production date yet but already with an expected MSRP of around $30,000.
SOURCE: Chevrolet