2015 Lexus IS 250 Review - Distinctly Divisive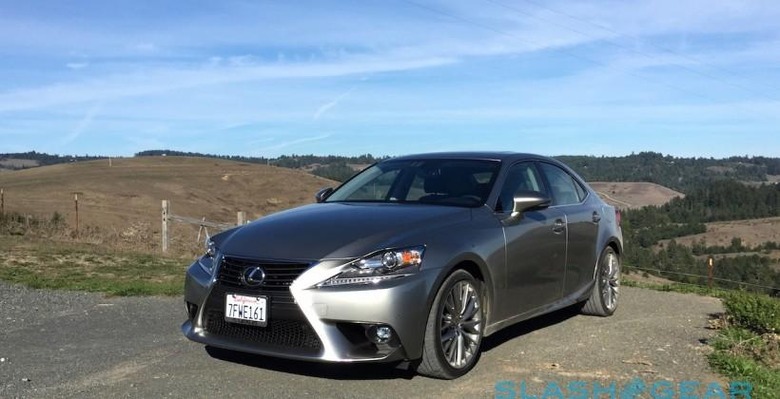 It's never been tougher to be a small, sporty sedan. Luxury buyers are being wooed by the segment above, while the gradual up-speccing of full-sized sedans below is making it harder and harder to stand out. Factor in the growing number of more practical coupes on one side, and nimble sports crossovers squeezing in from the opposite direction, and the risk of being seen as a staid four-door is considerable. Lexus' answer to that in 2013 was the new IS, a stark departure from the company's previous playbook, and it's the 2015 IS 250 that's been on my drive trying to coerce me from behind the wheel of a BMW 3 Series, Mercedes-Benz C Class, or Audi A3.
Lexus' approach in 2013 was to ditch its staid, easily-forgotten designs of before, and go instead for something more polarizing with the IS. The "spindle" grille – with its Predator's maw overtones – and sharp creases and curves may not have been to everybody's tastes, but they at least avoided the cardinal sin of being dull.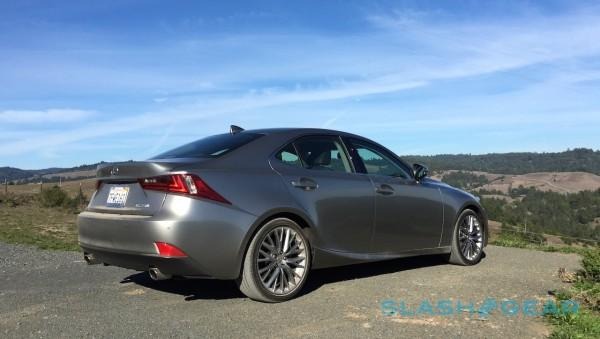 I've been a fan of the styling from the initial launch, and even after some time on the road I still think the IS looks sharp. Much of it is in the detailing: the just-right kick of the daytime running lights, like a Nike swoosh for each headlamp, and the segmented illumination of the pinched tail lamps, for instance.
Then there's the curve that starts at the base of the rear doors, cuts up through the wheel arches, and then slices into the rear light clusters. It looks as though the IS caught the whistling tip of a Samurai sword that makes the whole back end look cohesive without resorting to over-complex surfacing.
At a time when BMW's sedan styling has reached the point where you need to be a minor expert to tell the difference between 3, 5, and 7 Series, when smaller Audi's have homogenized into something sturdy, certainly, but nowhere near playful, and Mercedes-Benz's C Class is doing its level best to channel the S Class, the IS is gratifyingly eye-catching. It might not always prove pleasing to those eyes, but I'd rather that than the Mogadon of Lexus' past.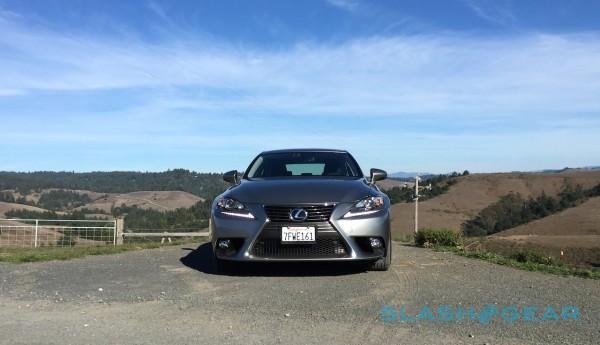 For 2015 the changes have been restrained. On the outside, you'll have to be particularly familiar with the IS to spot the LED foglights; on the inside, there's some tweaking to the dashboard trim, along with the addition of Siri Eyes-Free.
The IS 250 is Lexus' entry-level sedan, with a 2.5-liter V6 good for 204 HP and 185 lb-ft of torque; Lexus quotes a 7.7s 0-60 mph time. It's available in RWD or AWD forms, though only comes with the six-speed auto – the RWD IS 350 can be had with an eight-speed auto.
Above it is the IS 350, with a 3.5-liter V6 pumping out 306 HP and 277 lb-ft of torque, and finally the IS 350 F SPORT. As with Lexus' other F SPORT branded cars, you don't get any more power, but instead a new body kit and wheels along with suspension, steering, and other dynamic tweaks.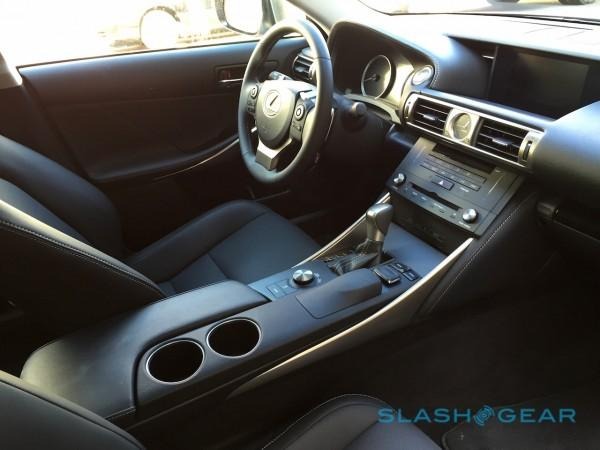 I'm a fan of the F SPORT series – the IS F, which is really now an IS in branding only but gets a crazed 5-liter V8, is distinctly "un-Lexus" in its performance – but there's something satisfyingly balanced about the base IS 250. Part of that is down to the gearbox mapping, which prioritizes zip over highway cruising.
It means the IS 350 feels like more of a commuter car, whereas it's the smaller engine that encourages you to push ahead. Sure, this isn't a true sport sedan – the engine noise would need to be more satisfyingly growly for that – but the electric power steering feels well connected and in Sport mode there was no wallowing, even as I tackled some of the more ambitious coast roads.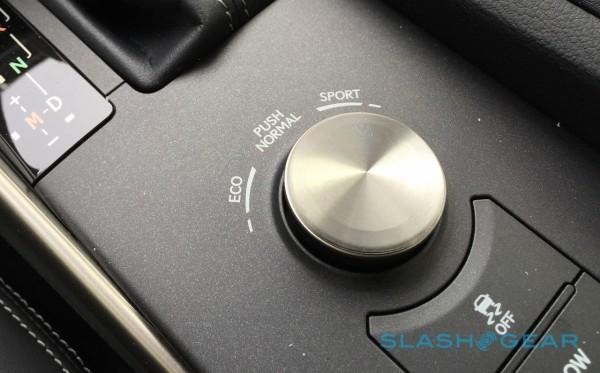 With a mixture of city and highway driving, as well as some twistier coast road fare that showed how well Lexus has set up its chassis, I saw 23 mpg. It's worth noting that I turned off the automatic Eco mode option after a short period of city driving, finding it occasionally left me feeling underpowered when pulling away at junctions; you can always switch it on manually, after all.
Inside, the interior that 18-24 months ago felt eye-catchingly futuristic is now more mainstream. Having found myself back in the pre-release NX a few weeks earlier, it was noticeable how much more distinctive the crossover's cabin is than its IS cousin.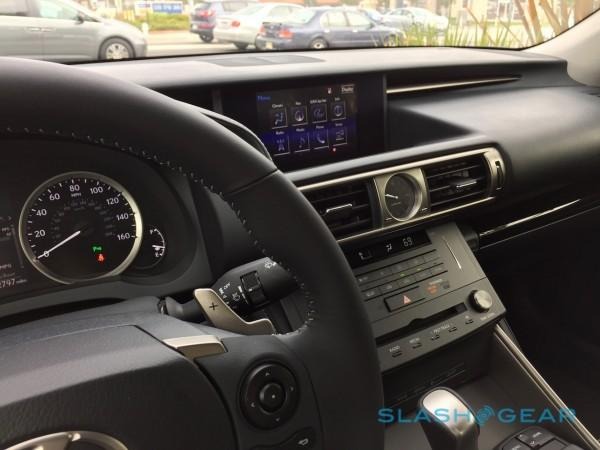 That's not to say it's a bad place to find yourself. The standard seats are comfortable and well-bolstered, though push them back to accommodate a taller driver or front passenger and legroom in the rear becomes noticeably tighter. Most of the places your fingers will find themselves touching on a daily basis are soft-touch plastic or faux-aluminum; the latter isn't the most convincing I've seen, but at least it's not plastic wood.
Dials and buttons are clear, though the driver display is prone to washing out if sunlight hits it at the right angle. I'm torn over the HVAC controls, too: the buttons are great, just the right balance of firm and squish, and the "auto" mode actually does a decent job of keeping you in the comfort zone rather than blasting between frigid and boiling, but the touch-sensitive temperature control strips are finnicky. A couple of buttons would've been better.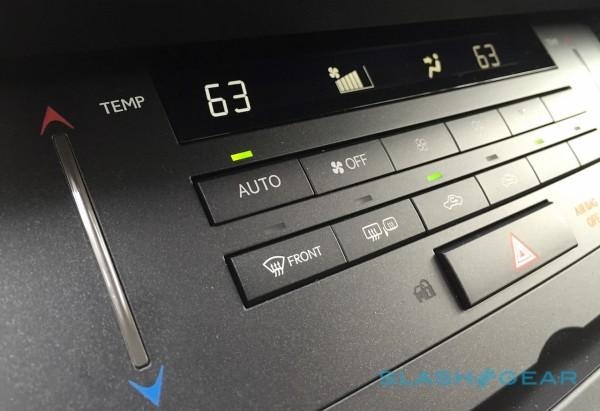 Lexus' infotainment system is a lesson in why input matters. It's comprehensive, certainly, especially when you tick the navigation system option on the order form: everything from the basics, like Bluetooth hands-free and music streaming (with support for text messaging and synchronizing with your contacts), SiriusXM, traffic alerts for route guidance, and remote operator support for finding and setting destinations
Everything centers around a reasonably-sized non-touch LCD up on the top of the center stack, with a smaller color display sandwiched in-between the speedo and rev counter in the driver binnacle. They're not the highest resolution I've seen, but they're happily a long way from some of the gritty, low resolution screens you find in some vehicles.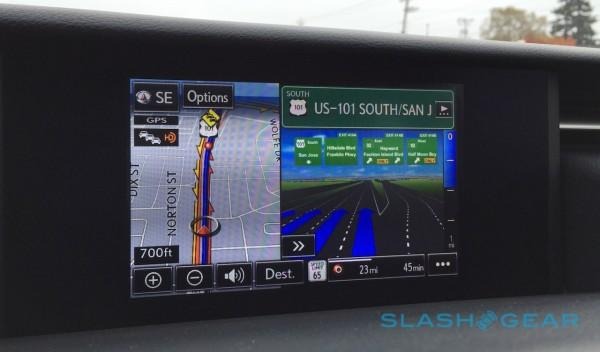 The frustration is the squat little joystick used to wander through the menus. Rather than being center-biased – returning to the middle point when you release it – it notches around with silent clicks (accompanied by metallic "bloops" from the audio system).
It's all too easy to overshoot where you're aiming for, particularly with the on-screen keyboard where Lexus uses auto-prediction to blank out all but the letters that could possibly be coming next. Clever enough, sure, but your brain has already thought ahead to where you'll be moving the joystick next, without taking into account what letter options are now bypassed.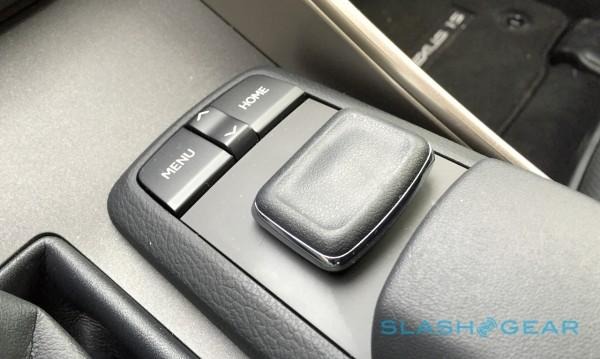 Now, Lexus does have a better system in-house, in the shape of the haptic trackpad found in the Nexus NX crossover SUV. Unfortunately that's yet to be ported across to the IS.
Neither do you get either CarPlay or Android Auto. Siri Eyes-Free does at least work well, and certainly better than Lexus' own voice control system, which repeatedly struggled to recognize addresses (even when I faked an appalling American accent, which has been enough to coax some cars into playing ball).
There's no wireless charging for your phone – even though there's a flat space under the driver's armrest where a Qi plate would fit perfectly; even the large Nexus 6 fit there comfortably, even though it wouldn't stand in one of the too-small cupholders which are also too far back down the center console for comfort.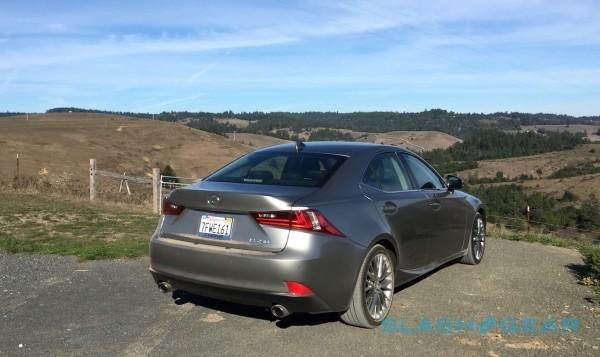 It's a shame, because Lexus – and the IS specifically – used to effectively lead the pack in terms of in-car tech, and that's no longer the case. The fact it's taken so few model year changes for that to happen is a sign of just how rapidly this particular section of the car industry is evolving.
The other big gap in the American IS line-up is a hybrid. That's an odd situation for Lexus to find itself in, given Toyota is such a driving force in gas/electric cars, and indeed there's a hybrid option for most every other Lexus. I still carry a torch for the excellent GS 450 Hybrid F SPORT – now thankfully available in the US – which shows quite how well Lexus can do sporty while maintaining its eco-credentials. Europeans get the IS 300h, good for 220 HP, but Americans are out of luck.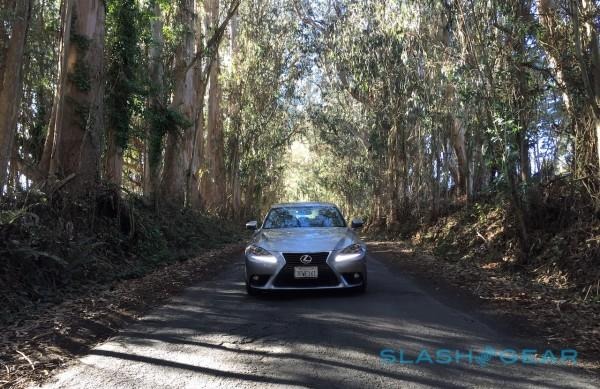 It'd also be interesting to see how the 2.0-liter four-cylinder turbo from the NX crossover would work in the IS, since the homegrown turbocharger has impressed me so far.
A hybrid IS F SPORT – which doesn't, in fact, exist anywhere – might be my dream of the range, then, but were I buying my own IS, it would be the 2.5-liter V6 I'd opt for. It's perkier than the 3.5-liter, not to mention more affordable from $36,550. Meanwhile, though the $39,085 AWD is sure-footed, I'd probably stick with the RWD, too, and spend the difference on the $4,723 Navigation Package.
Picking a Lexus used to be the automotive equivalent of opting-out. Ironically, as the German rivals in the segment mature, all of a sudden the IS starts to feel like the wildcard option. Well-constructed, reported reliable by owners, and sensibly equipped, if the looks are to your taste then it's a distinctive car that still has a little rarity on the road. Not everybody will like it, but then that's half the appeal.
[Update: Corrected details on the RWD/AWD drive modes. Apologies for any misunderstanding caused]