2015 Lexus NX first-drive: Crossover Crunchtime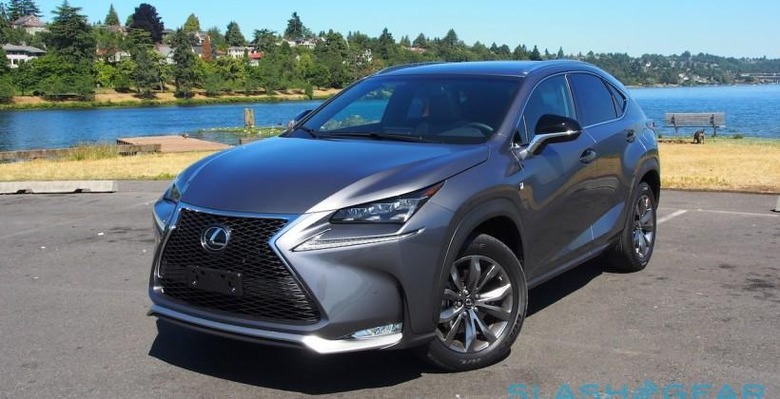 The 2015 Lexus NX isn't your accountant's Lexus. Aggressively designed, and breaking new ground for Lexus with its first turbocharged engine, the new NX attempts to distill what has worked for the RX into a package more appealing to hip urbanites, young families, and those who might more regularly find mountain bikes in their trunk than Whole Foods bags. True to recent form, there's even a warmed-up F SPORT version to offset the hybrid worthiness just a little. The NX doesn't hit the US officially until the end of this year, but I grabbed some early time behind the wheel to see how it's shaping up.
Design
The original Lexus SUV was an amorphous blob on wheels, a leather-lined bubble more focused on cosseted transport than breaking any style boundaries. Seven years on, the crossover market Lexus arguably helped create has surged exponentially, and design is key in the purchase decision.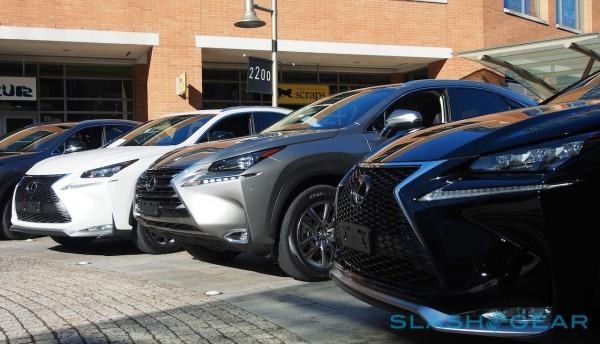 In fact, Lexus says the potential buyers it polled didn't even want to consider utility: they wanted something distinctive and clearly styled; something that would get them stared at while pulled up at a stop sign. The 2013 LF-NX concept telegraphed such criteria loud and clear, and the company has done a more than reasonable job in translating motor show stand excesses to the real-world.
As you might expect, it looks better from some angles more than others, primarily those which show off the interplay of differently twisted surfaces. Viewed straight-on from the back, the NX shares the slope-sided rear of the RX, and it's only when you get to the rear three-quarter aspect that the sharp crease lines really begin to stand out.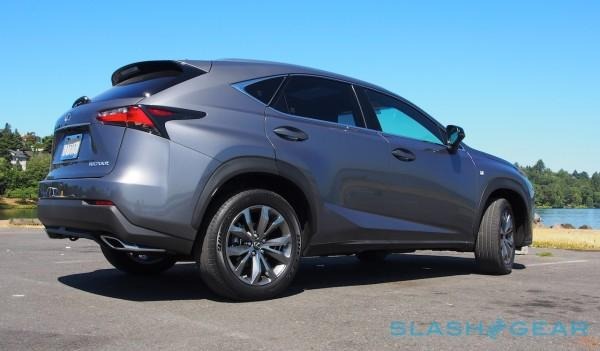 From the side, the high shoulder-line gives the car a beefy, solid stance, helped by the standard 17-inch aluminum-alloy wheels (18-inch split-rim 5-spoke alloys are an option, and the F SPORT – more on which later – gets its own wheel design).
The front bears Lexus' divisive spindle grille, a pinched hourglass of a chromed maw. It's polarizing, but I think it suits the NX's overall look, and I'd rather have Lexus push its own design envelope than play safe as per its anodyne cars of old. Flanking it are the distinctive light clusters borrowed from the IS, with LED daylight running strips in a twisted L-shape underneath the regular beams.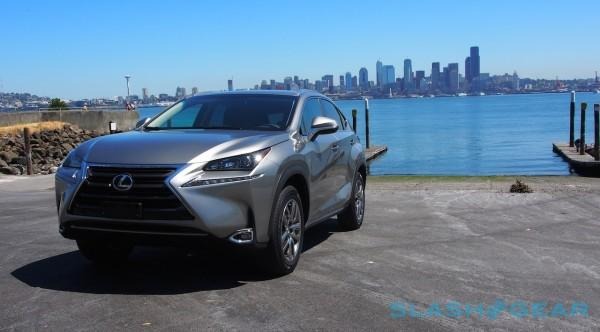 As standard, the NX gets LED low-beams and halogen high-beams, but a premium option switches the halogens for more LEDs – 39 per cluster in total, since Lexus packs some more into the daylight runners – each segmented into angrily-squinting blocks. It's not the only fancy lighting, either: fog lamps that swivel with the wheels to light up upcoming corners are an option, while the exterior door handles are illuminated and there are puddle lamps to guide you in the parking lot.
I expected the NX to be smaller, the original concept more akin to a futuristic Martian buggy than a city-dweller's SUV. In fact, it's a fairly large car: akin to Audi's Q5, and actually a couple of inches larger in all directions than the original RX. Lexus USA is making a conscious decision not to talk about anything quite so mundane as golf bags – lest it scare off the trendy singles and couples in their 30s and 40s it hopes to sell 3,000 cars a month to – but concedes that it managed to get four full-sized sets of clubs into the NX's trunk, something none of its segment rivals could achieve.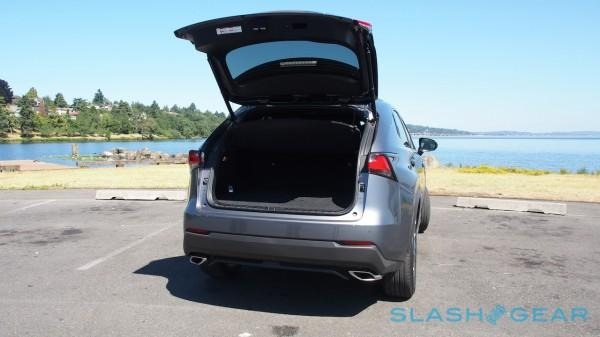 That's helped by the broad load area with minimal arch intrusion, though even with the 60/40 split rear seats folded (power-folding optional, as is a power rear hatch) the NX falls short in pure cubic feet against the competition. There's 17.7 cubic feet with the seats up, and 54.6 with them down; Lexus is also particularly proud of its folding cargo cover, which tucks under the trunk floor when not needed, but a retractable fabric cover would arguably do much the same thing.
Still, it's a sign of just how much thought Lexus has put into the packaging. The NX seemingly has a constant supply of such tricks and feints: the manual key mechanism is hidden in the door handles themselves, for instance, only visible when you pull the handle out. At the rear, the sharply pronounced tail lamps use special light-guiding lenses to span the join between hatch and body, so that they appear contiguous when lit up.
Engine and Performance
Lexus will launch the NX with two engine options, the entry-level NX 200t getting a 2.0-liter turbocharged 4-cylinder, while the NX 300h gets a 2.5-liter 16-valve engine paired with electric drive. The former is Lexus' first turbo engine, a homegrown twin-scroll system paired with a 6-speed auto transmission. The company is particularly proud of the fact that, despite the extra complexity from the turbo, it has the same 10k mile service interval as the normally-aspirated car.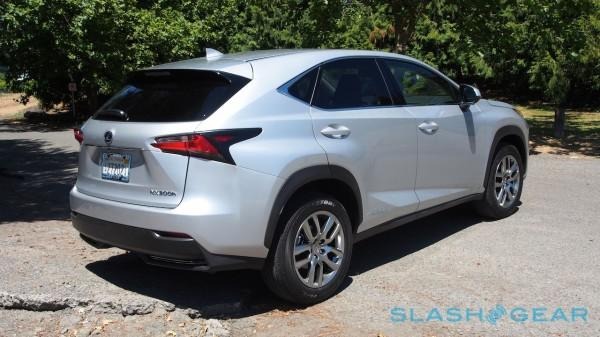 Front-wheel drive and all-wheel drive options are on the table, though the two cars deliver AWD in different ways. For the gas-only engine, there's an active torque control system with a compact rear differential with electronic coupling. Most of the time it's in FWD mode, but it can split power 50/50 between the front and rear when needed, such as during acceleration, or indeed lock the diff for snow or ice.
The hybrid, meanwhile, doesn't have the center differential, but instead can feed power to the electric motors driving the rear wheels when necessary. It also uses an E-CVT transmission, and can be switched into EV Mode, though there's only the barest of support for electric-only driving: about half a mile and at no greater than 25mph.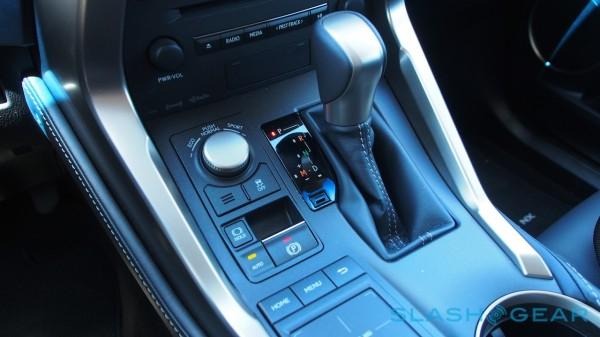 Whichever drivetrain, the NX rides convincingly. Poor road surfaces can coax a little rumble out of the chassis, but the SUV handles neatly, and you can switch lanes with a swift flick of the wrist without leaving passengers seasick. IS drivers will find the steering lacking some feeling, but that's arguably not something SUV buyers will worry so much about; it firms up a little in Sport mode, which shares a dial with Normal and ECO modes.
Lexus' six-speed auto does better in Sport, too, holding lower cogs for a little longer and proving less ponderous in shifting. There were a couple of occasions when the NX was left hunting for the right ratio momentarily, though it's worth noting that the cars I was driving weren't final, and there'll be changes made before the official US release later in 2014.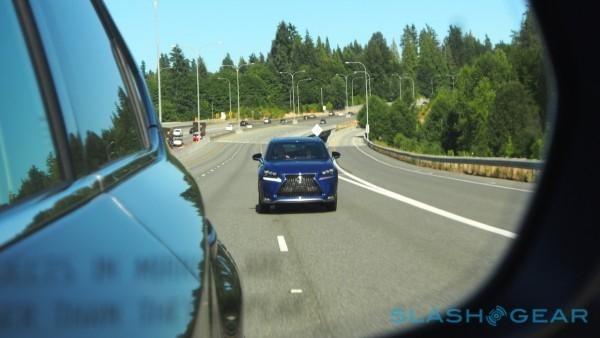 With 235 HP and 258 lb-ft of torque, the NX 200t isn't exactly a Nürburgring candidate. Lexus quotes a 0-60 mph timing of 7.2 seconds in the FWD model, though the AWD's power split system shaves 0.2 seconds off that. Fuel economy hasn't been officially EPA tested yet, but Lexus expects 21/28/24 mph for city/highway/combined for the AWD (the FWD will do a single point better in the city, Lexus predicts). With mixed driving, I saw 26 mpg accordion got the onboard computer.
Those of a frugal mind would probably lean toward the hybrid, however, and indeed the NX 300h is expected to deliver on economy: the FWD gets preliminary estimates of 35/31/33 mpg, while the AWD is aiming for 33/30/32. There are compromises to get there, however: just 192 HP and 152lb-ft of torque, and a heavier car too, thanks to the twin battery packs Lexus hides under the rear seats.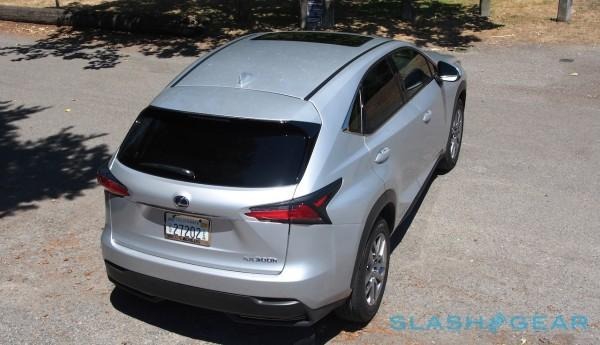 The result is a less perky driving experience, with the NX 300h proving more reluctant to wind its speed up. 0-60 mph comes in 9.1 seconds, and the CVT feels more leisurely in its attitude than the regular auto. Regenerative braking, meanwhile, is firm, and I can't really fault the way either model hauls to a halt.
An option is Dynamic Cruise Control, which can automatically maintain a certain distance between the car in front and the NX. However, unlike similar systems I've driven, it only functions up to 37 mph, and if you come to a full halt you'll need to re-engage it before the NX will pull away, making it more of a city driving courtesy just like the auto-holding brakes that keep you in place while you're stationary but still in gear.
F SPORT
Lexus continues to take its sports branding seriously in the US, buoyed by recent sales successes in the IS. In fact, 50-percent of IS buyers go for the F SPORT versions, and are on average 5-12 years younger than their non-F counterparts. Ambitions for the NX 200t F SPORT are slightly less ambitious – Lexus expects 20-percent of NX sales to be the sporty variant, figuring 10-percent will go for the hybrid and the remainder the regular 2.0-liter – but it's still the model I'd spring for.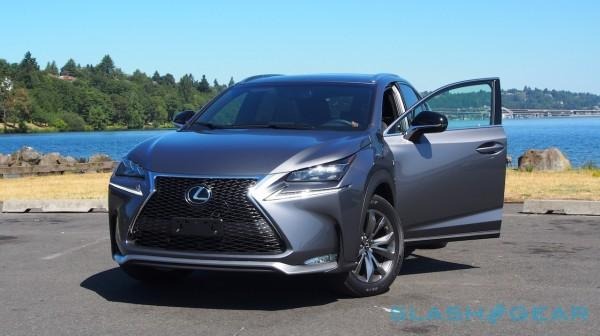 As with other F SPORT cars, you don't actually get any engine or power changes. Instead, the modifications to the NX are all either aesthetic or to the suspension.
In the former category, the whole lower front fascia of the car is changed, with a larger grille with L-mesh finish, and more distinctive chin spoilers. The wing mirrors get a black finish, and there are new wheel options: 18-inch split 5-spoke aluminum alloys with a black paint and machined metal finish are standard, but the NX 200t F SPORT can be had with dark metallic versions instead. In addition to the regular colors, there's an exclusive Ultrasonic Blue Mica paint that only F SPORT buyers can select.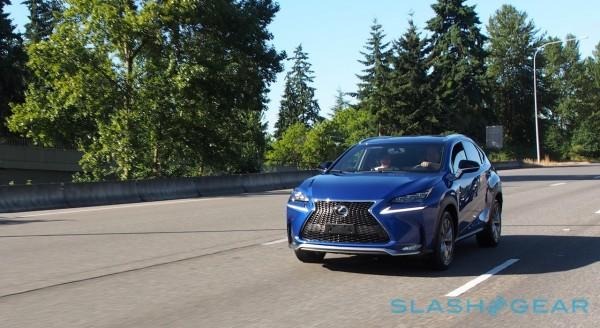 Under the surface, there's special sports-focused tuning to the suspension springs, shocks, power steering, and other components, while the regular dampers are switched for monotube-style versions which increase rigidity. The result isn't, thankfully, like driving a rock, and in fact though the F SPORT is certainly taut, it's also less prone to wallow than the regular car, which I preferred.
Inside, there's an F SPORT wheel, paddle shifters, and seats with extra bolstering, and Lexus takes a new approach to making them by first stitching up the covers and then injecting foam, rather than the less-supportive opposite method. They're definitely comfortable, hugging the body nicely and with plenty of adjustment options.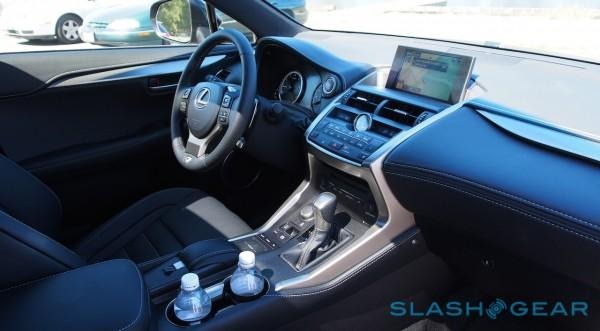 On the dash, there are unique F SPORT gages, and an optional display to show turbo boost level and longitudinal/latitudinal G-forces. Whether you'll ever be pushing the SUV to the point where those are necessary is questionably, mind, though like the added aluminum trim it does leave the car feeling a little more special.
Interior
That's not to say the regular NX is lacking in the interior. Leather may be an option – the base cars get NuLuxe synthetic leather – but even the artificial stuff is highly convincing, and the contrast stitching looks great. The standard seats aren't quite as cosseting as their F SPORT counterparts, but they're still firm and comfortable, and can be optionally had with heating and cooling up-front.
In the rear, the sloping roofline cuts into headroom, and those above six foot might find themselves brushing the lining. Leg room is fair, though, and with the optional panoramic glass roof there's plenty of light.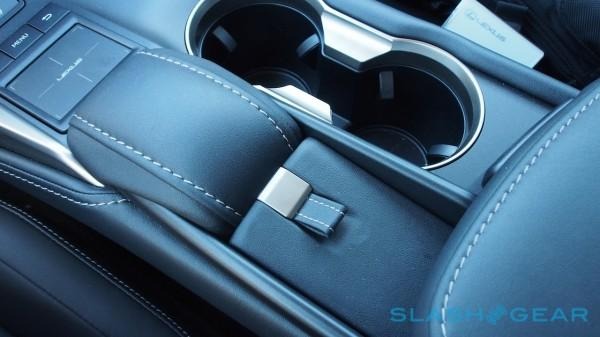 The NX's dashboard resembles a steep cliff with sharp silver scaffolding bracketing the center console. Atop the stack is a 7-inch display that looks like it should fold away when powered off, but doesn't, followed by the air conditioning controls, some buttons and knobs for the radio, and finally the parking brake switch and gear shifter.
Lexus layers up different materials with various gloss and matte finishes, and the general look is good. Not everything is soft-touch, however, and while most of the points of common contact are pleasing under the fingers, the jutting chunks of silver plastic in the middle don't come close to resembling brushed aluminum. The analog clock feels out of place in the otherwise high-tech dash, while the twin HVAC displays – for the standard dual-zone climate control – flanking it can be washed out in sunlight.
Nonetheless, there are some considerate touches, though perhaps of arguable usefulness. A "why didn't they think of that before" is the extra-grippy lining to the bottle holders, which is tenacious enough that you can twist and break the seal on a new bottle with only one hand. Overhead lights illuminate with a touch rather than a button. More gimmicky, however, is the sunglasses nook alongside, the magnetic lid of which has a mirror underneath.
Tech and Infotainment
After years during which the most exciting thing to happen to in-car entertainment was a six-CD changer in the trunk, the dashboard wars are finally heating up. The NX makes a solid stab at being the high-tech infotainment setup for the everyman, but I found it to be only a partial success.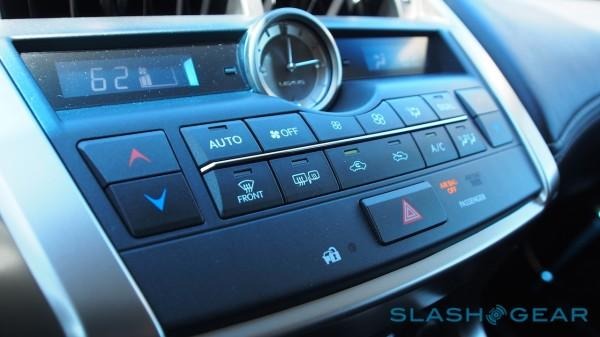 First, the basics. There's a single CD slot, AM/FM radio, SiriusXM, Bluetooth, and eight speakers as standard, along with a USB 2.0 and aux-in jacks. Upgrades include ten speakers and 3D navigation, also throwing in a second USB port in the process, and all versions get Lexus Enform, the company's app suite for things like Pandora, Bing search, Facebook Places, and Yelp, as well as remote-start, automatic alerts after crashes, and weather/traffic reports.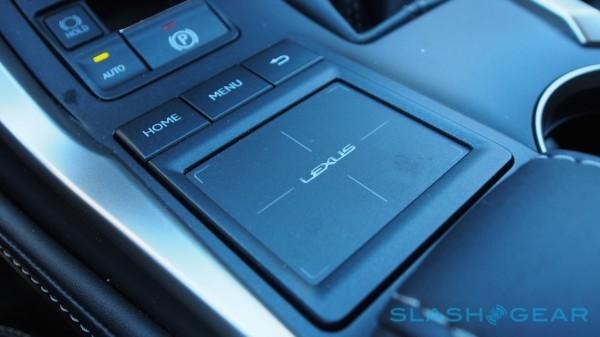 It's controlled, in cars equipped with navigation, with a new trackpad, replacing the mouse-esque controller on the IS and other Lexus models. Dubbed the Remote Touch Interface, it's effectively a touchpad that can be tapped, swiped, and pinched to navigate through the UI, with the whole 'pad pressing down to select, and buzzing with adjustable haptic feedback as you move between options on the VGA-resolution center display.
Lexus' old controller was an ergonomic low-point, and thankfully the trackpad is an improvement. However, I'm still not convinced it's better than a more traditional joystick/rotating knob as other manufacturers have opted for – and, indeed, as NX models without navigation are equipped with instead – or a touchscreen. There's no support for sketching out letters for text entry, as you get in Audi's cars.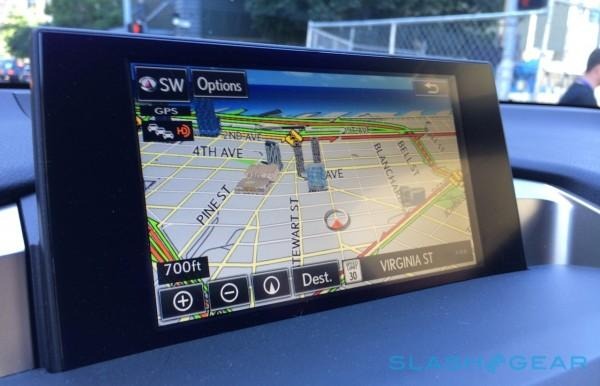 Complicating things is the sometimes-overloaded UI of Lexus' system. The main menus are clear enough, albeit with options spread across too many pages, but switch to turn-by-turn directions and things go downhill. There's simply too much on-screen at any one time: I really don't need persistent icons to tell me there's a GPS signal, or that HD Traffic is switched on, and the icon to go back to the main menu is right above the next-turn icon, meaning sometimes you can have two arrows pointing in different directions, stacked right on top of each other.
It's not all bad news. Lexus' 3D cities are neat, and the voice recognition system is a solid step-up from earlier cars, using Nuance technology that actively learns from repeated use. Pair up a smartphone over Bluetooth and the navigation will bring up POI results both from its own database and online, through Bing, showing only the most up-to-date information. Upcoming turns are telegraphed clearly using both a split-screen UI on the main display, and the 4.2-inch driver information screen sandwiched between the gages.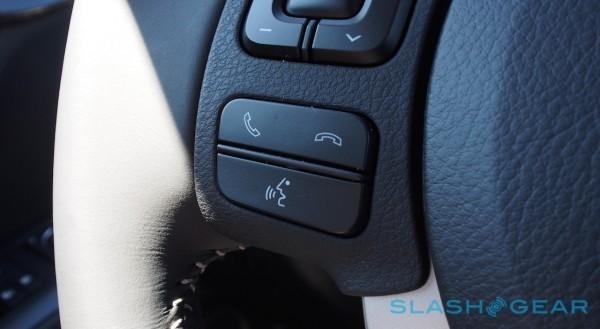 More worrying is the absence of either Apple's CarPlay or Google's Android Auto. Lexus is a supporter of the smartphone-connected systems, but they're both missing on the NX, and the company couldn't give me a specific timescale for when they might be added. Even when that happens, the likelihood of them being offered as retrospective upgrades for existing NX drivers is very low, I'm told.
It's a decision that feels short-sighted to me, given the target audience for the NX is exactly the sort of mobile early-adopter that CarPlay and Android Auto will appeal to. Enform, in contrast, feels embryonic despite having been offered on Lexus cars for some years now. You do at least get Siri Hands-Free, but it's a far cry from the usability both Apple and Google have demonstrated this year.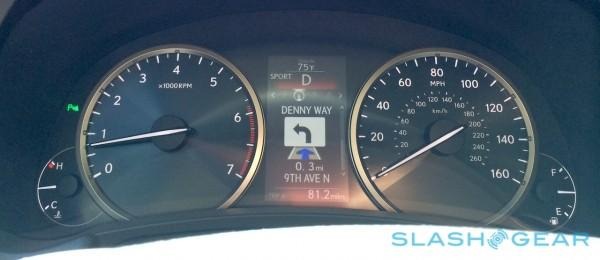 Lexus' reluctance to embrace the smartphone is even more odd when you consider a wireless charging cradle is an option for the NX. Fitted under the central armrest, it's a Qi-compatible nook into which a phone can be dropped and charged up without connecting a cable.
Obviously you'll need a phone with the right hardware itself in order to take advantage – if you're an iPhone user, that means adding a Qi-compatible case – but otherwise it's a case of dropping your Nexus 5, Galaxy S5, or Lumia Icon into the recess. Unfortunately, that recess is too small for a phablet like Samsung's Galaxy Note 3, despite there being enough space that Lexus could feasibly have enlarged it to suit. An arguably better solution would've been a flat bay and the same ultra-grippy finish as the bottle holders to keep phones from sliding around.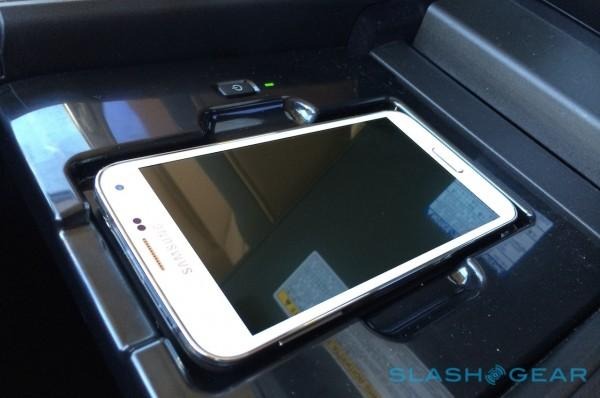 Wrap-Up
Lexus has high hopes for the NX. The RX has been a huge and persistent success in the premium SUV segment, and if all goes to plan, the NX should bring fresh blood to the Lexus brand just as the most recent IS has done in sedans.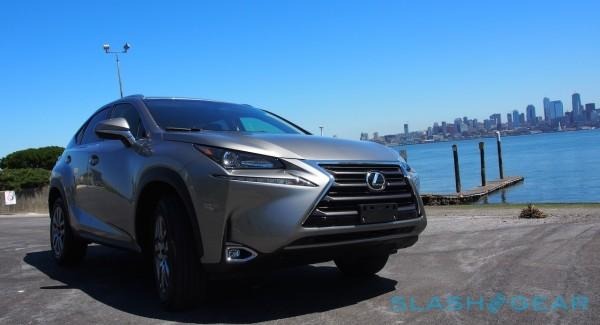 A lot will depend on factors still to be decided, primarily pricing. The 2015 NX doesn't hit US forecourts until early November this year, and Lexus won't be announcing how much each model costs until closer to that point. To set the scene, Audi's Q5 starts at $37,300, while the BMW X3 is upwards of $38,300; Lexus will have to be careful not to tread on the toes of its own RX, which begins at $40,795.
Get the numbers right, and Lexus has a compelling car on its hands. The NX looks distinctive, drives well, and has a well-equipped interior; in F SPORT form it's aggressive and nimble enough to be a fair amount of fun on the right roads, too, without compromising everyday ride and comfort. Aesthetically it may not to be everybody's tastes, but Lexus has demonstrated it understands what a good amount of SUV buyers are looking for, and it's hard to imagine the NX not following the path paved by its bigger brother.
Looking for more F SPORT? Check out our review of the beastly Lexus IS F!