2014 Lexus IS F Review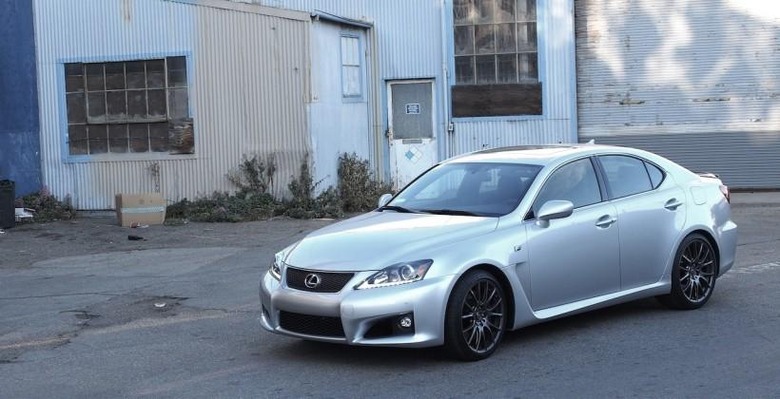 The 2014 Lexus IS F is an anachronism. Latest – and potentially last – in a line of performance sedans, its 416 HP, 5.0-liter V8 engine and Fuji racetrack tuned chassis spawned the F SPORT brand with which Lexus is now attempting to massage its reputation from Nyquil-on-wheels to automotive madness. Problem is, the IS F faces forced retirement from inside Lexus itself, squeezed out by the 2015 RC F Coupe and hotter – more affordable – versions of the regular IS. So, does the IS F go out with a bang, or a whimper, and should we prepare to mourn its $64k passing? We dried our eyes and slipped behind the wheel to find out.
Design and Interior
For better or for worse, the IS F has missed out on Lexus' controversial design refresh. Unlike the rest of the IS range, it keeps the narrow, more discrete grille of the second generation, rather than the gaping "spindle" nose of the latest version. We're big fans of the third-gen IS here at SlashGear, its striking aesthetic a welcome change from the somewhat more anodyne cars in the marque's history.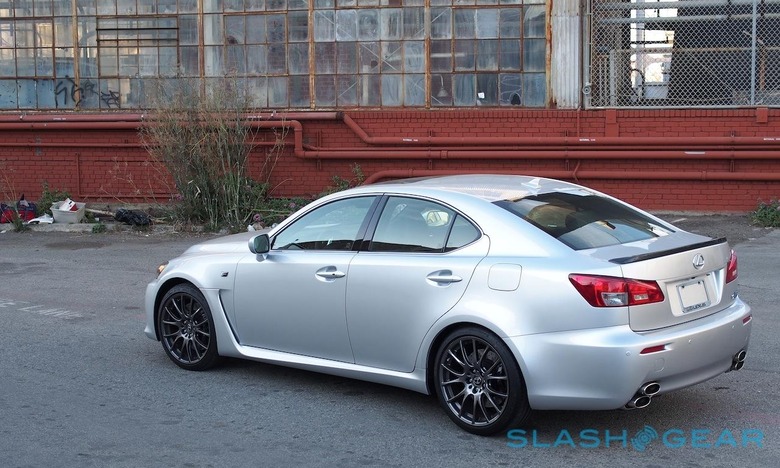 That's not to say the IS F isn't eye-catching in other ways. In fact, Lexus' four-door hot rod is so un-Lexus that it still surprises in the metal, probably second only to the no-longer-produced LFA for badge surprise. The swollen hood and dropped stance – which leaves the 19-inch smoked alloys filling the arches almost like a caricature – are joined by a carbon fiber spoiler for the 2014 refresh, along with LED fog lamps, but the bulging fenders and low spoilers still impress.
Up front there are gaping mesh grilles to feed air back to the engine and brakes for cooling, while the front fenders also get air outlets. Quad tailpipes poke out of the back like shotgun barrels. In fact, the only really discrete part is the badging, with Lexus keeping its "F" logos small and limiting them to the car's flanks and trunk lid.
Inside, the IS F gets a unique steering wheel with a chunky perforated grip and tactile brushed aluminum paddle-shifters, along with a splash of color from red leather highlight trim that matches the two-tone upholstery which is also new for the 2014 car. Our tester paired red and black in a way that could hardly be described as subtle, but the seats are supportive, easily adjusted thanks to the multi-directional electrics, and are both heated up-front.
The headrests have sizable F Sport logos, perfect for embossing an "F" in the back of your skull when you stab at the accelerator. In the back there's room for two – a plastic insert means there's no room for a third, no matter how thin they are – with more leather and Alcantara.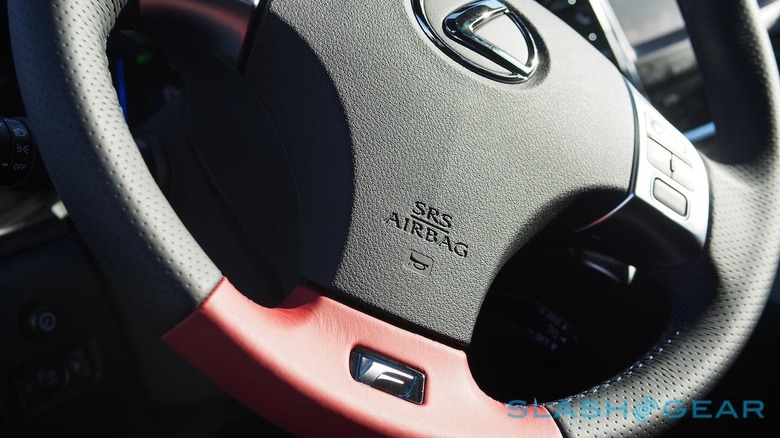 Unfortunately, having also spent a fair amount of time in the third-gen IS, the shortcomings of the older dashboard design gradually make themselves clear. The driver binnacle is dominated by a huge rev counter, with speed relegated to a small dial in the lower right corner and a digital read-out in the middle. While the latest IS models get a crisp, useful, full-color LCD to show engine stats, economy, media status, navigation instructions, and more, the IS F makes do with a monochrome display to deliver the basics. It's functional, but it's all swimming in a bland pane of black plastic, which belies the car's premium pricing.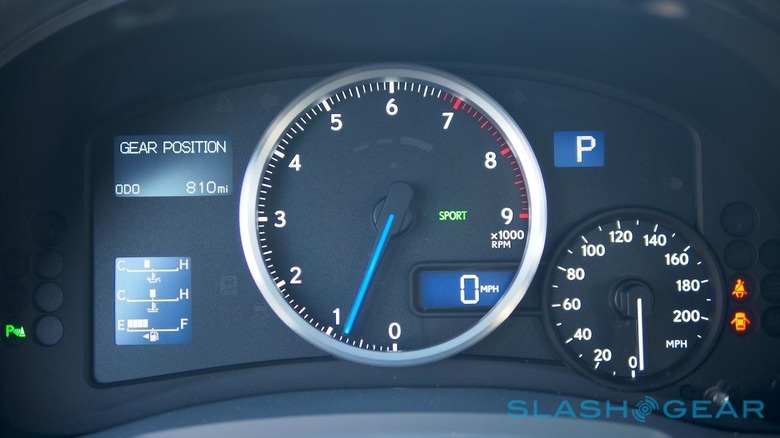 It's a strange choice of material, too, given Lexus has otherwise gone a little wild with its surfaces inside. The company calls it "aluminized composite accents" but it looks more like a cross between fake carbon fiber and an homage to knurled Bentley dashboards of the 50s to our eyes.
Thankfully everything is sturdy and creak-free, and Lexus' touchscreen Enform infotainment system that includes navigation, SiriusXM satellite radio, USB/iPod connectivity, a six-disc in-dash CD changer, Bluetooth, app support with the companion software for iOS and Android, and 13 speakers is easy to use and sounds great. A 14-speaker Mark Levinson speaker with 300W of power is an option, along with voice control; if you opt for navigation you get a reversing camera, too.
Engine and Performance
We'd save the premium Lexus is asking for the audio upgrade, however; the IS F's 5.0 liter V8 is musical enough. The car may be five years out from its original launch, but it's no less shocking to the ears if you're used to the chauffeur-quiet whisper that murmurs from under the hood of most others in Lexus' range.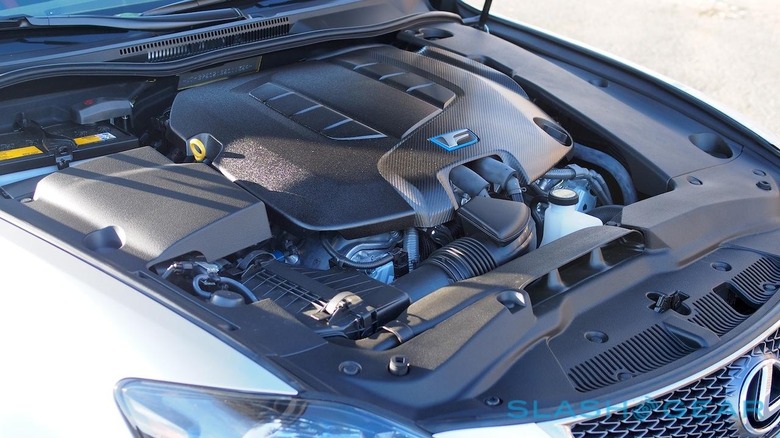 Stroke the throttle just a little and the IS F surges forward. The V8 may have been borrowed from Lexus' LS line, but it's been comprehensively overhauled with new Yamaha-designed high-flow cylinder heads, an all-new dual air-intake, titanium valves, and a special oil pump that makes sure there's enough of the greasy stuff being supplied even when you're cornering at more than one g. The result is 416 HP and 371 lb-ft of torque at 5,200 rpm, along with a top speed of 170 mph.
They're headline figures you quickly find yourself day-dreaming of, since the intelligent Variable Valve Timing (VVT-iE) and the second air intake only really let the engine perform at its most ear-pleasing above 3,600 rpm. Then, the angry growl is upgraded to a throaty howl, tinged with metallic fury, as the horizon (or, more likely, the next stop sign or junction) approaches and slowing down gives you time to figure out whether the grin across your face is from pleasure or simply the force of the car dragging back your jowls.
It's an addictive sensation, lag-free and divorced from the shackles of turbo lag or a supercharger running out of breath. The gearbox, too, has been massaged by the F Sport division, still an eight-speed as borrowed from the original LS 600h, but reprogrammed with new shifting patterns to suit the IS F's track-worthy intentions.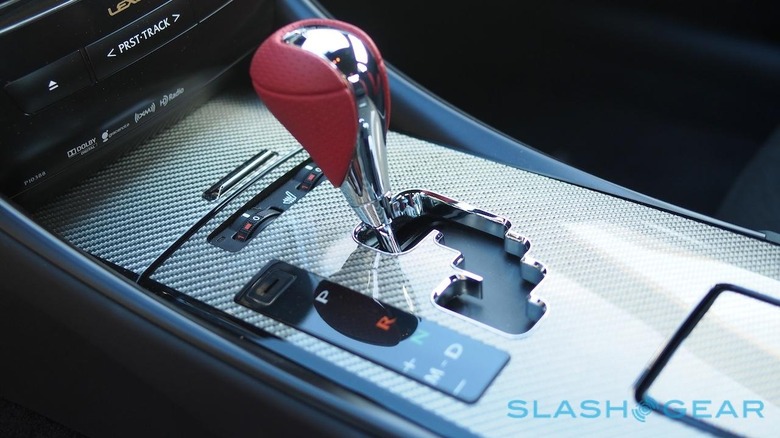 That brain transplant makes for more aggressive, faster shifts, though the automatic can be manually prodded into changing by snicking at either of the paddles. Knock the lever into "M" mode and you can move up and down through the cogs by tapping it forward or backward, too, but more importantly the IS F holds onto each of the gears until the car hits the 6,800 rpm redline rather than changing automatically. "M" mode also sees the fastest changes, too – Lexus says 1/10th of a second – and accompanies each shift with a throttle blip to match engine and vehicle speed.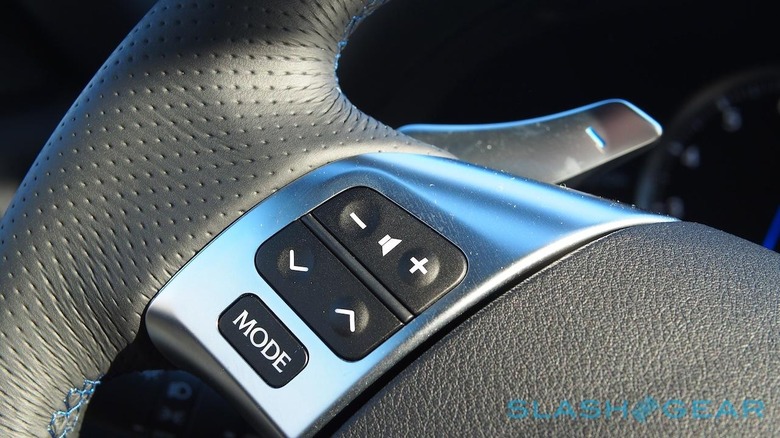 The result is a driving experience that's almost akin to a video game, a combination of raw power and the various electronic aids – such as Vehicle Dynamics Integrated Management (VDIM), a bad name for a useful system that spots when a skid or slide is about to take hold and pushes power between the rear wheels to keep traction without losing pace – combining to make a car that leaves you feeling probably more capable than you are, while always reminding you that there's also likely more power on tap than you could realistically use.
In fact, if the IS F has an Achille's heel, it's in just how rarely you actually get to enjoy its capabilities. Hamstrung by speed limits and traffic, it's rare to employ more than bare fraction of what it can do: every opportunity to overtake is one you'll grab for; each chance to bypass the predictability of the highway and opt for a curvier, more entertaining road becomes a no-brainer.
Lexus designed the IS F with the track in mind, and that's where it makes most sense. There, with the Sport mode making the – already relatively coy – electronic nursemaids even more reticent, and feeding more from the road through the meaty steering feel, the Lexus comes alive: challenging and yet predictable, always coaxing you to push a little harder without too much fear of oversteer. Yes, you can spin the wheels, or take a corner too enthusiastically for even the VDIM to save, but you invariably know when it's going to happen.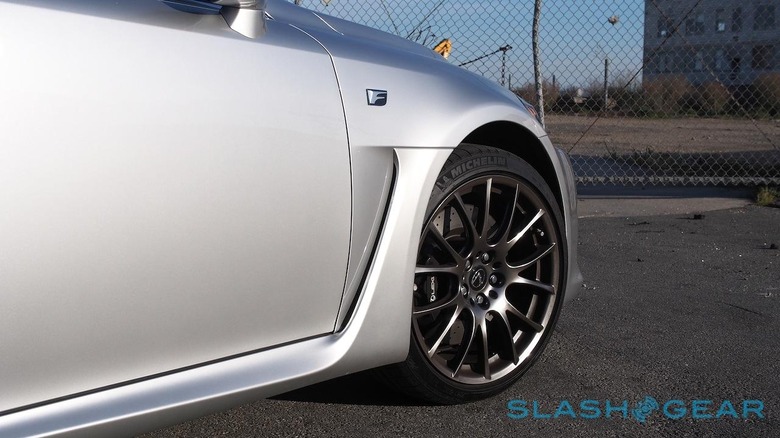 Lexus cites things like double-wishbone front suspension and multi-link rear suspension, large-diameter stabilizer bars, specially-created Michelin and Bridgestone 19-inch wheels, Brembo brakes, and Torsen rear-diff for doing all that; you might want to memorize some of the keywords should you run across a BMW M Sport or Mercedes-Benz AMG owner. We were mainly happy that the car seldom slipped from "supporting" into "nannying" while we drove it.
Sadly, while the driver is having fun, the passengers may not be so comfortable. Back on the road, and even at mediocre speeds the firm ride can leave those in the back feeling pummeled. Lexus quotes 16/23/18 mpg for city, highway and combined fuel economy respectively; from mixed road use alone we saw 13-16 mpg.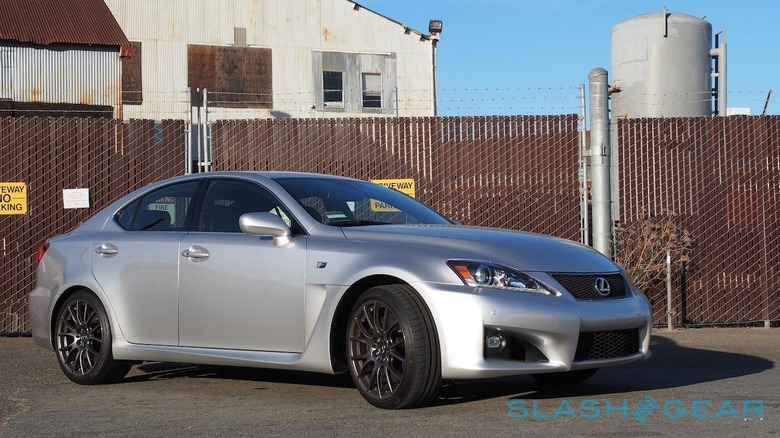 The Future
The future of the IS F is somewhat cloudy. The fact that Lexus hasn't updated the 2014 model's design to match the third-gen IS is ominous, and while the company told us that the IS F will continue for the '14 model year, there are plenty of rumors online suggesting there won't be a replacement after that.
There's a sense that the IS F is gradually getting squeezed out of the company's range. On the one hand, there are F SPORT versions of the IS, which combine arguably even more aggressive looks with more usable everyday power. We had the opportunity to try the IS 350 F SPORT out on the track alongside the IS F, and while it's obviously down on power and torque, it's also considerably more affordable (the starting price is $20k less than the IS F) and arguably more usable in everyday situations with its 306 HP.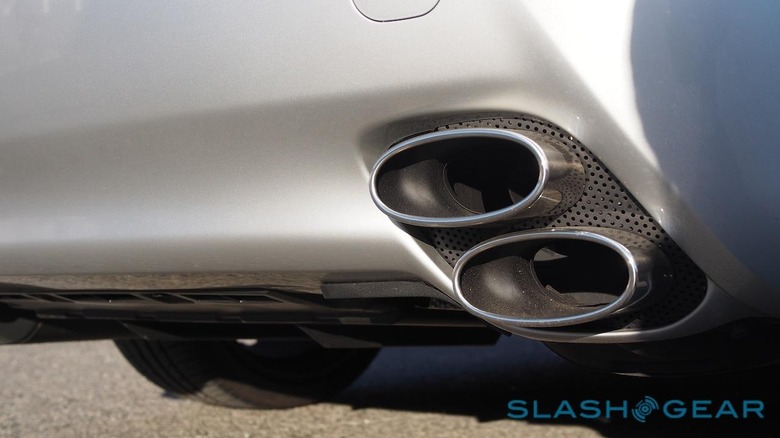 On the other hand, there's the new RC F Performance Coupe, freshly announced in January at the Detroit Auto Show. It gets the 5.0 liter V8 – pushing out more than 450 HP and 383 lb-ft of torque – along with all the mechanical and electrical accouterments a keen driver might desire. It's an obvious successor for the pure "F" badging, even if Lexus won't confirm it yet.
Wrap-Up
For the enthusiastic driver, the IS F is a deeply appealing car. The combination of a naturally-aspirated, powerful engine, responsive chassis, excellent brakes, and electronic aids that encourage your best rather than limiting you add up to a fantastic, engaging car. The engine's song and the dramatic looks might not be to everyone's taste, but they perfectly match this particular Lexus' take-no-prisoner's attitude.
If we lived on the track, that would be the be-all and end-all of it. Sadly, the real world intervenes, and forces us to look at the IS F through more practical eyes. Then, the hard suspension, weighty steering feel, and keen thirst start to take their toll, whether on the driver's pocket or the passengers' bodies.
What gives us the biggest pause for thought, however, is simply how ill-suited the IS F is to everyday driving conditions, or vice-versa. Most of the time, we couldn't escape the nagging sensation that the Lexus was simply wasted on the roads we had to offer it; its capabilities squandered. Losing your license would be a case not of "if" but "when" if you drove it like it demands to be driven. Try to be more sensible, however, and you'll hate yourself for it.
On that front, the IS 350 F SPORT is a far more "appropriate" car: at least you'll drive without guilt, for the most part. Yet, for all its excess, we can't help but love the 2014 IS F, and if you ever find yourself on a track or near an expanse of open road, you'll undoubtedly thank yourself for picking it. It's a testament to Lexus' engineers, not to mention a warning bell to BMW, Mercedes-Benz, and Audi, and we'll miss it deeply when it's finally retired.