Ford's 2015 Mustang has apparently leaked, with the new muscle car previewed thanks to a prematurely-delivered car magazine ahead of its official unveil later this month. The images, snapped of the upcoming copy of Autoweek by an SVT Performance Forum subscriber, show a car clearly inspired by Ford's EVOS concept of a few years back, though with the promise of real mechanical improvements to go with the looks.
Exact details from the Autoweek article aren't quite legible, but some tidbits have emerged to whet the Mustang appetite. For instance, the new car is said to have shed 200 pounds versus its predecessor by making greater use of aluminum in the body, with a hood an inch longer and a wider wheelbase.
Overall, though, it's said to be almost exactly the same length as the model it will replace. There'll be an optional Performance Pack, along with the option of adaptive cruise control, while inside there'll be carbon-fiber for the dashboard – real or fake we'll have to wait to see – and a fair number of physical gages to go along with the big LCD and no shortage of steering wheel buttons.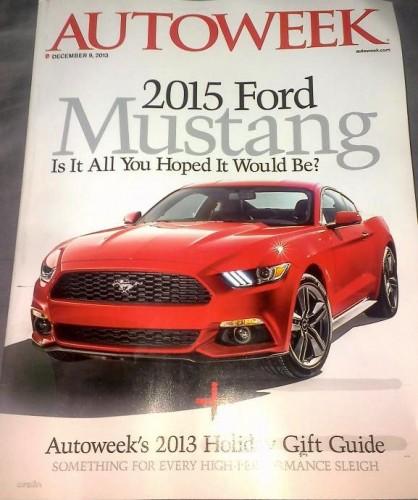 Ford is expected to offer a choice of three engines in the 2015 Mustang, with the article mentioning a 2.3-liter turbocharged four-cylinder (expected to muster around 310 HP), a 5.0-liter V8, believed to deliver at least 420HP. Although not discussed, the third option is said to be a 3.7-liter 300 HP V6. As per previous speculation, there's also the possibility of a Shelby GT500 version too.
Of course, the whole thing could be an elaborate fake intended to mislead ahead of the official debut of the new car. We won't have long to wait to be certain, however, Ford being expected to reveal the 2015 Mustang properly on December 5th.
VIA Motor Authority