Is Fords EVOS concept the 2015 Mustang?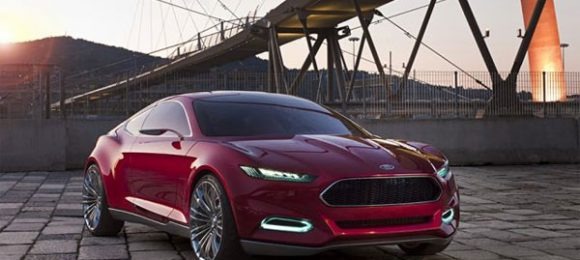 Of all the American muscle cars on the market today, the Mustang is the longest lived. The car has been in continuous production since it first rolled off the assembly line in 1964. There have been some notable design failures in the eyes of most Mustang enthusiasts such as the Mustang II. The Mustang faithful were expecting a redesigned car to debut in time for the 50th anniversary around 2015.
Ford has been hinting that the next Mustang will not have a retro design such as the 2005 through 2013 versions have had. Hints keep coming that the next version of America's beloved pony car will be a complete departure with a fresh design and modernized chassis with independent rear suspension. In the past, we've seen a Ford concept vehicle called the EVOS. According to some people who claim to have seen the 2015 Mustang, it looks a lot like the EVOS.
There is also speculation that the next generation will get Fords EcoBoost engine technology, which would honestly be no surprise as a replacement for the base V6. However, I simply don't see the 5.0 V-8 being done away with in the high-end GT models. The 2015 is also said to look more like the Ford Fusion. As a big fan of the Mustang, I can only hope none of the current designers had anything to do with the dreadful Mustang II. I hope Ford gets it right, ominous rumors claim the vehicle is being called the Mustang III inside Ford.
[via StangTV]